By: Capt Rick Reynolds
---
05/26/2006
I scouted for trout today with my son. First time we both had off the same time and wanted to catch a few for supper. I introduced Jeremy to the Mud Minnow and Popping corks. Water temp was clear and 76°. I caught more than he did, but he caught the biggest at 19 inches. We kept 8 and released 8. We decided early on not to keep anything smaller than 15 inches. I cannot stress to you enough .. DO NOT PAY $25.00 dollars a quart for florida shrimp that are nothing more than a large hardback shrimp. They do not have a good scent and mud minnows are just a better bait this time of year.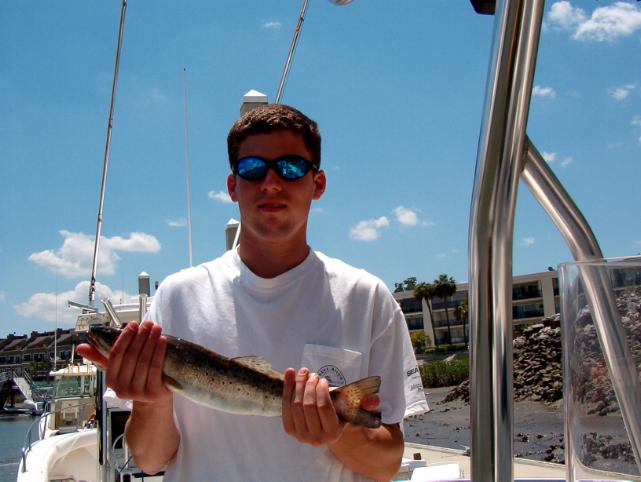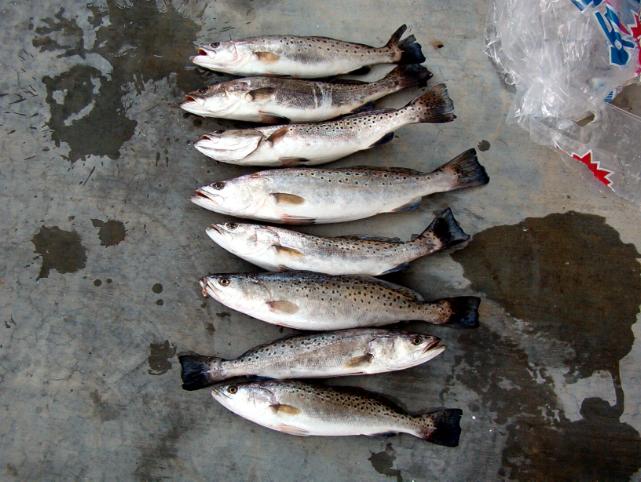 ---
05/25/2006
I participated in a group trip arranged by Miss Judy Charters. I had a group of 4 from Orlando. We started the day catching small bluefish. As the tide started moving in we caught a few sharks, bonnet head and Black tips.
We were using mud minnows today. Since live shrimp is scarce, match the local bait and use mud minnows or menhaden (pogies). You will do just as well with our local bait that is easy to catch, than pay $25.00 a quart for live florida shrimp. A mud minnow is a very hardy versital bait. Often you can catch a couple of fish on the same mud minnow. They also live longer and are not as fragil. It took me a long time to accept this fine bait.
Water temp was 77° and clear. The wind did pick up late in the afternoon and we dodged a thunderstorm. As the Tide flooded we started picking up Some nice Trout. All in all a productive trip, just too short. We caught 6 trout all released. These were also caught in 3 feet of water.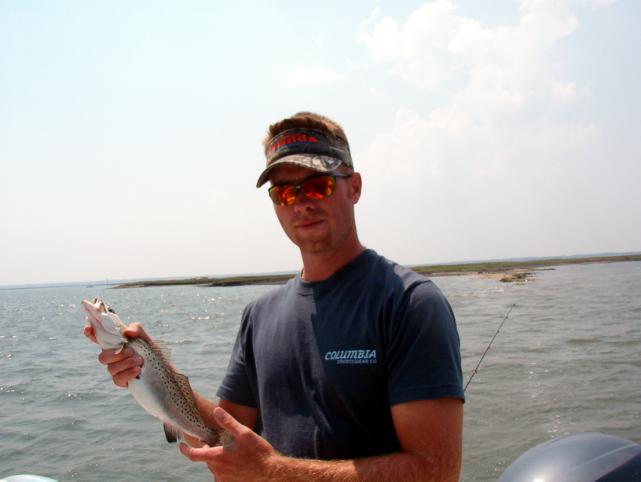 ---
05/24/2006
I helped Miss Judy on a group charter today. I had 3 college students From MGC and they did pretty good. They caught 6 trout, 1 flounder 1 ladyfish, 1 bonnet head shark and the young lady hooked something that spooled her reel of 200 yrds of 30 lb test. Water temp was 74° and clear until about 3 hours after high tide, then the water clarity was muddy. Not sure what spooled the reel as I had 15 lb leader and I would think a shark would have broken the leader.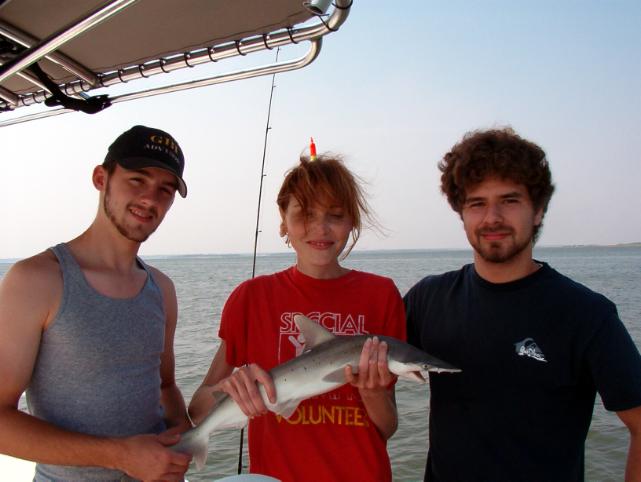 ---
05/20/2006
I changed a charter scheduled today for Grays Reef to the CCA Reef because of weather. Seas were predicted to be 2 but that was Wrong again. More like 3 - 5's with a lot of wind. Anyway I had 4 guys from VIdalia. Water was clear and 70°. 2 of the guys had a dose of seasickness. The wind and waves were tough, but they did manage a nice pile of fish. Below is a picture of the top angler of the day with a couple nice trigger fish.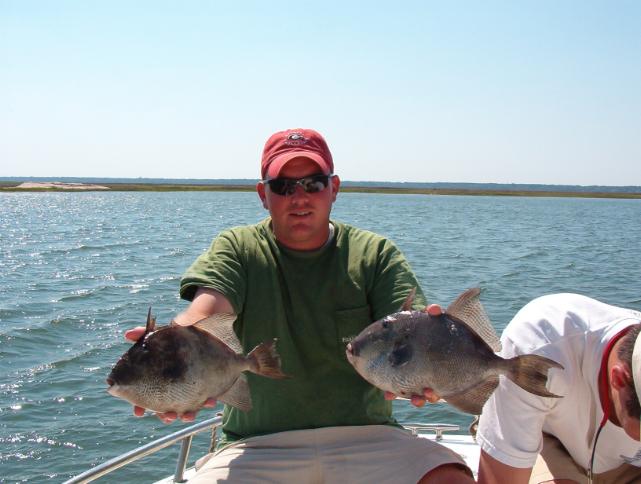 ---
05/19/2006
I helped Miss Judy Charters out today by chartering a group from Oregon and Atlanta. Kevin caught a few sharks as well as trout. Mike and Dan caught sharks, trout and ladyfish. Water temp was 69° . Water clarity was good, but turned muddy as the tide flooded in. WInd was calm until about 11 am, then started blowing 15 -20 out of the southwest. Action was steady until we moved inshore to avoid the dolphins. These guys were good on the saltwater.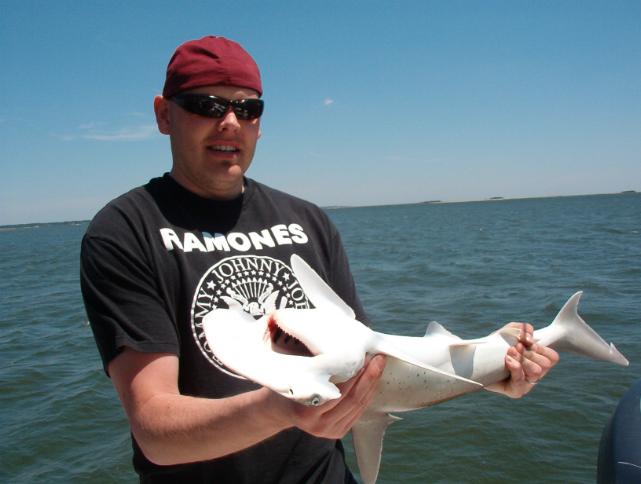 ---
05/13/2006
I participated in a group trip arranged by Miss Judy Charters. I had a very nice family from Ohio. Started the day with the young lady hooking a bonnet head shark. She turned the rod over to her son to land. It was a nice 2 foot shark. We had a few more bites before moving deeper into the salt ponds. The father landed a nice 17 inch trout, then a 24 inch Lady fish. Everyone had on their Polorized glasses and the father noticed a 3 - 4 foot shark near the boat. Will, the son, pitched a live shimp on a popping cork to him. The shark took the bait, but we were rigged for trout with a 15 lb leader. Will put a lot of pressure on him, but the leader was eventually broken by the tail of the shark. Will also hooked a nice redfish, that broke the leader as well.
As the tide went out we moved inshore and couldn't find any real clear water. Wind was again 10 - 15 out of the soutwest with an air temp in the mid 50's this morning. Water clarity was dirty. This was due to the full moon and fast tides combined with the wind. I had a good time and they were all good casters and Will the son was very well mannered and showed an interest in the fish on the fishfinder.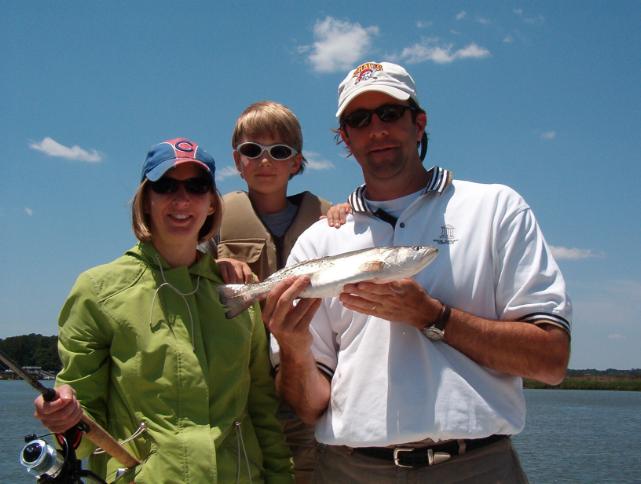 ---
05/12/2006
I took a father and son out for a day of catch and release only. They caught and released 3 bonnet head sharks and 2 sea trout. Had a couple breakoffs that were most likely large red fish, as we spotted a school of reds in saltponds. Had hoped to catch more trout, but the cold front that moved in slowed the bite down. Air temp was 52° and the water temp was 68°. Wind picked up to 15 - 20 out of the southwest. We fished for 89 hours before calling it a day. Tried to fish out by the jettys but was unable to fish due to high winds and fast tides.
---
05/06/2006
I participated in another large group charter today with 2 guys from Atlanta. This trip was arranged by Miss Judy Charters. One guy was experienced and the other was not familiar with either a traditional baitcaster or spinner. water temp was 71° and clear. Fished the last 2 hours of the outgoing and all of the incoming. Wind was blowing early,but tapered off as the day progressed. They had quite a few shots at some quality trout, and did manage to land 4 nice ones to 20 inches. Also they caught 3 blue fish.
Both guys lost nice trout at the boat due to a broken leader. One guy had at least a 23 inch trout to the boat but the trout cut the leader. All in all it was a good day. The bite was steady from about 10 am until 3pm. No oned had a digital camera with them today.
---
04/29/2006
The wind only blew harder today than yesterday. We saw quite a few Offshore Charter boats bottom fishing tucked in way inland, like across from the old Sheriton on the Wilmingotn river. This was a party of 7 , so we divided up into 2 boats. I wanted to head over to South Carolina, but the other boat did not. These guys wanted to stay close together so we did the best we could. We eventually separtated, as I could not stay anchored out in the middle of Wassaw sound in 30 mph winds. This was a tough fishing day and not much catching. One of the guys on the other vessel was getting married, so they were out to have a good time. We both did the best we could in bad conditions.
---
04/28/2006
I was fortunate to be part of a group charter, put together by Miss Judy Charters today. Besides being a World Class Angler / Offshore Captain, Miss Judy runs an extremely efficient operation. No fishing party is too large, she accomodates everyone - inshore, nearshore, and offshore.
I was assigned 3 anglers from Atlanta, that knew there stuff as well. The day was much slower than I hoped for, but this was expected due to the weather conditions earlier in the week. Water temp was around 72° and clear IN SOME SPOTS and muddy, not stained in others. Trout that was inshore lastweek, appeared to have migrated out toward the sound. This could be related to the massive rainfall that quickly got in the River system.
Our final tally for the day was 2 keeper trout, 1 keeper flounder, 1 short flounder and a 4 foot bonnet head shark. My party was in good spirits, but kept me on the move, which is the way it should be. Below is a picture of one of the trout and the angler that caught her.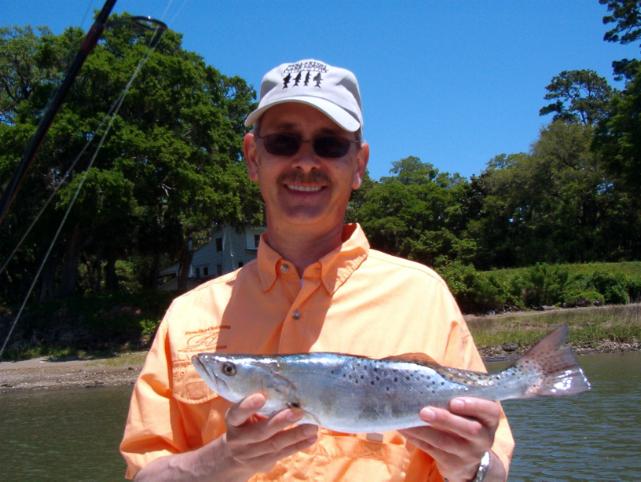 ---
04/27/2006
What a difference a week makes! Trout went from a feeding frenzy to lockjaw. I contribute this to the high pressures (2) that moved in Wednesday night, bringing torrential rainfall and high winds. The rain stopped during the night, but the rivers were muddied up and it was still blowing hard (15-25 knots) directly out of the west. My charter Greg and his wife from Atlanta, took the weather in stride, but went home empty handed. We did a little sightseeing and a lot of riding, but no fish.
The lesson out of this is watch the weather reports. High pressures impact trout fishing, as do low pressures. Key differnce to me is that when a low pressure is approaching the trout bite is much better with the APPROACH of the low. After a HIGH Pressure, expect the bite to be "off" for about 48 hours. Again this is my observations.
---
04/22/2006 (B)
While I was cleaning up the boat from the morning charter at Bahia Bleu, my friend Bill Bradley was passing up the river and saw me. He went on to ADAMS Bait and stopped back on his way towards the Sound. I was just about finished cleaning and he talked me into going with him for a couple hours.
We hit a few inshore drops and the final tally was 6 keeper trout and 2 throwbacks. The front mentioned below passed around 4pm and the wind died down and the water cleared up. Water temp was 70° and clear. We fished the last hour of the incoming and the first of the outgoing. The bite definatly slowed down since Thursday. I attribute this to the front that passed thru. Expect the bite to pick back up by the 4/25/2006.
04/22/2006 (A)
I had a 6 hour charter today that started at 7am. The group consisted of 2 brothers, 1 local and 1 from Macon, Ga. and his son. They wanted to catch a redfish. At the first drop, Robbie, the young boy, caught a nice redfish. Then we didn't get another bite at that drop, moved up the Back river and hit another Redfish drop with no success.
Repositioned back inshore to try for some trout. Low tide was around 10 am so we had a couple drops that didn't produce anything but blue fish. Once the tide turned, we headed back to one of my favorite drops. We soon ran out of live bait, and it did not look good.
A cold front was passing thru that produced high winds 15 to 20 knots and dirty water. After exhausting all the live bait, we started pitching D.O.A. shrimp under a popping cork and also started pitching a Gulp screwtail in bright green.
The guys finally started getting some hits on the D.O.A. and wound up keeping 2 or 3 trout and the 1 redfish. We had a couple more trout get off and we did boat a nice one that managed to leap out of the net onto the engine and back to safety. Also we released 3 short trout. Water temp was 70° and dirty.
---
04/21/2006
Jeremy and his friend Whit, took the boat out and fished a lot of my inshore drops and fished out in Wassaw sound. They brought back 6 speckled seatrout from 15 - 18 inches. Most were caught on live shrimp , but a couple were caught on the white screwtail gulp bait grub. Water temp was high 60's and clear.
---
04/20/2006
I had a 4 hour charter today with 2 gentlemen from Atlanta. My boat was 1 of 3 that was part of a large group charter. All 3 boats caught some fish. One of the guys in my boat had fishing experience, the other did not. We started out at the Jettys with water temp of 67°. The more experienced fisherman used a baitcaster and the novice used a spinner rigged up light. The guy with the spinner quickly landed a nice trout. They did not want to keep the trout which was about 15 inches. Stayed there for about 30 minutes without another bite.
This charter began at 9 am , which was 15 minutes after dead low. I decided to move more inshore and hit a drop that was protected from the N.W. wind. The water was clear and 68° at this inshore drop. Both guys started catching nice trout in the 17 -18 inch range. They Decided to keep a few and they kept 5 trout, largest 18 inches and (1) 18 inch redfish. We practiced catch and release on 6 or 7 of the smaller trout.We moved 1 more time and the fellow with the spinner caught a fat 16 inch trout .
Picture courtesy of 1 of the guys fishing on one of the other boats.Considering the tide and wind we had a very good day. This is a picture of the angler with the least experience. However, he got into the catching pattern very quickly and caught the only Redfish in our boat and I know he caught at least 4 or 5 trout.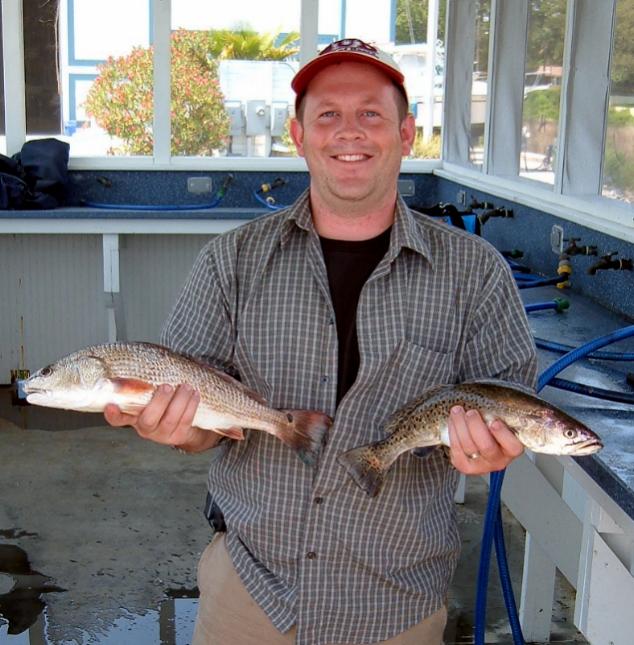 ---
04/15/2006
I did some scouting this morning for a charter next week. Water temp was 66° and crystal clear. Wind was howling at about 15 knots . Tried a couple drops inshore and caught 21 trout. Released 12 that were 13 inches on the nose. Problem today was the wind was blowing against the incoming tide, which amounted to no drift. However the bigger trout were hanging in the grass and would dart out and hit the bait quite hard. The largest trout of the day was a solid 20 inches.
All trout were caught on baitcasters with a 9 inch float as opposed to the cajun thunder. The Large Trout prefered the bigger shrimp. Also the shrimp had to be lively to intice a good bite. After I used up my live shrimp I switched to live mud minnows. They inhaled these as well.
Most of the trout were caught after the tide turned and started ebbing. The 4 largest were caught on the last hour of the incoming in difficult conditions. The rest were caught on the first 2 hours of the outgoing. I also noticed the salinaty is quite high at least 9 miles from the sound. I suspect the Roe trout are searching for the "right salinity conditions"to spawn which might be much further inshore than in the past.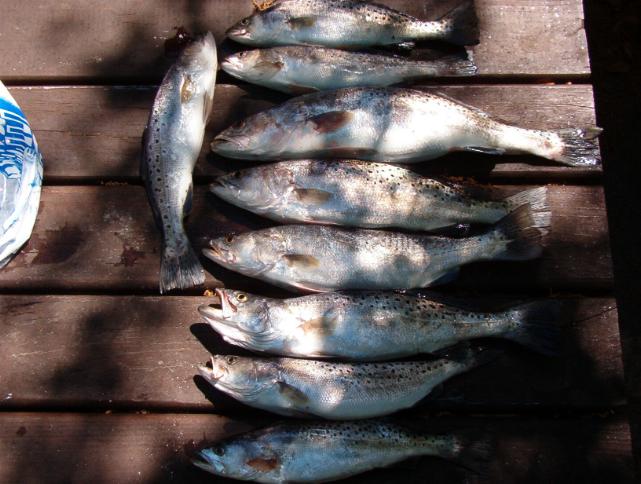 ---
04/14/2006
I went on a 6 hour trip with a good friend and his teenage son and my son. water temp was 66 and clear. Did not do real well. Fish kept were 2 trout 1 redfish and 5 or 5 whiting. Tried several inshore drops, but they just did not produce. We also released 3 trout as well.
---
04/08/2006
I went scouting for an upcoming charter and caught quite a few seatrout (16). Most were on the small size, but I kept 3 to go with the 3 Jeremy caught a couple days ago. Water temp was 65° and clear. The bite was very steady due to the approaching front. Tried a spot out in Wassaw sound with no luck. Winds were out of the southwest at about 15 -20 and picked up signifcantly later in the day with the approaching cold front. I had lines in the water by 6:15 am . This was 1 hour after high tide. Fished the tide out and headed in to beat the approaching storm
All the fish were caught in the Herb River. Tried a drop on the Back River that did not produce. I did get some hard hits, not trout or reds, but most likely either black drum or flounder. All fish were caught on live shrimp. Had some mud minnows, but didn't get a bite. I did catch 1 fish on a cajun thunder on a light spinner.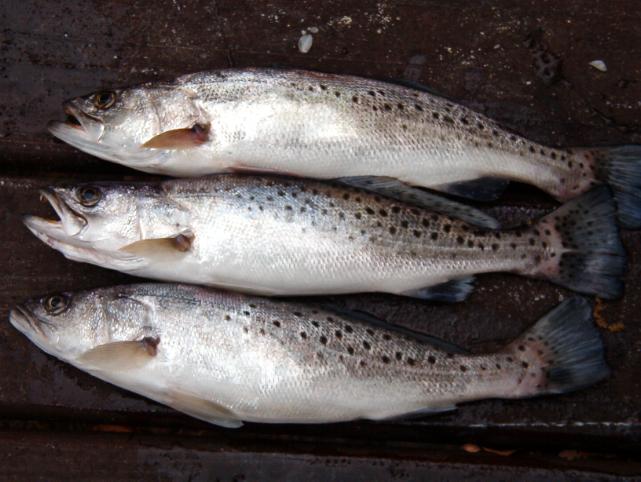 ---
04/06/2006
Jeremy and Audry went out for 3 hours this afternoon and had pretty good luck. Water temp was 65° and very clear. Jeremy reported catching 6 trout and releasing 4 and 1 nice redfish. He kept 2 trout and the redfish for a meal. All fish were caught inshore on the Wilmington River up near the grass. All fish caught on live shrimp using a 9 inch float.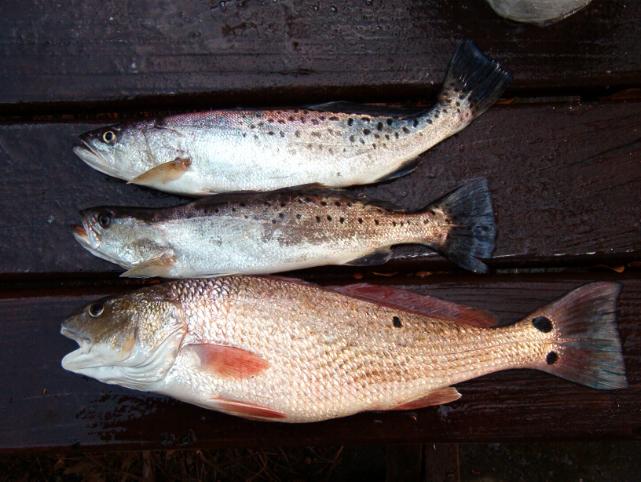 ---

04/01/2006
Had an opportunity to fish with another guide today, from Richmond Hill. I met Polishfly last november at the Savannah Redbone tournament. We talked about getting together and today was the day. Eric met me at the Bahia Bleu Marina at 6:45am. The Day started out extremely - painfully slow. We didn't get a bite until about 1 pm. We fished inshore, out to the edge of Wassaw sound, in a creek or two, out near the jettys, Inshore Savannah River - nothing.
A high pressure had moved in midday on March 31st, so this caused some lockjow, as well as we are coming off a new moon - High tides and fast currents muddy water. Also the wind picked up as well.
Decided to venture over to South Carolina, near Dafuski. Eric had a Chart with premarked fishing areas. However, I sugguested that we just apply what we know to new water and see what shakes out. I fished with the traditional 9 inch float, he used a low country lightning. We compromised on an area and I started by catching a slot sized redfish. Then I caught a couple small trout. Eric Caught 2 very nice keeper trout and I caught a legal one as well. I know we both picked up some good ideas from each other and I am looking foward to fishing with Eric again in the near future.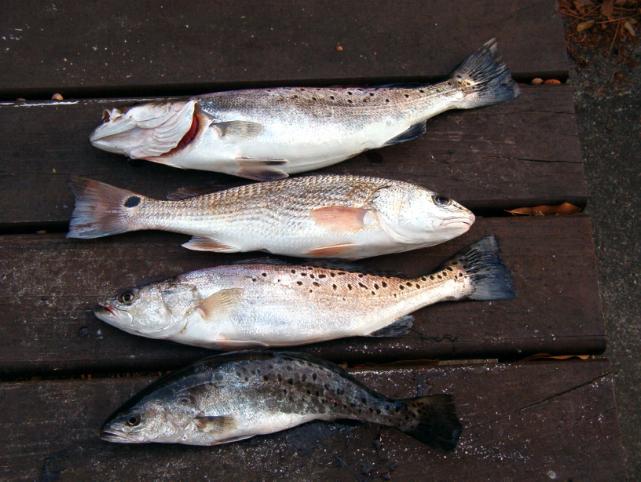 ---
03/31/2006
I thought I could do much better than Jeremy did 2 days, so I tried fishing the same areas he did. I only got 1 bite at the Jettys and 1 bite on the Back River. Went inshore and caught 7 trout, but only 3 keepers. The tide was high and the current fast. This contributed to the dirty water. Water temp was 57° . Wind picked up in the afternoon so I called it a day around 1:30 pm. Basically we did about the same except I went to a spot on the back river and used alot more fuel than he did.


---
03/29/2006
Jeremy and Audrey took the boat out this afternoon for a ride. Jeremy took his spinner and baitcaster with a few live shrimp. Tried out by the jettys with no luck and moved inshore to catch the top of the incoming tide.
Jeremy reported clear water and the water temp was around 56°. Sand Gnats were out in full force so they came in after a couple of hours and 2 very nice inshore trout both between 17-21 inches. He caught both trout on live shrimp right up against the grass.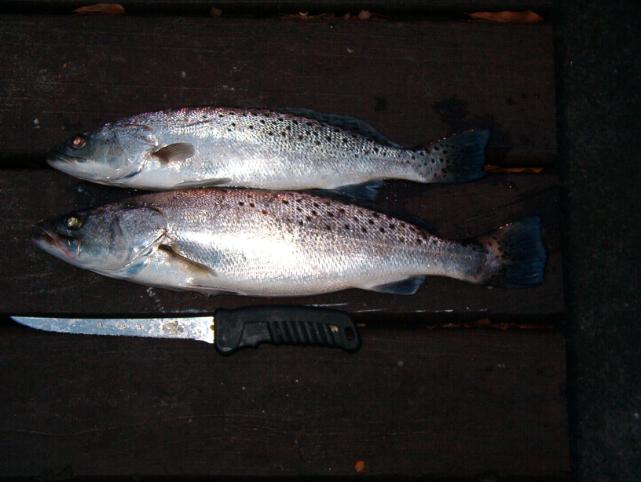 ---
03/25/2006
I had a 3 person charter scheduled for Grays Reef today. The weather forcast had been all over the place during the week of the 25th. On wednesday it was predicted to be 2 foot seas, but on Friday night it changed to 2-4's near Grays and 3-5's around Charleston so on Saturday, I told the party that the seas were rougher than previously forecast , but doable. It was just going to take longer to get to and from Grays. However one of the party thought we were trout fishing - so he was probably a bit disappointed.
We left on time and after going 30 of the 40 - 45 mile trip, we stopped for a break. I asked if everyone was ok and the 1 gentleman who thought we were going to trout fish, indicated that he did not want to go on. The rest of the group wanted to fish, so we changed couse and went about 4 miles to the J reef. It was difficult to get over the structure with the wind, but we did manage to get a few fish in the boat. Adam, caught a small grouper and a few Black Sea Bass. After hitting 4 spots, we decided to head back and try for some inshore whiting. It took a long time to get in due to the seas picked up and was directley out of the NW. Upon arriving at the whiting spot, the fellow who did not want to go to Grays indicated he did not want to fish and just take him in.
Unfortunatly there appeared to be some confusion within the Charter group of what type charter that was booked. On a positive note, my first mate on this trip, Charles Finney, did an excellent job of helping with the navigation and general workings of charter fishing with a group.
Basic weather conditions : Water temp was 55. Wind was 10-15 changing to 15 - 20 out of the northwest. Seas turned out to be 2 - 4 foot changing to 3- 5 as the day went on. Water clarity was very good.
03/11/2006
If you have looked at my fishing areas link, I caught and kept these 7 MALE trout in 2 of the areas displayed. I also released 7 trout as well. Male trout croak and that helped me to not keep any of the spring roe female trout that should be here soon. I also had my drag a bit too tight and lost the largest trout I have ever hooked. I used 2 of the maps in my "fishing areas" to scout out some new drops for upcoming charters. The water temp was 55.6 ° to 56.4 ° . Clarity was good early during the 1 st hour of the outgoing, but got down right dirty at some of the spots I tried.
I missed quite a few as well since my reflexes are still in Black Sea Bass mode. However as the day progressed I got better quick. All these bites were exceptionally hard and I missed 15 or so good trout bites due to slow reflex. All trout were caught on the outgoing tide.
I decided last night to put out the mud minnow trap. Caught a few , but my favorite bait is a live shrimp. But too be fair, The first and Largest trout of the day was on a fat mud minnow. Oh, it appears that the spring trout run has arrived! I believe the mild winter and ample bait supply and the warmer water temp is the driving factors.
---
03/03/2006
Started out in the Back River, but water was very muddy so changed up and went out near the jetties. Did not get a bite or hit out there. Came inshore and the water was clear and 54 ° . Had quite a few bites on live shrimp and caught and released a few small trout. Rode out to the sound and didn't get anything.
Coming back in, a Coast Guard boat with 5 or 6 officers pulled up and informed me that they were going to board my vessel but keep moving. 2 of them jumped on board and did a thorough check. All my documents and safety gear was in good order. However 1 of the officers broke the zipper on my T-Bag, trying to put back the life jackets. All in all not a bad day on the water. Coast Guard informed me if I could not take the bag back and get an exchange, to come out to Coast Guard Station Tybee and fill out a form and I would be reinbursed.
---
02/18/2006
Did not have a charter, but decided mid day Saturday to take the boat out and see if the fuel computer was properly calibrated. Ran from the Marina up the Wilmington river to Wassaw Sound. Pitched some plastics out in the sound, view the pdf document fishing area 1 to see some of the areas I checked. I did not get a hit out in the sound. I was pitching a white berkly gulp screwtail. Water temp was 53 ° and clear. Virtually no wind at all. Decided to try some spots on the Wilmington river and had multiple hits. Caught and released a 12 inch trout. If the weather continues to warm up, the spring bite should be better than last year. With the mild winter temps, I predict the spring trout season to pick up by Mid March.
I talked to some other Captains who have had limited success on the inshore Striper Bite. Also a Red fish can be picked off on the mud flats as well. Jigs are the current bait of choice for the stripers and the Reds are hitting artificials as well as the Mud Minnow.
---
01/28/2006
Fished Grays Reef today and did good. The Black Sea Bass were running smaller than normal, but were there in good quantities. The Drift was almost directly north to south. Left the dock at 7:45 and were on the first drop by 10 am. We deviated from the original course when we saw quite a few Birds hitting the water and dolphin breaking to the surface. We changed course to intercept them and we trolled a cedar plug thru the activity but did not get a hit. Water temp was around 54 degrees and the swells were 2 - 4 at about a 5 second interval. It was a good day on the water with my very good friend Charles Finney who caught most of the keeper sea bass.
On a sad note, I was called Friday night (1/27/2006 ). My brother in law who suffered from diabetes died unexpectantly and quite suddenly in my sisters arms. I have one picture of him in the Hunting Gallery. I will post more about that in the coming days in another thread. Robert was a Master Hunter and loved the outdoors. He will be sadly missed by all who new him.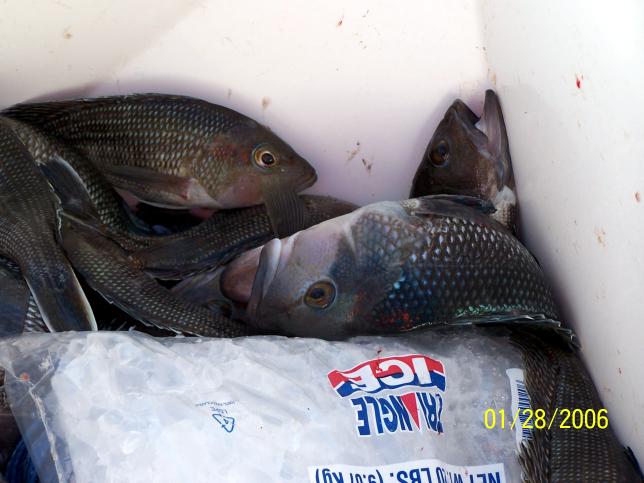 ---
01/08/2006
First report of 2006! Happy New Year. I did not have a charter this weekend, but planned to fish at the J bouy in hopes of hanging into a grouper, but my 2 guys canceled on me. It was too cold for one and the other had a cold. Pulled the boat out on Saturday and put the registration numbers on her. Bummed out, I ran into a good friend, Ken Rule on Saturday and got an invite to fish with him and his brother Mike on Sunday. I have fished with both these guys on the Madam P and they are good fisherman. ALso on board was Mikes brother in law, Eric. We left the dock around 10 pm and headed to the SAV reef. We met Barney Portman in his glacier bay at the numbers. Ken demonstrated his way of anchoring and it worked well. It was rougher than forcast. The water temp was 50 degrees and clear as a bell.
We were on the numbers in no time and caught about 100 Black Sea Bass and kept about 50. Headed back in around 2pm and did ok until we got about 100 yrds from Kens dock when we had a fuel problem. However the tide and wind carried us in to a dock near his and we got back safely. Ken just had some engine work done on his boat as well as replacing a fuel sender and thinks that was the problem. We cleaned the fish and Ken fired up a skillet. Put in some garlic, onions, lemon juice and butter and sauteed a few. A great ending to a good day on the water.
---