By: Capt Rick Reynolds
12/31/2005
Last report of 2005! Fished today with my good friend Paul Popour. We were going after sheepshead at the sav reef, but the weather which improved over the day caused us to go south to the DUA Reef. Pauls daughter Nickie, was with us as well. We tried a total of 3 drops today and came back with no sheepshead, but 24 decent Black Sea Bass. I had difficulty getting anchored directly over the structure. We still had a good day of fishing, but missed out on sheepshead. Attached is a picture of the BSB's that I kept. The water temp was 48 at the dock and 50 out at the dua reef. Water clarity at the Dua was stained. Again It was a nice way to end a good year.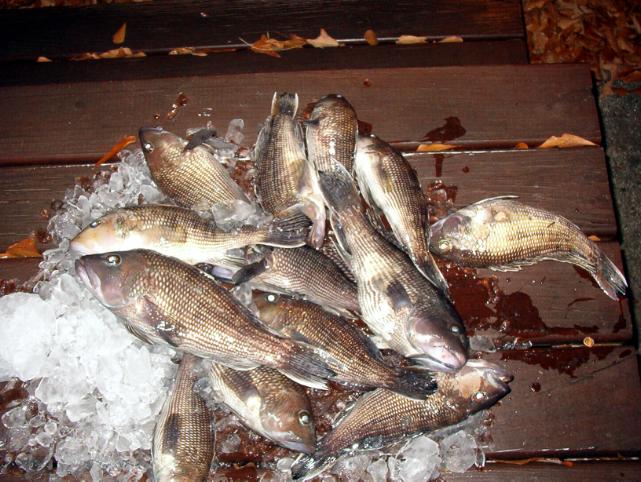 ---
12/22/2005
Fished Grays Reef today with a new friend Clyde and his 4 year old son. The weather called for 2 - 4 foot seas, but as soon as we passed the Sea bouy, I had to slow up to about 19 mph. The forcast changed to 3-5's. We deteremined it was mostly 5's with an occasional 3 tossed in. However the Edgewater handled well. Clydes 4 year old was a pleasure to be with. He seemed to enjoy the weather. Temp was in the low 30s and the water temp was 47 at the dock, but warmed up to 54 at Grays Reef. We picked off a few sea bass at the first 2 stops, but were not steady. Clyde put me on to some numbers in his hand held and we had 40 keepers by 1:30 pm. Wind was directly out of the north and the trip back took longer than planned. We averged about 10 - 12 mph back to the Sea bouy. We had an excellent day considering the weather. We only saw 1 boat and that was near the Sea buoy on the return. Also Clyde caught a grouper but it was not quite big enough to keep. Below is a picture of the Swells we were fishing in and also a shot of Clydes son Mark, with the final catch. The Toe Rail came in handy as it helps steady you in rough seas.
---
12/17/2005
Watched the weather and decided against going to Grays reef. Fished inshore at alot of my favorite drops, but the water temp was only 48 degrees. fished the last 2 of the incoming and first 2 of the outgoing. Water was clear and cold.
Had 1 bite and caught 1 trout and released 1 trout. Caught him in wassaw sound. Went out there to see if it was bad as predicted. Not bad in the sound, but could tell the wind was definatly picking up.
My now good friend the TTop kept me dry today. It causes a lot of grief for going under bridges, but was wanted and needed today.
Adams Bait Store is going to try to keep live bait till the end of December, but he did say shrimp will be scarce when the ocean water temp hits 50. It was 48 in the sound, so it is probably close to that in the ocean.
I did not get a single bump with my berkly gulps. Most likely my last inshore until late march. Will strictly be going to the nearshore structure until then.
It was just a cold, wet, windy day on the water, with little boat traffic
---
12/10/2005
Fished inshore today. Really wanted to go to Grays Reef , but weather was calling for rougher seas than I wanted to do bymyself. Fished out near the jettys and got 1 bite. Moved inshore into Richardson Creek and picked off 3 nice trout then nothing. Moved to another location and caught 15 (12 inch ) trout. Trout are running much smaller than normal at this time of the year. I took a picture of one of the trout that hit a screwtail, to demonstrate how vicious a trout can be. However only 1 picture and not the best came out. He entirely engulfed the plastic.
Water temp was between 52-54 and stained.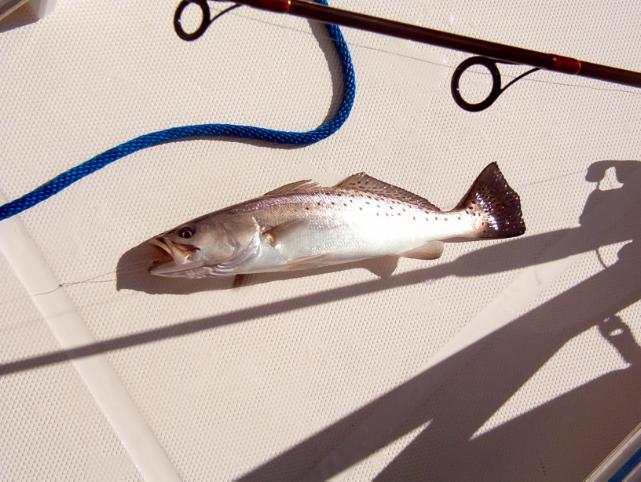 ---
12/03/2005
Fished alone today. Had a tentative charter, but was canceled and my Fishing Partner , My son Jeremy, did not go with me today - he had other things more important to do today. Something about studying for a final exam and he had something going on with his girlfriend. Besides being a brief report, let me define what I have found in the inshore saltwater fishing world as a true fishing partner.
Some of my fishing drops have taken me 18 years to find. A lot of them were past down to me from Pat Smith, one of the best inshore fisherman I know. Pat was dying of brain cancer and was given a short amount of time, "weeks in fact" from the diagnosis to live. He gave away most of his fishing equipment, but was treated and is still alive today. In the earlier days of mine and Jeremys fishing, we would often come back to the dock with 1 barely legal trout and Pat and his friends would have a cleaning table full of Trout and Redfish, and I mean big reds, 27 inches. It was so bad, that if Jeremy saw Pat at the dock, he didn't even want to stop. After Pat did not die, he didn't have a lot of equipment and was not sure how much time he had left. Pat became a good friend and we fished together for about a year and 1/2. Fountain Marina, got sold and I saw less and less of Pat. He not only showed me all of his spots, but he taught me to fish.
I have past on everything and more to Jeremy, my partner. He knows all my "secret spots", plus spots we have found together. A very good friend of mine and a very respecable inshore fishing guide will not take me fishing much, as he doesn't want me to know his super secret spots. He also will not take a local charter to those spots either. One of his other friends is out of the circle of trust, because he has let the cat out of the bag too many times.
So a fishing partner is someone you trust explicitly with all the knowledge you have and do not worry that he will broadcast it to the world. You can count on him to most always go with you and help with the anchoring, cleaning of the catch, and cleaning of the vessel upon return. He will share the expenses of running the boat which with the price of gas can add up to be alot. Brief fishing report below.
Water temp was in the mid 50's. Clarity was good. Wind was calm. I targeted trout only today and caught upwards of 30. I kept 6 for a meal and released the rest. Many of the trout caught were over 12 inches but less than the legal 13. I found that inshore the trout prefered live shrimp. In the Sound , they exclusivly bit a berkly power bait. I caught 5 in about 10 casts on the berkley power bait. Also in the last hour of the incoming, I picked off some nice trout almost in the grass. It was over a 9 ft tide today, so the water was way up in the grass. On the outgoing , I caught them in 12 feet of water in the Sound. and about 5 feet from the river bank in the Herb. Below was Sunday nites supper, along with some sea bass from my last trip to Grays reef.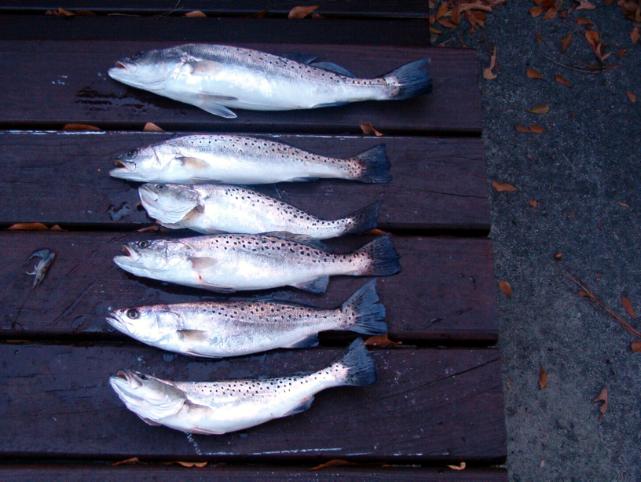 ---
11/26/2005
Fished with my Son today and we hit some spots that had produced in the past. Since we have some fish in the freezer today was strictly catch and release. First drop out near the jettys produced 1 trout that was released intact. Wind was blowing a good 15- 20 mph, so we did not stay there long. Cruised over to the flood gates and easily went under them and saw someone land a nice striped bass. After the tide started coming in we tried for a striper or trout in the middle of the flood gates with no luck. There was probabaly another 10 boats around and I did not see anyone catching. We then moved inshore and caught and released about 20 trout. About 1/2 were keepers. Water temp was between 55 ° and 57 °. Water clarity was good at most places. IT was another cold and windy day on the water.
---
11/17/2005 - 11/20/2005
11/17/2005 Scouted for the Savannah Redbone with Capt. Jack Mcgown on 11/17/2005. Temperature dropped from 80° the day before 11/16/2005 to 44° on 11/17/2005. Wind out of the n at 10 - 15 knots. We scouted in South Carolina waters and did not do too much, But I saw Capt. Jack catch a 23 inch redfish on a 7 inch live mullet.
11/18/2005 day 1 of the 2 day tournament. Started the day at 5:30 am getting bait for my 2 guys. We left the dock at 7:30 to 15 knot winds out of the North/Northeast. Outside air was around 44 and the water temp was a dirty 61°. Started out quickly with a Trout and 2 redfish before 8 am. Then we picked off a few trout in the Herb River and in Wassaw Sound. We ended the day with 6 trout and 2 reds that were released and counted. They caught an addional 20 undersized fish.
11/19/2005 Day 2 of the tournament. Started again at 5:30 to a low temp in the mid 30's and wind blowing 15 - 20 knots from the North, Northeast. Went to the floodgates and caught 4 nice trout, but then nothing. Finished the day on the Wilmington river catching an addional 9 trout. The guys had a good time, but we finished near the middle of the board.
11/20/2005. Left the house to clean the boat around 9am and fished a handful of live shrimp and caught 4 keeper trout to 18 inches and 1 Redfish. Gave them to one of the guys at the marina. Today the temp was warmer and the wind had laid down to about 7 knots out of the North East. Water was clear and about 61°
---
11/12/2005
Fished Inshore in preparation for next weeks 2nd Annual Savannah Red - Trout Celebrity Classic tournament. Jeremy and myself left the dock around 7:30 and immediatly started catching yellowtails on live bait. Jeremy switched to the spinner with a berkly gulp bait and landed a nice flounder. Action was not fast and we covered a lot of water. Did try the Back River and I now know that I have to have 2 hours on either side of High Tide to get in and out. I did catch a nice redfish up there though. We also fished out near the Jettys and Jeremy Caught a decent trout on a live shrimp and I caught 3 or 4 big blue fish, which were released. Water temp was between 61 and 64 °. Getting used to the new Edgewater, have just over 20 hours on her.
Didn't catch anything in the Herb river, but Jeremy did catch another 19 inch trout in the Wilmington river at the top of the tide. We kept 2 trout, a flounder and Redfish for supper. Decided to bake the filets and cooked up a pot of cheese grits to go with them.
---
11/05/2005
Seas were 2 foot today so decided to take the boat down to Grays reef. I am still under the weather with some kind of cold that just won't go away. Feeling poorly, I decided to head out anyway as this is one of the reasons for getting the bigger boat. That being said, I was not fully prepared and only took bottom fishing equipment.
Got to Grays and ran into my good friend (2wishin) Paul Poppour. He graciously lent Jeremy a rod/reel and live bait and quick instructions on the art of King fishing. I concentrated on black sea bass fishing and Jeremy went for the Kings. Left them biting at 3pm and headed back to the marina. Total trip Miles was 107.7 . We cleaned the boat then I cleaned fish until about 9:30 pm. Gave away a lot of King Mackeral filets. Below is the catch from Grays.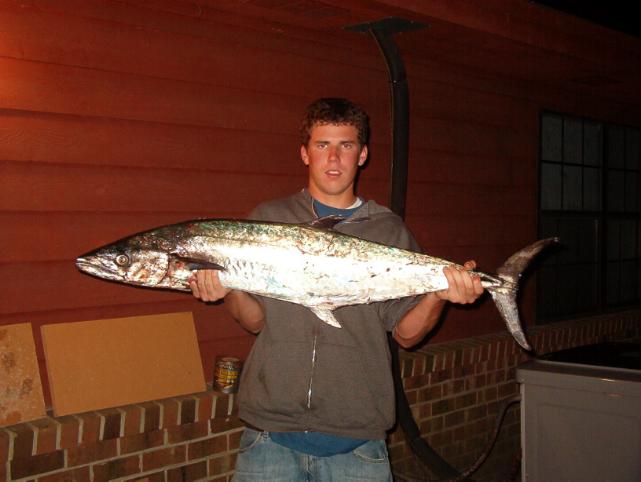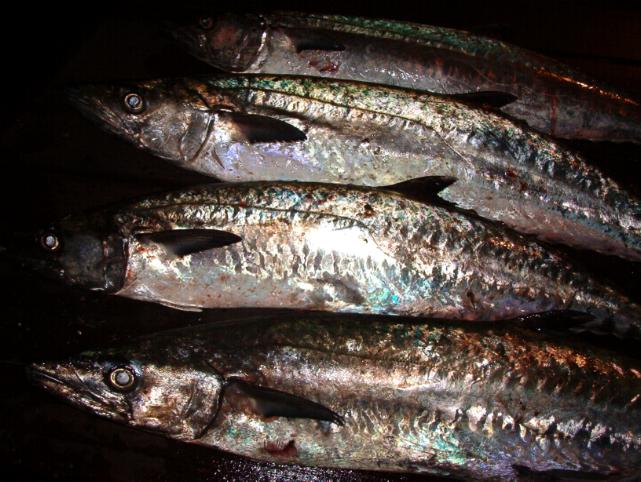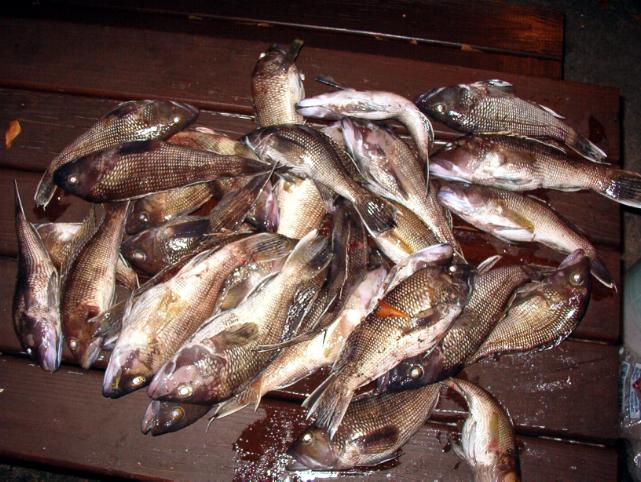 ---
11/04/2005
Had an all day charter for Trout and Redfish today. Nice day with temps reaching into the 70's water temp was in the mid 60's. Had a new moon with tides running about a foot higher. Water clarity was stained at best and dirty at low tide. Tried many spots. Started on the spot that produced most of the fish caught on 10/29. Tides were backwards and we only caught yellowtails and some small trout. Moved out to the Wassaw sound and didn't get anything. TIdes were extremely high .. Moved back to spot 1 and caught some decent trout, but the action was slow. We went through a quart and a holf of shrimp so we moved and stopped and got more bait.
Tried the floodgates, but the tide was way out. No problem getting under the bridge with the ttop but only caught more yellowtail and 1 more trout on a berkly gulp. Move back inshore and fished the Herb river at upper slack tide. a few more bites, but probably more yellowtails. The guys seemed to enjoy themselves, but with such a small catch, I have asked John to call me next time he is in town and we will try again on my nickle. I got to say John, Doug were seasoned excellent anglers, and Mike was starting to get the hang of it near the end of the trip. The bite just was not good. I enjoyed fishing with each of them.
---
10/29/2005
Jeremy and myself took out the new rig today for some inshore fishing. Wanted to make sure to break her in right. A lot of people had indicated that the t-top might be in the way. Not the case at all. We had a great day of catching and kept more than a meals worth, but hey we wanted to slime her up and we did. Jeremy has started pitching some plastics lateley and managaged an inshore slam. Red, Flounder, then a trout all on the screwtails. We have found the berkley gulp bait works well. Water temp was crystal clear and 64 ° .
I used all live shrimp and did good with them. I caught and released a 29 inch redfish at the jettys. I landed him pretty quick, but It took a few minutes to revive him. Jeremy got out on the swim platform and worked him back and forth till he kicked off on his own power. Final tally of fish that we kept were 10 redfish and 7 trout and 1 flounder. We did not make a mistake getting this EDGEWATER.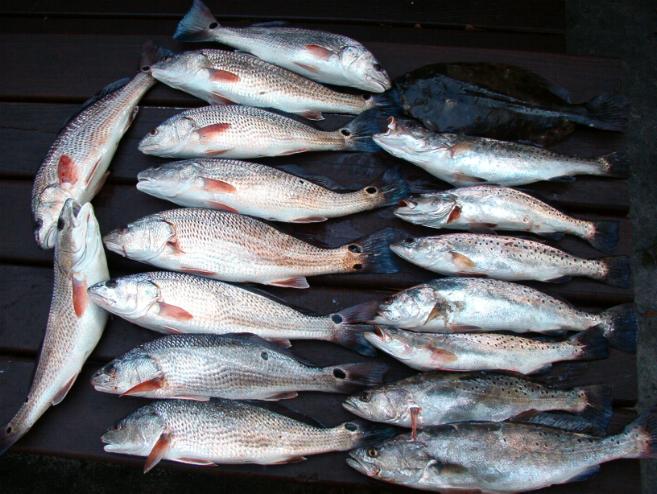 ---
10/15/2005
Today was a special/sad day for me. It is the last time my Son and I will fish in the 19 ft. Seapro Bayboat. We have enjoyed that boat since Late 1997. I can remember back to when Jeremy was just learning to use a baitcaster. He didn't do so good the first few times, and my patience with him was not always as they should have been. I put him back on a push button reel, then he quickly progressed to a spinner. He was 12 when we got that boat. This was the boat that the stingray cut his foot to the bone in. This was the boat that we caught sharks in all night. We caught hundreds of pounds of shrimp in that boat.
As the years past, Jeremy quickly got the hang of baitcasters and is a fine angler to this day. He is going to be a much better fisherman than me. He is starting to guide me to new spots to try that produce more often than not.I am going to miss our old boat as this is where I watched my son grow from a boy up to the fine, strong young man that he is today. Below is a picture of our vessel. She has served us well and will be missed! We both were sad today as we unloaded this boat for the last time. This boat is full of good memories. This was the platform that Jeremy caught his gator trout and Bull reds this year. I can honestly say that every minute spent in this boat was quality time well spent.
As sad as it is to part with her, stand by for the next chapter as it can only get better! Jeremy had been hinting for a bigger deeper boat so that we could explore the near shore reefs more often and Go to Grays reef whenever we wanted. After lots of looking and lost sleep we mutually agreed on a new vessel. We are hoping to take delivery this Thursday. I felt that the time was right to move to a newer, larger vessel. This new boat will be Jeremys, but I will just use it to do Charters. It will be taking the place of the one pictured below at Bahia Bleu.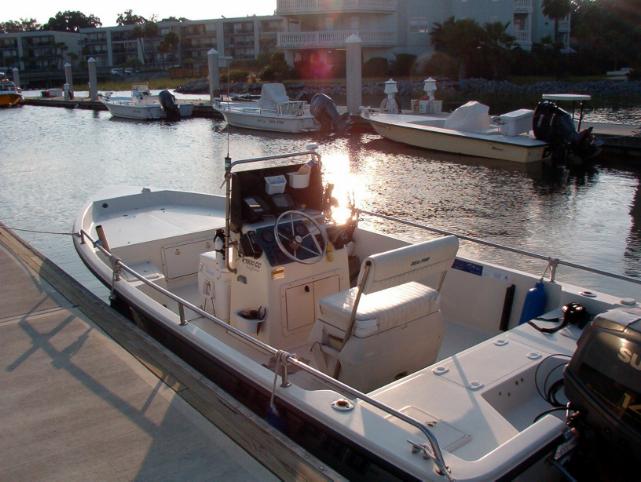 This is a picture of todays catch. Water temp was in the low 70's and relatively clear despite the high tides and moon phase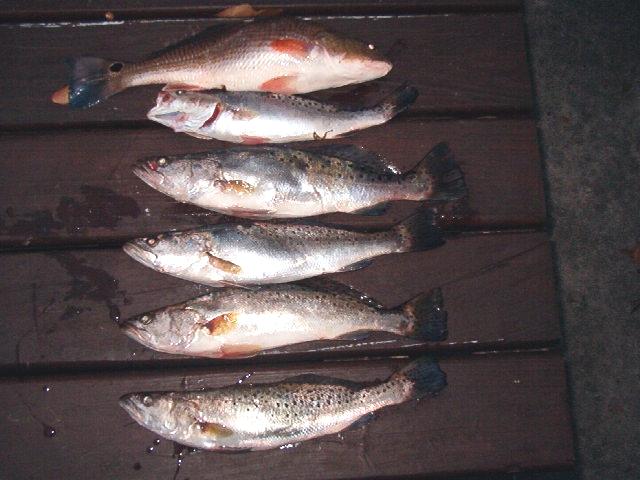 ---
10/09/2005
Last year on 10/10/2004 my son and I shrimped and did very well. So tried again today and did very good. Had quite a few large shrimp but more mediums thans last year on the same date. Shrimped for about 2 hours and almost filled up a 5 gallon bucket. We also caught several small trout and 1 nice one at the first of the outgoing tide. We filled up 1 side of the sink with the headed shrimp.


---
10/01/2005
Last chance to get out fishing before having back surgery. I am scheduled for that on Oct 6. I did not have a charter, so Jeremy wanted to go with me as I am unsure when I will be able to get out again. Hoping I am only laid up for 7 days. Started out the water was 78 ° and clear to stained. Started way inshore with nothing happening at last weeks drop, so we headed out to Wassaw Sound where the wind was blowing at least 10 - 15 knots. Hit a trout drop that produced 15 redfish and 1 trout. Jeremy caught almost all the Reds. We ran out of bait and left them biting. This action started around 8am. By now it is about 10 am and the tide was coming out of the grass, so Jeremy caught us a quart of shrimp.
We decided to go to South Carolina and due to the bag limit differences we unloaded our Georgia catch and then proceeded to South Carolina.Wanted to catch a striper as that fishery is now open in both South Carolina and Georgia. You can take 2 a day over 27 inches. We didn't catch any Stipers but I caught 2 flounder and Jeremy caught 2 redfish that was released.
When I was taking a flounder off the hook, He shook off the hook and bit me on the calf on his way down. Flounder have a nice set of teeth. We had a good time and a full day of catching.
---


09/24/2005
Had a good day fishing with my son Jeremy. I wanted to get some shrimp today but we went at low tide and caught about 3 quarts of boit size in 30 minutes. We took a couple rods with us,so we headed to the Jettys to try to pick up a big redfish. Caught quite a few blue fish and decided to go to the back river. We caught 2 nice trout and released 2 redfish. Jeremy hooked a huge striped bass that cut the leader with his gills. Tried a few more spots then headed back to Thunderbolt.
The water was clear and the temp was 80°. We were not getting bites and I saw a redfish roll near the grass. We both threw over to where he boiled the water and he hit Jeremys bait. He was 20 inches so we kept him. The trout turned on and final tally for the day was 8 keeper trout and 4 keeper Redfish. We released 2 nice reds and several blue fish. Jeremy caught 8 fish and I caught 4. The only disappointment was the striper that got off.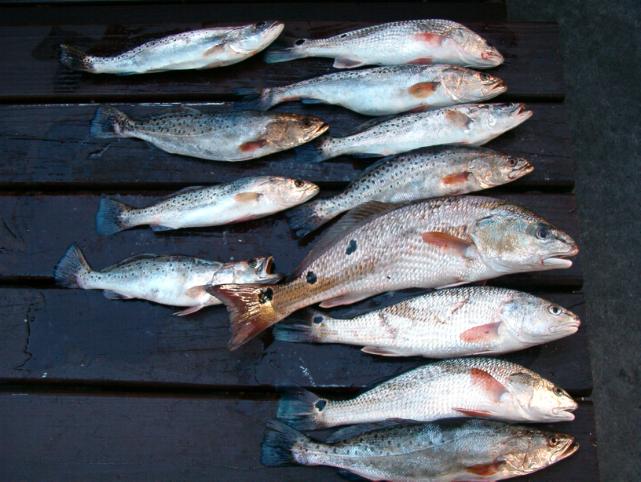 ---
09/22/2005
Had a great charter today with a couple of experienced fisherman. I had the good fortune to spend the day with Jim and Jeffery. They opted to use my baitcasters and handled them well. Water temp was 80° up a few degrees since last friday. Started the day with a couple quarts of shrimp, of which 1/2 of them died before the first stop at the jettys. Jim started by catching a legal sized flounder. Jeffery follwed with a croaker. This was the same location I got into some trout last week. Jim was doing all the right things and said I got something. He landed a 24 inch Red fish that is legal in South Carolina. The action died and with the shrmp dying I opted to move on to a good trout drop in the Back River. They both missed a few , then they got into the catching pattern. I believe they kept 5 or 6 trout from this spot as well as a couple more smaller reds. We moved on to another red drop and I missed 2 Big ones.
By now all the live bait was gone. So headed back in towards the Marina, and I stopped and picked up another quart of live shrimp. These were a lot more lively than the first batch. Got out in the sound and Jim caught a couple of Weakfish. We moved to another spot and Jeffery caught a blue fish and a lady fish. It was windy out in the sound and the water clarity was not good. Jim also hooked and landed a couple of Bonnet head sharks.
We left the dock around 6:45 am and called it quits around 4:30 pm. Unfortunatly I forgot my digital camera. I am not sure if Jim has fished the method that I use, If not - he picked up the technique immediatly. Both guys maximized the fishing time by avoiding time consuming backlashes.
---
09/16/2005
Scouted for trout for a charter next week and was able to locate some very nice trout. Kept 3 trout and 1 black sea bass. Water temp was in the mid 70's and the clarity was stained. The fall trout pattern has not kicked in yet, but the actual bite is like you expect in fall. The trout are hitting very hard and fast. Also you need to loosen your drag somewhat as their mouths are exceptionally tender and with too much drag they are able to shake the hook.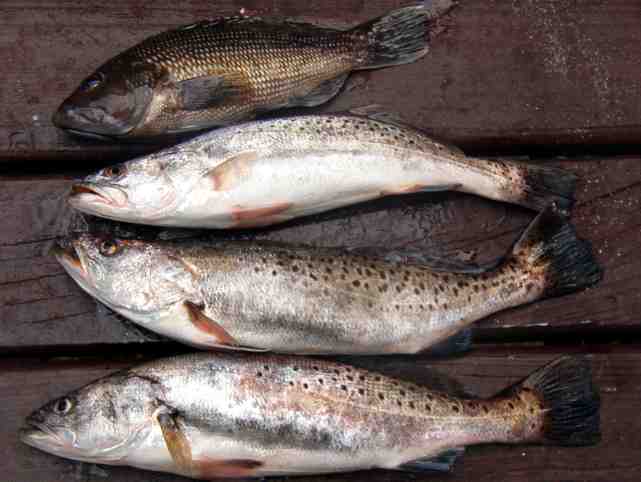 ---
09/10/2005
Went alone today and started in Wassaw Sound. It was way too windy with Hurricane Ophelia off the coast. However I did pick up a couple of trout before moving to sheltered water. Went to a few drops on the Back River and caught a few small red drum and 1 keeper. Also picked up 5 nice seatrout and kept 4 to 17 inches. Water was clear on the Back river and water temp was down to 76°. Also with the near presence of Ophelia, the air was very clear and bright. Kept 1 redfish and 4 trout for supper.
---
08/29/2005
Had a fun charter today with Don and Mike. Both were very good fisherman. Don was interested in what I look for when targeting trouts and reds. I showed him the type structures that I look for and the tidal stages that I try to fish those particular structures. However, the trout bite was not good. We caught a few trout, with only 1 keeper. Also caught a quite a few redfish with only 1 keeper. Did managed a double hookup on black drum, both of those were keepers.
Caught and released a few nice bonnet head sharks, but was unable to connect with a good trout bite. Wind and rain picked up during the incoming and the clouds were coming at us counterclockwise, so I know we had a low pressure developing on top of us. Lost a good bit of bait to the needlefish in the sound. Water temp was 83°. We started in Herb river, then moved to Wassaw sound, then finished the day in the Back River. We started the day at 7:30 and fished until 5:00 Pm. I think everyone was tired at the end of the day.
---
08/13/2005
Did not have a charter today and my son was doing something else, so I decided to go catch some fish. No spinners or popping corks, just the Calcutta and the Key Largo. Stopped on the way out to Wassaw sound and cast netted a quart of small shrimp. Got to the drop I was planning to fish and first cast, 18 inch trout. Started catching trout at 8:30 am and that action was nonstop until 12pm. Water temp is 83.5 ° and clear. Since I had the boat to myself, I was able to cast where I wanted. I can read the water very well , and I cast to the rips that would form then dissapate as the tide changed. Final catch was 9 trout and 1 whiting that was kept, numerous black tip sharks. Had a trout taken by a larger shark as well. I also released about 8 trout as well.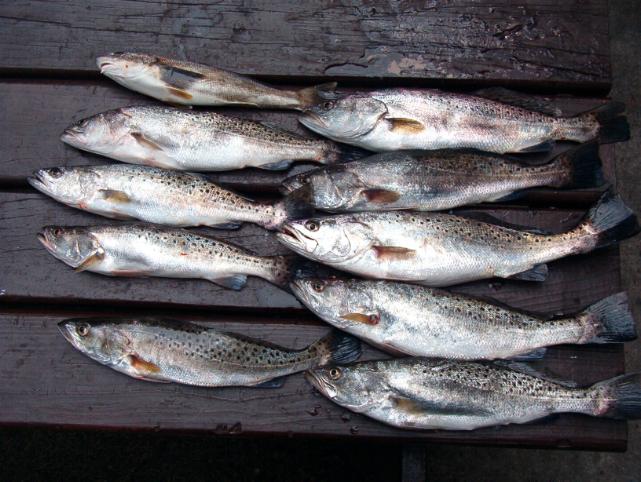 ---
08/08/2005
Had an inshore charter with a local Dnr employee and his friend from atlanta. They wanted to catch a shark and anything else, but mainly wanted a good pull. Adams bait is closed on Mondays, Hogans doesn't open until 7am. We left the dock with some squid and I stopped and caught about a quart of small shrimp across from the Sheratin. Stopped at Landings harbor and picked up another pint of shrimp and some ice.
Got to a decent trout drop and they both got into some bigger ladyfish. One of the guys hung a 15 inch trout and the other caught a 10 incher. More ladyfish and some smallish sharks. We repositioned with the incoming tide and the person from Atlanta nailed a 33 inch bonnet head. We gutted and put him on ice. He pitched back over and caught another one 33 inches long.
Action died down and we went on out in the sound and got wet and saw 1 waterspout. They both caught a couple small sharks and a small whiting.
Went back in closer and 1 guy caught a 18 inch trout then a pinfish. Used the pinfish for bait and hooked up with a 30 inch black tip that we released. They got their sharks and a couple nice keeper trout.
Water was clear and 84 degrees, wind was out of the se and not much rain, the day was pretty much overcast. Thanks for the trip Lane and Gary.
---
08/06/2005
Spent the day trolling and bottom fishing out near the R7 Navy Tower on the MADAM P. We caught and released 2 Barracudas trolling and had some misses from some small kings. Did catch quite a few black sea bass and vermillion snapper and my son caught a nice grouper. Seas were suppossed to be 2 -4 foot, but by the end of the day there were more like 4-7. This first 2 pictures are of the storms we ran thru. Thanks to Barney Portman for inviting us along.
---
07/30/2005
Took a good friend fishing today, but the tides were not favorable and the water was not very clear. We both managed a few sharks at the trout drop and then I ended the day with a nice REDFISH. Charles also caught a keeper whiting. A very good day on the water with a friend. By the way Redfish love structure! Picture below is a 22 inch Wilmington River Redfish, aka spot tail bass, or Red Drum. Very good to eat blackened or fried.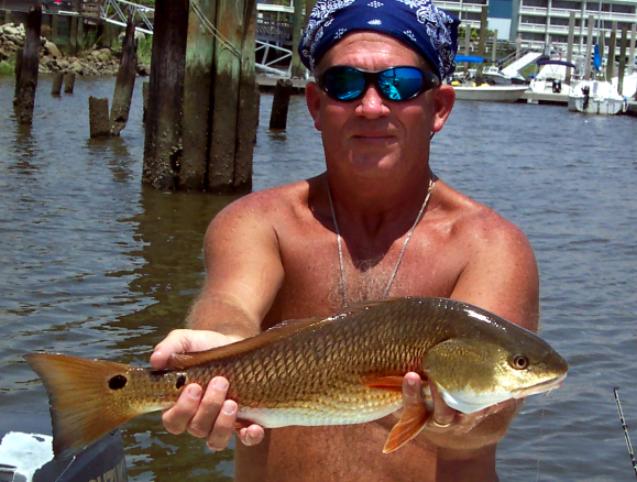 ---
07/26/2005
Jeremy went without me today and left the dock around 8am. He stopped across from the Sheraton Hotel on the Wilmington river and quickly caught a quart of fine bait size shrimp. He reports he caught these in about 2 feet of water as it was low tide around then.
He moved out to Wassaw Sound and hooked up with trout immediatly. He reports the wind was out of the SW at about 10 knots and the water temp was hitting 83°. Water clarity was stained. All the trout were on the small side. He reports that he caught 12, but kept only 1 trout and 1 nice flounder which he cooked for supper. He also hit a couple of redfish drops and caught and released 2 Redfish. Lost a couple rigs to sharks out in the sound. He had a pretty good day.
---
07/15/2005 & 07/16/2005
Jeremy and myself left the dock around 7:30 am with a quart of shrimp and headed to Wassaw Sound for some trout action. It was almost low tide and typically this is an incoming drop. Nothing had changed, as we only caught a couple small sharks here. I decided to move us to one of my favorite incoming trout drops, but it is over by the jettys. So we went on out Wassaw sound and around the front of Tybee and got to the drop. Water temp was pushing 83°. We didn't get a trout bite at all, but did manage about 5 small redfish. Pulled anchor and tried 2 drops on the Back river. I caught a 20 inch redfish, that Jeremy blackend for supper.
He worked all night Friday night so I left at 5:30 and headed back to Wassaw to try to catch a trout on the last 3 hours of the incoming. Nothing but a couple sharks. I decided to stick it out and at 12:pm, about 2 hours into the incoming tide, I caught eleven trout and kept 5 nice ones. The water temp was 83° and the clarity was good. The tide was flooding from 315 ° and the current speed was about 1.14 knots. The wind was blowing out of the southeast and that helped somewhat as well.
We should have just waited out the tide on Friday as Wassaw was much more productive than the rest of my drops on friday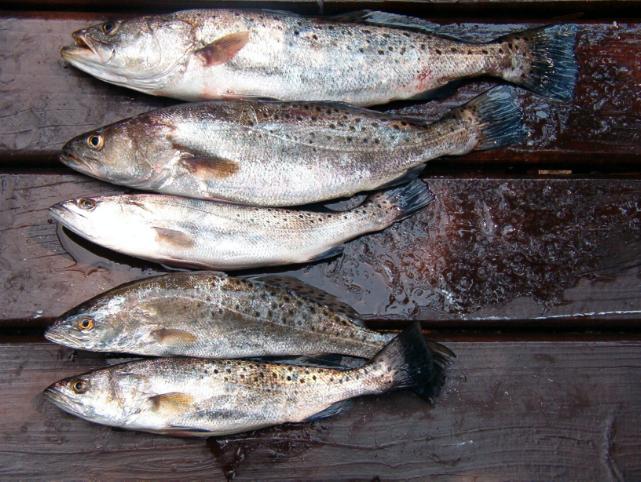 ---
07/09/2005
Tried it alone today. Weather was not good. My Back problem is much worse than last friday. During the last week, the pain was only in the lower back and Left Leg. Today I enjoyed the same amount of pain in both legs and experienced some numbness to go along with it.
Bought a pint of shrimp from Adams and was disappointed at the small size of the shrimp. We bought some last week at Bandys that died very quickly, so we tossed a cast net to replenish what died and they were near perfect bait size. I am sure if I had more of those size shrimp I would have done better today. Water temp was 83° and stained. I sat through 1 thunderstorm that really churned up the water. After it passed the trout bite turned on. I kept 4 trout and 1 whiting and released another 6 trout and a black tip shark. Also caught and released a few ladyfish as well. the whiting and small trout was caught on one of my older ABU's and the rest were caught on my Calcutta TE. I have been experimenting with a spinning outfit , using a Low Country Lightning, but have had very limited success. All the fish I have caught on the spinner were released. Can't give a good wind direction as it constantly changed.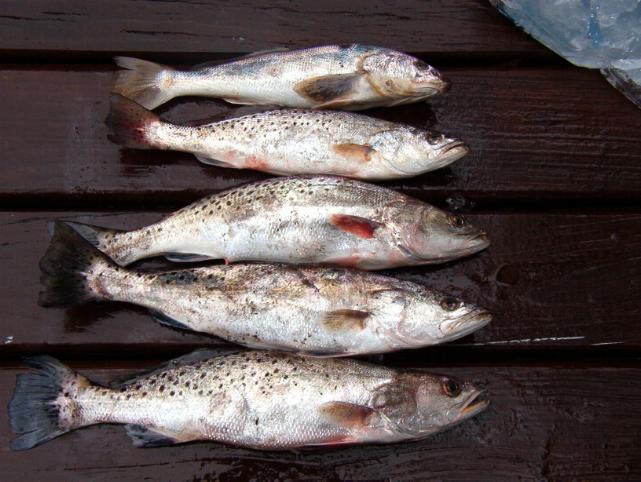 ---
07/06/2005
Today, Jeremy had to do it alone. It appears I have ruptured a disc and was unable to fish or go out in the boat with him. Jeremy left the house at 5:30 am and picked up a pint of live shrimp from Adams. He headed out to Wassaw sound and caught a nice 15 inch trout on his second cast. He reports that he landed another keeper, then caught and released quite a few short trout. He relocated and landed a very nice flounder. That was followed by quite a few small sharks, then he hooked and released a 3 and 1/2 foot bonnet head. He noticed something busting bait and casted into it. I think he hooked a tarpon as he reports that the rod bent double and the leader was cut clean at the weight. It was either a Tarpon or a very large shark. Jeremy reported that the water temp was 83° and quite clear. After 9:30 am the wind picked up quite a bit. Below the fish is a picture of Jeremys ABU 6500cs Rocket ( Chrome ) , that I ordered from Sweden for his Birthday. The Reel came on 7/05/2005, so I matched it up with a 8 1/2 foot (1 piece) key Largo trout rod. Being he had the new outfit, he opted to break it in today.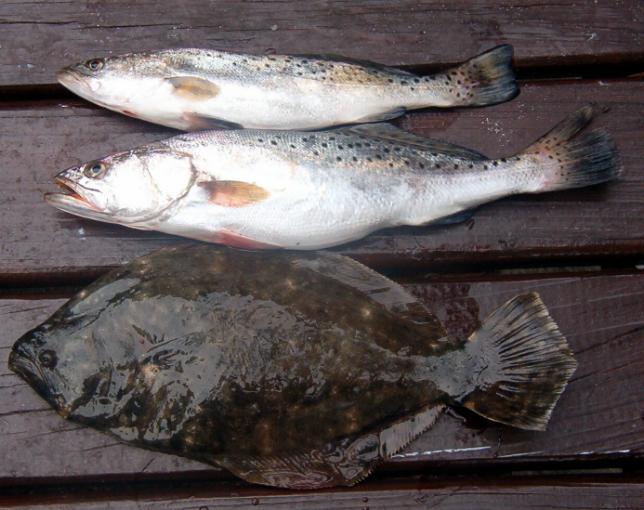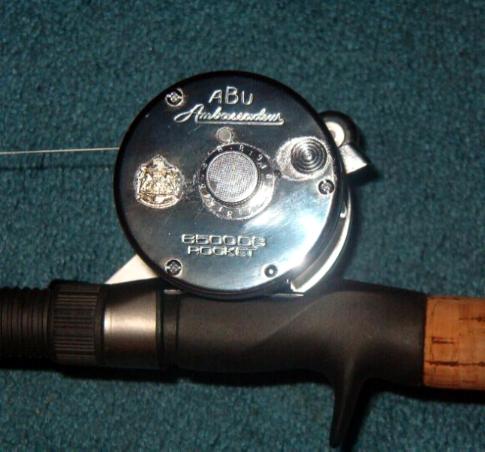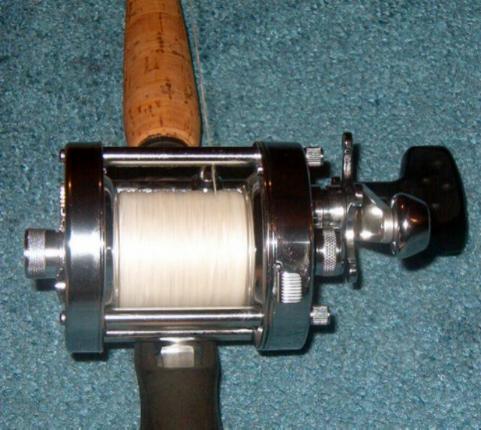 ---
06/21/2005
Had an all day charter with a client from Longbeach, Ca. We had a couple days of hard rain right before the Charter as well as a full moon. He wanted Redfish and we managed to get several bites but he only hooked up and landed 1, a nice 21 inch fish. We changed spots and he caught 2 very nice flounder. We finished the day in the sound where he caught and released a couple sharks, some ladyfish and a blue fish. A good day, but tough fishing. It was windy and the water was dirty and a lot of fresh water made for a challenging day of fishing.
---
06/15/2005
Today, Jeremy went with me to scout for REDFISH or Spottail Bass. Look at the REDFISH gallery for todays catch. The water temp was upper 70's and clear to stained. Jeremy wanted to catch a few trout, but we only caught sharks and very few ladyfish today. Bait of choice was live shrimp from ADAMS BAIT in Thunderbolt . I did catch 1 nice trout, but Jeremy caught 7 Nice REdfish and released 3. Another fine day on the water with my Favorite Fishing Partner. Jeremy gave me a very nice Rubber Landing net to see if that helps avoid tangles with the fish and hooks. It works Great! Plus it stretches to accomodate 25 inch REDS.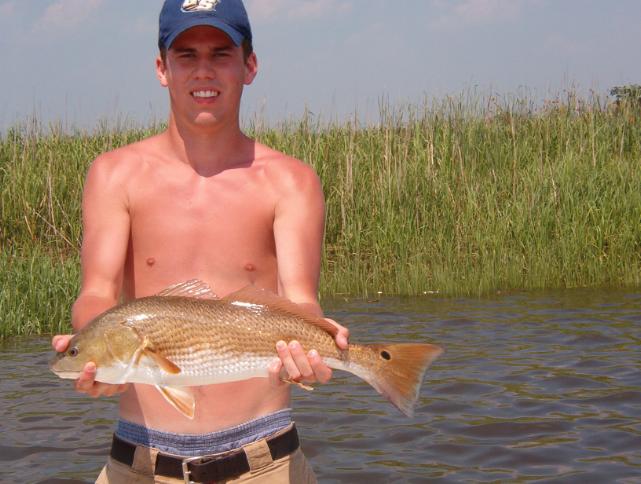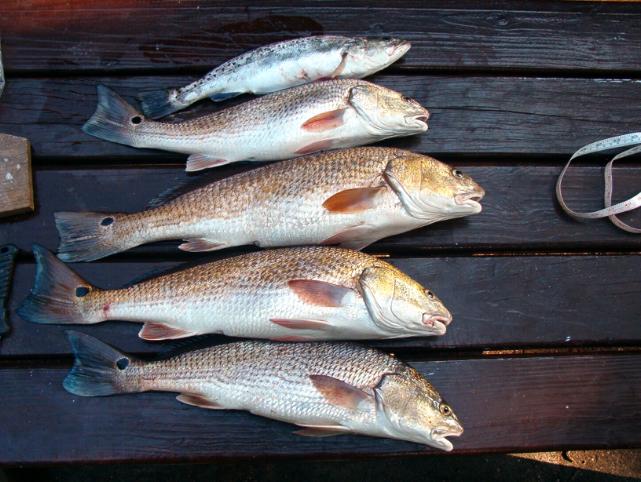 ---
06/11/2005
Scouted around today and found a few nice Trout. Water temp was 74° and the wind was blowing at around 20 mph out of the east. Water clarity was stained, and I did get in a shower from the outer bands of the tropical storm that made landfall this morning. I kept 5 fish for supper and released the rest. Besides trout, there were significant Ladyfish catches and releases as well as a few Blue fish.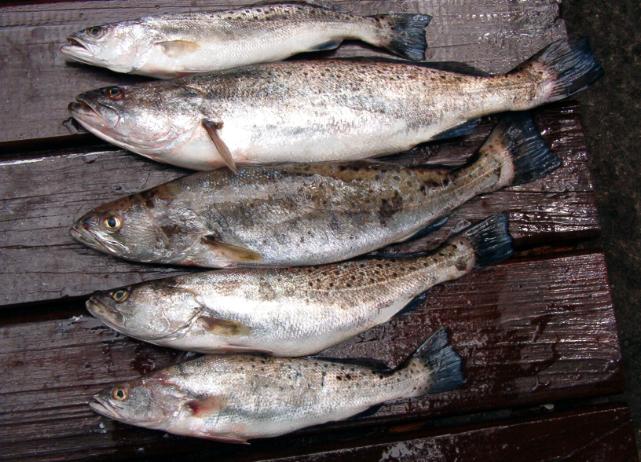 06/08/2005
My Son Jeremy talked me into going fishing today in the middle of the week. I agreed and we were headed to Wassaw Sound by 6:30 am. Fog was thick, but no problem with the help of the Garmin 182 Plotter. Visibility was ok around the boat. We got to the first drop before 7 am and my line was in the water first. I had a nice Whiting on the line before Jeremy got his bait in the water. Water was clear and we were fishing the last 3 hours of the Incoming tide. Both of us caught and released lots of Ladyfish. The water temp was 77° when we started and peaked at 80° by the time we headed in at 1Pm. Jeremy caught a very respectable 17 inch trout next.
A few boats approached our spot but only 1 got a little too close. Jeremy decided to try up closer to the bank and caught a 13 inch flounder. He had a couple nice bites, the WHAM cork gone. He said Don't get the net, I think this is a decent shark. The fish took some drag and rolled near the surface. I went ahead and reeled up my gear to keep this fish from tangling up everything. I was standing next to Jeremy ready to get the leader when this 23 1/2 inch trout surfaced and tried to run again. I grabbed the net and got the fish in the boat. It was hooked solidly thru the nose and the Hand tied Kahle hook Trout rig held the fish firmly. This fish is exactly why I hand tie every rig - No terminal tackle to fail, only the Sinker, flourocarbon Leader and a number 1 Kahle hook. NO snap swivel to break. The fish had a girth of 11 3/4 inches total length of 23 1/2 inches and weight almost 5 lbs. This was a very good trip!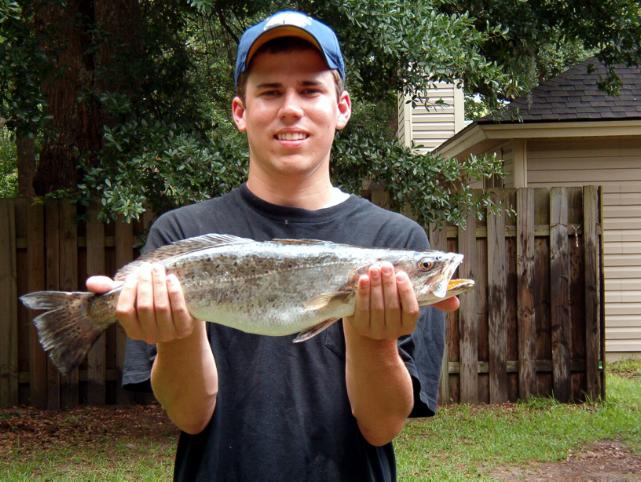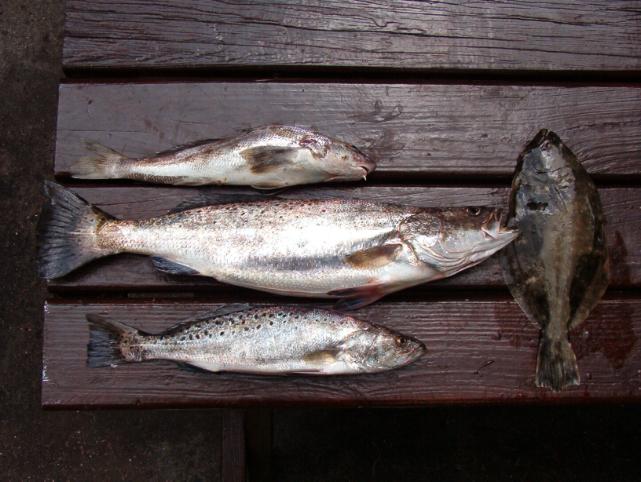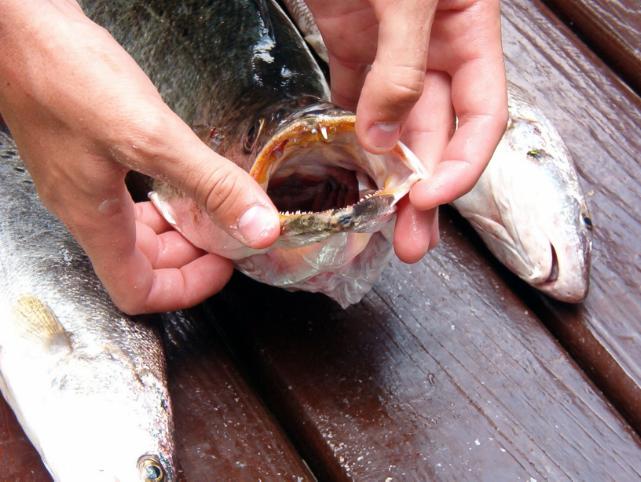 ---
06/03/2005
My Son Jeremy was ready to give it a try again today so we left at around 5:45 am to get bait and head out to Wassaw Sound. We fished the Last hour of the incoming and the first 2 hours of the outgoing. It was nonstop action until the wind picked up and going on the 3rd Hour of the outgoing it slowed up alot. I normally use a number 1 Kahle hook, but had been experimenting with some live bait hooks by Owner. We missed a few and then I switched back to the Kahle and we caught about 12 trout and several ladyfish along with some small bluefish. Jeremy caught the largest trout of the day at close to 17 inches. The water was stained and the temperature was around 74°. I brought Jeremy In and I continued to the Jettys to fish the incoming tide. The action was a lot slower than it had been recently and I caught 1 croaker, 2 trout , 1 bluefish and a flounder. I kept 1 trout and the flounder from there, the rest is what we kept from Wassaw Sound. Even though the flounder was dead, he still turned the color of the table.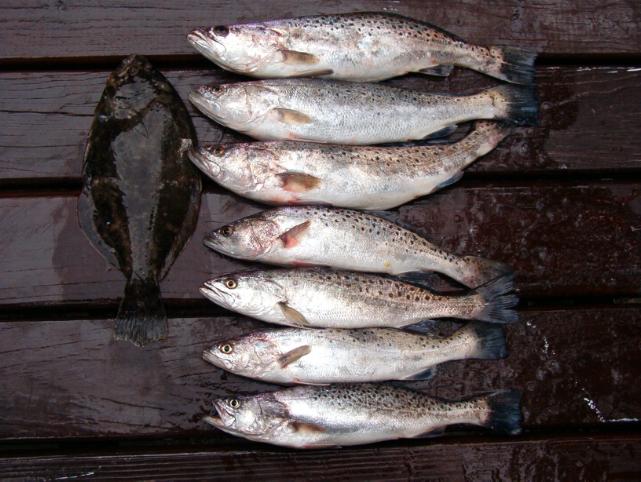 ---
05/27/2005 and 5/28/2005
Had another great friday on the water catching fish with my 19 year old son, Jeremy. We decided to try Wassaw sound before it gets crowded this weekend and had a very good day of catching. Water Clarity was good but it was a bit windy out of the south west near 12 mph. Water temp hovered around 72° .
Almost as soon as we got anchored I hooked up with a decent trout. Then Jeremy had one. It was like this most all day. There were several short trout as well as what we decided to keep. We Kept 6 trout , 1 nice flounder, 1 very nice Spanish mackeral, and we gave the whiting a try and kept 3 of those. Jeremy caught and released several bonnet head sharks as well as quite a few ladyfish and a 3 foot black tip shark. Jeremy caught the Spanish Mackeral that gave a blistering run for his size. All in all a very good day of catching, Keeping, and releasing ..
Went to the Jettys on Saturday and caught 10 trout and kept 5. Water was clear at the jettys but the Back River was dirty.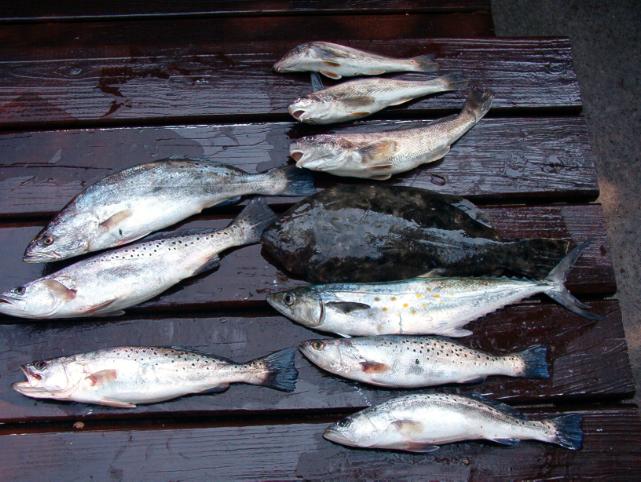 Saturdays catch below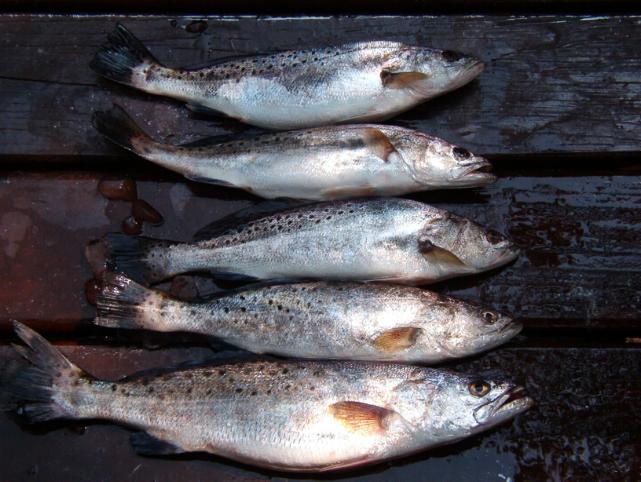 ---
05/20/2005 & 05/21/2005
What a difference a day makes! Fished all day friday with My 19 yr old son and had a good time. Wind was not bad, sun was out and we caught a few fish and kept a few. Water temp was around 73. We kept 1 trout, 2 nice redfish, and a nice flounder. However as the day wore on, the fish stopped biting. I guess they felt the impending radical weather change.
Saturday I picked up a last minute charter. We had a good time, but the weather turned to crap after about 8:30 am. The wind was relentless and the temperature dropped. We fished the Back River, the Jetties and then some inshore creeks before finishing up out in Wassaw Sound. We caught 4 trout , and a ladyfish. The wind and temperature drop along with a cold front moving in while fishing, almost shut it down. My charter did miss a few good bites, but none the less it was tough fishing at best. While coming back up the Savannah river from the Back river, I experinced some 2 - ft waves at about a 4 second interval .. That was not fun. Fridays catch ...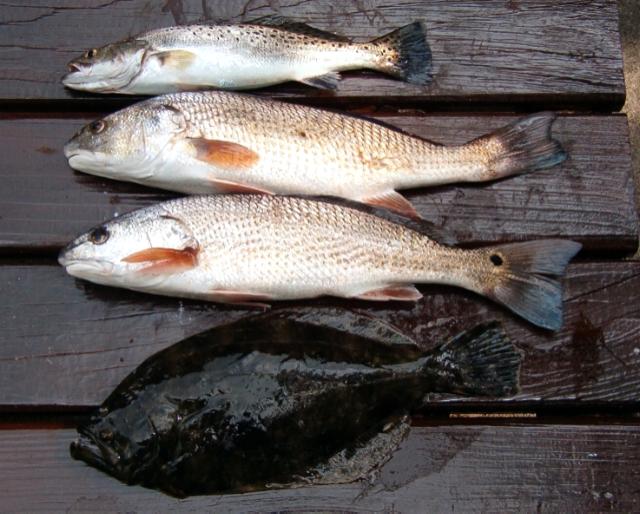 ---
05/13/2005 & 05/14/2005
Was lucky enough to have my 19 yr old Son fish all day friday with me. Thursday after work, we went out near Chimney Creek and dug up about 100 fiddler crabs for Sheepshead bait. We were going to try to catch some inshore Sheepshead at a drop I know about near the Jetties. This type of fishing is difficult at best as you cannot anchor near enough to the structure without putting yourself too close to the rocks. We both had several good bites, but I finally caught the only sheepshead of the day a heft 17 inch one. We moved to a trout drop way inshore and only caught 2 trout, mine was short and Jeremys was 13 on the button. Visibility was less that a 1/4 of a mile due to dense fog, but we both got too much sun. We caught a few more fiddlers, but Jeremy was too sunburned to go back on Saturday. The water was clear and the temp was around 70°.
I went back to try for some more sheepshead, but got a late start. Jeremy chose not to go due to the sunburn. Someone was sitting on that drop so I moved to the next drop down river. I did not get a sheepshead bite at this spot, and tried a shrimp that I had left over from friday. Caught 5 keeper trout from 13 - 19 inches. Came in early due to some early afternoon plans. Again the water was clear and 70°.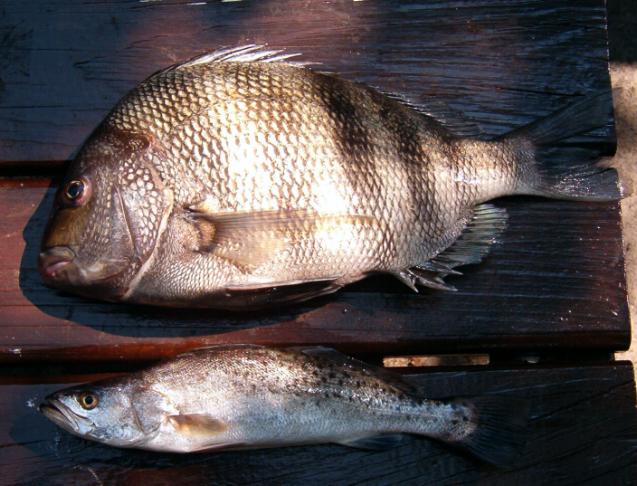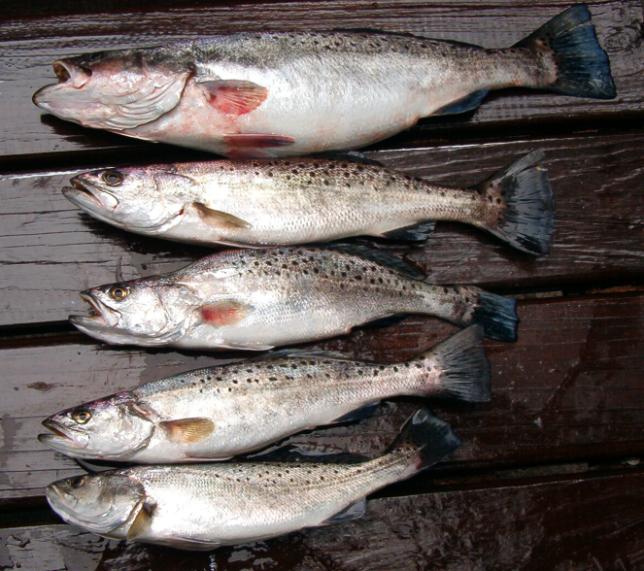 ---
04/30/2005
Fished alone today and it was ok. I caught about 30 fiddler crabs friday evening to use for sheepshead bait inshore. I went back to where I caught the 8lb sheepshead a couple weeks ago . I lost everyone of the fiddlers. I tried fishing with a float and without. I could feel the bites, but was unsuccessful on the Sheepshead today. Decided to try a drop on the Back River and caught 12 Speckled Seatrout. I kept 5 that ranged in length from 13 inches up to 19 inches. The water was clear and the temp was 64°. The largest trout also took the largest live shrimp. It was tuff in the wind, but the action was nonstop the last 2 hours of the incoming. Had to make a run from a big storm that snuck in from the west.I think the spring run of the trout is in full swing now or should be in the coming weeks. Just need the weather to break of the 7 day cycle with the best day of the week always on thursday. This has been a long windy cooler than normal spring.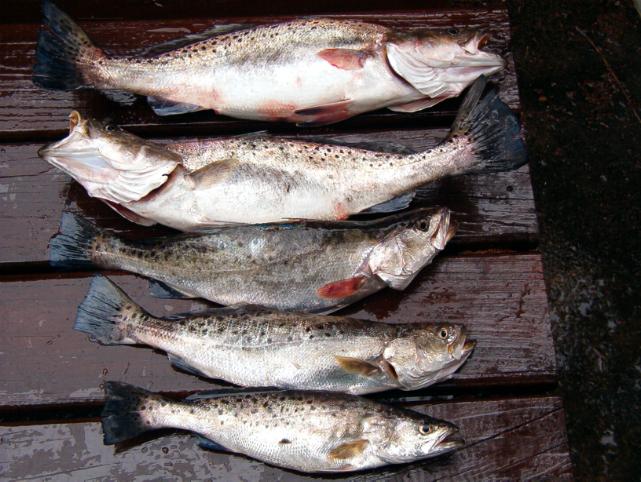 ---
04/21/2005
Fished at Grays Reef today with my good friend Paul Poppour and John McCann. Had a great day at the reef. Water temp was 70° and the seas were 1 to 2. We probably easily caught over 100 Black Sea Bass. We decided not to keep anything under 12 inches. Many of the BSB had the Blue and Green Heads with a hump. It was nonstop action from the time we got there until we left at 3 pm. We also caught 4 Sand Trout all around 17 inches. Below is a picture of the fish I took home to clean.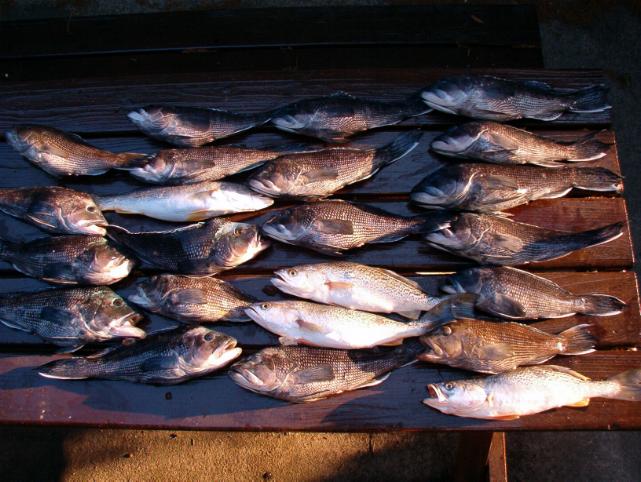 ---
04/08/2005
Fished many different drops today with limited success. There is too much fresh water in the inshore system I think. We have had a bit of rain over the last 3 weeks and has moved the fish, I think closer to the sounds or Ocean. I was able to catch (1) 17 inch trout and 1 smaller flounder and 2 sheepshead, the largest tipped the scales at 8 lbs. Had the pleasure of fishing with a work mate today. Steve did not get a bite, but fished as well as could be expected with the conditions of the weather. The water claity was not very good and the water temp near the Jettys hovered around 61 °. My 19 yr old son is holding the larger of the sheepshead.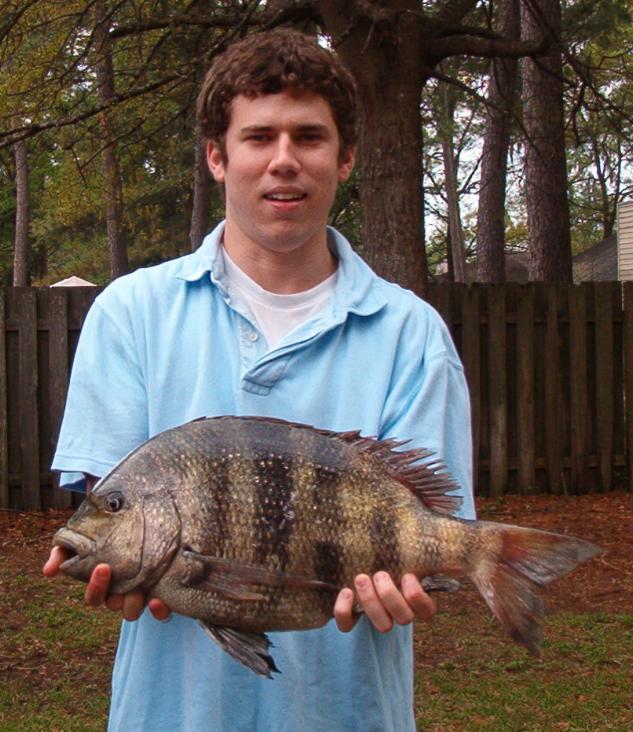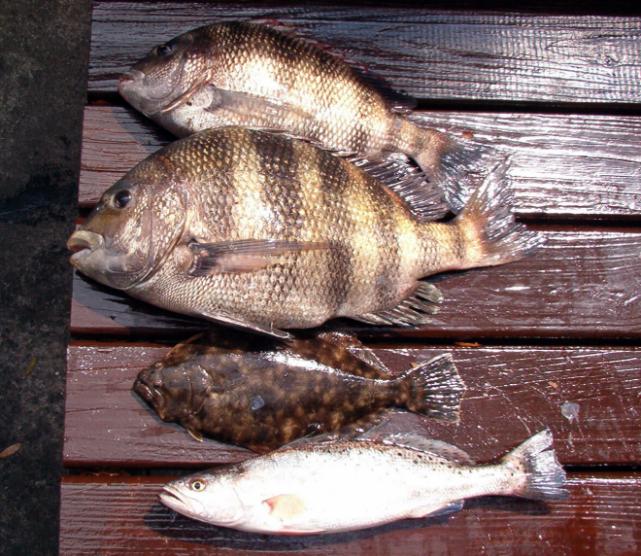 ---
02/13/2005
Fished again with my friend Paul Popour and my 19 year old son Jeremy. Paul took us out to grays reef and we had a wonderful day catching black sea bass. Right off the bat Jeremy and Paul both caught a nice size dogfish, which they got off the hooks with not much problem. I caught one as well and could not get the hook out of his mouth and since I got spined in the forearm last year, I opted to cut the leader. I quickly rerigged, but did not use the proper knot to attach my leader to my superbraid. I lost a monster redfish to a bad knot a couple years ago, and since then have always taken the extra time to tie a special knot that will not pull. I rushed this knot and sure enough it pulled out and I lost a leader. I rerigged and started over. By the time I was ready to fish , Paul and Jeremy had 11 black sea bass in the cooler. We continuted to find good quality fish and finished the day with 60 keeper black sea bass from 12 -21 inches. We were going to try for some sheepshead at one of the nearshore reefs, but were unable to get hooked on the structure. Still a beautiful day with seas from 1- 2 feet and water temp was around 53°. Below is a picture of Jeremy holding a couple sea bass and the ones we brought home to clean. I left my camera at home so I did not get any pictures of the actual trip. Below is a picture of my son Jeremy, holding a couple of the bigger BSB.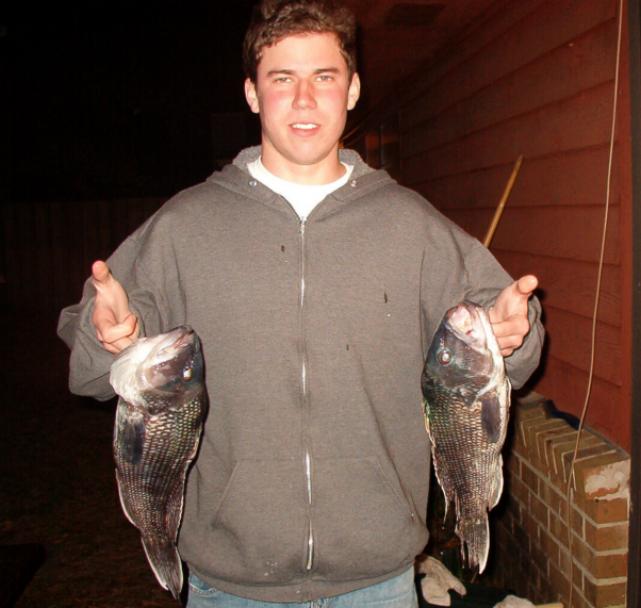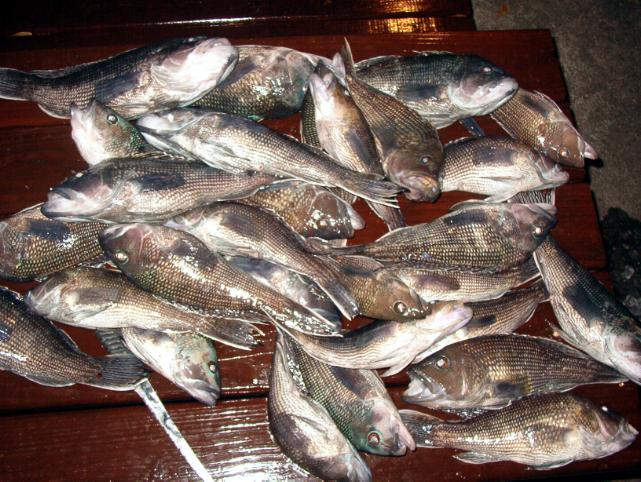 Notice I refinished my cleaning table since last month.
---