Fishing With Capt Rick (2004)
Back to Main
By: Capt Rick Reynolds
---
12/30/2004
Fished today with a good friend Paul Popour. I was able to go with him and Capt. Acid, and Papasan. We left Yellow Bluff around 9:15 am and had a beautiful ride out to GRAYS Reef. It was cold though. As soon as we got there it was nonstop action and we finished the day with 80 keeper Black Sea Bass. Paul and Capt. Acid indicated that the action was slow at first, but I contend that it was steady and good quality fishing. I had a great time snatching fish off the bottom.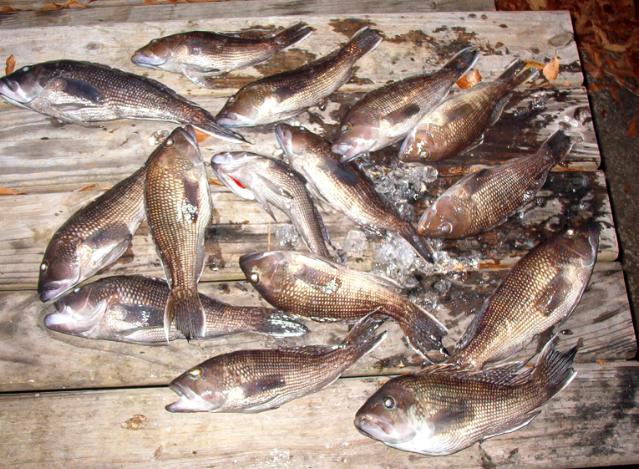 ---
12/29/2004
Fished today on the Back River.. Past the floodgates. I had hoped to make one more good catch of some Sea Trout, but that did not happen. The water temp was down to 43° and it had a definate impact. The trout have moved to warmer waters. I fished the last 2 hours of the incoming tide and then moved inshore .. nada nothing. I saw quite a few fish stacked up in the Savannah River between 20 and 30 feet , but nothing at my normal inshore trout drops.
The day was not a total loss though. When I got anchored at my trout drop on the Back River, I got out a semi live shrimp. Hooked him in the head and tossed him out about 10 feet from the bank. The shrimp had just hit the water and the cork wobbled then out of sight. I set the hook and thought that this is gonna be a very good trout. I quickly decided that it was going to be a really nice Redfish, but when I could not turn him at all and he got in the channel I knew I had a monster Striper. I had recently traded in my quantum cabo for a a Diawa Millionair cv-z300a just for something like this. I have over 250 yrds of spectra braid on this reel, so I wasn't concerned about being spooled. I was down current from the closest bridge so he couldn't break me off either. He ran towards another boat that was anchored about 70 yrds away, but I turned him before he got to that boats anchor. I finally boated this fish and he measured 36 inches in length with about a 26 inch girth. He did break my landing net, but my trout rig with a snelled hook was just fine. I estimated him to weigh around 30lbs. I did not have my digital camera today. The only reason I put him in the boat at all was to get the hook out of him. I put him back in the river and he slowly, but deliberatly swam back to the grass. The water was crystal clear today.
---
12/4/2004
Fished all day with a friend, Tom Carfrey. Started out at one of my incoming redfish drops that did not produce anything. I don't have too many first of the incoming tide spots, but Tom suggested a spot that I ususally fish in the spring.
I was fishing with a traditional baitcaster with live shrimp and Tom was using a lighter popping cork rig with some good size polywogs. The water was crystal clear and you could see down about 4 feet. I got water splashed on my glasses, so I cast out and left the reel in free spool, so I could clean them off. Tom said hey your corks down, and I landed my first trout of the day. We stayed here I caught a few and released a couple small ones, but Tom didn't get a bite here. When the bite slowed we continued to most of my drops and I think I caught 1 more small trout. It was a good day on the water, that started fast , but ended slow. The water temp was around 56°
We spotted the Local guide that cut the figure 8's in his pathfinder back in the same location as a couple of days ago. We had already tried there and moved. I started to give him a taste of his on medicine, but he did have a couple of customers and that would not be right to screw their day up, so we just went on by. In retrospect we probabaly should not have moved from that location and just waited about an hour for the tide to start moving.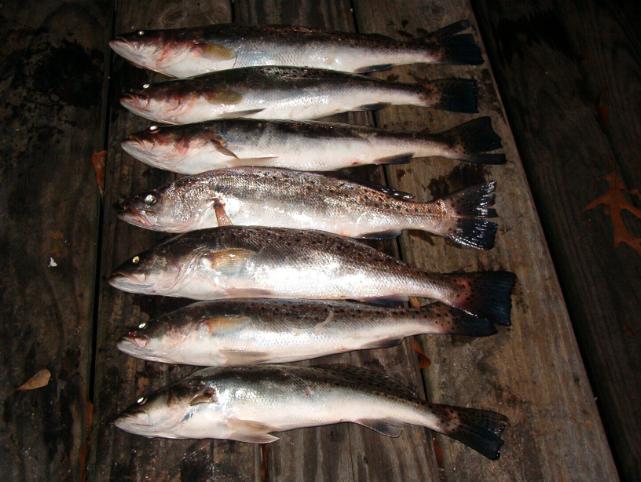 12/02/2004
Fished the last of the incoming tide in the Back River. Caught 3 keeper trout and probably would have had more action if not for all the people trolling. More than once, I had a boat troll right up to my float. Also I was rebaiting and had a guy come up beside me then started trolling right where I was drift fishing. This got to be annoying so the next time the guy came around I asked him if I was in his way and then he left... So had the fish. Next stop was near the Marina, but a boat was sitting close to my drop so I did not try. Water Temp here was 56°
Then I headed to Wassaw Sound and again there were 2 boats near a drop, so I joined them. I did not encroach and was probably a good 55 yrds away from another Local guide. He apparently still thought I was too close So after 15 minutes he made as much noise as possible then made 2 figure 8's with his boat then left the area and cruised past me and the other boat. I suspect he was trying to break up any chance of the trout keeping in a school. The other boat trolled by me and said they recognized him as a local guide and said "What an Ass". We fished that area for a couple hours and I saw them catch a few trolling . I kept 4 more fat 17 inch trout. For a week day the water was exceptionally crowded. The fish in Wassaw were caught 2 hours after high tide and the water temp was 57°. The Water Clarity was superb and all fish that I caught were on live shrimp. I did notice several people catching trout while trolling.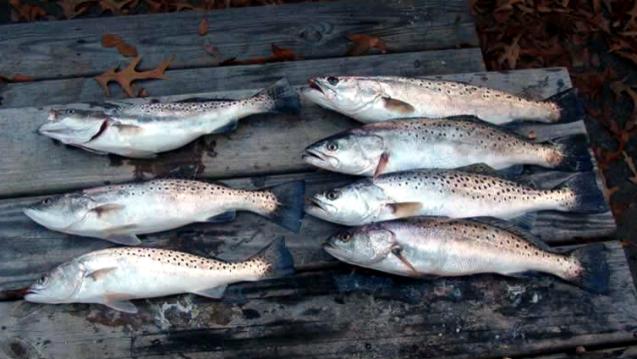 ---
11/26/2004
Decided to fish close to the marina today. Started around 8 am and fished the outgoing tide. Caught about 20 trout and kept 8. Missed quite a few bites as the fish seem to be in a frenzy of just snatching the bait off the hook. It was windy and that created a problem. Water temp was much warmer than the air temp. Water temp was 59.6 ° .
---
11/21/2004
Had an 8 hour charter today with Mr. Paul Coleman from Atlanta. We started the day at 6:30 am and finished around 5 Pm. We caught trout all day starting in the Herb River. High Tide was around 3:30 in the afternoon. I tried an incoming spot out in the sound after leaving the Herb river, but the sound did not produce for us during the first hour. I decided to try a spot in Turners creek, but someone happend to be on it and we only hooked 1 redfish in the creek. Stopped back at the Herb and caught a few more, before heading to the Back River for the late incoming. The water was not as clear in the Back River and we only caught 2 nice trout before coming back inshore. We finished by fishing until dark at a spot close to Bahia Bleu. The trout bite was excellent at that location . The water temp ranged from a low of 58 to a high of 61. It was a good day on the water and we kept 9 trout and released about that many shorter ones. The keepers ranged from 13 inches to 19 .
The Redbone trout and redfish tournament was under way this weekend and added extra fishing pressure to an already crowded fishery. However I must have been doing something right, because everywhere I went, either I came up on someone fishing the tournament or they came up on me.
---
11/13/2004
Had a tough day of inshore fishing . Wind was blowing hard all day and the tides were high as well. Started near the flood gates at 7am and got 1 bite within an hour. Decided to pull anchor and headed for Wassaw Sound. Tides were still flooding when I got to my spot. Caught 5 trout and kept (2) that were 18 inches. Stopped in front and across from the Sheraton and caught a lot of shrimp quickly. Today would have been a good day to shrimp, but my Shrimping buddy (my son) was at home in bed. Lot of shrimp, but it was very windy today. Big difference in todays catch and last weeks. Water temp was 64 degrees near the flood gates and 63 in Wassaw Sound.
On another note, I mentioned earlier that I bought a Quantum Cabo PT 30. Well I tried (3) of them and (2) in the store, BASS PRO had defective clickers. Either the clicker would not stay in the "click" position or it would not hold the line in free spool. If you do not know the Manager of the fishing department at Bass Pro , you need to meet him. His name is Mike and he Stands behind what he sells. When he switched out the 3rd Cabo, it was the display model and he said give it a try and if it doesn't work out bring it back and I will either refund your money or pick something else. I have been using these Cabos since Sept 8, 2004. The 3rd one failed today so I returned it and kicked in 60 more bucks and bought a Daiwa Millionaire CV-Z300A. It is a new item by Daiwa and Mike said let him know how it works out. It appears to be a much higher quality reel than either the Cabo or a Calcutta.
---
11/07/2004
Went Offshore on the Madam P today. We did not have much luck trolling although we caught a cooler full of Vermillion Snapper, Triggerfish, Black Sea Bass and a couple of Amberjack. Great day on the water, but disappointing on the trolling. We did have a couple of cutoffs, just no catches.
---
11/03/2004
Had a Charter today with Mr. Mark Zubrick from Missouri. This turned out to be a wonderful trip. Mr. Zubrick was not really interested in keeping any fish, he just wanted a good tug. We started fishing today in the Back River, but the water clarity was not good. We also got to the first drop maybe an hour early. Unfortunatly we did not catch much there. Mark did catch and release 3 trout, but nothing huge. The water temp was about 73 degrees. So I decided to go ahead and move to Wassaw Sound. On the way back in I saw and met MR. and MRS. Clausen but did not have a chance to talk long. We Stopped at a drop inshore and Mark hooked a decent redfish, but the hook pulled at the boat, then He caught a nice Trout.
Was going to use the cast net for bait, but tide was way up in the grass, so stopped by ADAMS BAIT SHOP in Thunderbolt and loaded up again. I got to say something about ADAMS shrimp. Donnie and Jimmy always have fresh, lively bait size shrimp and you always get a few more than you pay for.
We left there and went to a couple drops in the sound that did not produce. However I log my trips in FISHTRAKKER and knew of a good OCT-NOV outgoing tide Trout Drop. Gave it a try and Mark caught 2 nice trout before I could get one of my baitcasters untangled. I decided I would keep 5 fish and after I got out the birdsnest it was nonstop action. I kept 5 trout, and Mark also caught 2 whiting and 2 Black Drum, a Redfishes ugly cousin. We released at least another 10 or so trout, but then moved back inshore in hopes of a lunker Red, which did not happen today. Mark was a pleasure to fish with and was happy with the beautiful scenery and seemed to enjoy the trip and the stingray he caught. Below is a picture of Mr. Zubrick and one of the Sea trout he caught in Wassaw Sound.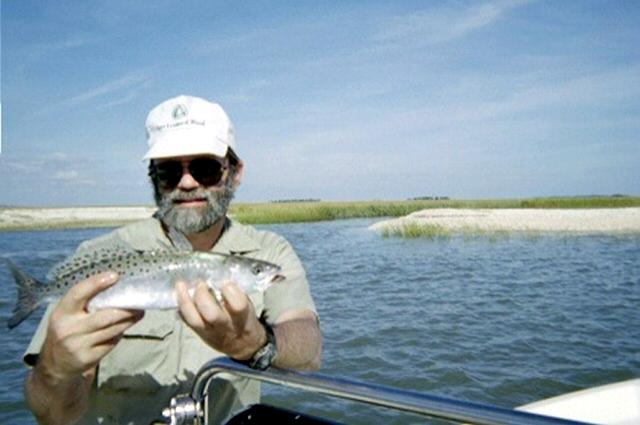 ---
10/23/2004
Had a change of plans today and got a late start inshore fishing today. Was supposed to help mate on the Madam P, but that offshore trip got canceled due to the weather. Tried a few drops inshore, but it was very crowded. Lost most of the shrimp I bought to yellowtails, so when the tide dropped I cast netted about 2 quarts. Moved around inshore quite a bit and caught a few trout in the Herb river but got the bigger ones around Elba island. Caught them on the incoming tide in 8 feet of water. Water was clear and the water temperature was holding a steady 68 degrees. The largest trout measured a solid 20 inches, the rest were not as big, the smallest being 14 inches. The trout are most everywhere and seem to be much larger than in the last few seasons.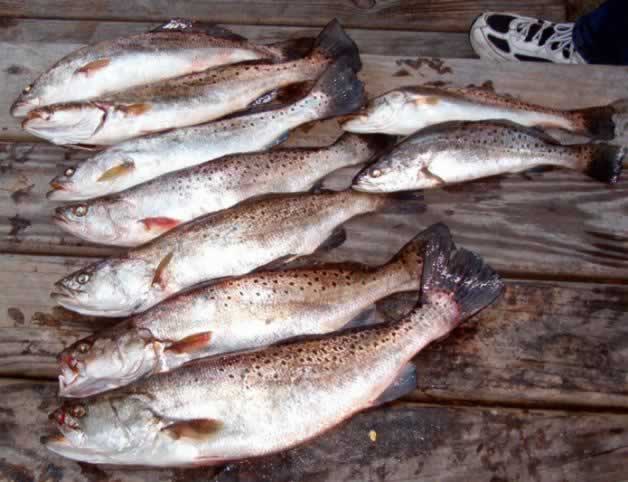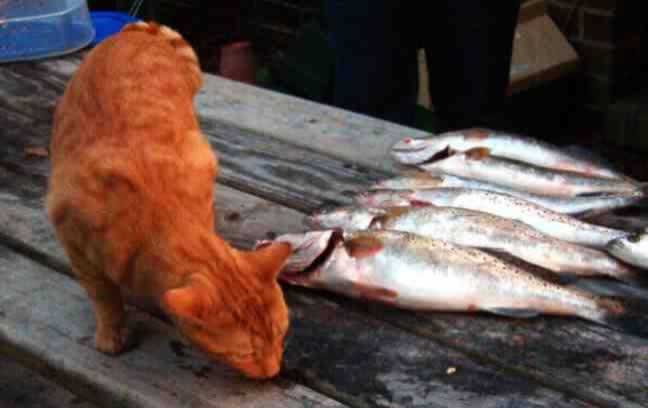 My favorite cat ZIP, looking on as I unloaded todays catch. I decided to keep 9 trout and released about 9 and all Redfish today.
---
10/16/2004
Decided to try the Back river today. Got to my favorite spot and the water was like chocolate milk. A boat nearby landed a very nice Striped bass, probably around 20 lbs. I fished the area for about 30 minutes then made the decision to go to Wassaw Sound. The wind was howling on the North part of the sound where I had planned on fishing so I didn't even anchor. I have now traveled about 30 miles on the water with nada - nothing. Started working my way back to the marina and tried new spots. I finally found a spot that everybody passes up. Caught 4 nice trout, the largest going 23 inches and a very heavy girth. This fish is why I tie my on leaders. I use a uni snell knot that just gets tighter. This fish just kind of batted the shrimp, then took it down. I set the hook and could feel several headshakes. It was apparent this fish has been on the line before. After not being able to shake the hook, this trout jumped about 4 times, completely cleared the water, a first for me. I was using my Quantum Cabo and it didn't let me down either. Really wasn't sure this was a trout until it got closer to the boat. I was able to net it but I considere myself lucky. Another reason I caught this fish is I use a number 1 Kahle Hook, this hook will hook the fish 2 or 3 times. As it was it went thru the soft mouth and then into the lip and then the skin in the roof of the mouth. I caught 3 more trout before I had a 25 foot bayliner(cuddy) that could not anchor get rather close to my bite and that was that.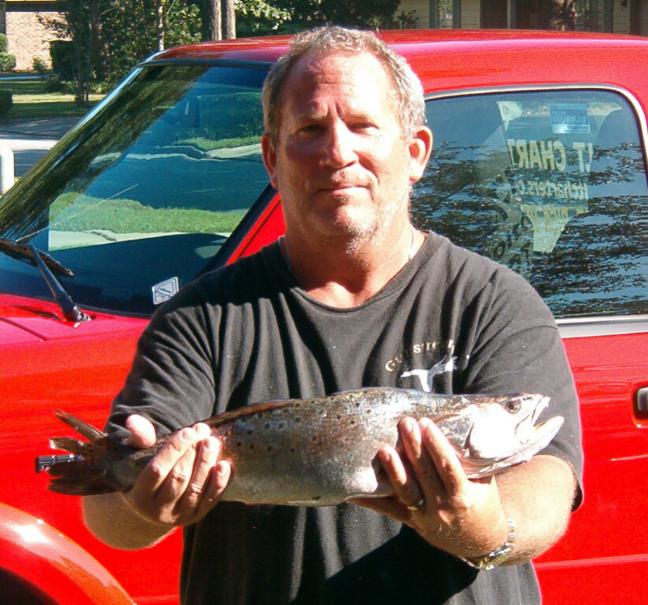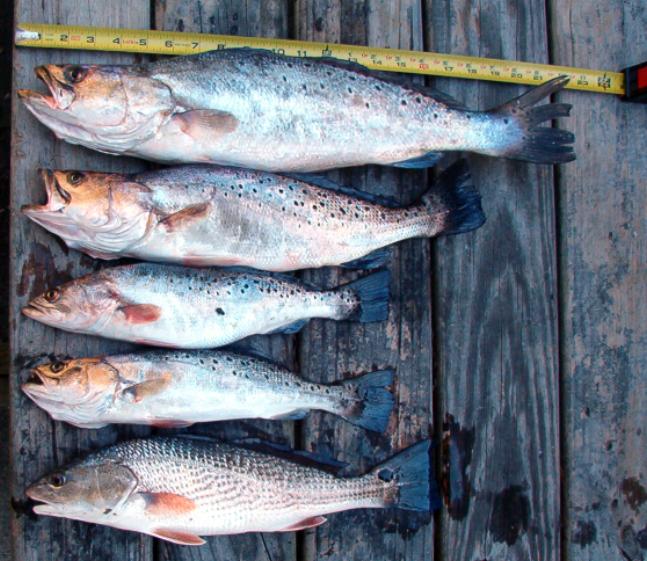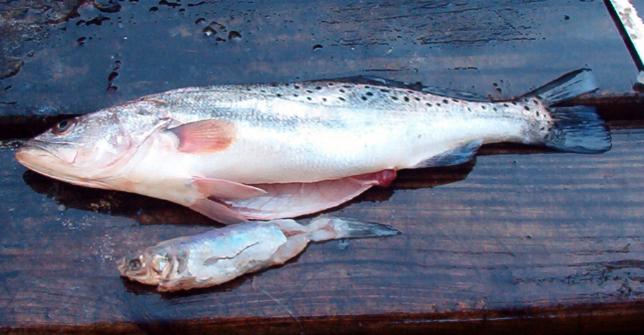 The water Temp wa 67 degrees and the mullet and shrimp were everywhere. As you can see the smallest trout had a mullet about 1/3 his length. Mullet might be the bait of choice.
---
10/10/2004
Decided to take my 19 yr. old son out and do a little shrimping today. He did quite well in 1 hr and 1/2. Below is a couple of pix of todays catch. Was going to try to pick off a trout and Redfish, but the sand gnats were unbearable after the very hard rain we shrimped through. Even with a healty dose of deet, we were unable to sit for more that a couple of minuters. Anyway we went after shrimp and wound up with about 10 lbs of tails and I had a fun afternoon with my Oldest Child.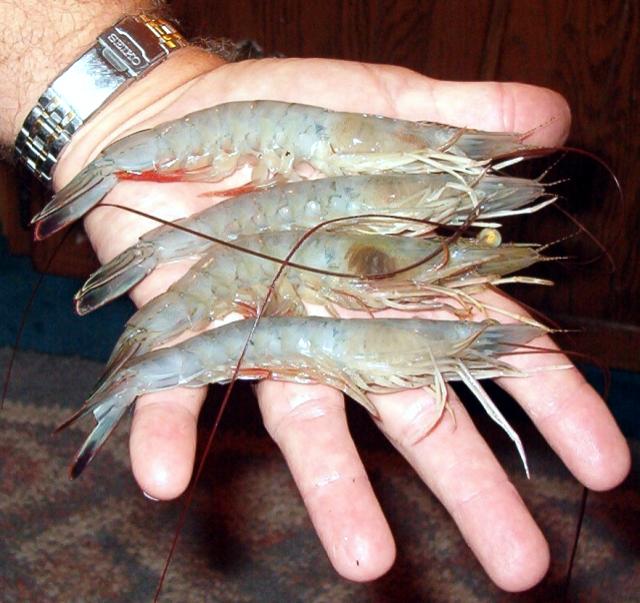 ---
10/02/2004
Got my Abu 6500 back from Ron Sutton in North Ga and had to try it out. The reel performed better than it did originally . The last time it was serviced in Thunderbolt, a defective bearing was installed and caused a lot of problems. Ron repaired and mailed the reel back the day he got it.
The Day started out slow and ended slow, probably due to the fact that we are coming off a full moon and the water was not as clear as it has been and the tide was very high as well. Caught 5 trout and kept the 3 largest. These fish were caught on the Incoming tide on the Back River. Once the tide started going out, I only caugt yellowtails. I caught all my fish today on live shrimp. The shrimp were starting to die, most likely the Back river was not salty enough.
Moved back inshore and landed a nice 23 inch Redfish. I sort of chummed him up as I was about ready to head in so I mashed all my dead shrimp, that I had been keeping all day and threw them into the outgoing current. Then I cast over near some structure and this Large redfish, managed to get into som deeper water, about 30 ft deep and I a had a good fight going. I was using my St. Croix trout rod and the Abu 6500. The rod lacked the backbone to end this quickly, but a fantastic fight to the end.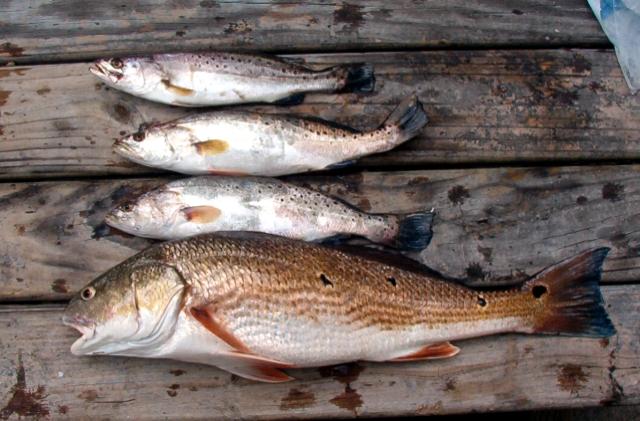 ---
09/25/2004
I had a very good charter the day before our area got roughed up by hurricane Jeane. We fished the Back River to avoid the wind and my charter caught 3 keeper Trout and several smaller ones. He also picked off a couple of alligater gars, and 1 flounder and a blue fish, along with 2 lady fish. We headed to the Wilmington river to finish off the day and Keith was able to catch 5 keeper Redfish, one about 22 inches long. He was very happy with his day and so was I.
---
09/23/2004
Have you ever told one of your friends, "lets get togeather and go fishing one day" ? Often this happens and days turn into weeks and weeks into months, then a year has passed. This happened with a friend of mine Bill Bradley. For the last year or so we occasionally see each other and talk fishing. Well it finally worked out that we got to fish an afternoon togeather. I Took Bill to the spot where I had caught the trout on 9/18/2004, hoping for a repeat. We fished the same tide, but different time of the day, anyway it did not happen. Bill Did catch a couple trout at that location, but nothing great. I also took Bill over to where I caught the fish in my BACK RIVER REDS photo album, not a bite. Then Bill showed me a couple of his spots and I picked off a decent trout and he caught some trout. The final catch for the day was Bill caught 3 Keeper Trout and 1 decent redfish and I had 1 keeper Trout. I really enjoyed the trip and learned alot about trout fishing that I did not know.
---
09/18/2004
With all the wild weather we have been experienceing, this is the first time I got out and did any fishing this month. Bait is everywhere, and the water temp has cooled down to 74 degrees. I was wondering about the salinity of the water with all the rain from hurricanes charlie and frances. I am sure we will be getting water from ivan as well.
Any way decided to try up the river instead of fishing in Wassaw sound. I figured the fishing pressure would be heavy closer to the Ocean today, since this is really the nicest day we have had all month.
I had to send one of my ABU 6500 CS Pro Rockets out of town to get the bearing that works with the cast button replaced. I have not had much luck in THUNDERBOLT getting this part successfully fixed. Wait 3 weeks for the part and it lasts about 2 weeks... However I purchased a Quantum CABO PT 30. This has got to be one of the smoothest reels I have ever used. Had a very successful trip keeping 9 large trout and 1 22 inch Red fish.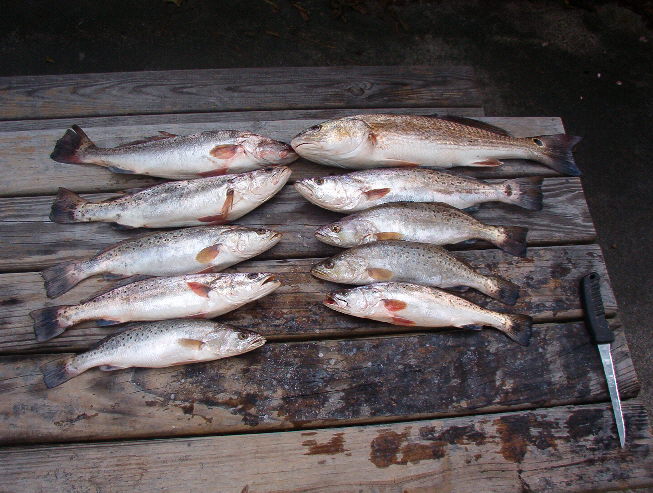 ---
03/13/2004
Have not successfully targeted the spring trout as yet, but expect them any day now. They should start appearing no later than the end of march along with the bonnet head sharks. Speaking of sharks I 've got 5 stitches in my forearm from an encounter with a 2 foot dogfish back in January. He finned my forearm and it was not healed as of 3/11/2004, so minor surgery was reguired to remove whatever was in the wound.
With the wind NOT cooperating at All, I scouted the inside part of Wassaw sound almost inland and limited out on Redfish. I kept 5 and released a 30 Inch Red that put up a very hard fight. These Redfish had eaten mullet, fiddlers, small blue crabs and shrimp. Even though the wind was at a steady 15- 20 it was a good day on the water, just had to find some cover.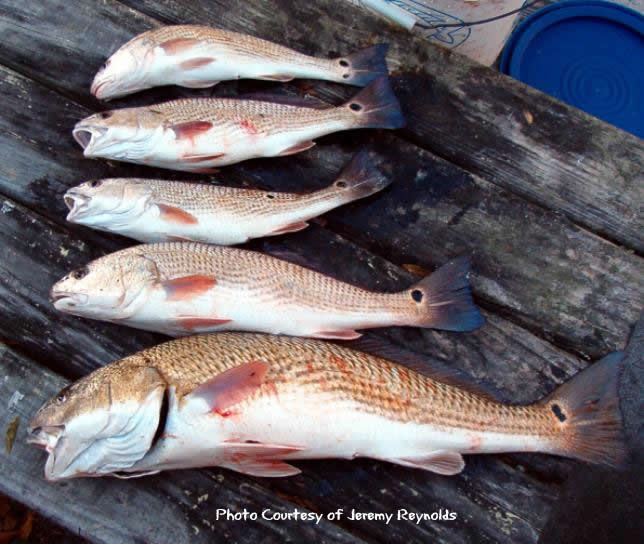 ---
11/30/2003
The Trout Bite is HOT!!
Falling Water Temps and Clearing conditions has the Trout in a feeding frenzy. If you can find the fish, you should have nonstop action for a couple of hours anyway. This past saturday, 11/29/03 I could not find clear water and bait anywhere, so after a couple of hours I called it a day. I knew my live shrimp would stay alive in the cool water. I recorded water temperatures in the very low 60's Saturday and Sunday. Lately I have been getting my bait from Hogans Baithouse and have had excellent success with the shrimp not dying.
A lot of conditions made this past weekend a potential good weekend. As an example I will point out the predicted conditions for Bradley Point on Saturday, 29 th of November. The following data was extracted from Fishtrakker 2000.
At Bradley Point you have a Gentle High Tide of 7.65 ft, so the water will be Clear. High tide is 12:43 Pm and you have a MOON RISE at 12:35 PM. That is what I call an EVENT. An event is when 2 CHANGES happen
almost at the same time. MOON RISE is almost directly between sunrise and sunset, that is another Event. The Major 2 (transit) from the day before is at 6:43:00 AM. on Saturday with sunrise occurring at 7:04 . That MAKES 3 Events!!
The Basic same conditions applied on Sunday. I again used Fistrakker 2000 for this info. I fished a different location than Bradley with the following results: There are 15 trout from 16-19.5 inches and 1 15 inch redfish.