---
07/20/2019
I had a 4 person 5 hour trip today with Andy, his brother in law Huey and his son Aiden and his own 6 year old son Ivan. We departed the dock today at 7am and headed out to Wassaw Sound.
Our goal was some Speckled seatrout and Redfish, but really got overpowered by the ladyfish at our first drop. We caught a few Speckled seatrout there but had to fight through the large ladyfish as well as a few sharks. Also caught bluefish, a puffer fish and some small redfish. Everyone caught their own fish including Ivan and Aiden.
Andy had the largerst fish of the day, a nice Black Drum and Huey had the largest Speckled trout today. This was fun family to fish with and both boys listened to their dads and me .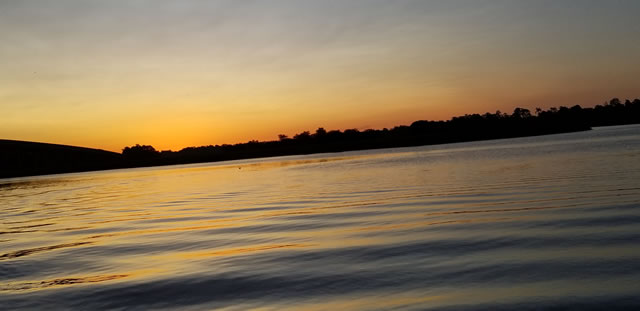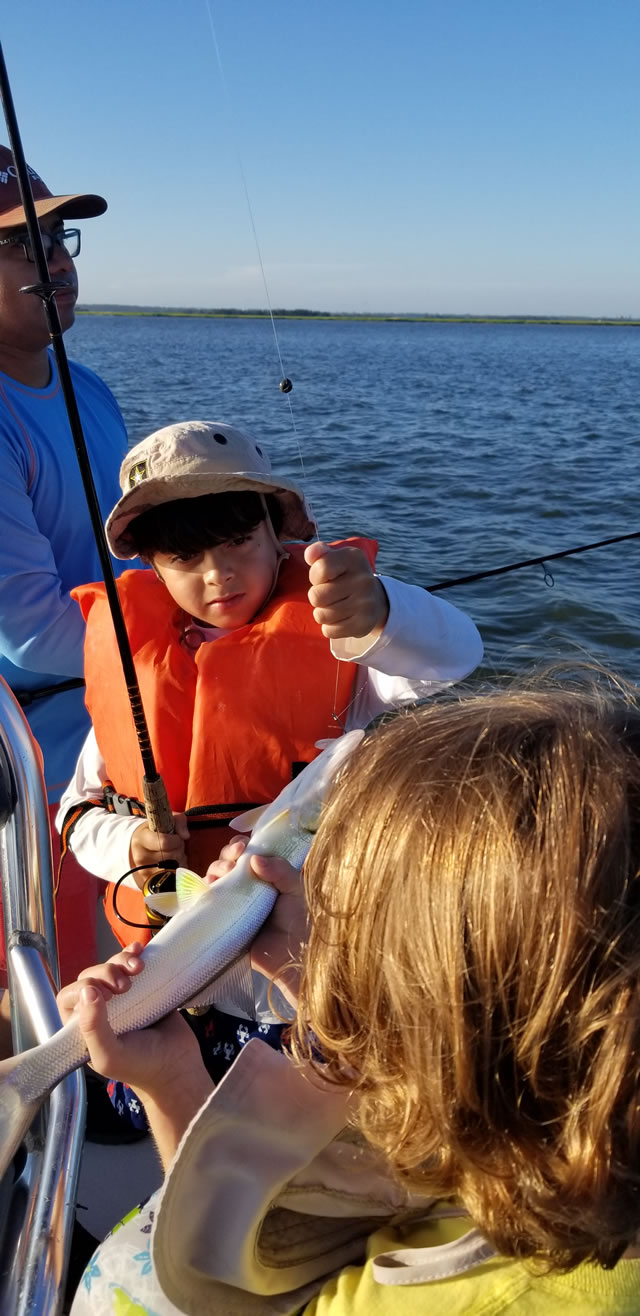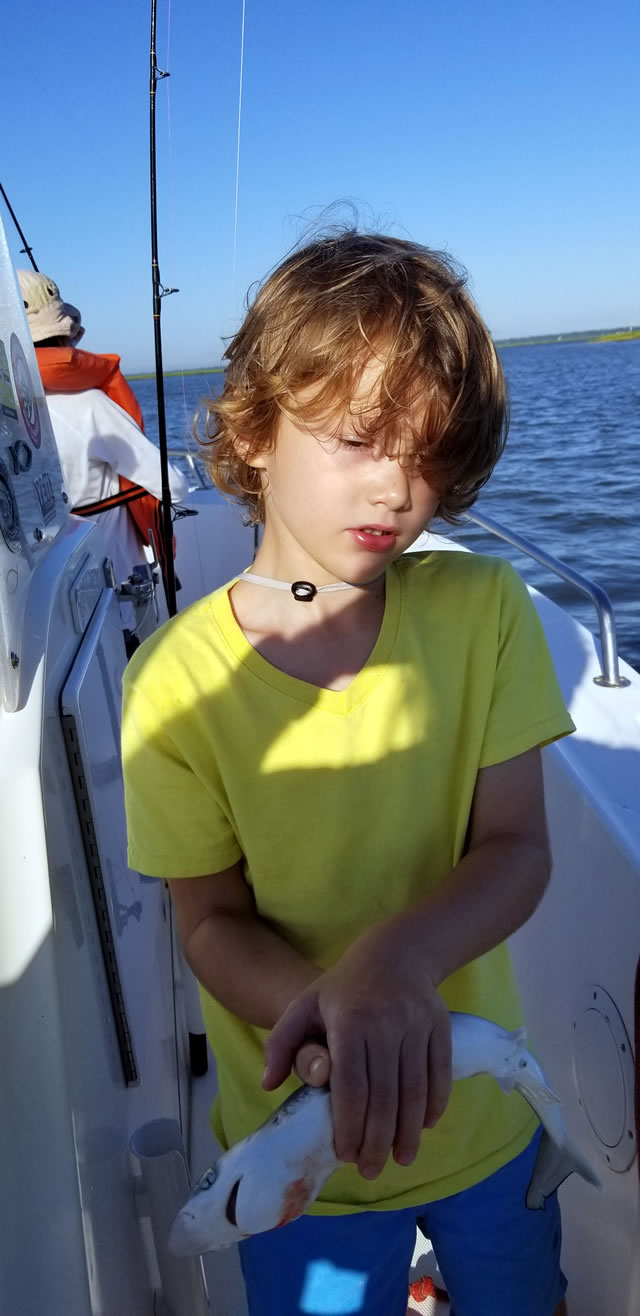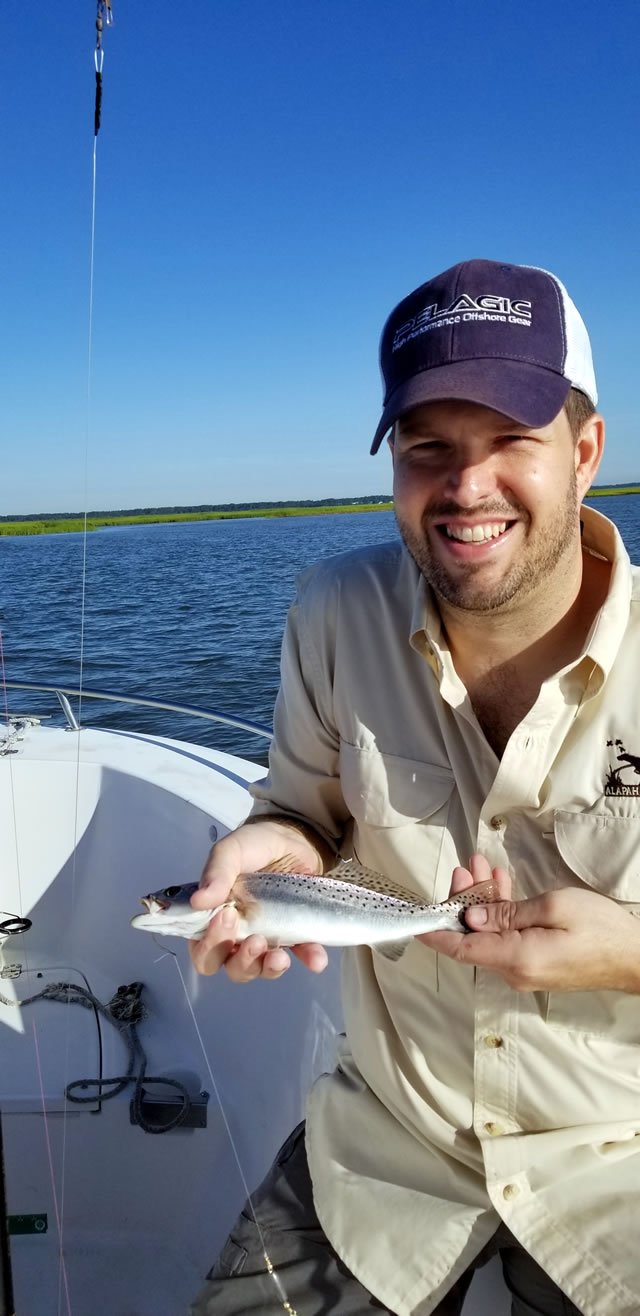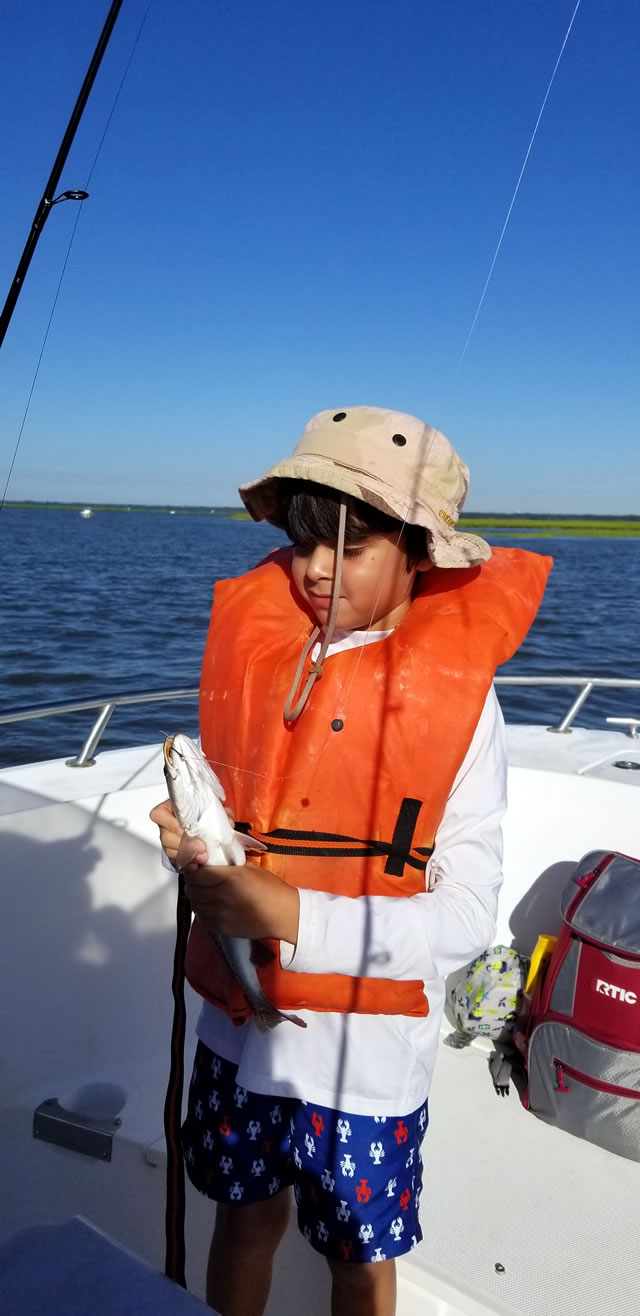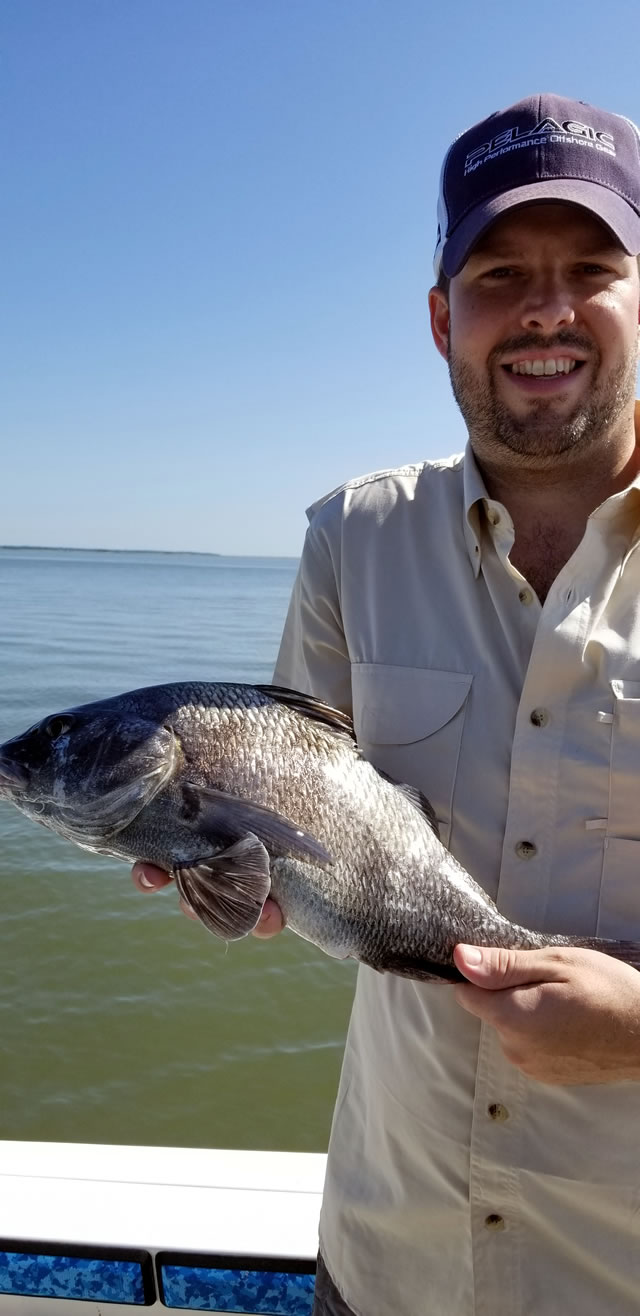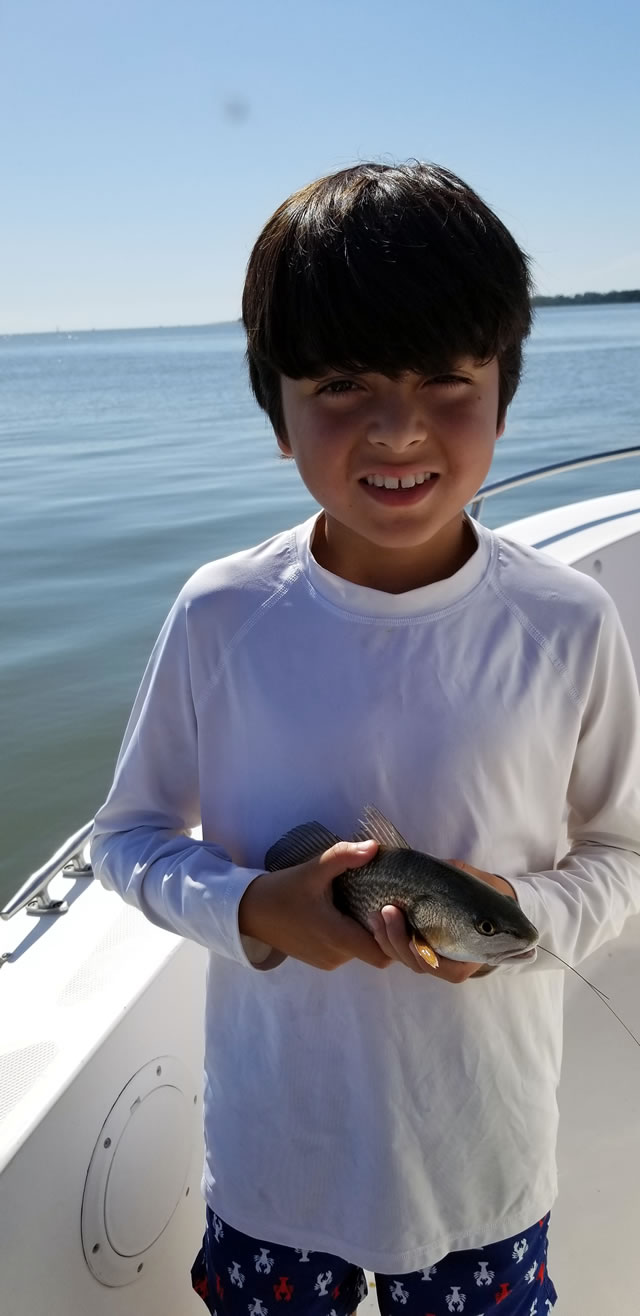 ---
07/14/2019
I had a 3 person 6 hour charter today with Todd, his brother Kevin and his brothers son, Carson. We departed this morning at 6:30 for a 6 hour trip. Originally we were going to have 2 people, but at the last minute, Carson came and that was a good thing. He was the most accurate caster in the group, although all of them were very good.
Water temp was 85.3 and we are on the cusp of a full moon , so the tides were extra high and the current was very fast. We fished all the outgoing tide, starting at the salt ponds and working back in.
They struggled hooking up the first hour as they were all rusty from not fishing inshore in a while and the trout bite was fast. After we moved to a better trout drop, all caught fish, probably 40 or so trout, but most were too small by 1/2 inch to keep. We also caught some whiting, and Todd caught the only ladyfish . All in all a very fun trip with Carson doing his thing. He was a pleasure to fish with and was a very nice young adult. Look forward to fishing with this FAMILY again.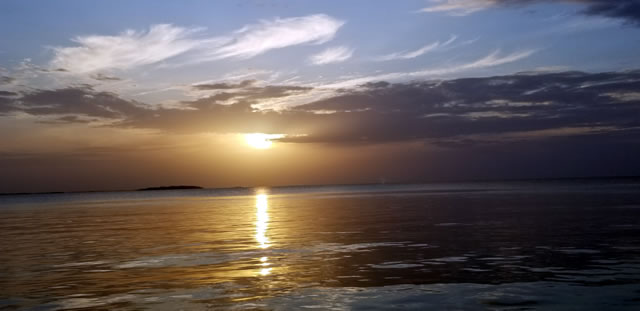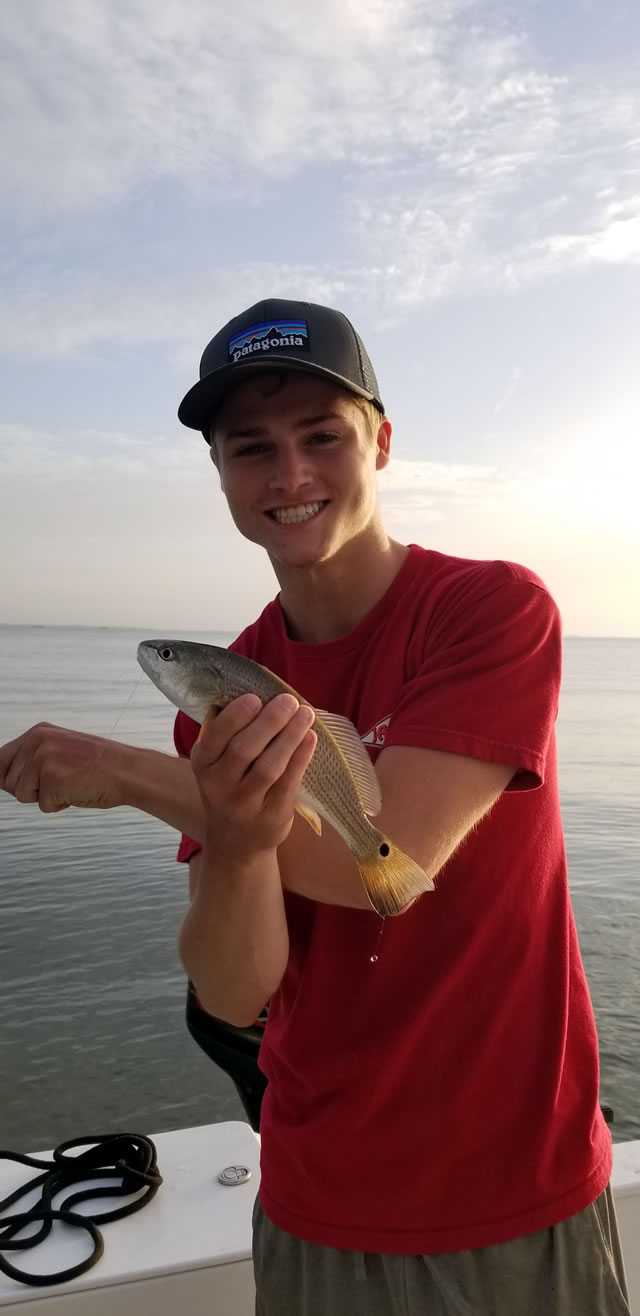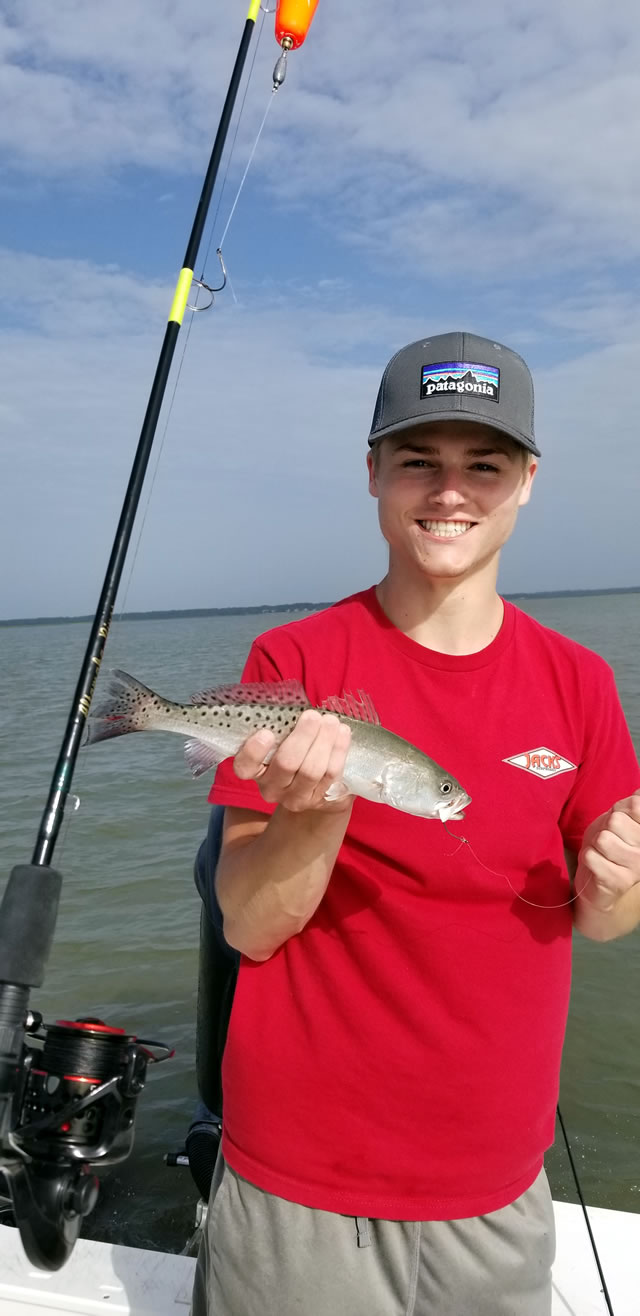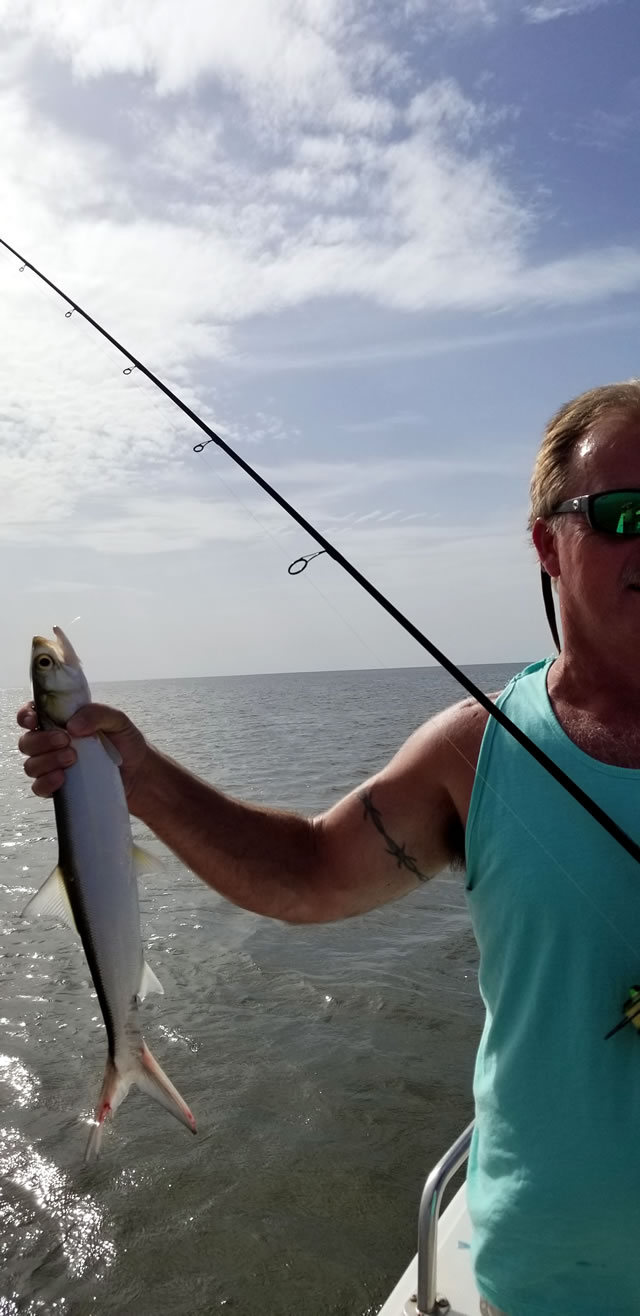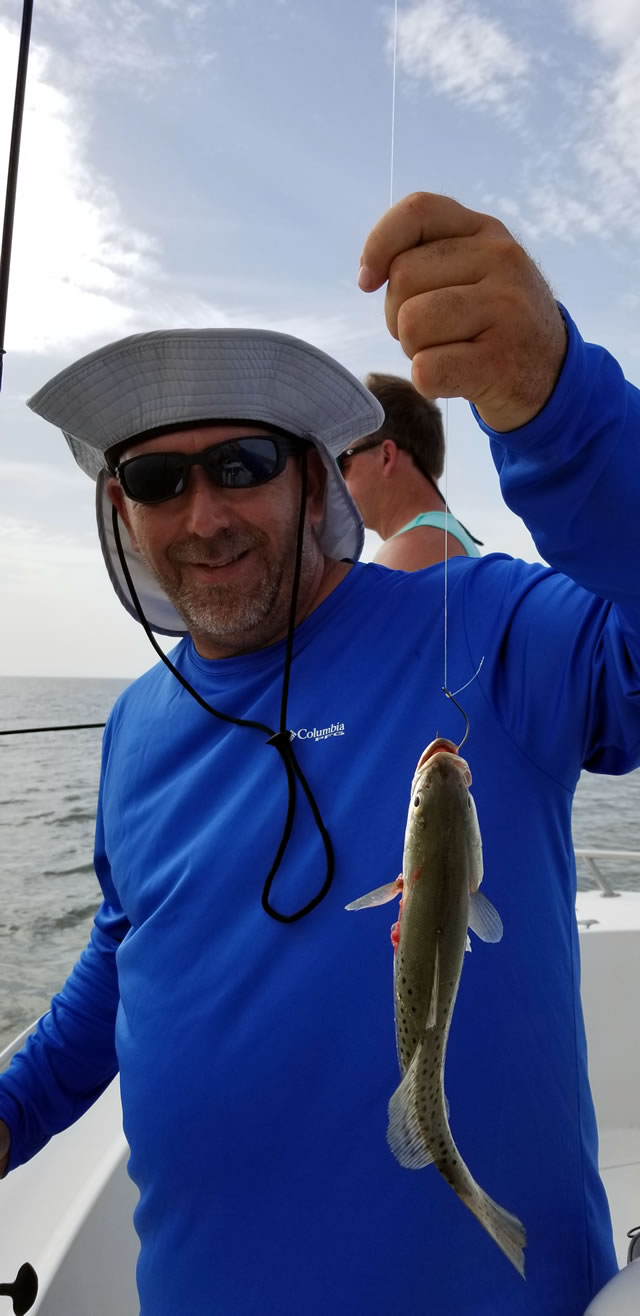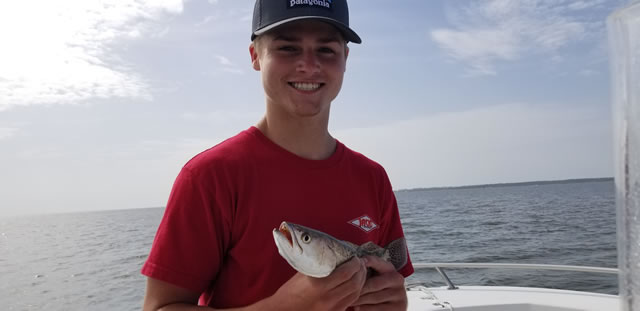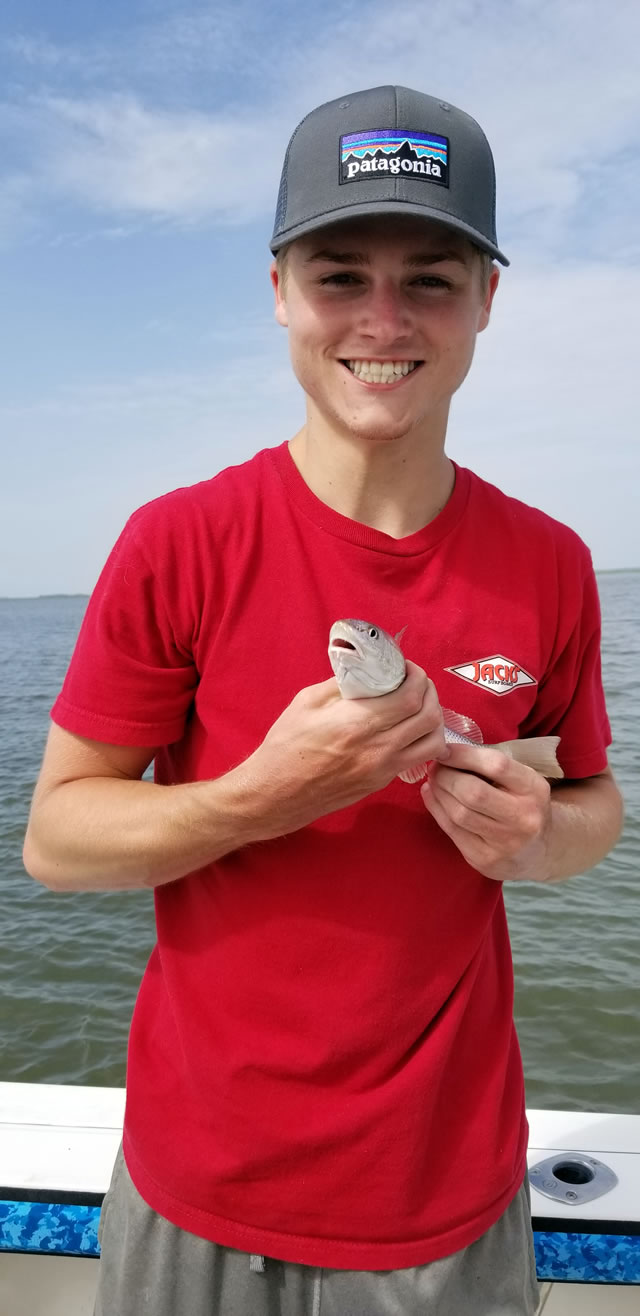 ---
07/05/2019
I had a 4 person 4 hour charter today with Donnie, his son Darrell and Darrells wife Stephanie and his Grandson Austin. Donnie just wanted to film his family on the water fishing. We decided to bottom fish for whiting and sharks and had action the whole time. I believe Austin is 8 years old and he was very polite and a very smart young man and he listened to his Dad and Grandad and that was refreshing!
Darrell landad a 3 and 1/2 foot Sandbar shark today on one of the whiting we caught bottom fishing. Everyone caught some stingrays, but Austin caught a nice blue fish and his dad caught a summer trout as well.
Stephanie caught some small sharks as well as a neat hermit crab, that just held on to the bait and was not hooked at all. It was a fun day for me fishing with Austin, who is quite the fisherman. Hope to see them all again in the future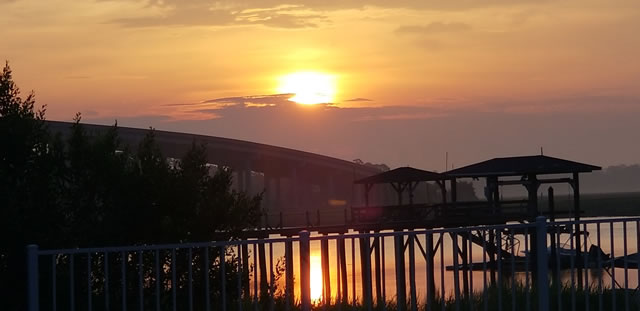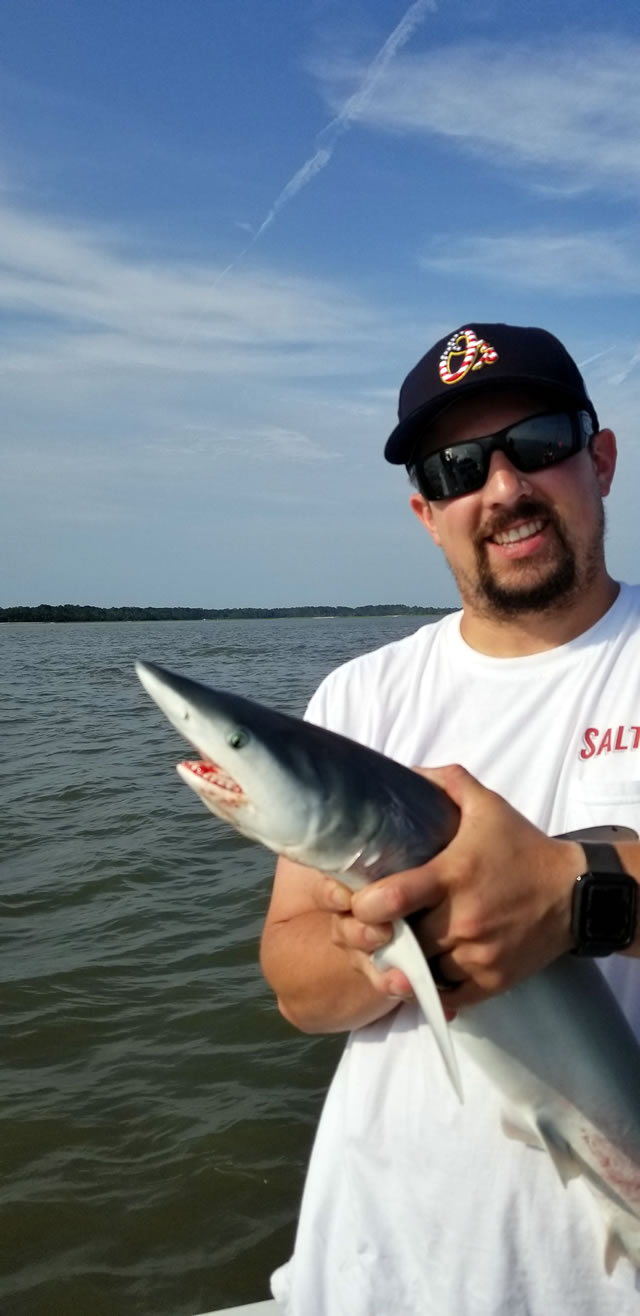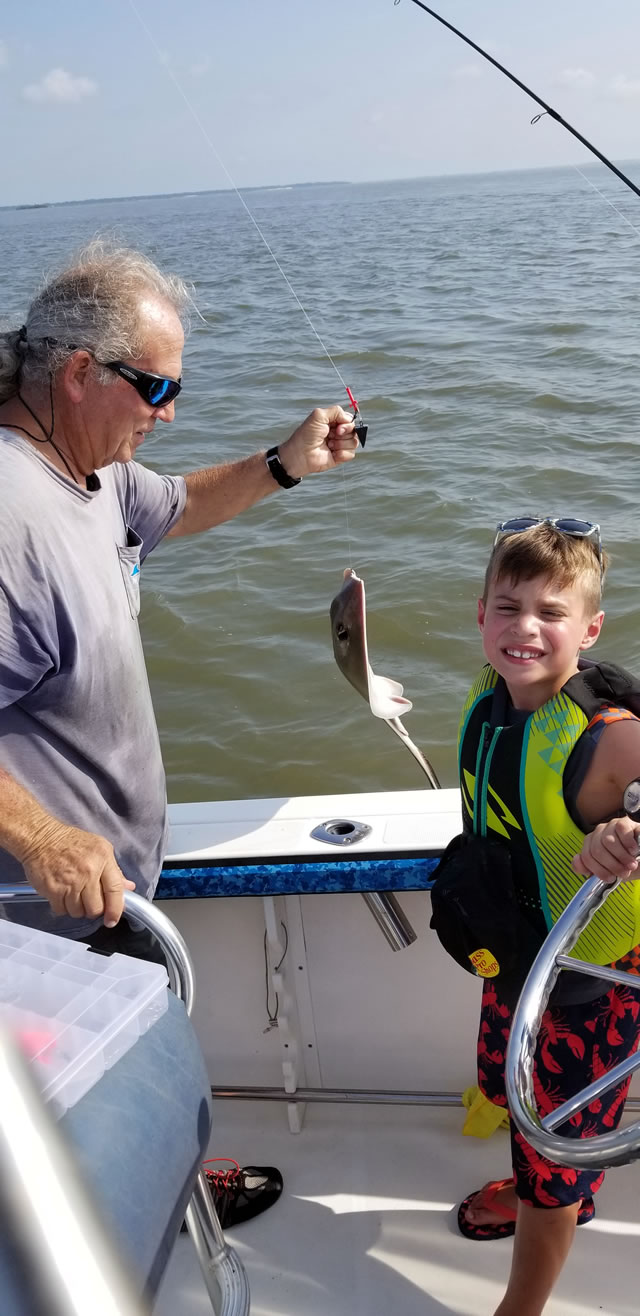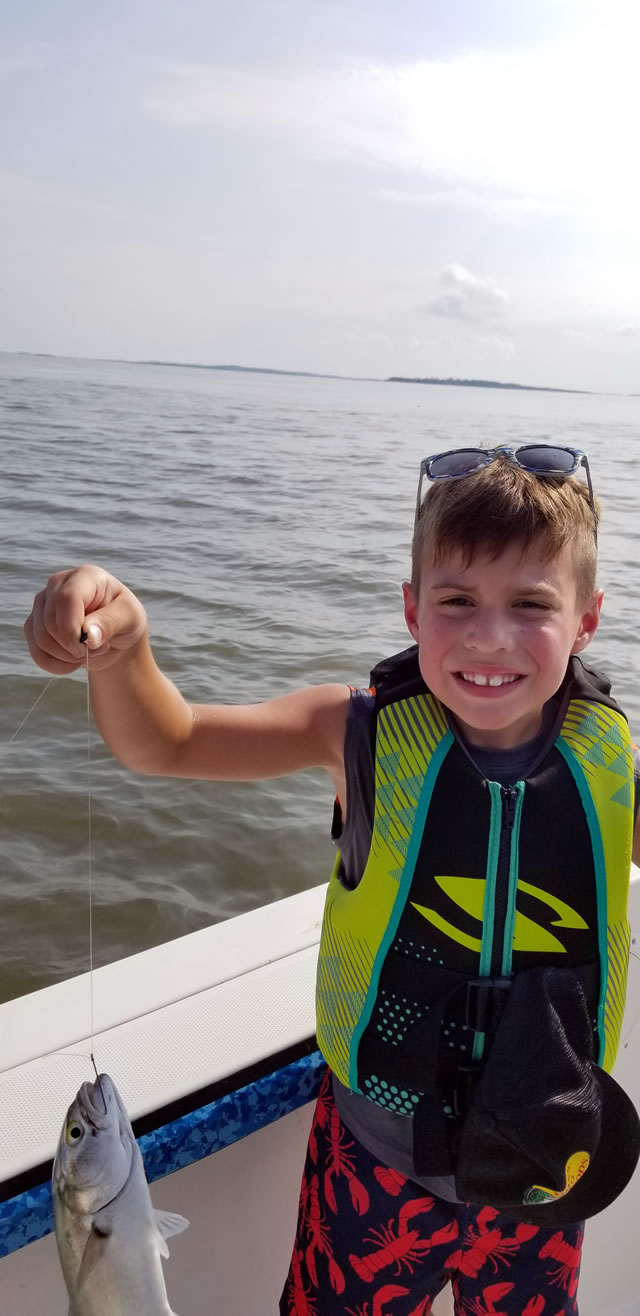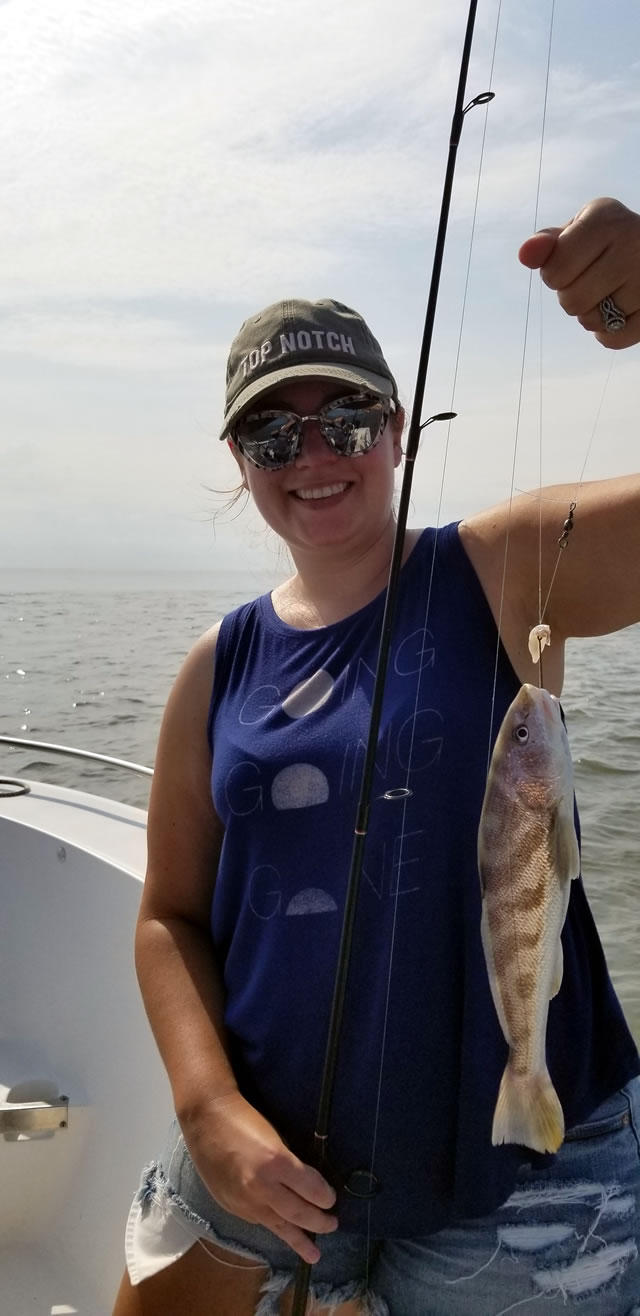 ---
07/01/2019
I had a 1 person charter today with a friend, Tom who has been with me usually once a month. This was a trip we had on 6/30/2019 ( yesterday) . Water temp was 85 and muddy. However we were using my Popping corks and Adjustable Popping corks and caught a mixed bag.
I caught a 19 and a 17 inch keeper trout and Tom caught a nice 14 inch trout. He also caught bluefish and ladyfish and a bonnethead shark. I caught a few short trout as well, while testing out my smallest adjustable cork. All in all a good day considering we are near the forth of July and there is a lot of boat traffic on the water. Had a crab boat almost hit us as he waked us once going by and a second time coming back the other way. We discussed it over the water and he apologized. Notice the Haze on the sunrise picture. The goverment is spraying alot to supposedly "cool the earth".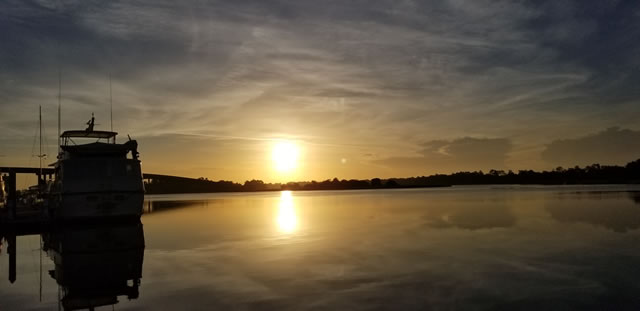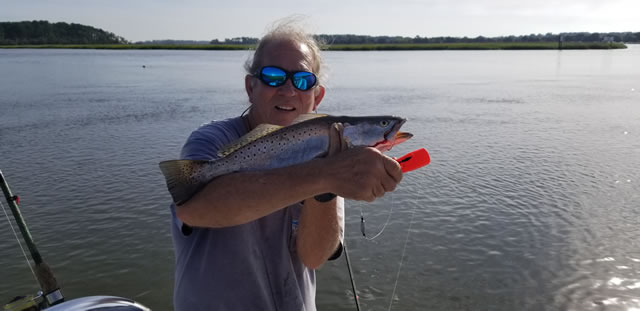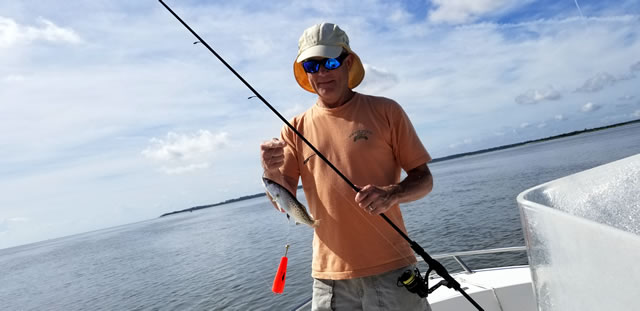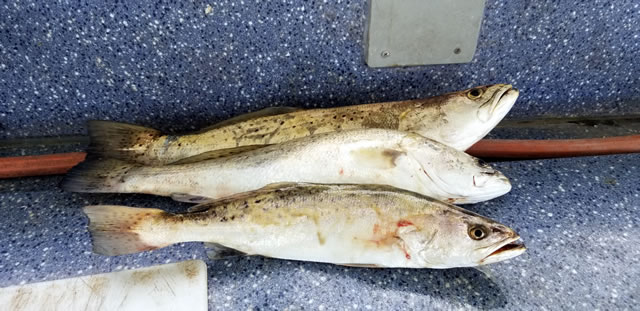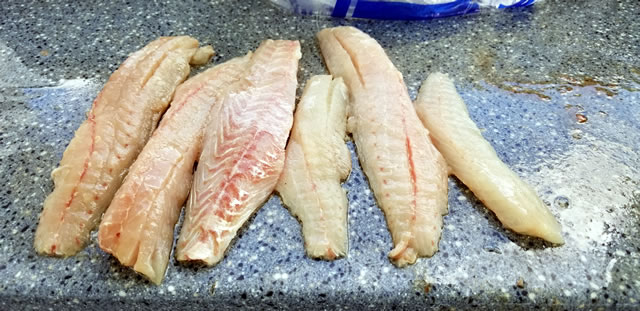 ---
Copyright © 2019 Thunderboltcharters All Rights Reserved.