---
10/28/2018
I had Tom today for a 4 hour trip, that departed at 7am. Air temp was mid 50's and the water temp was 66° . Wind was out of the northwest at 10- 15k. Water clarity was stained at most places due to the wind and we are coming off a full moon. We kept 12 Speckled seatrout, 1 redfish, 1 whiting and 1 tripletail. Not a bad day of fishing. All fish caught on live and dead shrimp fished under a 4 inch Thunderclacker popping cork.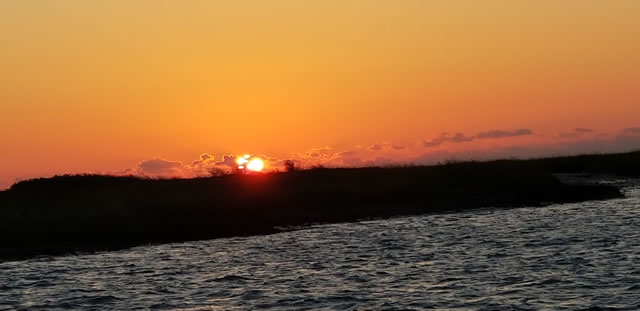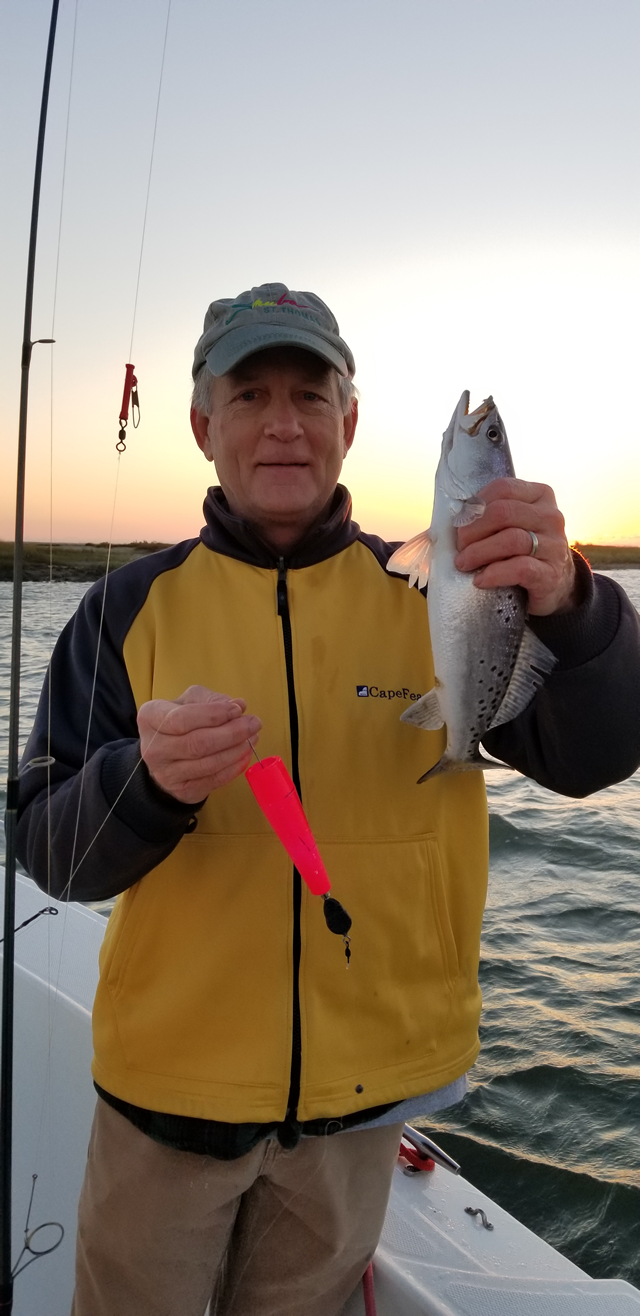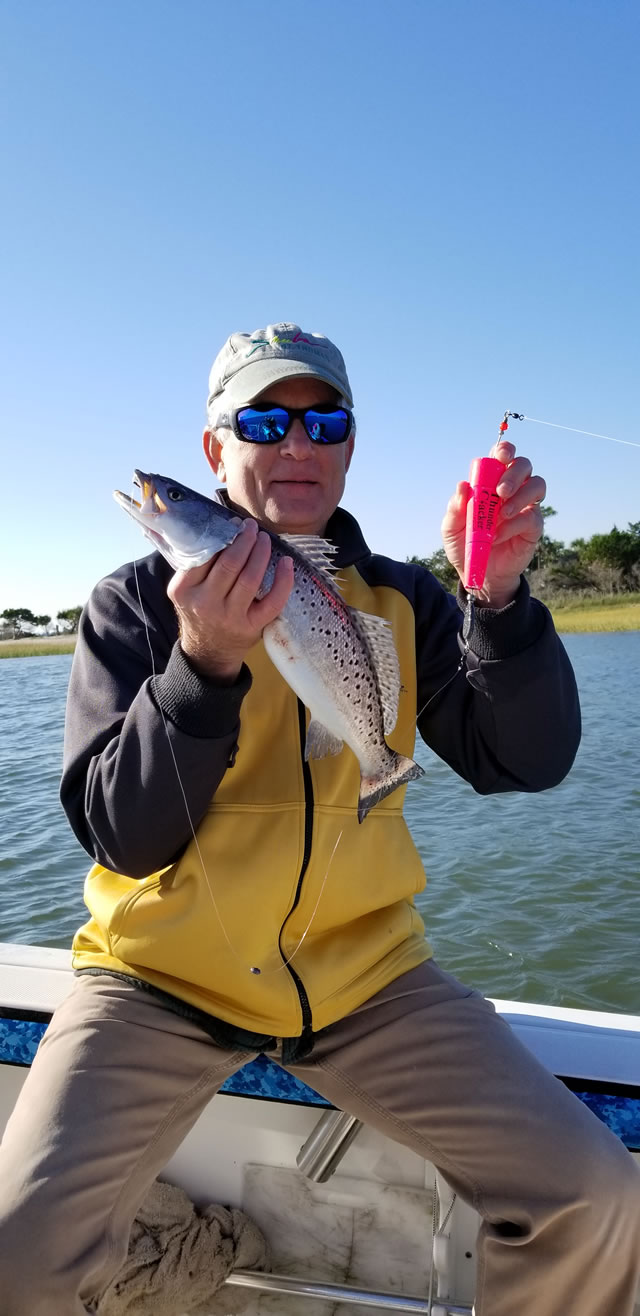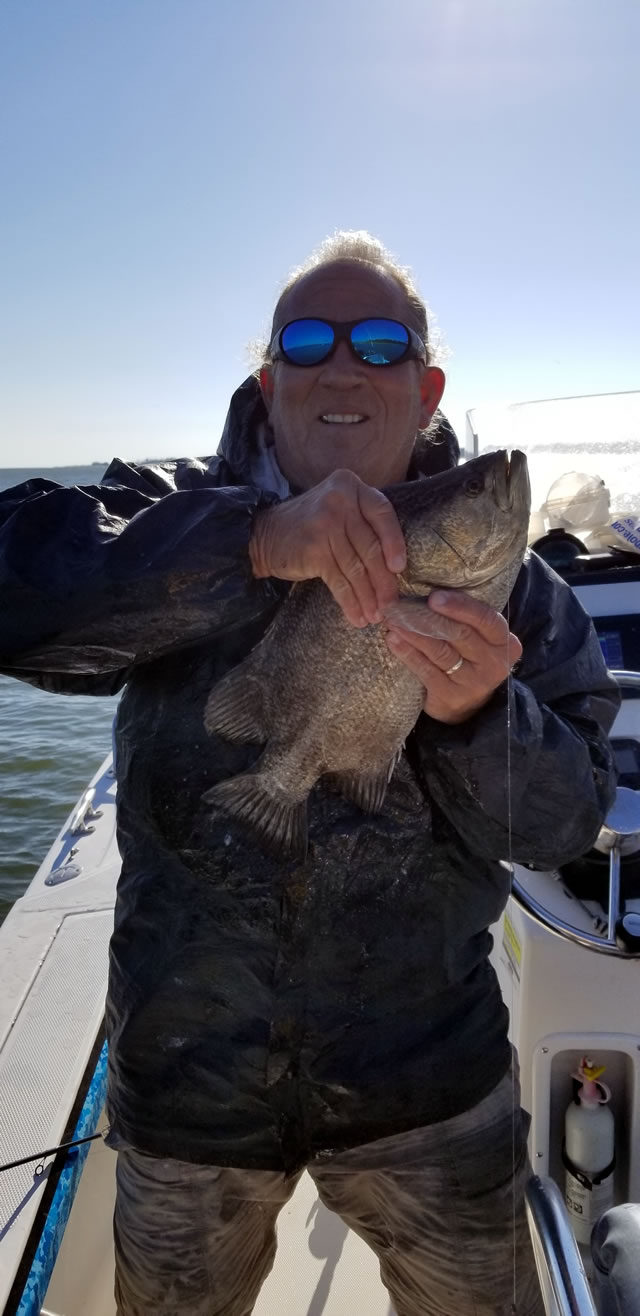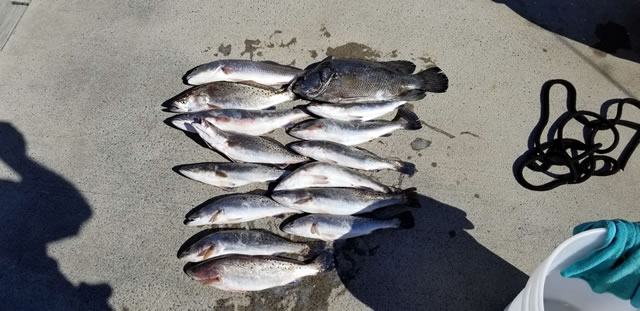 ---
10/24/2018
I had Brandon and his wife Anna on their 6th anniversary! We departed the dock at 7:30 am and it was 57 ° and chilly. The water temp has dropped to 68 ° and that is perfect. However we had some serious 10- 15 knot winds out of the North East all day. We caught speckled seatrout, redfish, bluefish and flounder, but not the big BULL redfish.
We gave it a try for about 45 minutes , but it was a little to rough andnot as safe as I like, so we moved back inshore to catch some moare trout and reds. However in the rough winds near the beach, Anna caught a southern Kingfish that was big as they come. I had Taken Brandon back in JULY of 2011 and he is still as polite as was then. This was a great trip despite the winds and I hope to see them again with their 5 year old in the summer.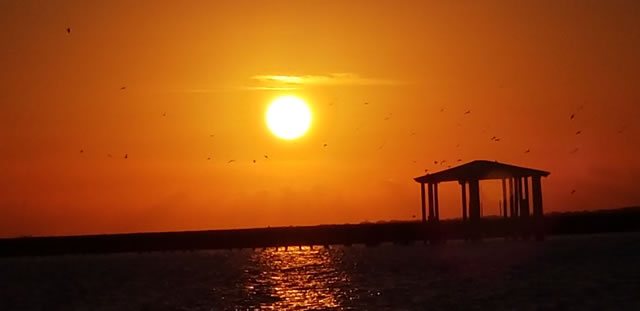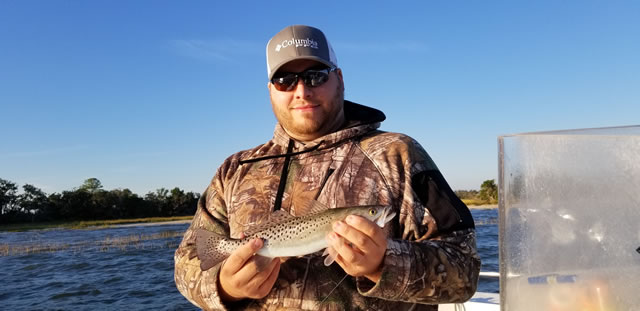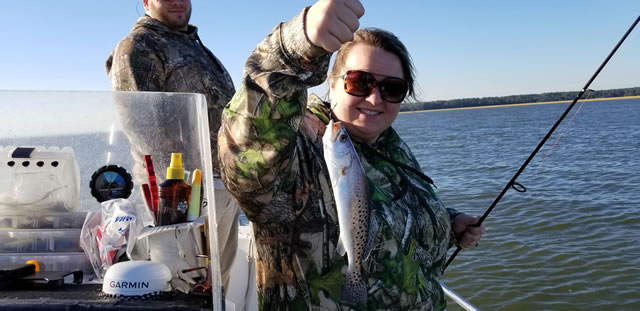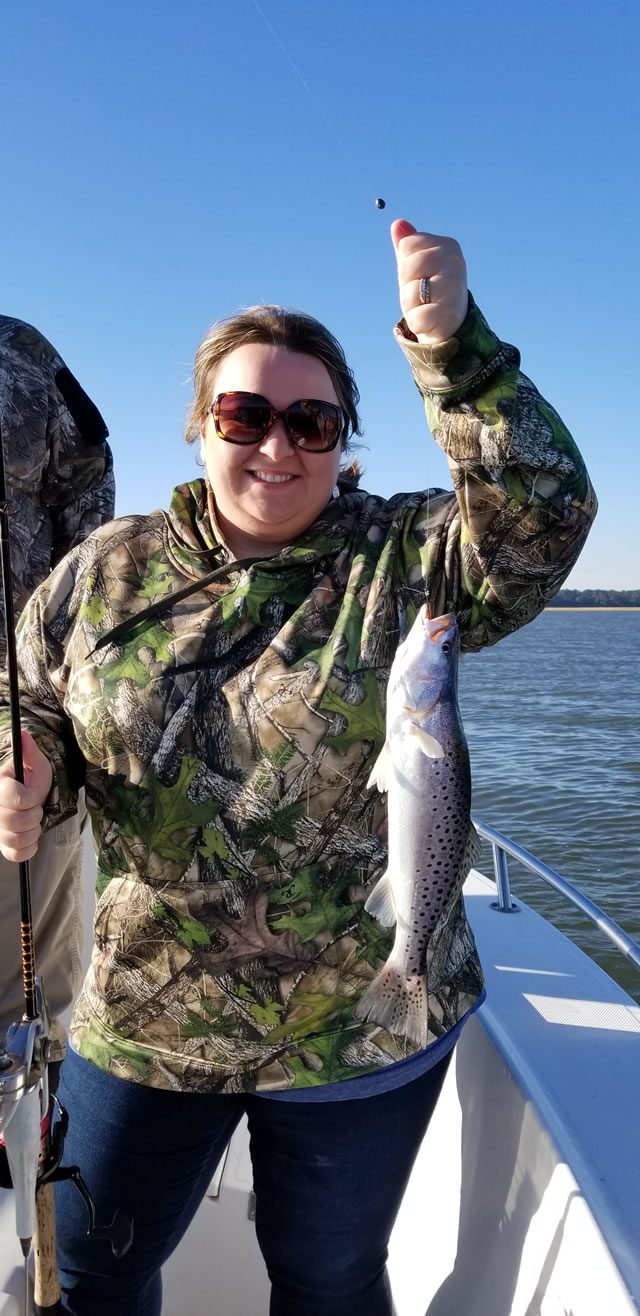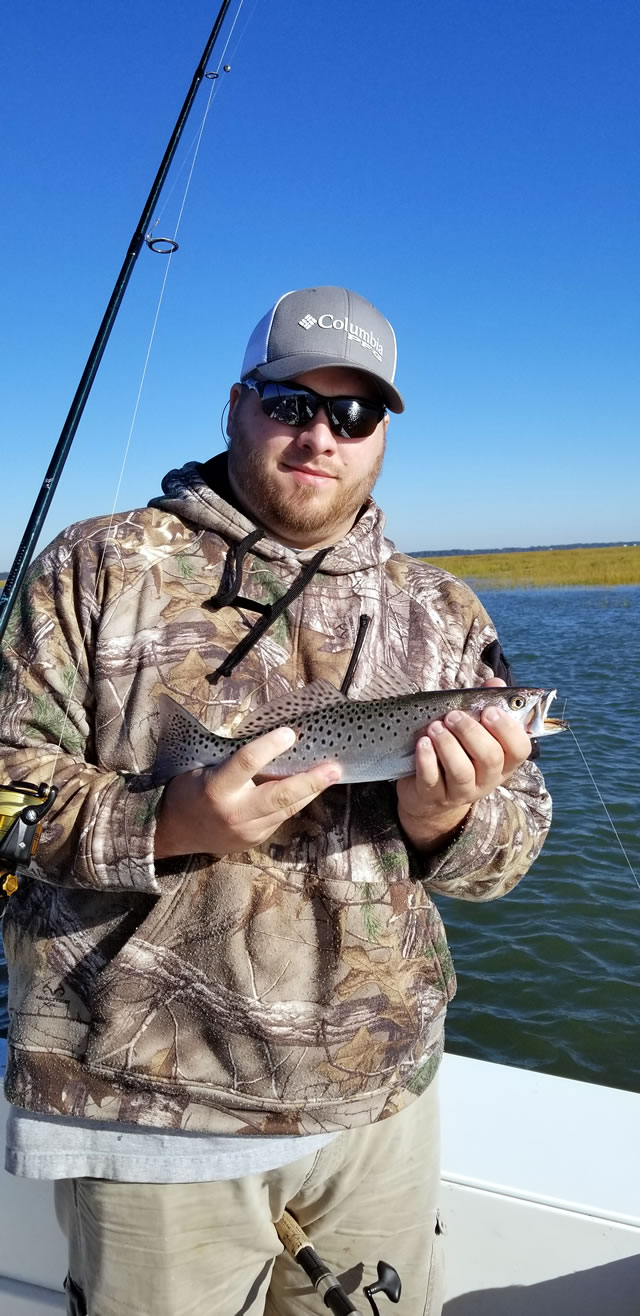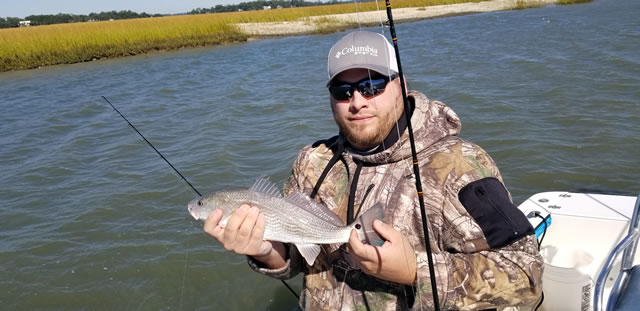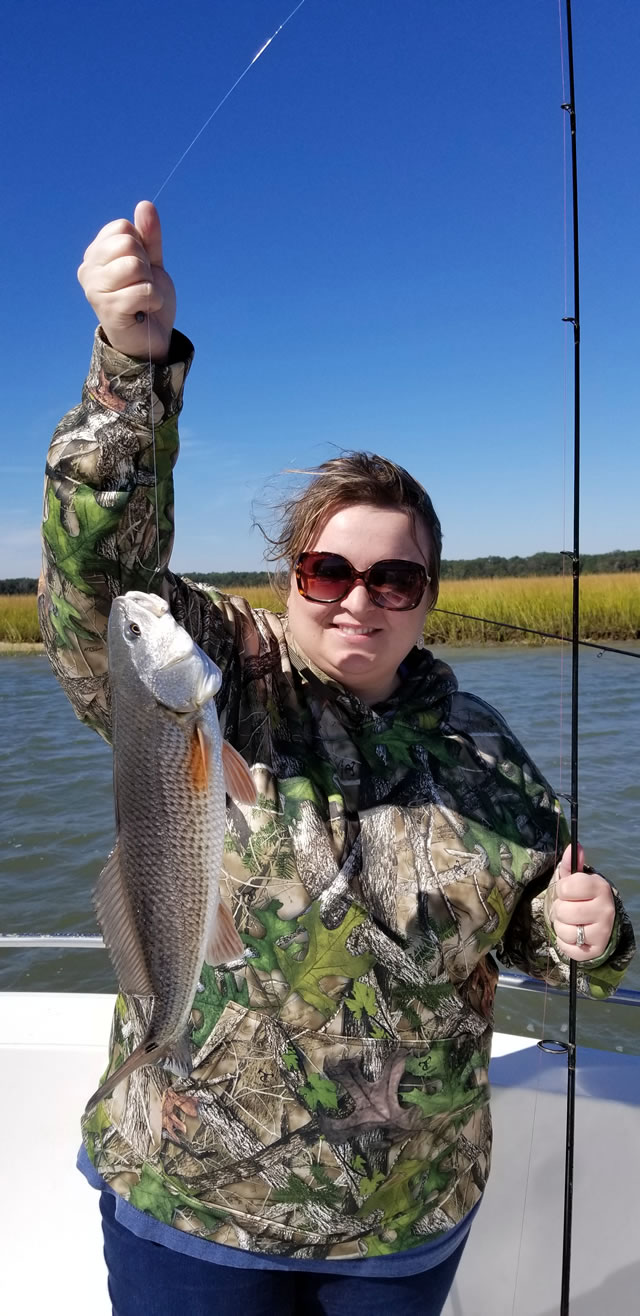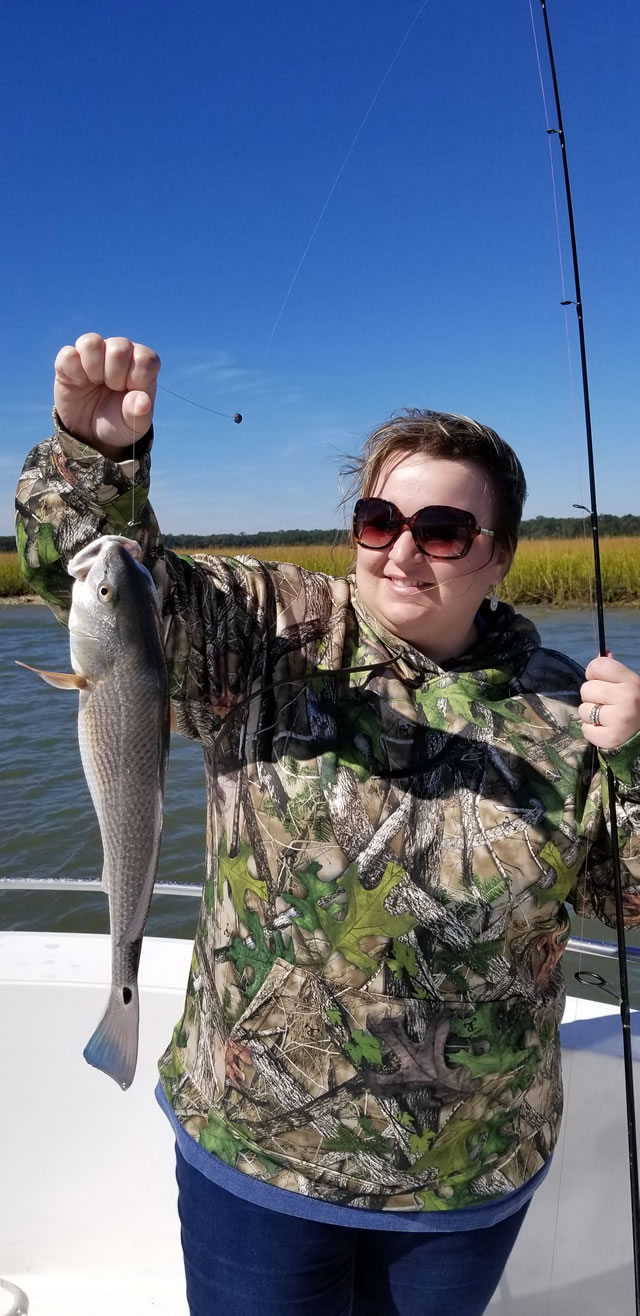 ---
10/20/2018
I had Loren and 3 friends for a 4 person 5 hour mini bachelor party. Air temp was a brisk 55 and the water temp had dropped to 73°. Wind was a solid 15 - 17 knots out of the North North west.We departed at 7:30 am, daylight and headed to salt ponds, but conditions were not good. We stayed in the sound and found clear, but very choppy water and kept 6 speckled seatrout, 5 redfish and I missed netting another that got away. We kept 2 whiting, 1 flounder and a bluefish. We released a couple short trout and 2 bonnet head sharks.
I have fished with Loren many, many times and his upbeat positive attitude has always been what I think is the main factor that we do good in any weather conditions. He is a pleasure to fish with and look forward to fishing with him and whatever crew he brings again.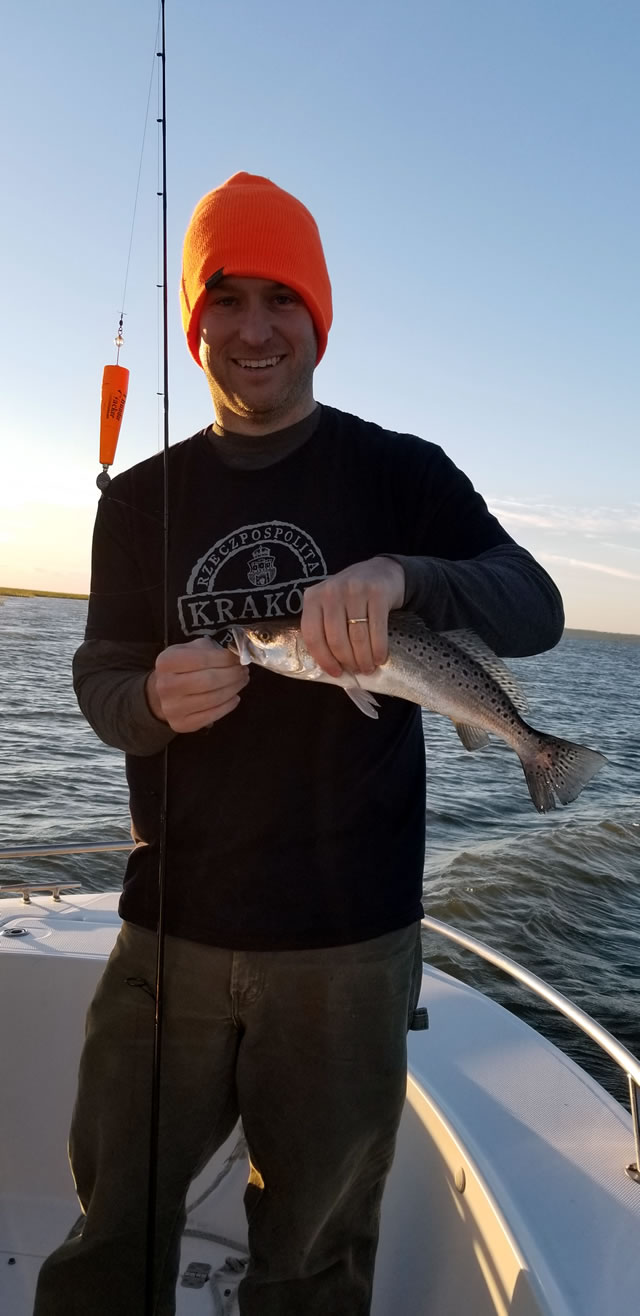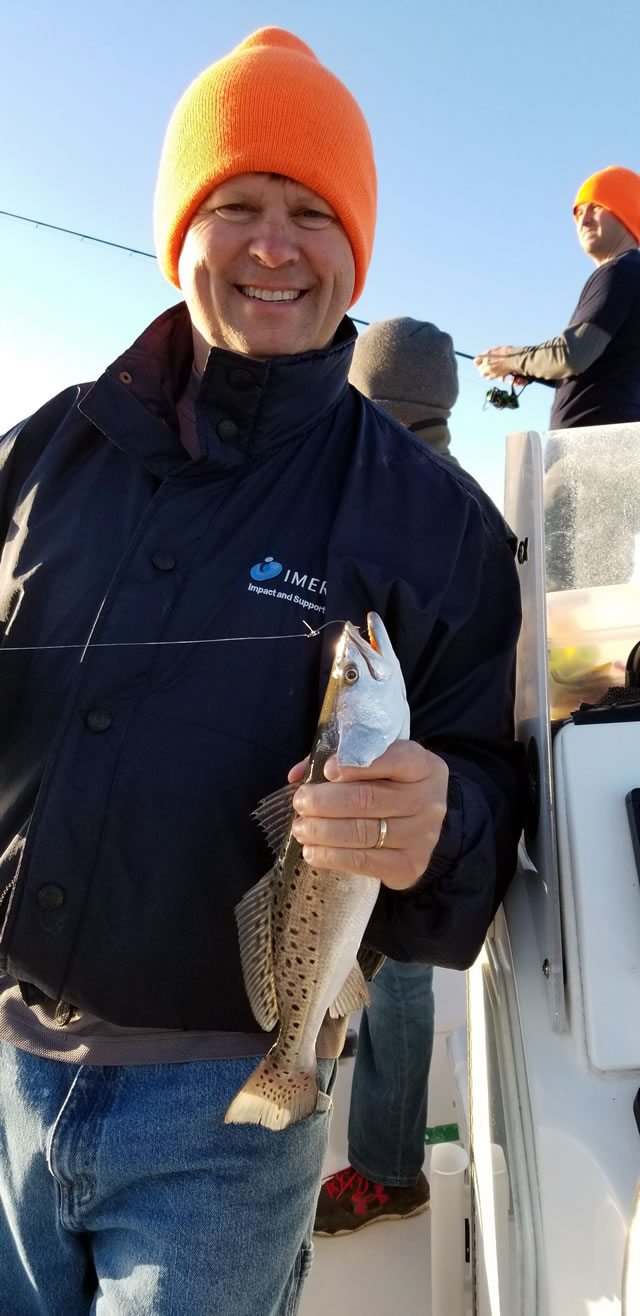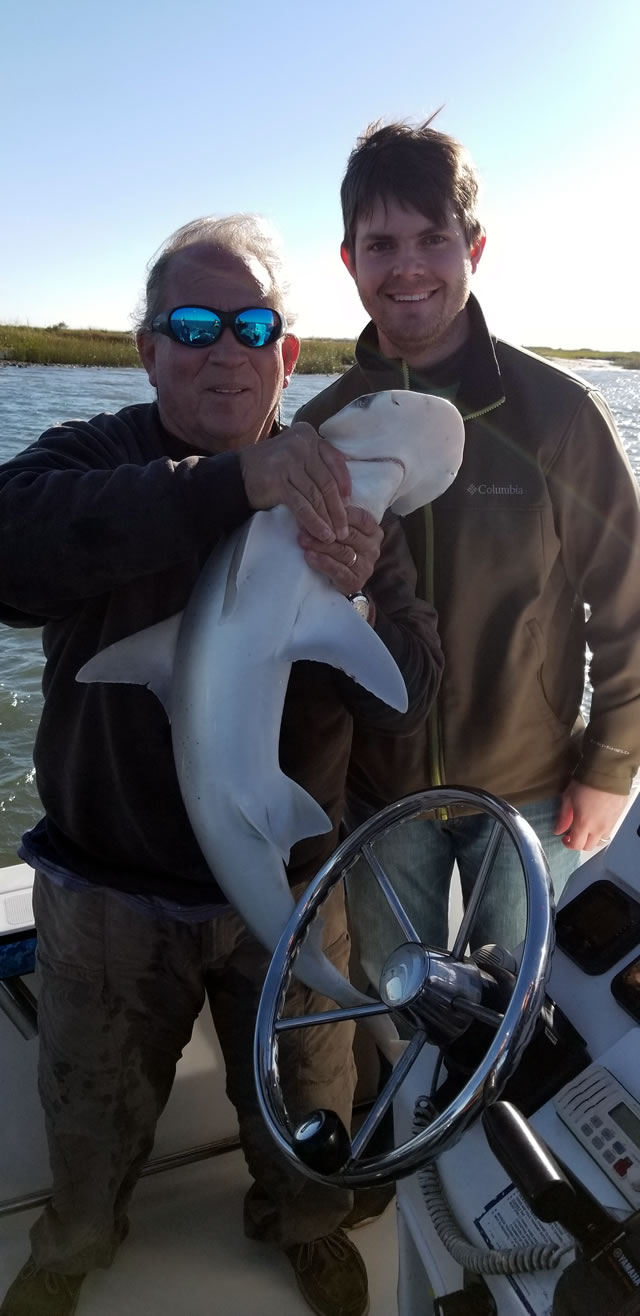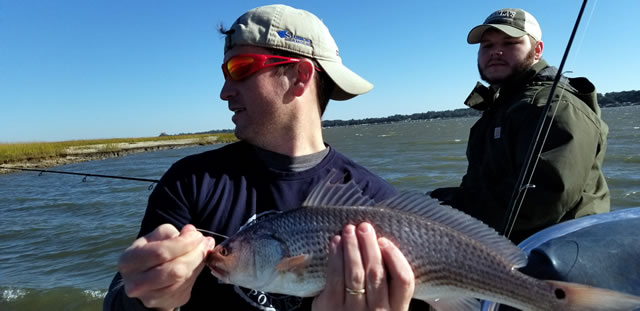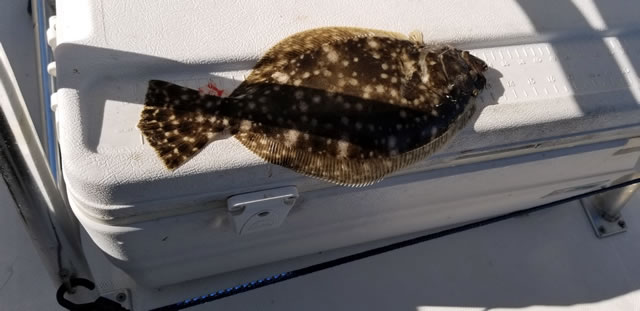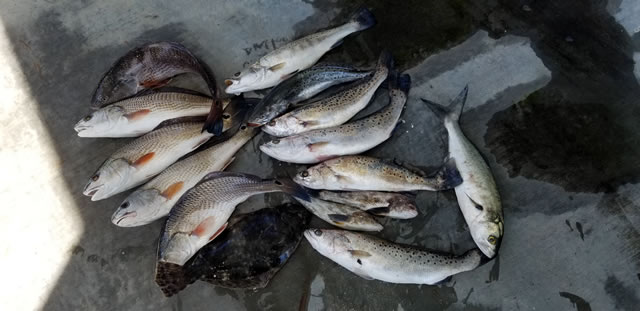 ---
10/20/2018
I had Charlie and his 2 friends Dan and JohnL for an 8 hour trip. The goal was to have fun and release all fish. Charlie wanted a Bull Redfish and he did hook one, and it was a very big one, but when he saw the net he thru the circle hook. Got him to the boat, but that was all she wrote. We spent a couple of hours doing this, but the wind was gusting to 15 as a front was pushing thru.
Water temps are still in the upper 70's and the trash fish are still here. We went back inside and caught some speckled seatrout, a few slot reds from a decent school. Also 3 or 4 small flounder were caught and every fish was released except for one of the flounder that was bigger than the one in the picture. When we got bites, we got alot of them and missed a few fish as well.
All three of these anglers were pinpoint casters and did quite well considering the conditions. Would have liked to got on a good school of trout, but that didn't happen. We caught a few, just scattered.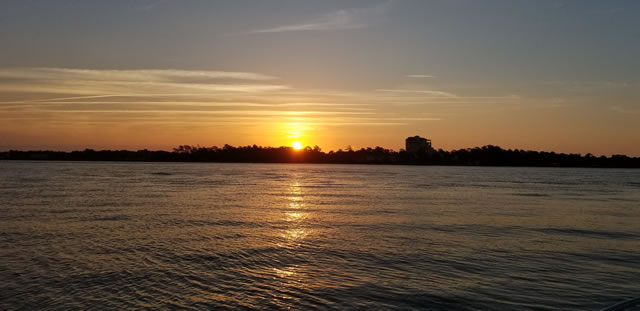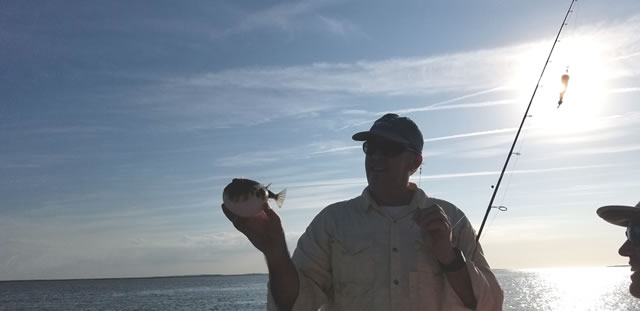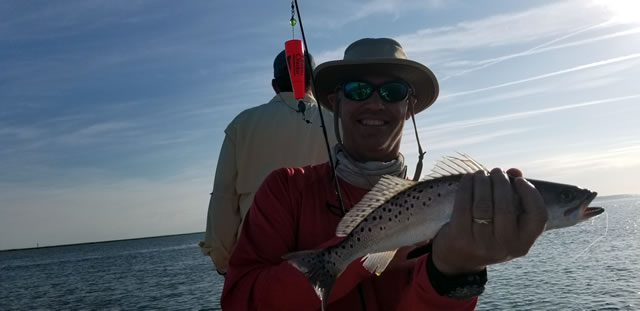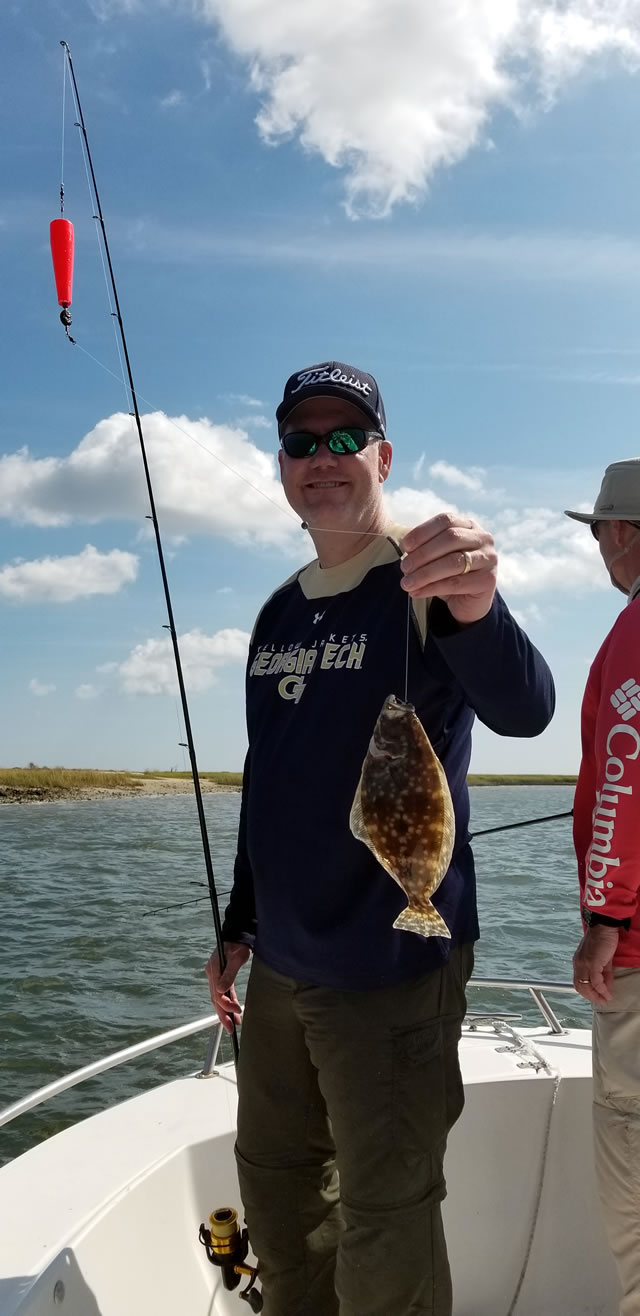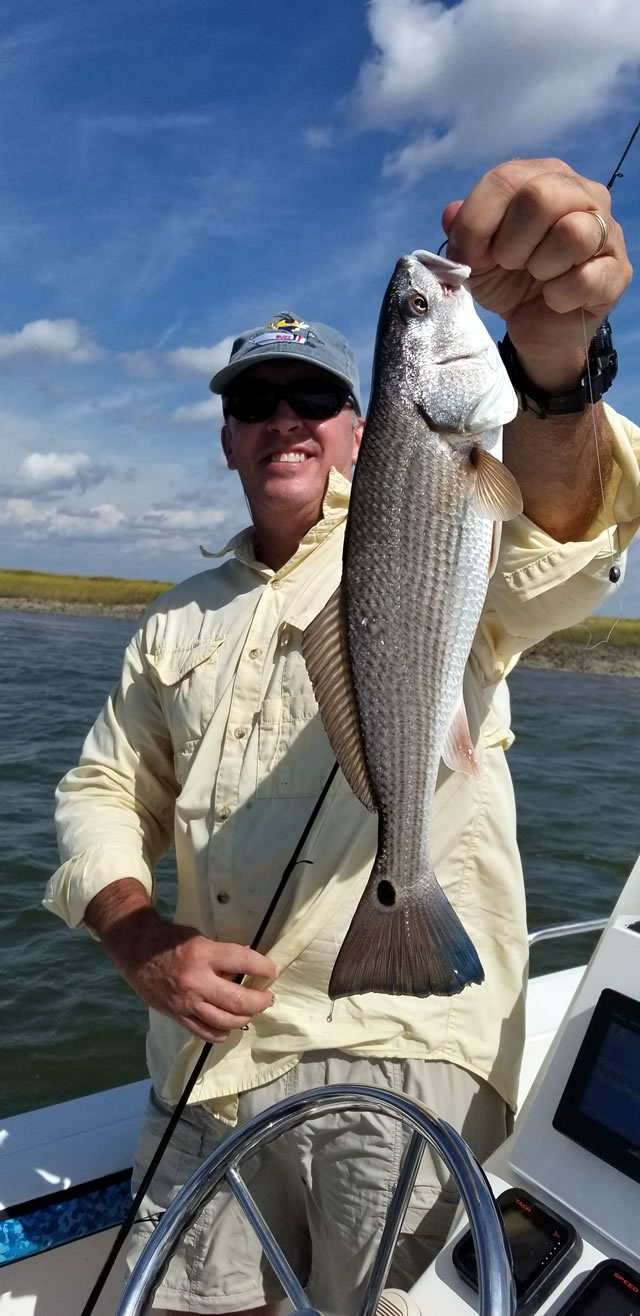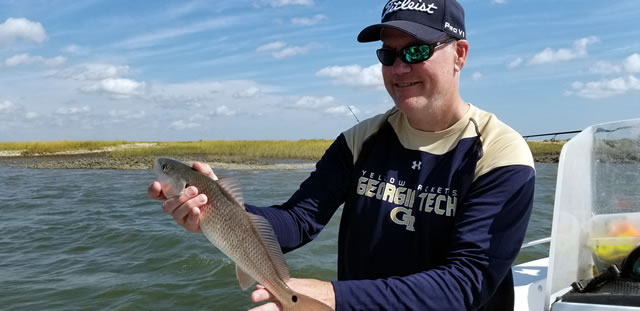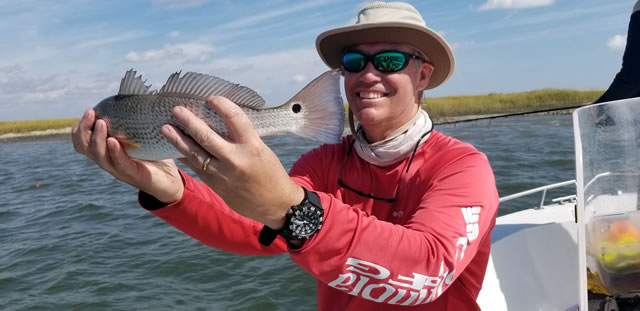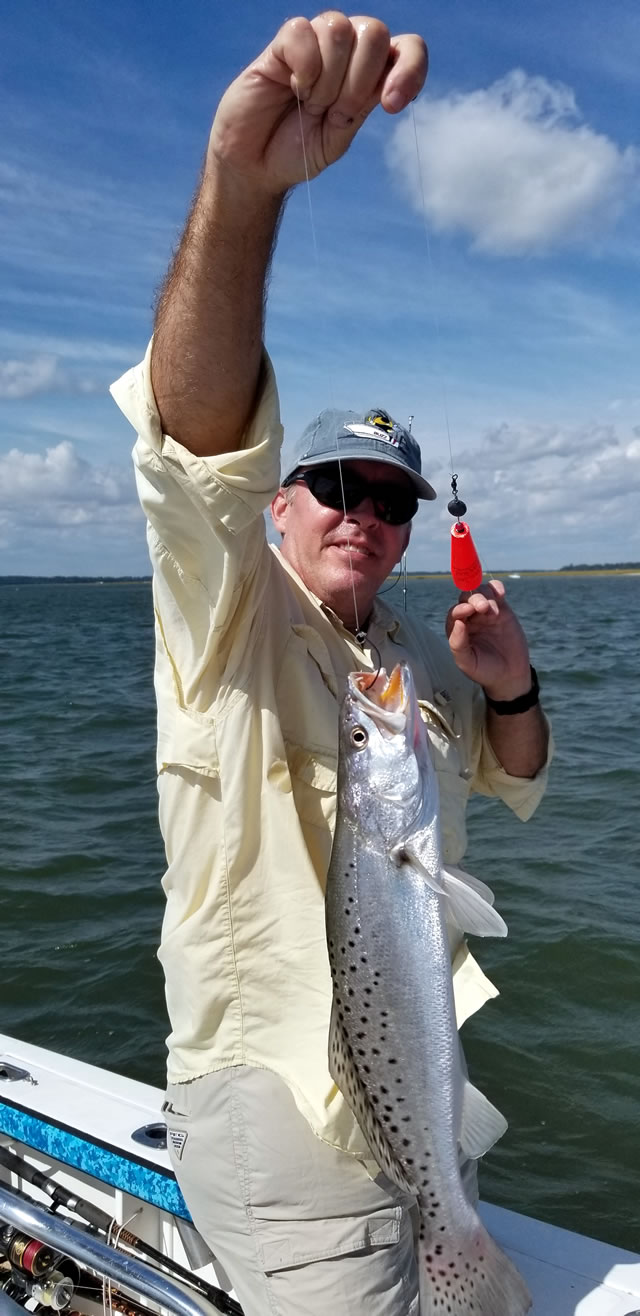 10/14/2018
I had Tom for a 4 hour scouting / fishing charter today. Target was to find some bull reds, land 2 and then catch some trout. Water temp was down into the mid 70's and very clear. Light winds were perfect. We started a 7 am , about 1 hour after low and went out and caught some baitfish for the bull reds. We were not dissapointed. I caught the first one and Tom caught the 2nd. Both fish were well over 36 inches and estimated weight of almost 40 lbs. I try not to use a boga to weigh these beautiful reds, just catch, them grab a picture and revive them. I also don't stick a tag in them. We caught 2 then caught some whiting and speckled sea trout to eat. A great 4 hours of fishing with a good friend.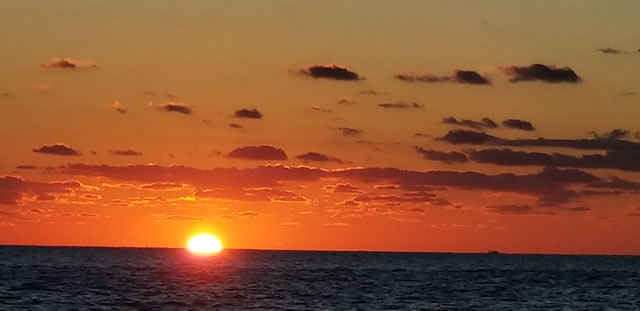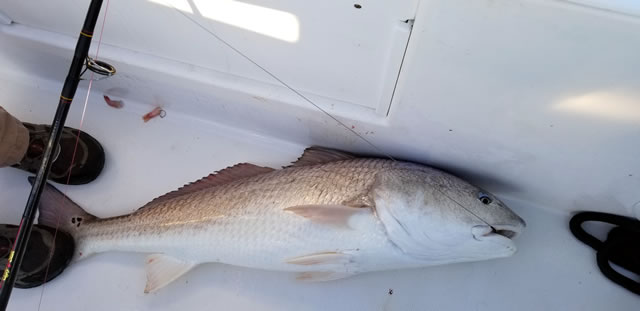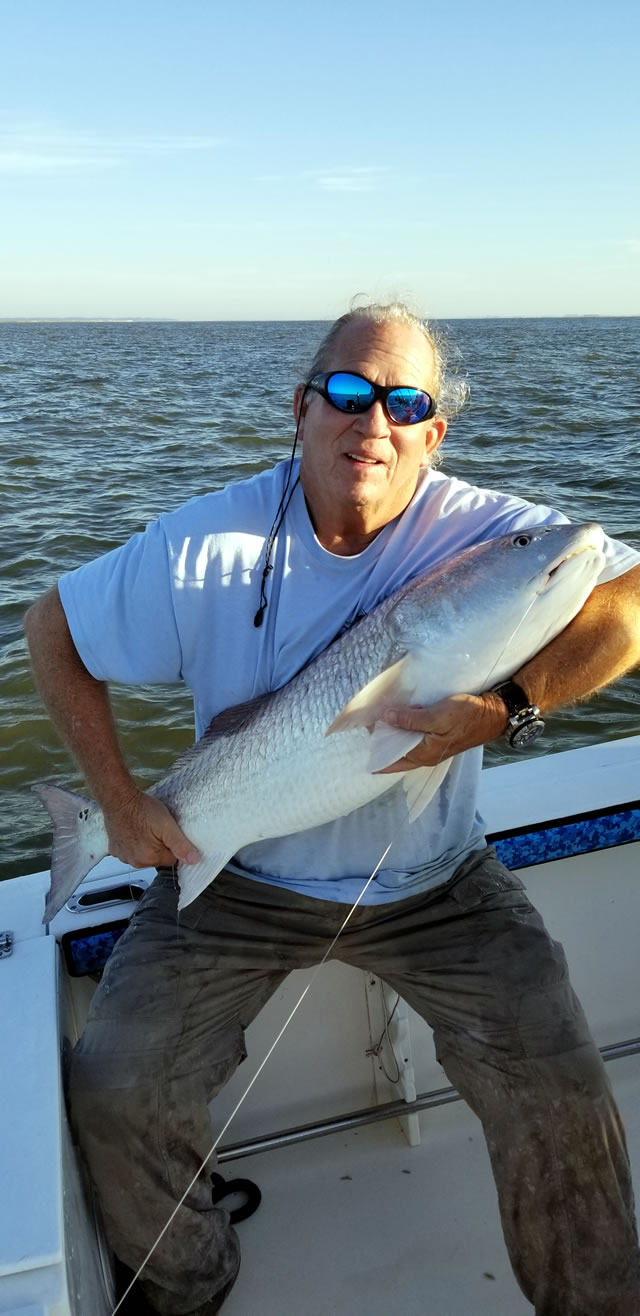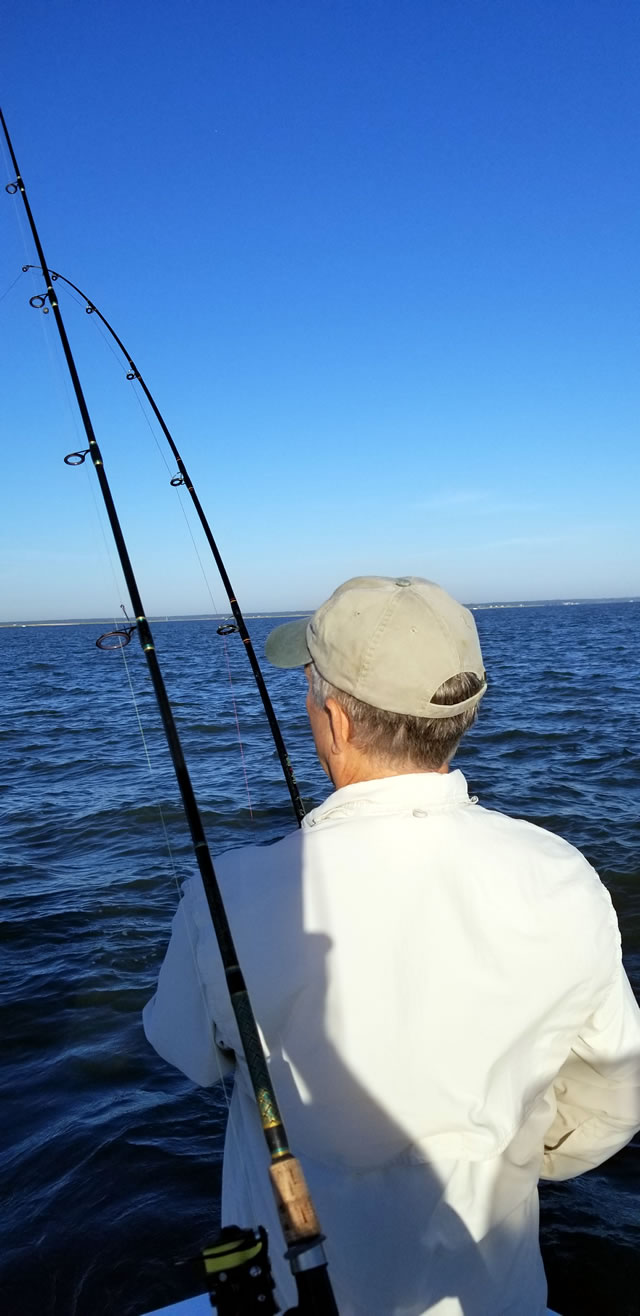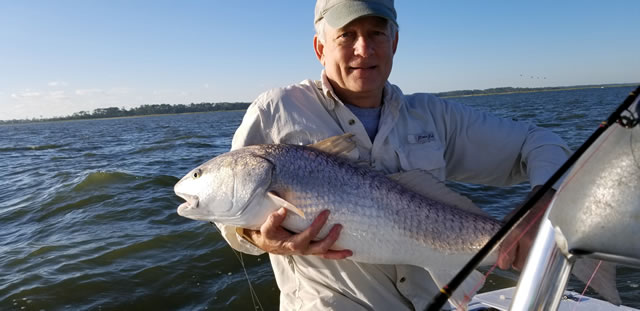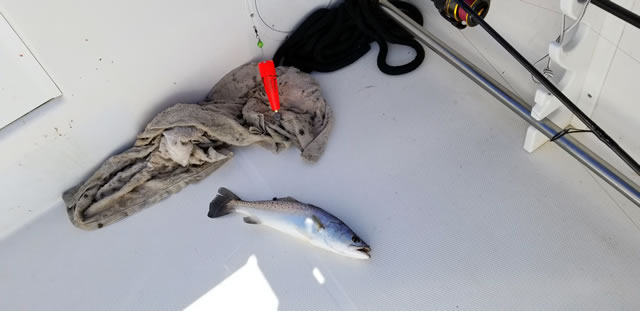 ---
10/07/2018
I had Jami for a 4 hour trip today. We knew the tides were running high and the currents were fast, but went anyway. Water temp was 81 and very clear at most drops. Winds out of the North at 10- 15 as the day progressed. All Fish were caught using live shrimp under either a 2 and 1/2 inch or 4 inch thunderclacker.
Jami's first fish was a keeper Redfish followed by a nice black drum. Caught a couple more keeper reds and 1 30 inch that gave him a good tug. Jami is a good angler and continued to catch keeper fish. We kept 3 speckled seatrout, 2 redfish, 2 blue fish, 1 black drum, 2 whiting and a nice flounder. weather radar showed us in rain , so we decided to call it a day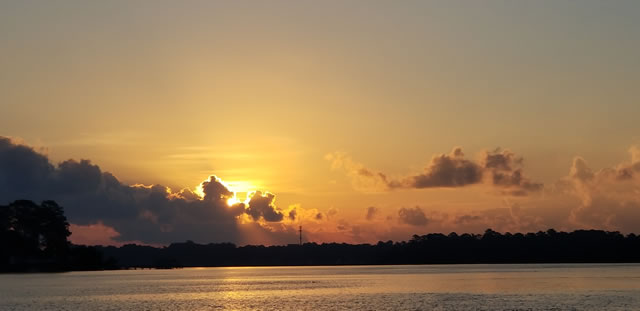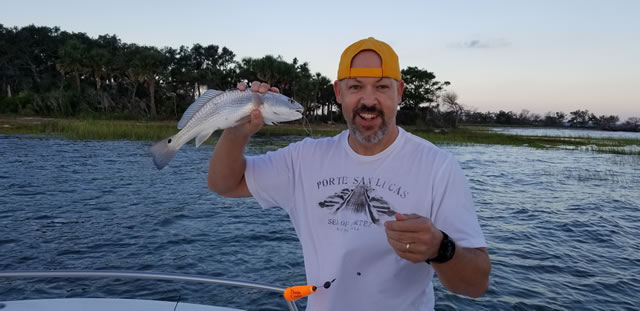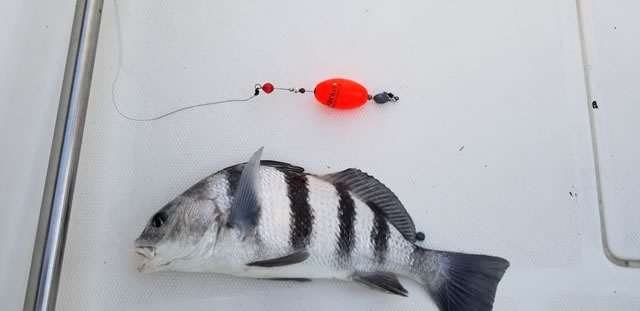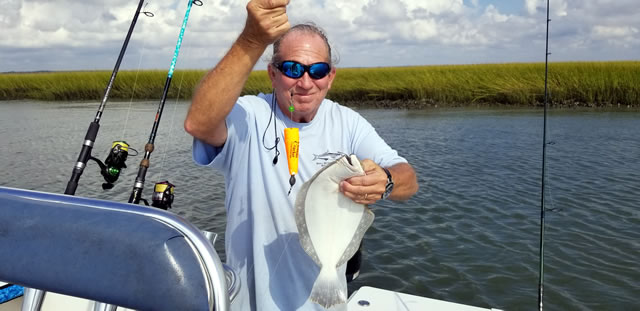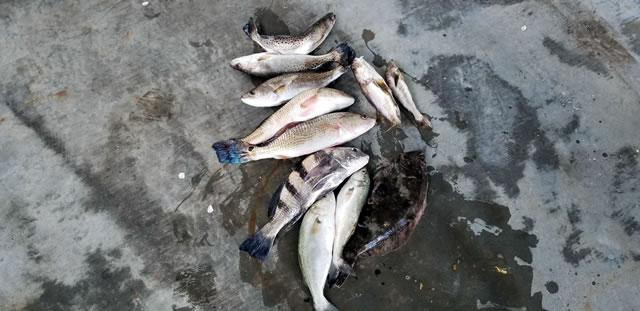 ---
Copyright © 2018 Thunderboltcharters All Rights Reserved.