---
07/29/2016 through 7/31/2016
Let me start by saying we had 3 trips this weekend, friday, saturday and Sunday and each one was repeats with fathers and sons and daughters. These are some of the trips we cherish the most as we are able to be part of your family through the years. It is especially exciting for me as I get to watch these young men go from teenagers to young adults and children to teenagers. This weekend I took Scooter and his son Michael on friday , then I had Ben and his 2 sons Nick and Alex, then Jeremy had Ed and his 11 year old daughter Ryan that he has taken 3 years in a row now. Ed makes the flight from Pennsylvania, Ben flys in from Grand Rapids, Michigan and Scooter comes from north Georgia. Again I want to tell each and everyone that comes back to fish with us thank you! Please READ about all 3 trips as I am posting all at once since this is the first time I have been home since thursday!
07/31/2016
Capt. Jeremy had Ed and his daughter Ryan. This is the 3rd trip for him with this family and they did great today. They caught plenty of redfish, including 2 that was 27 inches, one released at the boat and the other Ryan got into the boat. She and Ed both caught plenty of shorter redfish and Ryan got a speckled trout or two. Water temps was again pushing 90. They had a great day together and I talked to Ed at the end of the trip and he said Jeremy did another GREAT JOB and he couldn't have asked for more! Thanks Ed for the compliment, it means alot!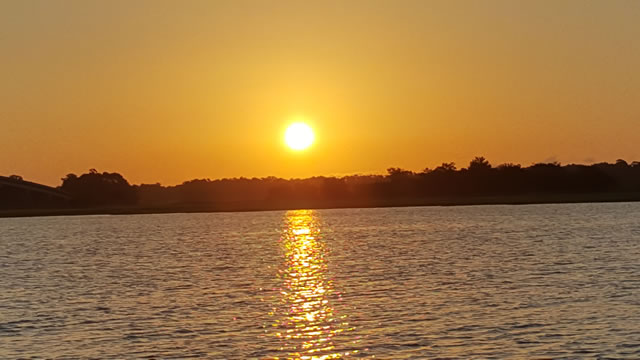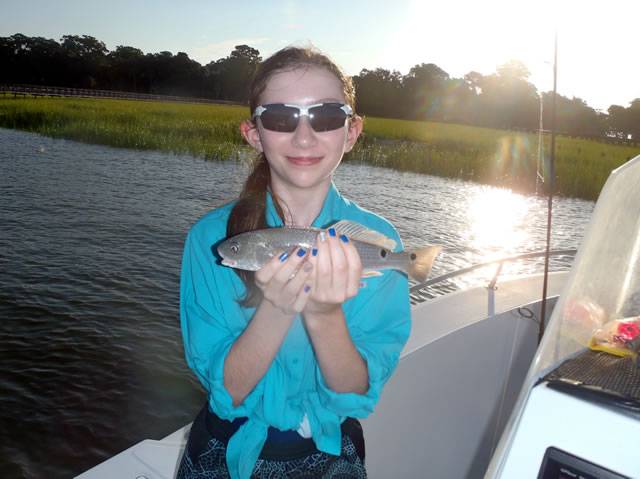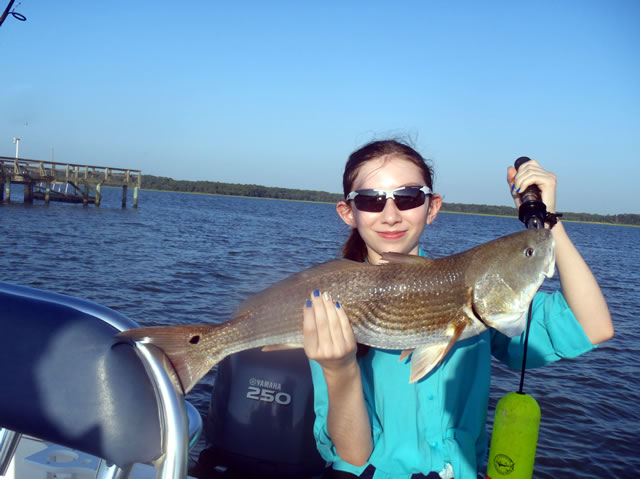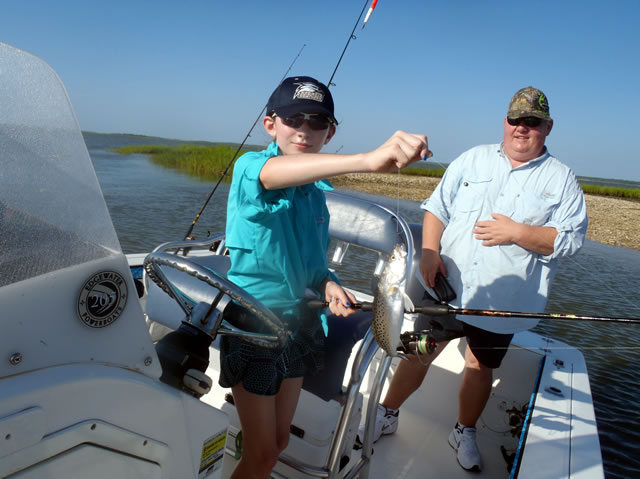 ---
07/30/2016
I had a 4 hour trip with Ben and his son Nick who is in the marines now and his other son Alex who is in high school. They were not keeping fish, but wanted to shark fish. On the way to where we go to shark fish, we stopped off to try for a few trout and Ben hooked up and landed a very nice bonnethead on light tackle. We then headed on out towards the ocean and tried for some larger sharks. First bait in the water produce a nice , smaller sandbar shark, but he put up a good fight. Alex kept us in bait fish until the other rod went off. We missed 4 or 5 bites, just because the shark missed the hook. We also had 2 break offs, then Alex landed a very nice ray. He was too big to put in boat, but we rolled him over and I was able to remove the hook. Air temps hit 100 and we headed in at 11:30. We made 4 hours on the fishing grounds, but everyone was ready as it was hot an NO wind at all.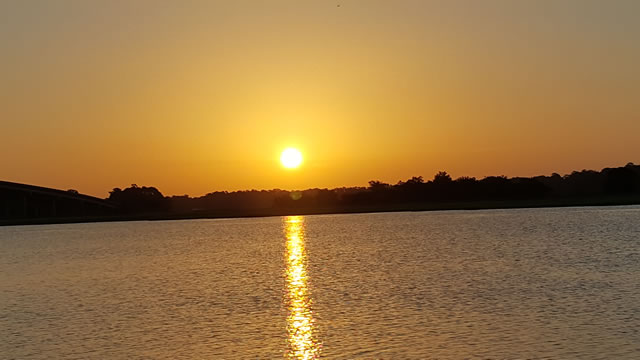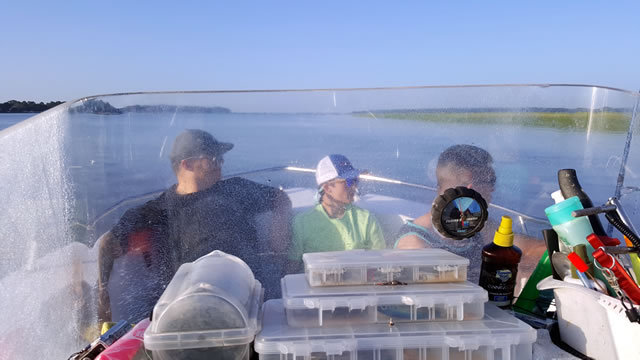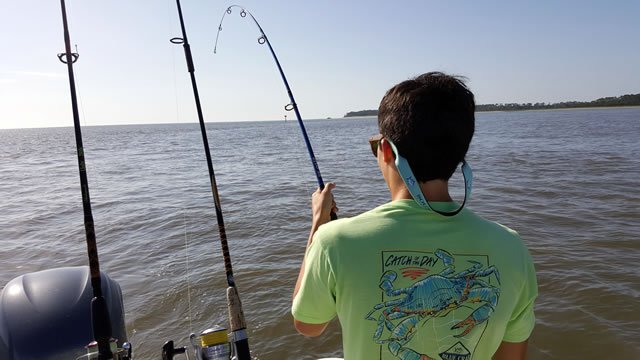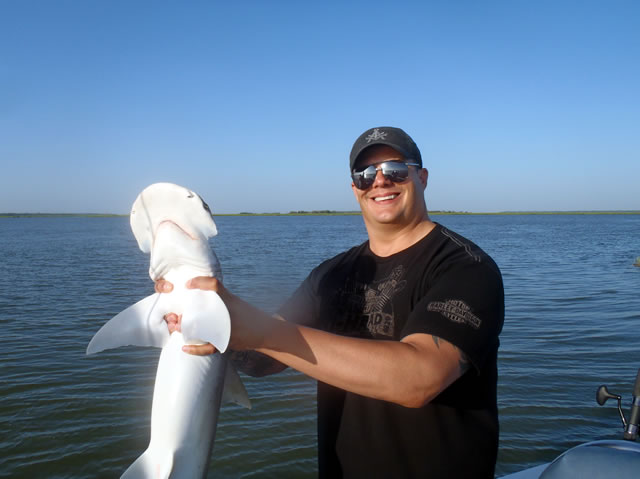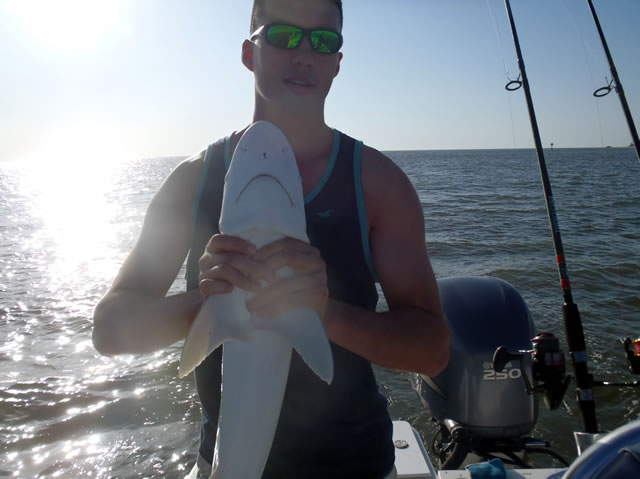 ---
07/29/2016
I had a 6 hour trip with Scooter and his son Michael. I have taken them 5 other times, but not for a couple years since Scooter had a physical injury and is just now able to stand all day in a rocking boat. Michael is starting his second year at college and has really muscled up! We fished 3 hours for trout and redfish and 3 hours for sharks. Water temps was bumping 90 all 3 days. We caught an assortment of smaller redfish and Scooter caught a nice slot red. Michael caught a very nice keeper speck that was a touch over 17 inches. We had a lot of short redfish and specks but we tried hard. Scooter wanted a bonnethead shark and we hooked 3 and landed one good one. Michael had one follow a bait to the boat and slap the boat with his tail before coming back and getting hooked up, but this time the shark won and broke him off. We went out in the sound and took a shot a big sandbar, but didn't get one of those, however we kept quite a few whiting for a meal. A great day on the water with a very nice family. Looking forward to our next trip!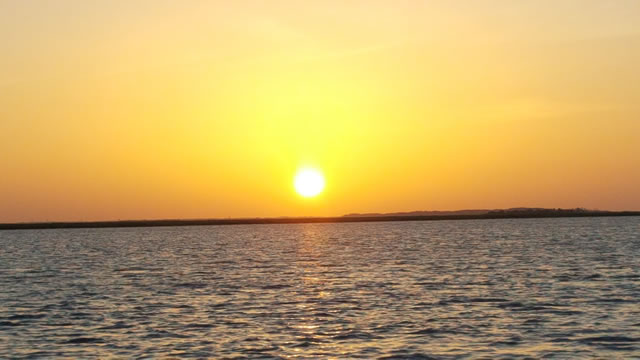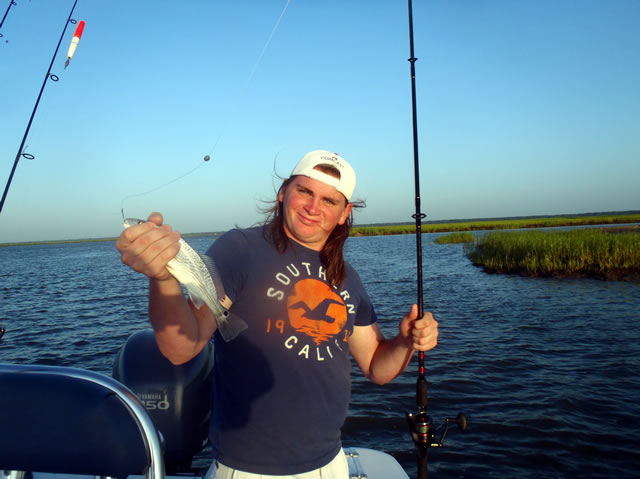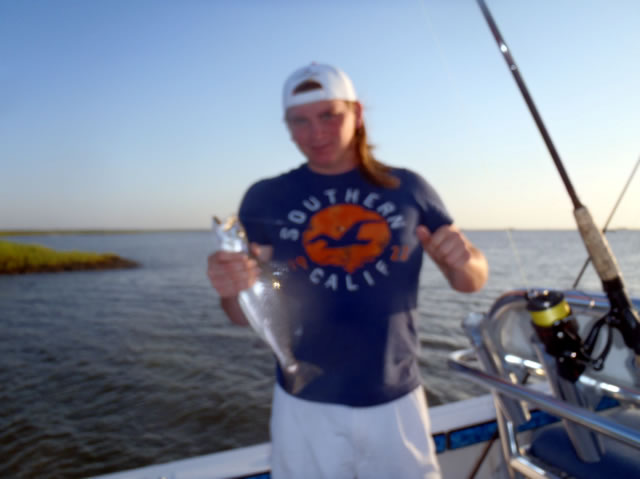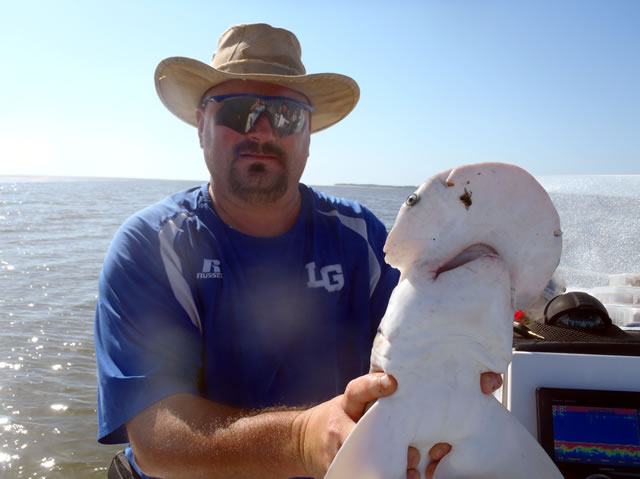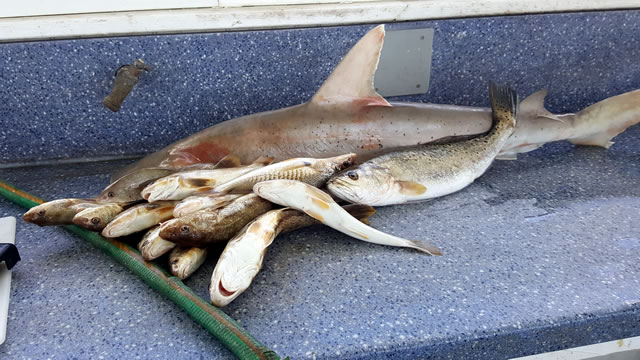 ---
07/24/2016
I had a 5 hour trip today with Jack and his sons Trey and Tommy. We have taken this family 2 other times and as always they are a pleasure to see and fish with. Trey is going to be going to Armstrong in the winter and we will surely get together and try for some Striped Bass. Today the water tem was 89 and stained to clear at most drops. However we are coming off a full moon and the tides were ripping. We caught quite a few short redfish and some short speckled sea trout , but kept a nice slot Redfish and Black Drum along with a few whiting for a meal. I had a great time fishing with this family and look forward to going again soon.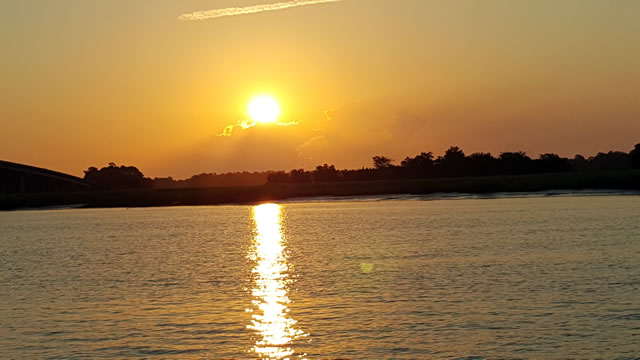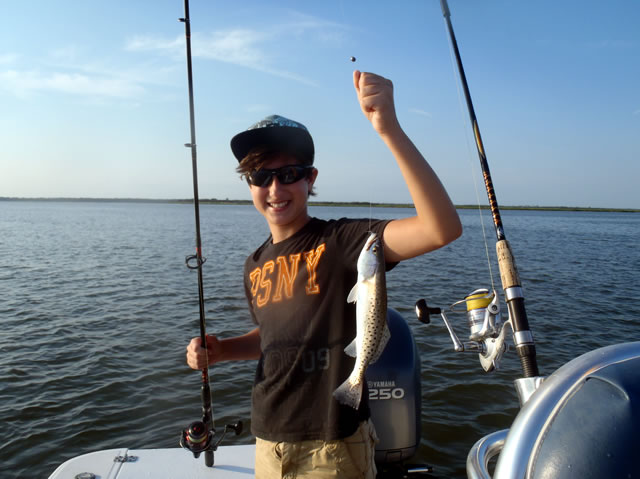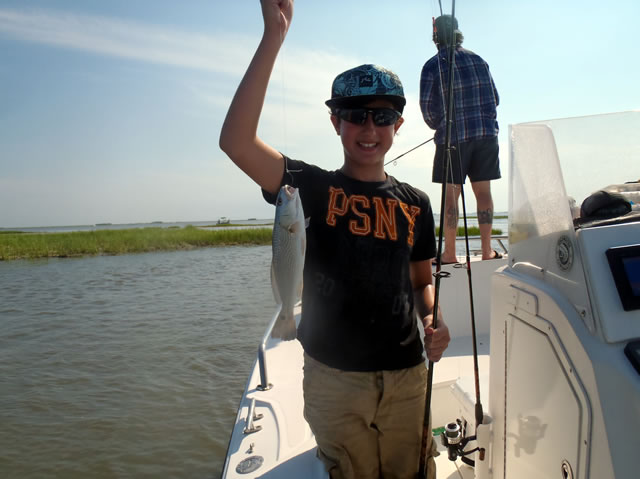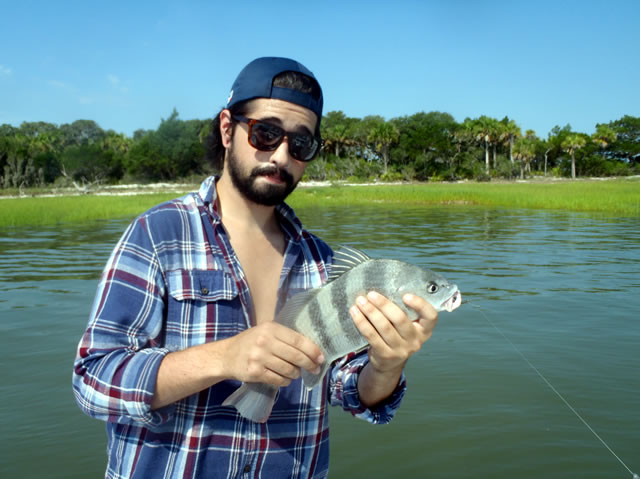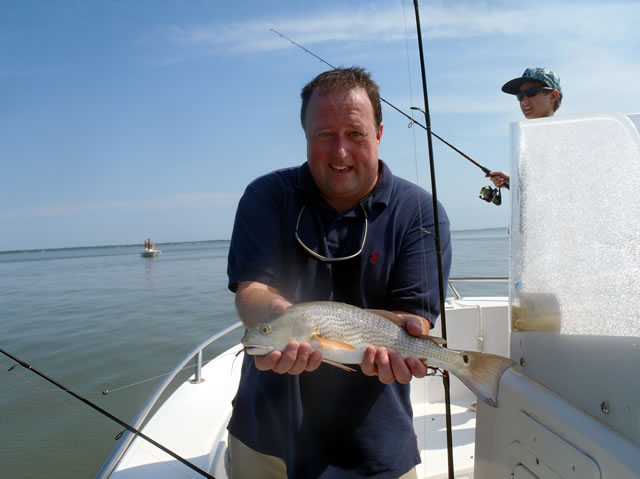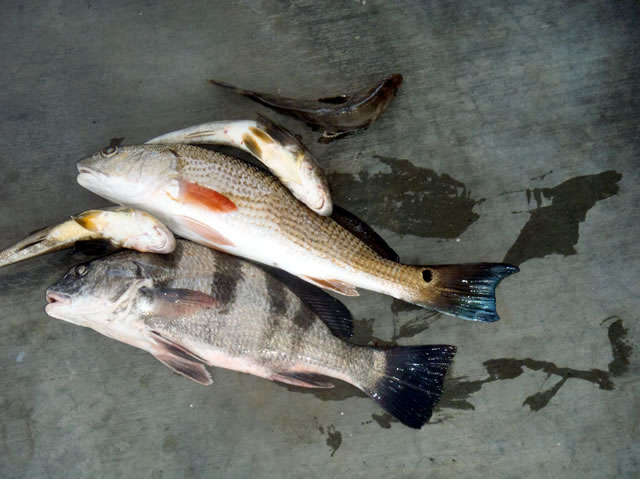 ---
07/21/2016
I had a 6 hour trip today with Frank and his son in law Mike. They had been with me about 4 years ago. Both of these anglers were excellent, except Frank had shoulder surgery recently and was having to cast 1 handed. They wanted enough to feed 8, but this is summertime and the water temp was 89 degrees. We departed at 6:30 am but the moon was full and the currents were ripping. That being said we released about 20 redfish that were just under 14 inches. Kept 1 nice 19 inch slot red and a hefty bluefish. We caught a few short speckled seatrout, but that bite was cut off by the ton's of very aggressive ladyfish we caught. we also caught and released 2 bonnethead sharks. Action was good most of the trip, but the take home was not going to feed 8. Really hope we fish again before 4 years pass again.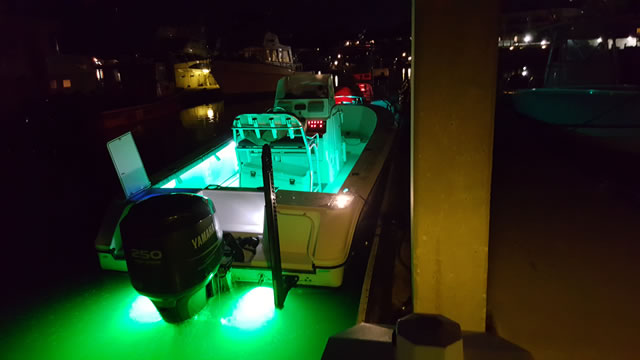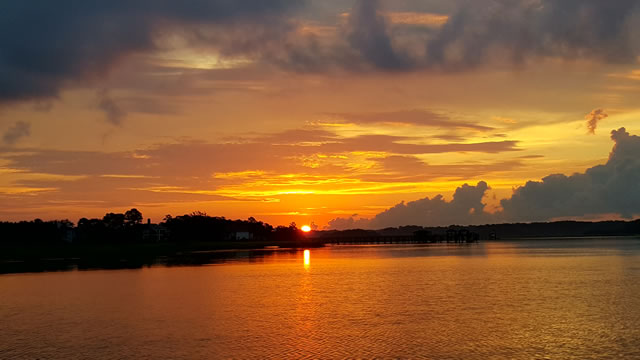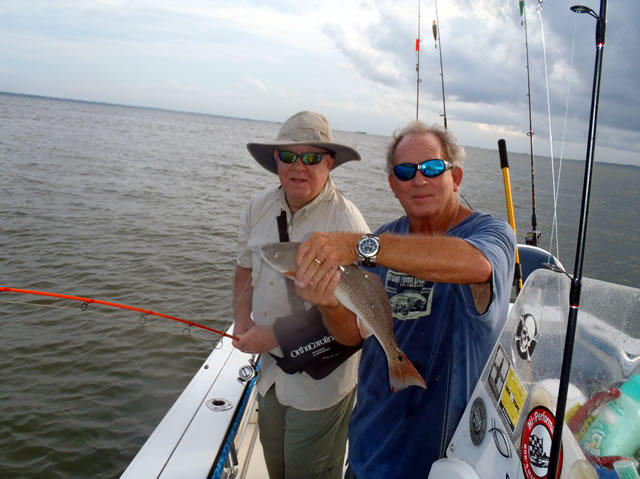 ---
07/16/2016
I had a 4 hour 3 person trip with Josie, her father Joe and husband Chris. The last time Josie and Chris came they were dating, now Married. Last time Capt. Jeremy took them and they released about 40 nice sized sharks. They wanted to catch sharks today, but Josie really wanted to catch some stingrays. We departed at 7 am and the tide was high outgoing. The real shark bite happened during the last hour of the trip and we had several hard hits, but no hook ups on large sharks. We caught quite a few whiting while waiting on the shark rods to go off. We did catch some stingrays and while Josie had the largest most of the day, her Dad caught one of the biggest I have ever seen, that we safely released boat side. Looking forward with fishing with them in the fall for Trout and Reds as they are all good anglers and a lot of fun to fish with!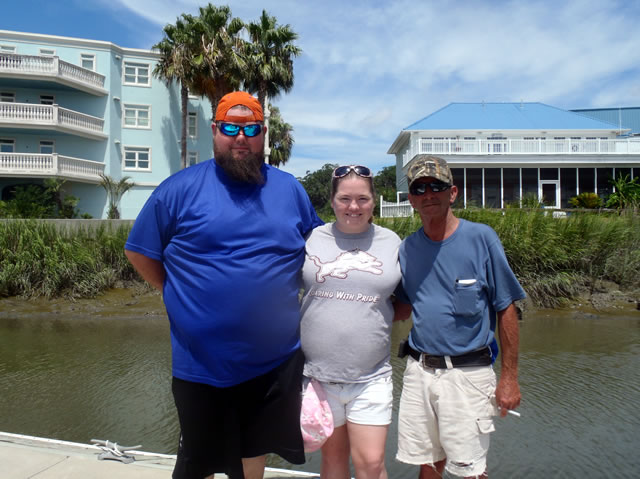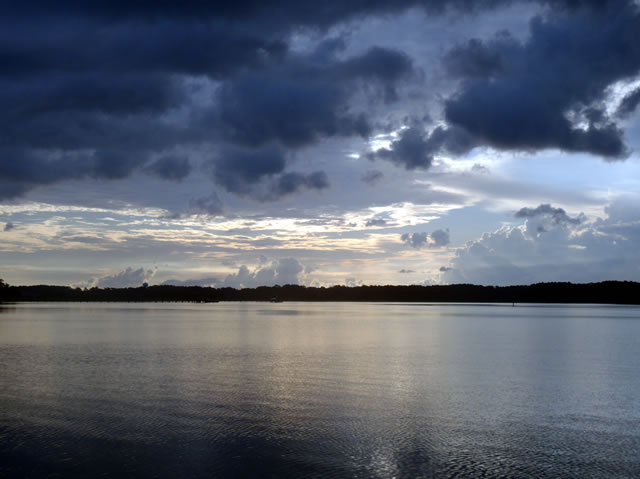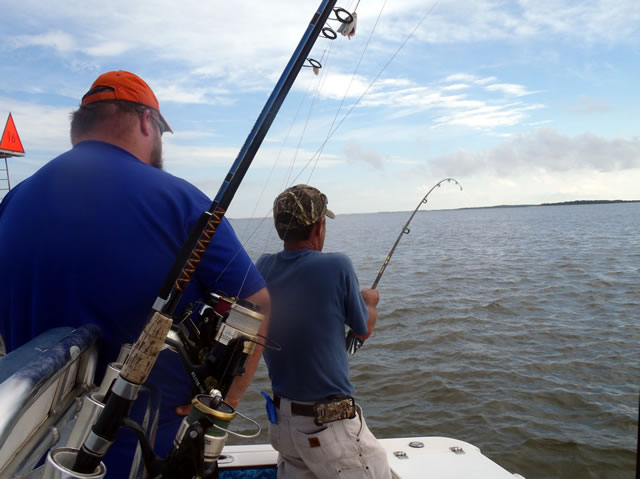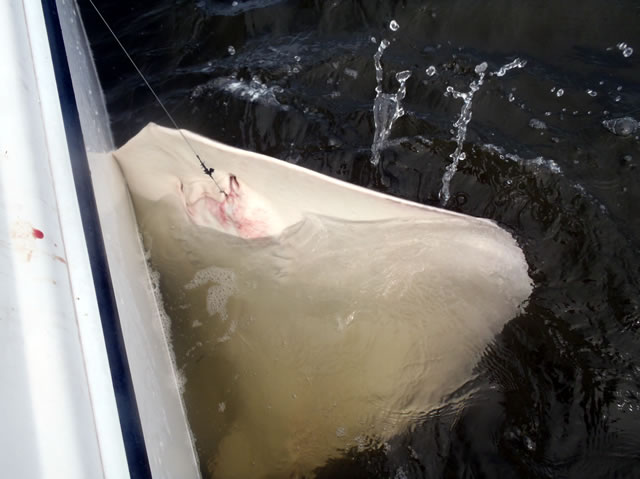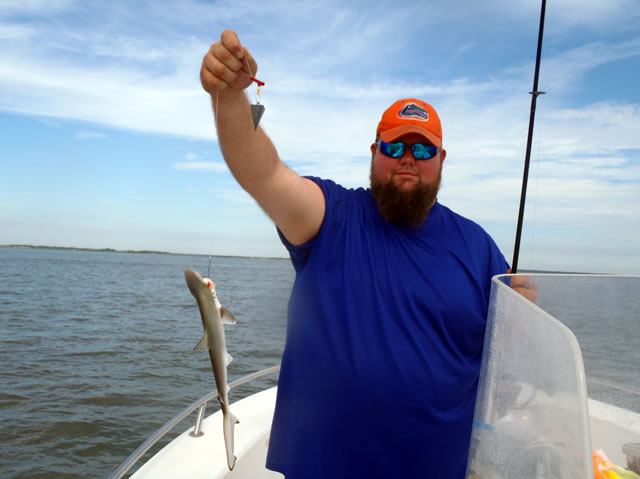 ---
07/13/2016
I had a 5 hour tip with Jason, his twins Jeffrey and Joey and his wife Jana. This was primarily a shark trip, so we bottom fished. We departed the dock at 7am and got to the fishing grounds around 7:20. Got 3 heavy rods with cut mullet out and then everyone started bottom fishing with squid and shrimp for whiting and croakers for additional bait. Plus the extra whiting we caught was cleaned up for a meal. We kept 15 whiting .
I had Jason and his older son, back in May and we caught a bull redfish. Today the boys caught 3 very large rays and 2 sandbar sharks. We also pulled in multiple starfish, which to me is a sign that the climate is changing. Its still hot as blazes, but the fall fishing pattern is starting early . These boys were a pleasure to fish with and were very good fisherman as was Jana and Jason. These twins were 13 and very polite and funny. Hope to see them again next year.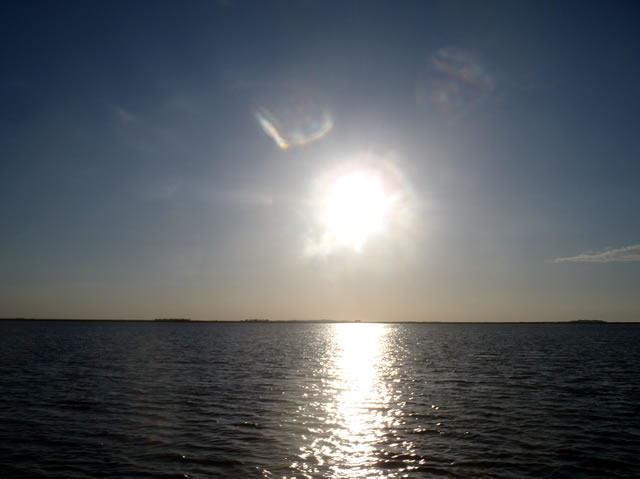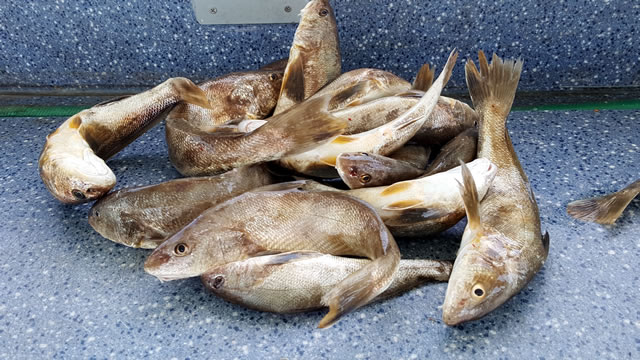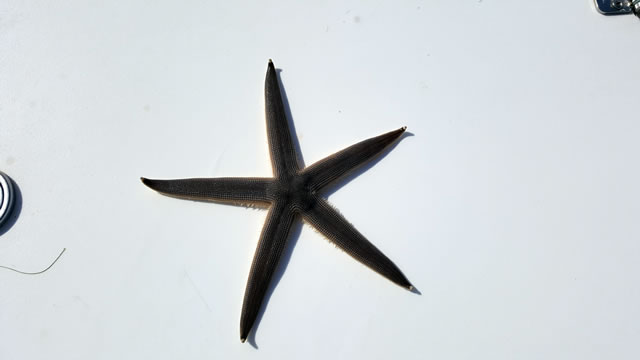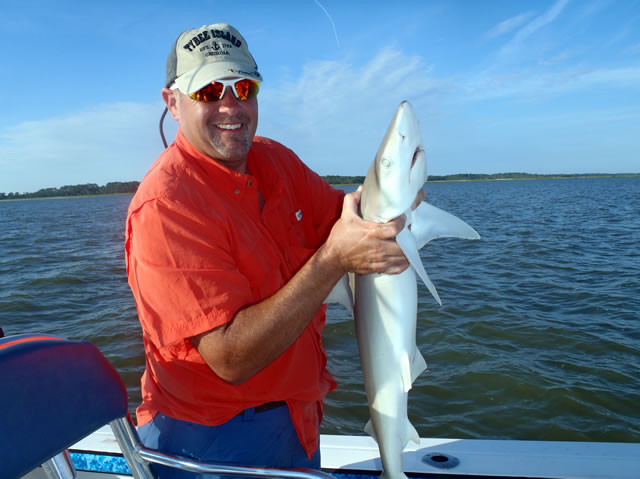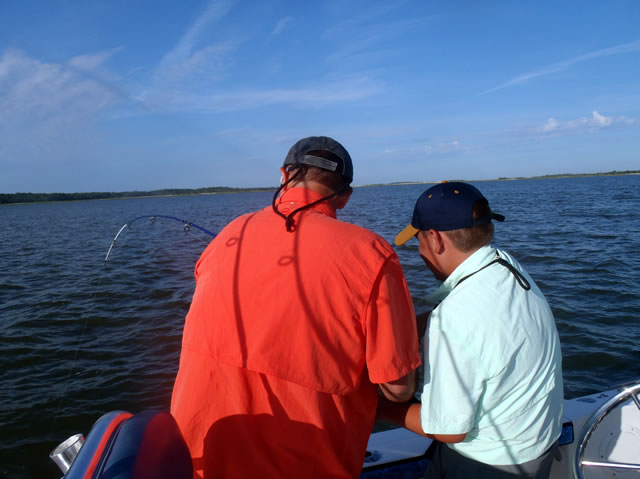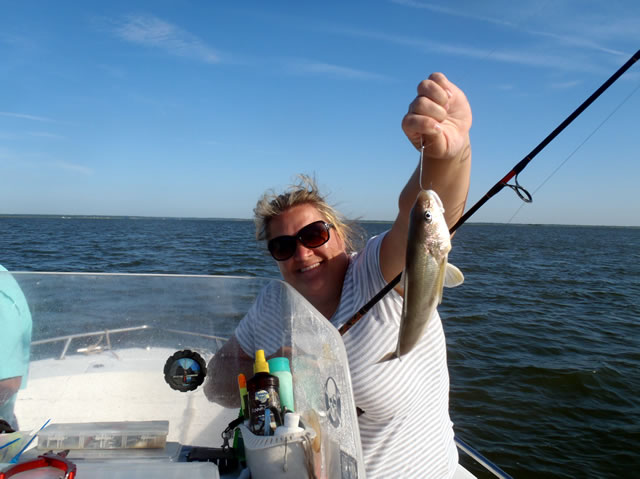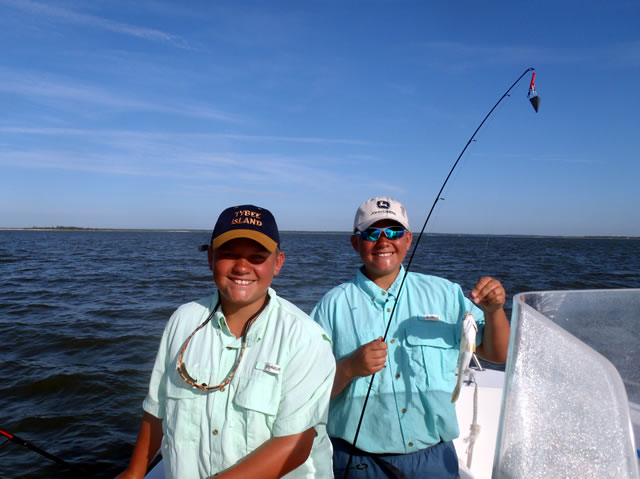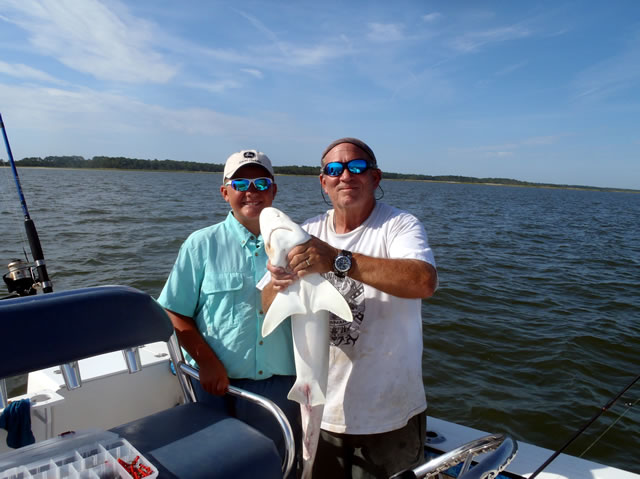 ---
07/10/2016
I had a 5 hour 3 person trip with Scott and his 14 year old son Whit and his 11 year old son Thomas from Birmingham, Alabama. Today was the exact opposite of yesterday. Winds had laid down and the water clarity was great at most spots. Thomas started off catching a nice sandbar shark. We caught a few trout then relocated. It was nonstop action for the rest of the trip. Thomas caught the biggest and most fish. They kept a few speckled seatrout and whiting for a meal. The plan was to take some of the filets to the DOCKSIDE Restaurant on River Street and have them cooked up fresh.
These guys were a pleasure to fish with and all three were excellent anglers. The 2 boys were very polite and they listened to me and their Dad. The bite did slow on the last hour, but they didn't complain at all.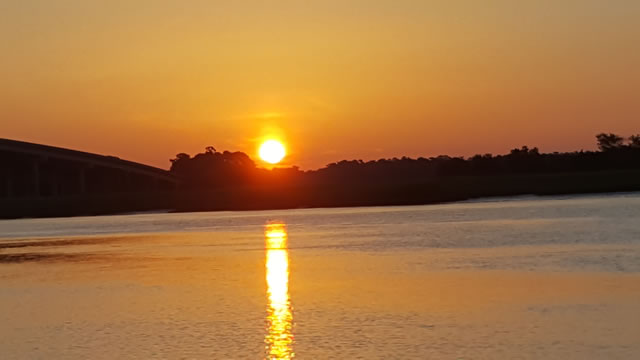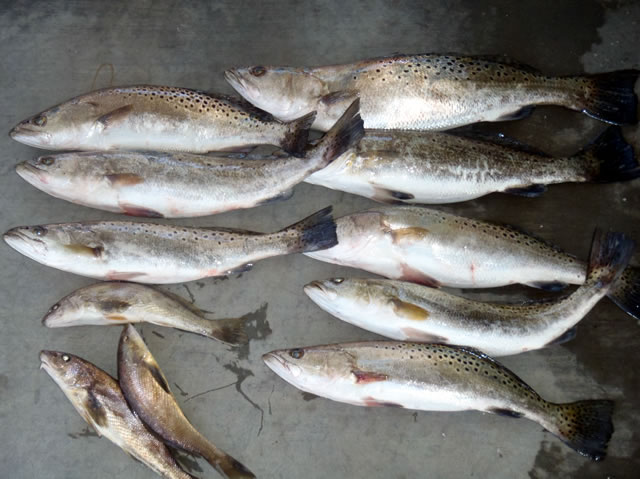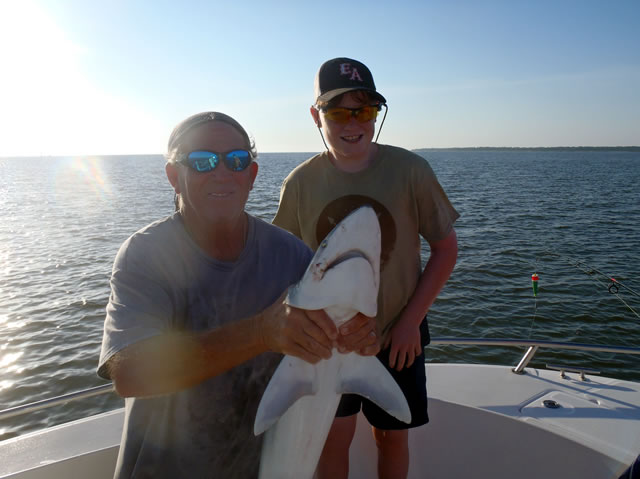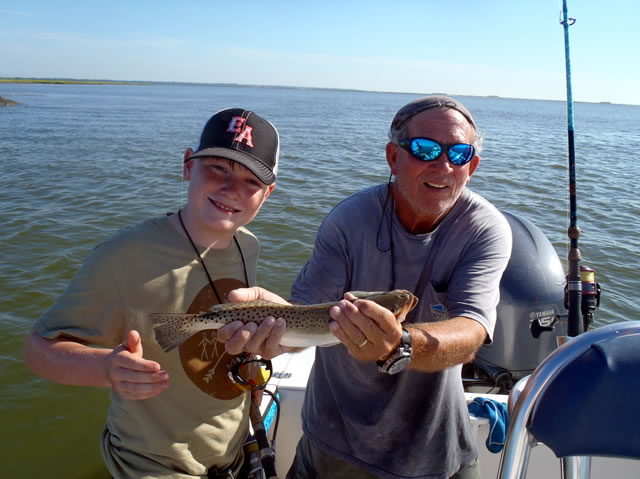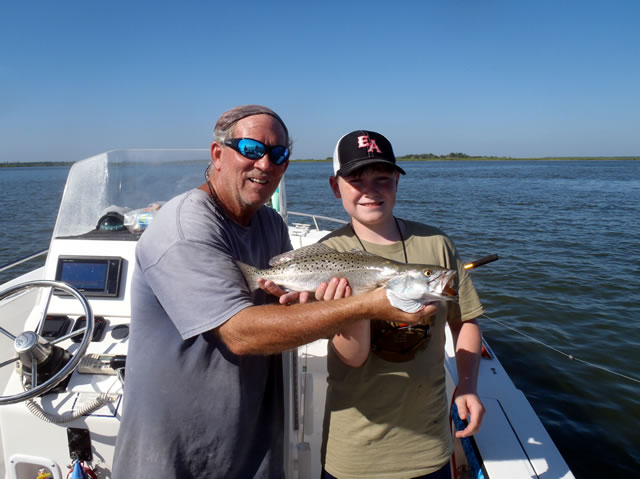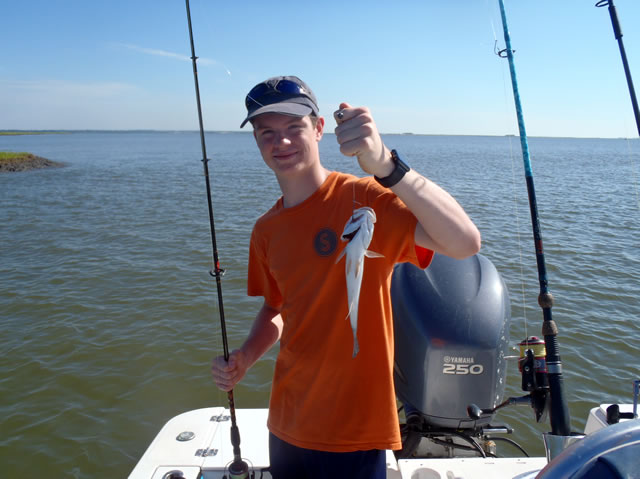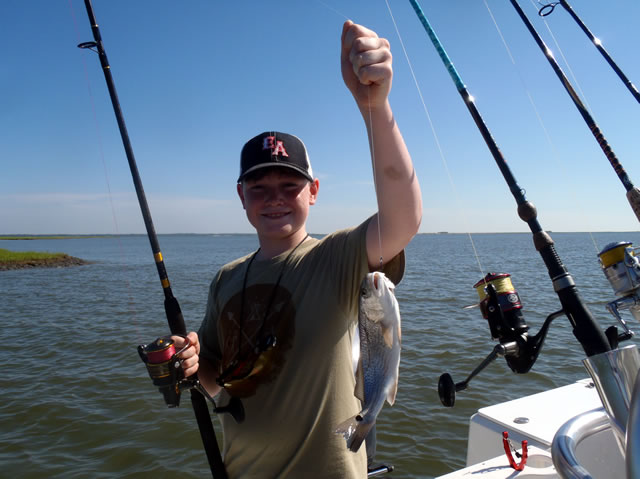 ---
07/09/2016
I had a 6 hour 2 person trip today with Shannon and her husband Brian today. We departed the dock at 7am. Water temp was 83 and water clarity was stained to dirty. Wind was 10 - 18 out of the west on an incoming tide and made for less than favorable fishing. We caught a couple sharks and a few trout and some bull whiting. Brian also had a very large redfish pull the hook about 5 feet from the boat , but that's fishing. We did the best we could on a rough day. Both anglers were excellent and alot of fun to fish with, just wish the bite was better.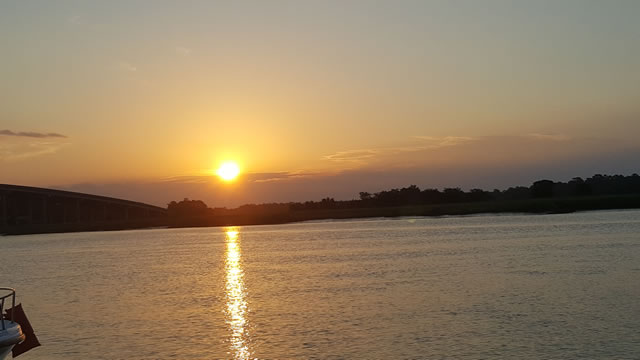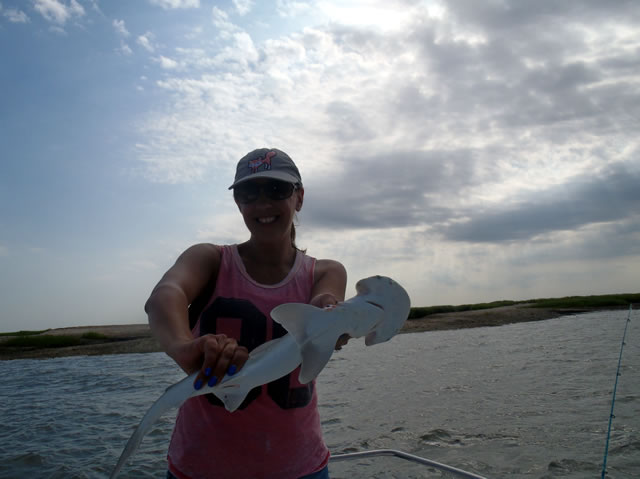 ---
07/06/2016
Got several upcoming trips, so setting this page up for them.

Copyright © 2016 Thunderboltcharters All Rights Reserved.