---
09/27/2015
Capt. Rick and Capt. Jeremy and Laura decided to try to do a little scouting today. Perfect day for it, 15 knot winds out of the North East, Full Blood Supermoon tonight. That means the tides were exceptionally high and the lows very low. Water was dingy and the current extremely fast. However Capt. Jeremy honed in on a spot and we kept 12 Speckled seatrout for a meal. Ended the trip casting the net on some shrimp to cook with the specks. Great day on the water in snotty conditions.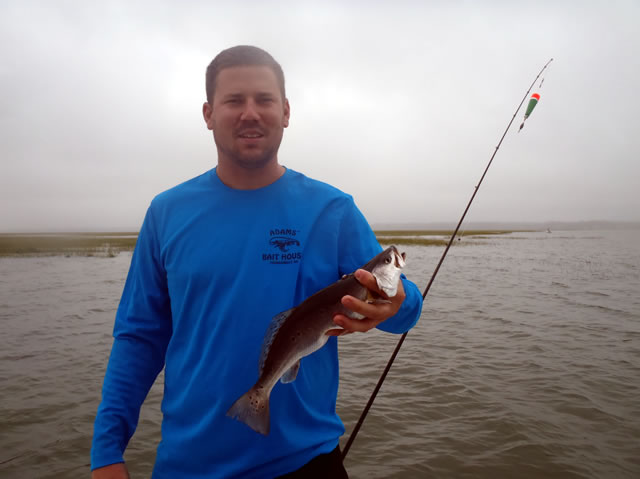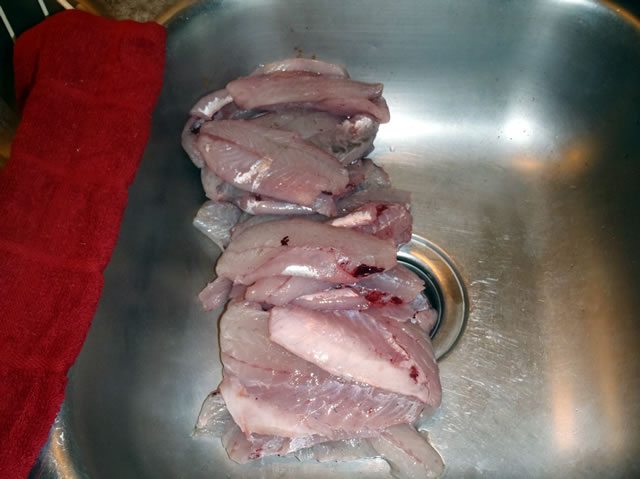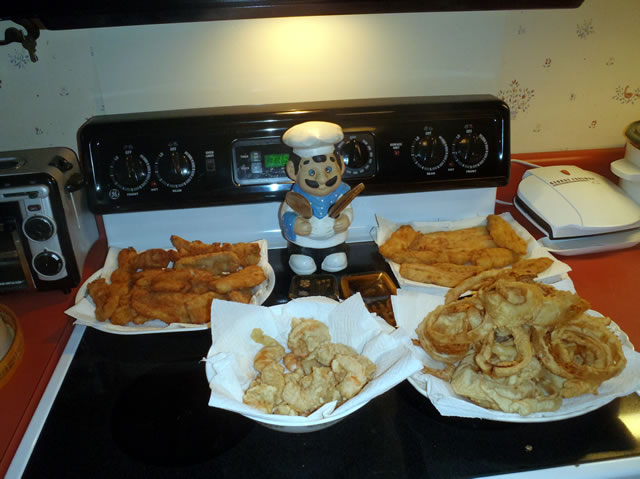 ---
09/26/2015
Capt. Rick had a 5 hour 2 person trip today with Mike and his son Jordan. They were a pleasure to fish with! Both of them were very good anglers, and Mike has to be proud of Jordan, who is a very well mannered young man. Everyone caught some fish, with Mike getting an inshore slam, thats a speckled seatrout, redfish, and flounder. Jordan also caught some specks and reds and a few medium size ladyfish along with some very nice sized whiting. Water temp was down to 74.8 this morning. A great trip considering the Super full blood moon is tonight along with an eclipse!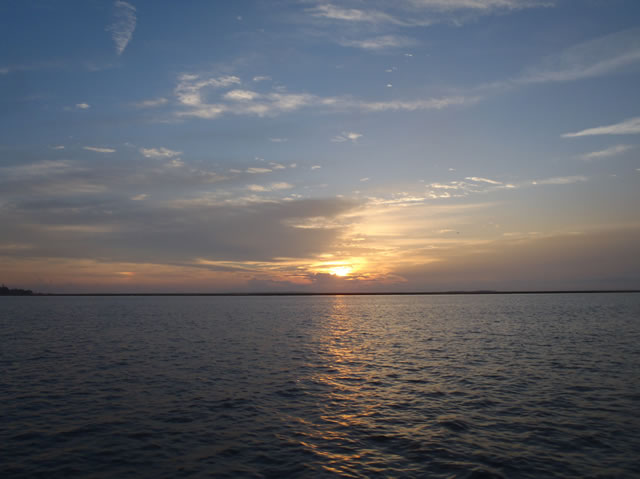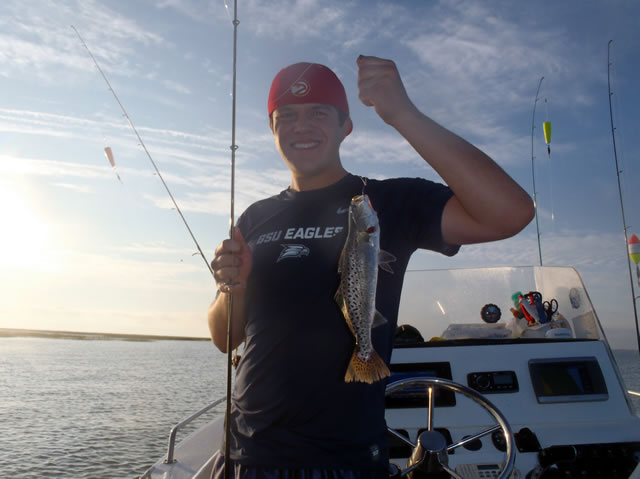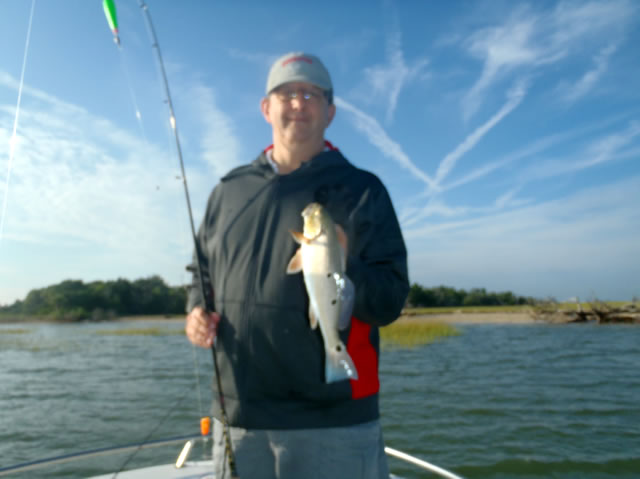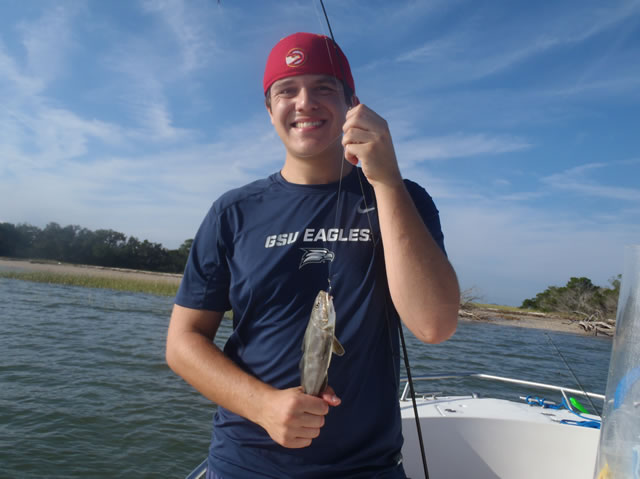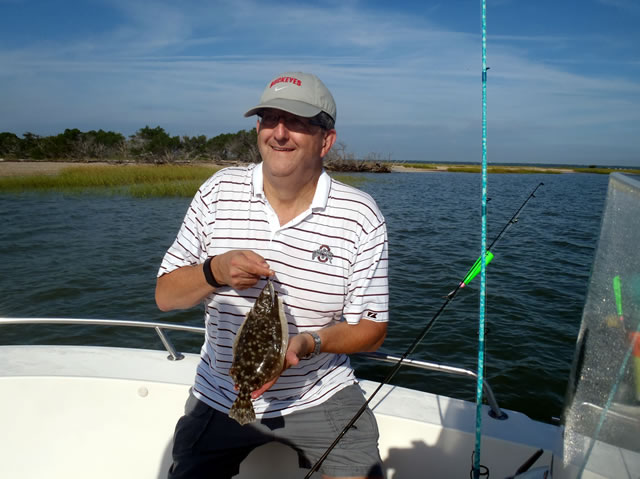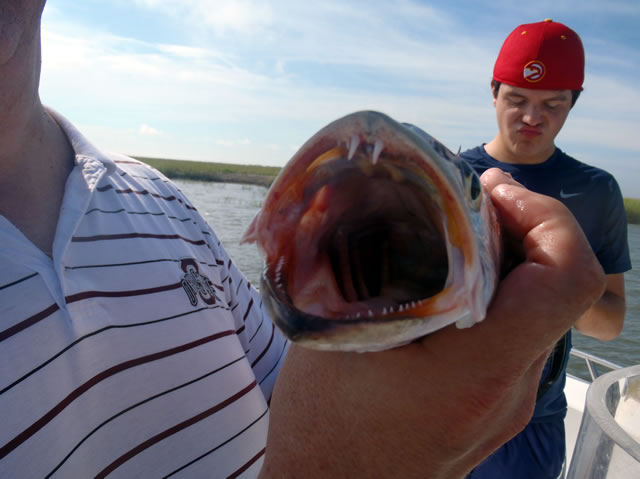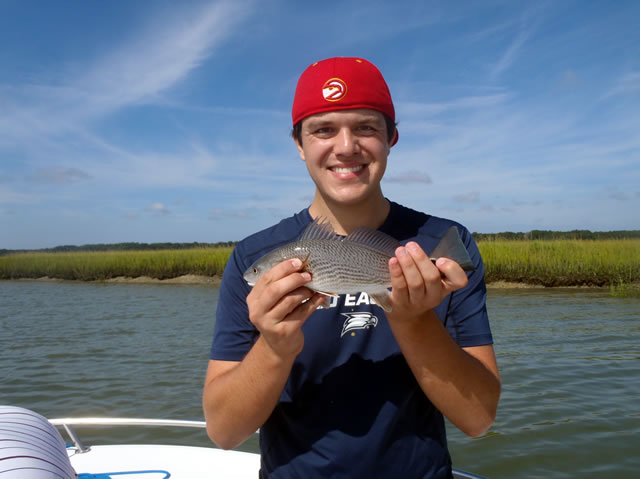 ---
09/20/2015
Capt. Jeremy had a 4 hour trip with William and his 2 children. I met them prior to the trip and they were very well mannered. Air temps were a little hot today, so they came in about 30 minutes early. However William and Jeremy both said they caught plenty of fish including Redfish, sharks,seatrout and flounder. A great way to spend the morning fishing with a very nice family.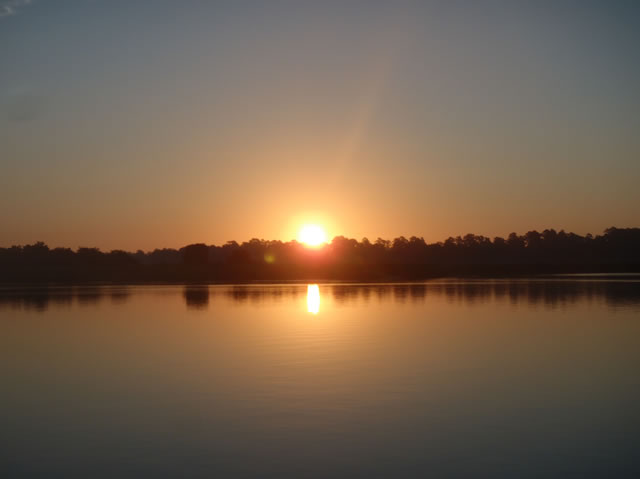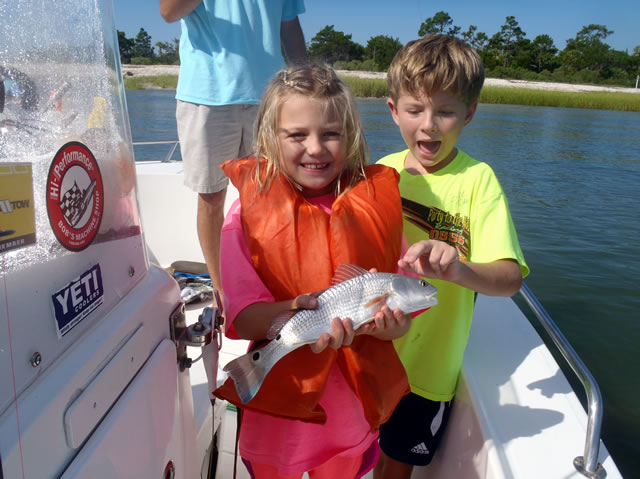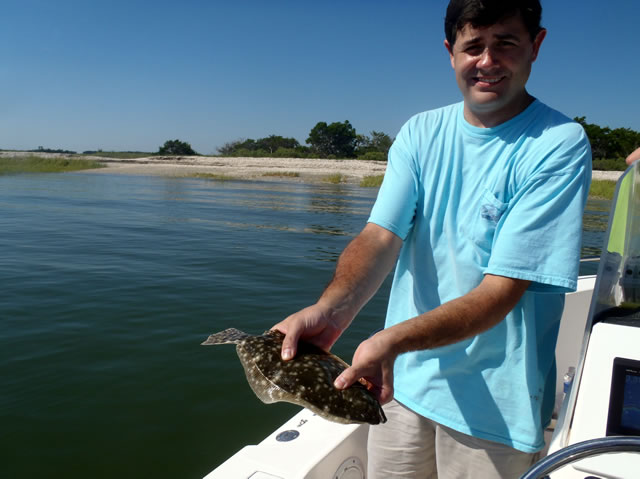 ---
09/19/2015
Capt. Rick had a 4 hour 2 person charter today with Michael and Meagan. They were a pleasure to fish with and quite good. When Meagan booked she said they were a little rusty, but it took about 15 minutes and she was casting like a pro. Michael did exceptionally well himself. Both caught fish, but Meagan chose to release hers, and Michael kept 6 keeper speckled seatrout for a meal.
Water Temp was 78.6°and fairly clear, considering the wind that was 10- 15 out of the North today. Pressure was dropping, but the trout, ladyfish, bluefish and a stray cobia didn't mind. A great trip with some very nice people.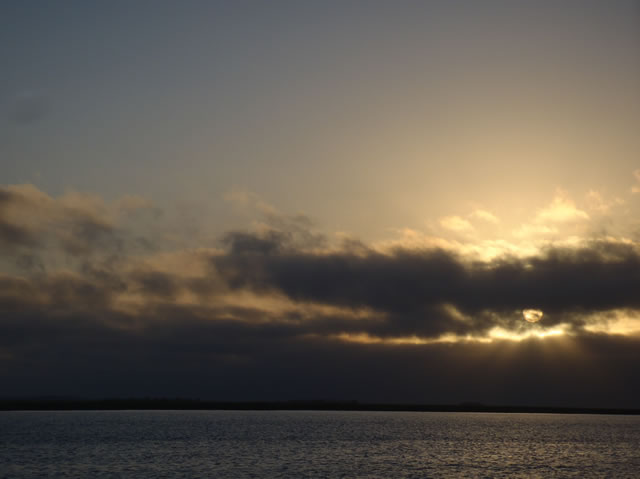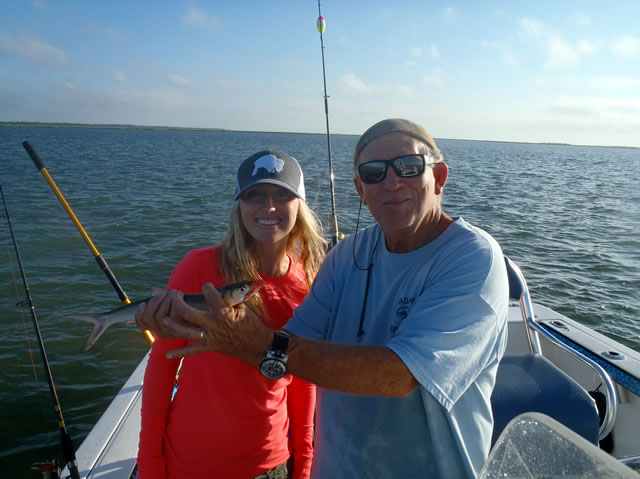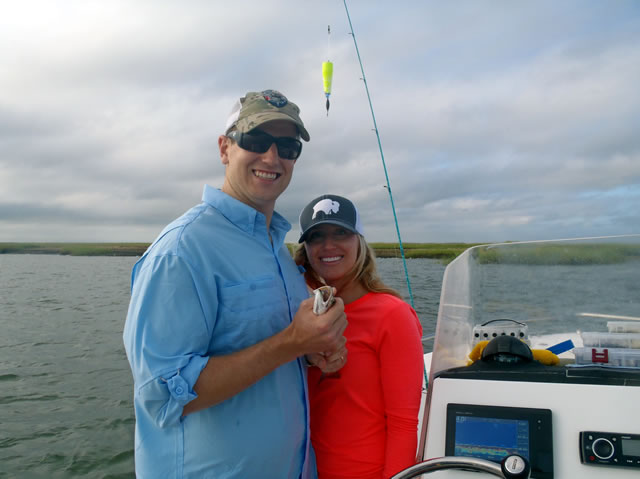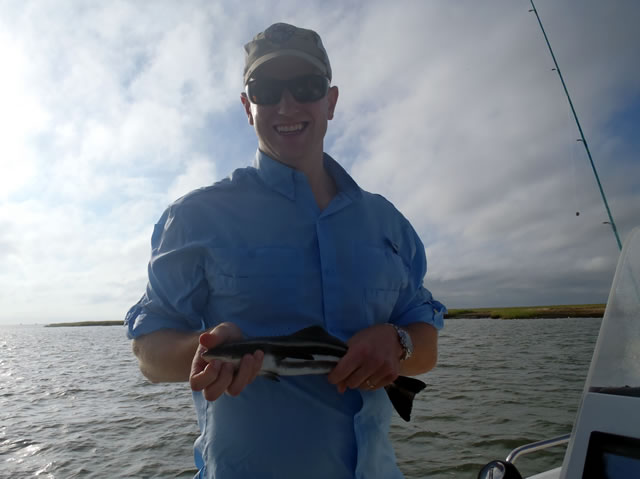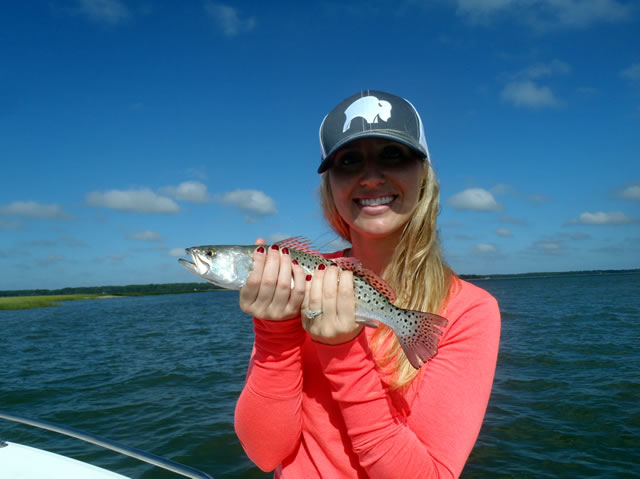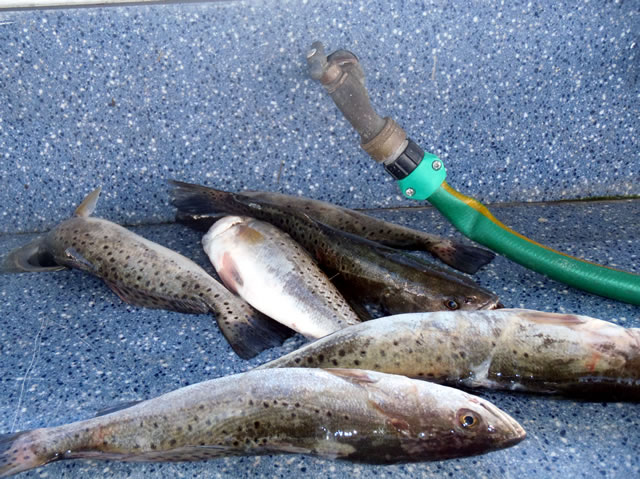 ---
09/13/2015
Capt. Jeremy had a 2 person trip that was supposed to depart at 7 am, but they were ready to go at 6:30am. Capt.Jeremy did an excellent job of putting them on fish. We strive to post fishing reports or every trip we do, so you the reader will have a general idea of whats going on during this time of the year. Even when we have the opportunity to produce an outstanding trip, that can be overshadowed by the anglers lack of skill or disreguard of other peoples equipment.
We have never felt like we need to publish facts about an angler or a trip that was not great until today. Reasons a trip might be less than great has alot to do with an angler. Problems start to arise when an angler cannot cast more than 2 feet from the boat, or consistantly let the bait dangle in the water prior to casting, causing the live shrimp to be ripped off the hook. Nor do we indicate that the angler fails to consistantly not open the bail on the reel, hence they slam the rod tip into the water and again throws the shrimp off. This consistant abuse of equipment can loosen the reel from the rod seat if done repeatedly. At this point, most anglers would notice that the reel is loose and either ask the (boat driver) to fix it or at the minimum tighten it themselves. But some people don't care about other peoples equipment and continue to abuse it until the reel flys off the rod and into the river. This same person gets upset because the BOAT CAPTAIN spends 30 minutes retrieving the reel. They also do not feel that they are in any way responsible (financially) for replacing the 150 yards of line that was recovered before getting the salt soaked reel out of the saltwater nor the cost to replace the reel that is now corroded. Their comment was this "ain't the first time this has happened and it won't be the last". I guess this is how they like to fish.
It makes you wonder how this person could even hook and land a fish like this one. Luckily they had a skilled Captain that could locate a school of trophy size reds . But when one fishes like described, they managed to scare off any other fish within 100 yards and caused this school to scatter.

This trip is an extreme example of total disrespect of our time and equipment.This report was updated on 9.20.2015 after being called at home to say that not only were they upset that I suggested that they should be responsible for the damaged equipment, but they were unhappy with the amount of fish they did not catch. We do all we can short of penning up fish and placing the hook in the fishes mouth. You normally need to have at least the skill of a novice to hook a speckled seatrout. Enough of this , the next paragraph is some facts on flounder and what they like to eat and how they feed.
Below is a picture of a flounder. This picture speaks a 1000 words. Some people are not aware that a mud minnow is a flounders most favorite food. We delivered mud minnows, finger mullet for bull redfish and live shimp for everything including speckled seatrout. A cold front pushed through yesterday so outside air temps were much cooler than the previous weeks. Notice that the mud minnow appears to be scaled. That is because a flounder scales his minnows prior to eating them. If you know you are on a flounder bite, count to 10 before setting the hook. This gives them ample time to scale the fish before eating it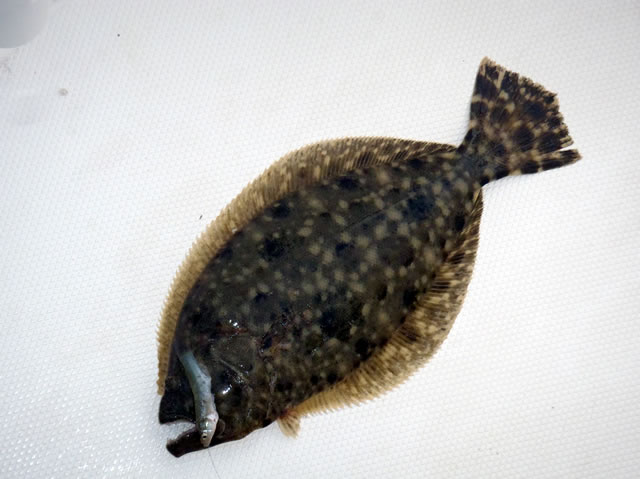 ---
09/12/2015
Capt. Rick had 2 trips today with 2 people on each trip, both 4 hours. First trip was with Thomas and Kelly and the 2nd was with Stefan and Michael. The first trip departed at 7am and the 2nd at 12:30. Weather was a major factor today. We fished in the mist/ rain almost all day and this was due to the first cold front of the season pushing thru. Made for high winds in the morning, that slacked off around 4 pm.
Thomas wanted to shark fish and we did out in the sound, but it was rough. Kelly caught most of the whiting we used for bait, but Thomas got a nice sandbar shark that hit a whole whiting. After a couple hours we moved inshore and slammed the Reds and speckled sea trout. This was a catch and release
2nd Trip we started off with 4 redfish and that was what we kept, the rest of the fish were undersized. We had a good day dispite the conditions.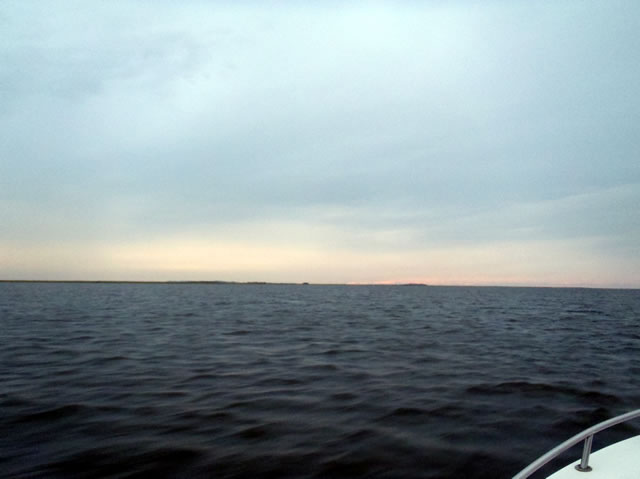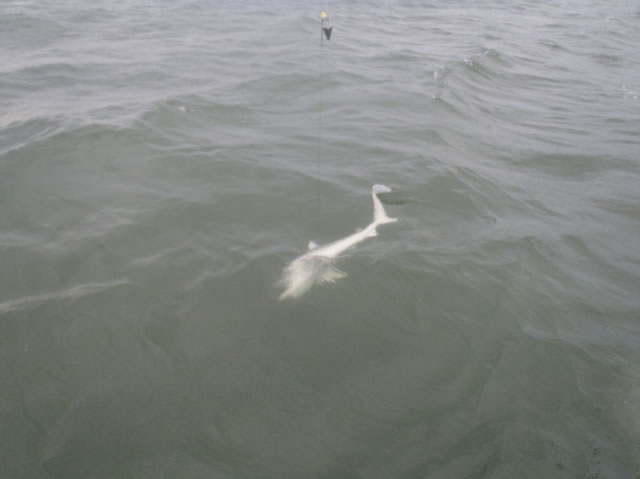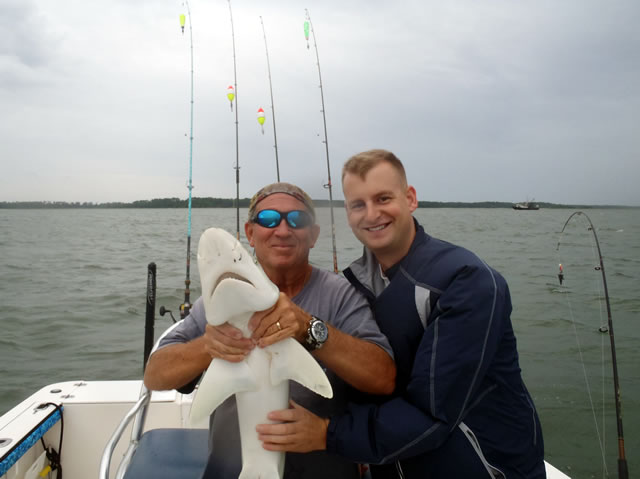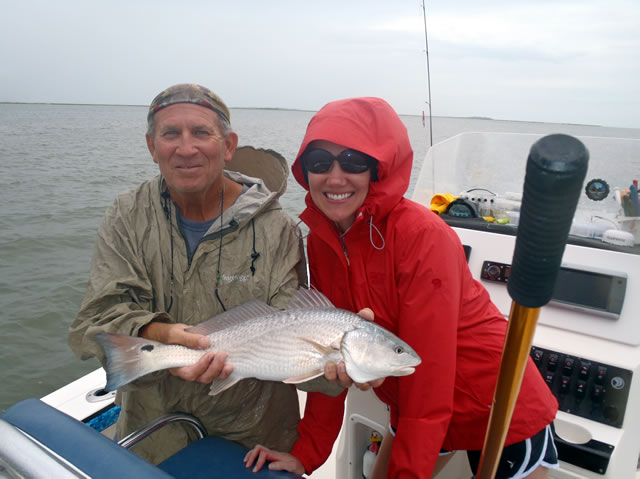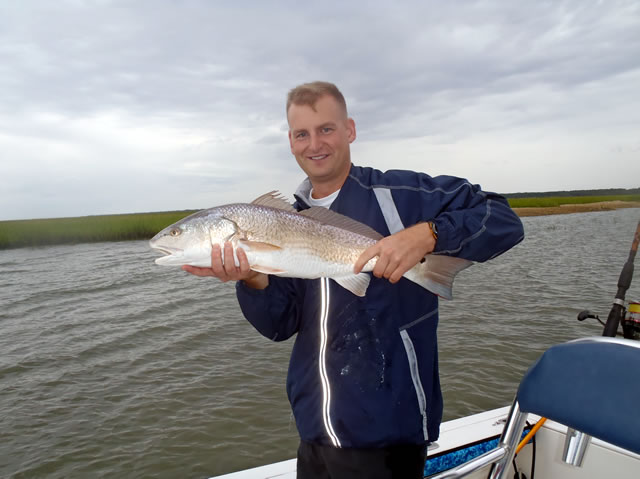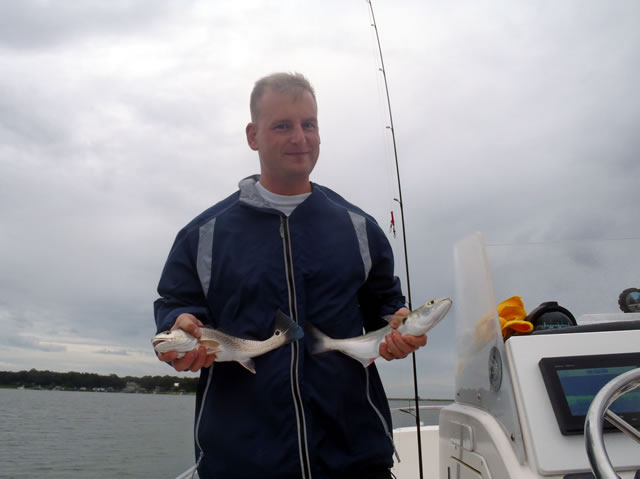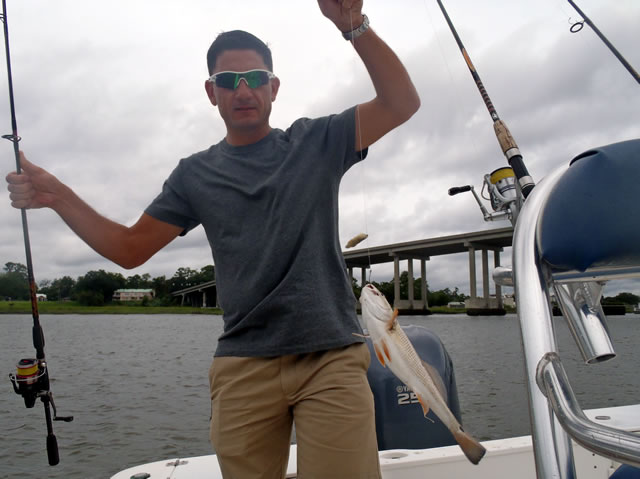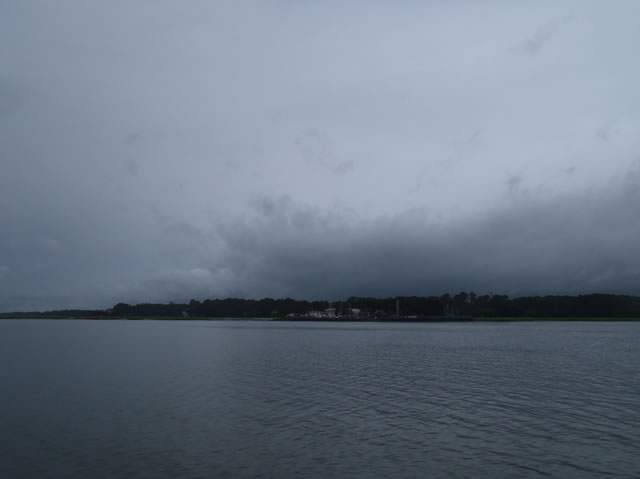 ---
09/06/2015
Capt. Jeremy had a 4 hour trip this moning with Jon and his wife and 9 yr old son. They departed the marina at 8am and fished the last few minutes of the outgoing and the first 3 hours of the incoming tide. They caught some speckled seatrout and redfish, ladyfish and blue fish. Jons wife hooked a fish that dumped about 200 yrds of line before landing the fish. This Large Jack Crevalle weighed almost 30 lbs and took 20 minutes to land. A beautiful fish that was released unharmed. Capt. Jeremy commented that they were all good anglers and hoped they come back for another trip soon.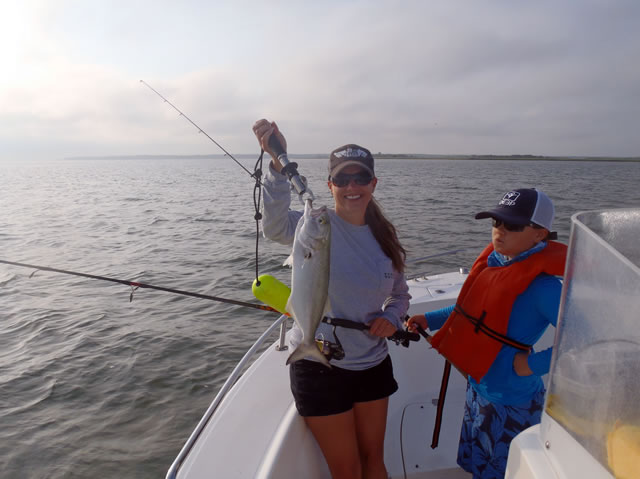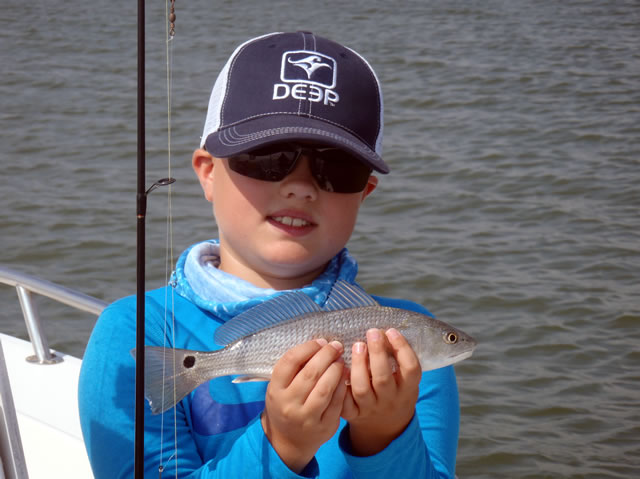 ---
09/02/2015
Capt. Rick had 2 trips today, the first was with Mark and Karen . We departed the marina at 7am and was scheduled to fish 5 hours, but came in after 4 hours due to their small dog was getting overheated. We caught several fish during the whole trip including redfish, speckled seatrout and bluefish. Both were excellent anglers and a pleasure to fish with.
The 2nd trip departed at 5 pm and we fished until 7:30. This was with Steve and Jill. Again both were super nice and excellent anglers. We were fishing the bottom of the tide and caught a lot of smaller speckled seatrout, large ladyfish and some nice bluefish. Started in the rain but was able to fish until dark.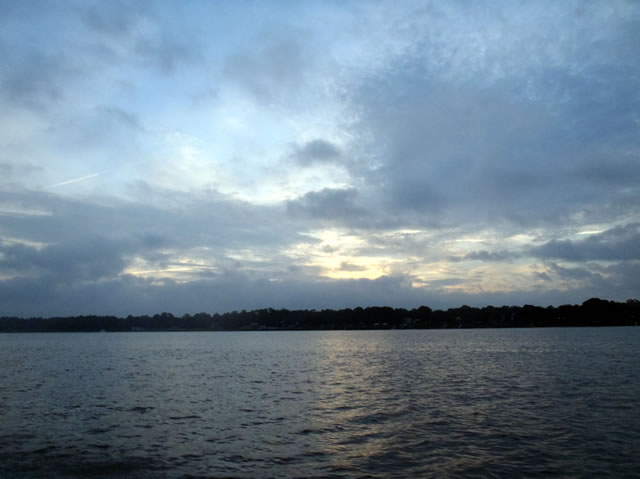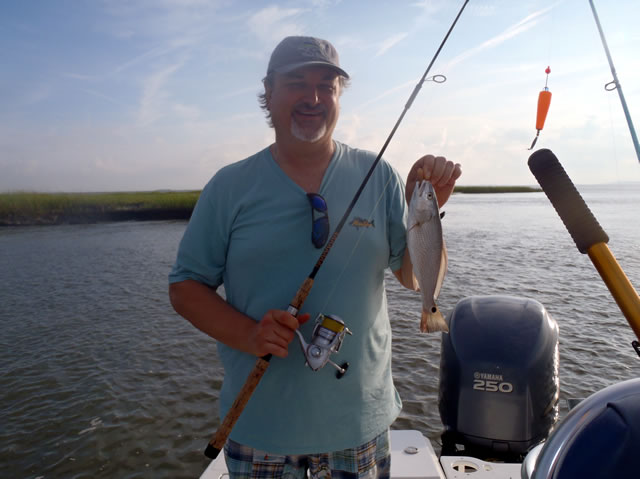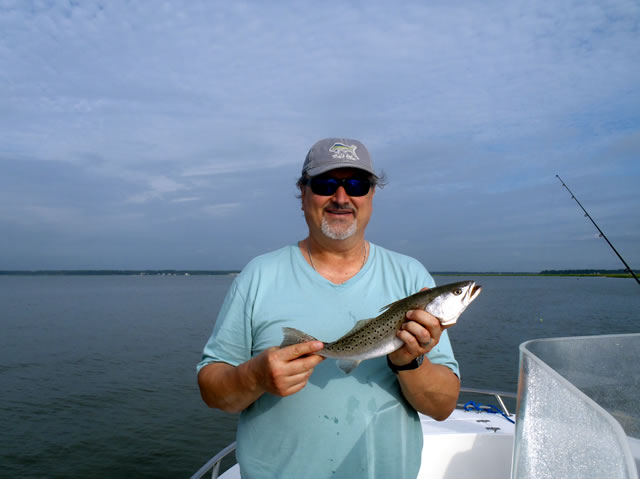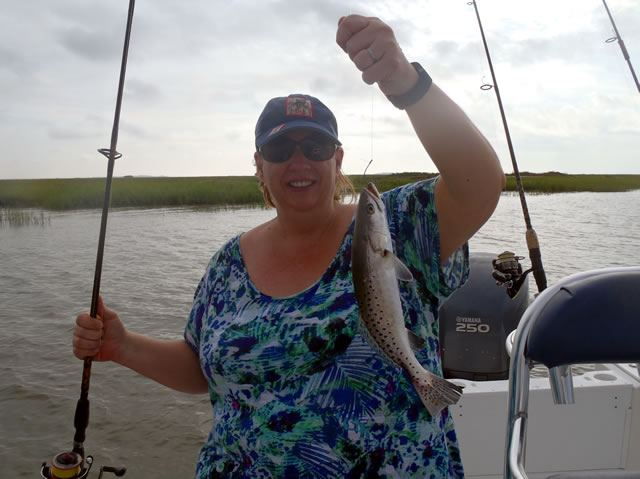 ---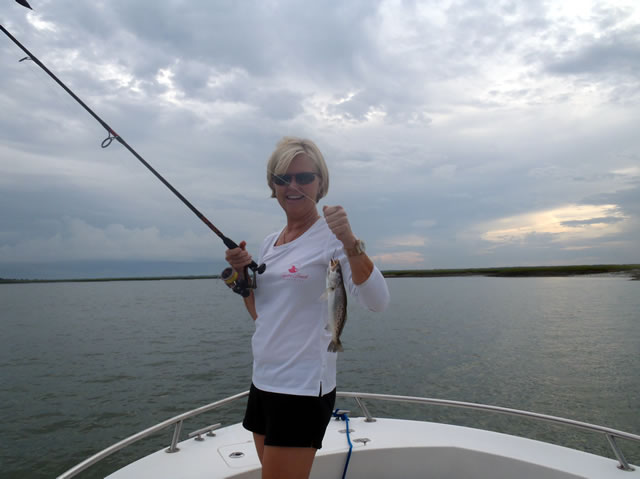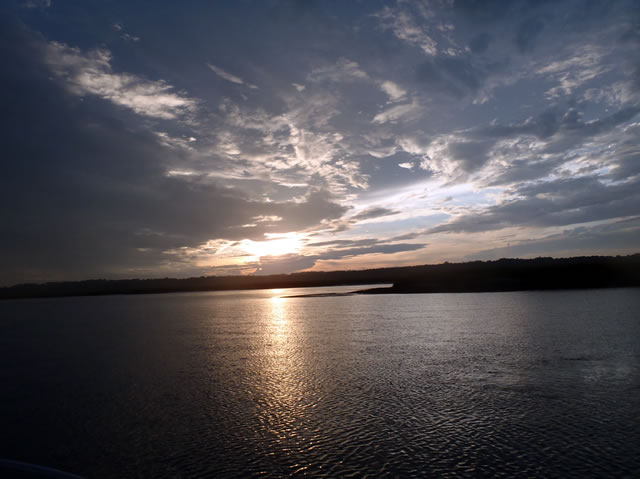 ---
---
Copyright © 2015 Thunderboltcharters All Rights Reserved.