---
07/31/2015
Capt. Jeremy had a 3 person 6 hour trip today with Jason and his brother and sister. The bite slowed up today and actually carried over into tomorrow. We had a cold front stall out over our area, that didn't really drop the temps much, but did change the barometer significantly and that will affect the fishing bite as well as we are on a Blue Moon, which is the 2nd full moon in the same month. This accounts for faster currents, springing tides and higher high tides than normal. All this creates muddy water and does have an effect on fishing. They caught a few fish and kept some specks for a meal. Also released a nice bonnethead shark.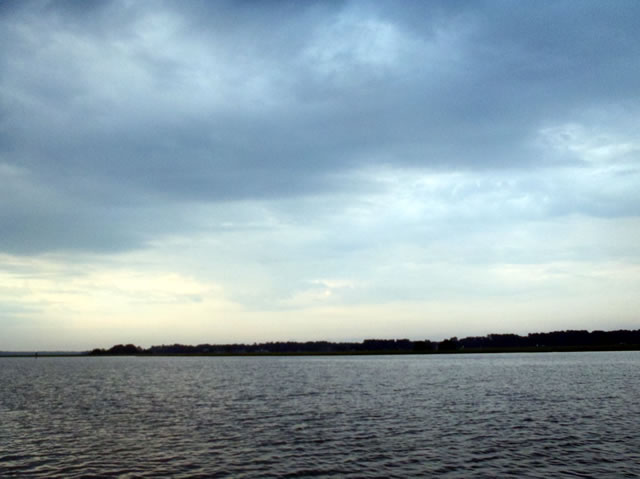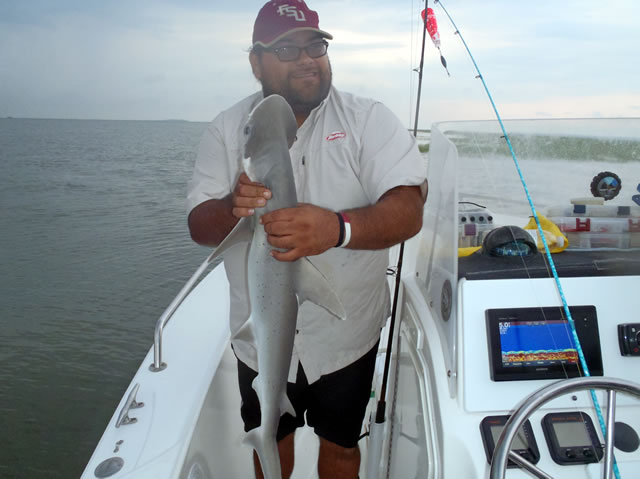 ---
07/30/2015
Capt. Jeremy had a 2 person 4 hour trip This morning departing at 7am with Trey and Roxie from Colorado, we have taken them a few times . They did well on speckled seatrout and reds today. They did well with the high tides from the approaching BLUE MOON .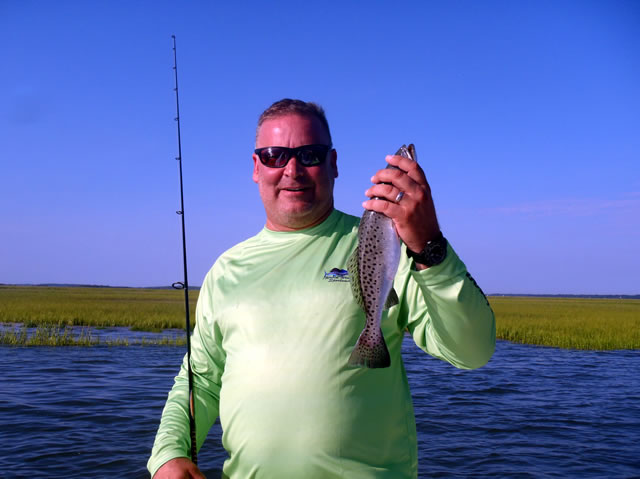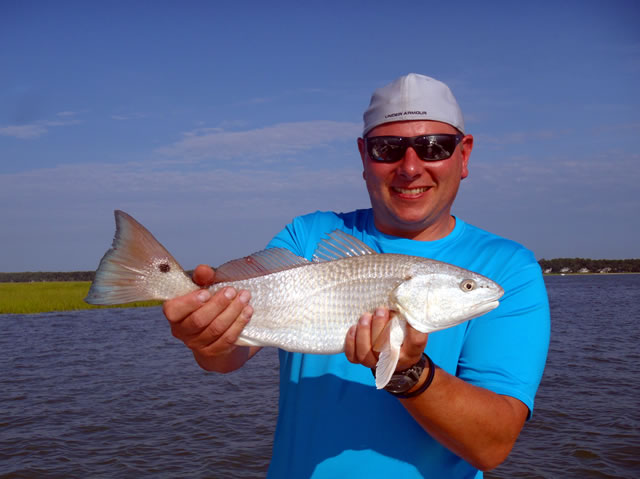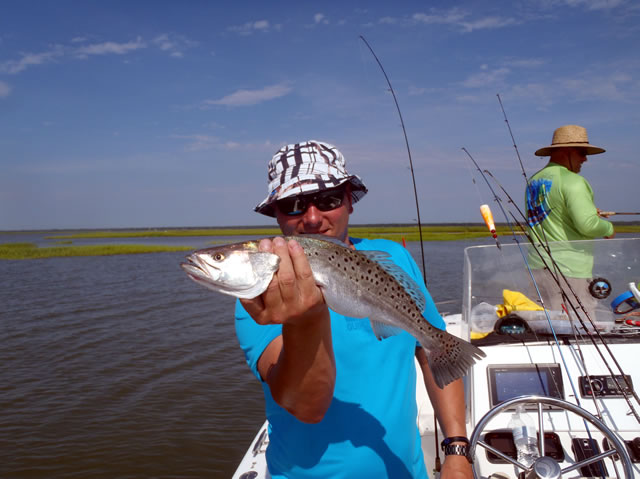 Capt Jeremy had a 2nd trip departing from bull river at 1 pm and again they caught a few speckled seatrout. They avoided the rain and made a day of it.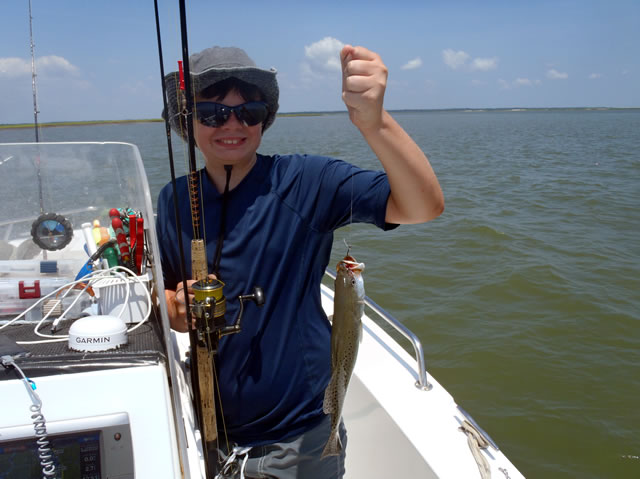 ---
07/29/2015
Capt. Jeremy had a 4 person 4 hour trip today with Eric and his wife and 2 children. The target was speckled seatrout and Capt. Jeremy reported that they caught a few trout and a flounder. Water temp was 85.6, but the tides are running extra high and low due to the full moon. All in all a nice trip.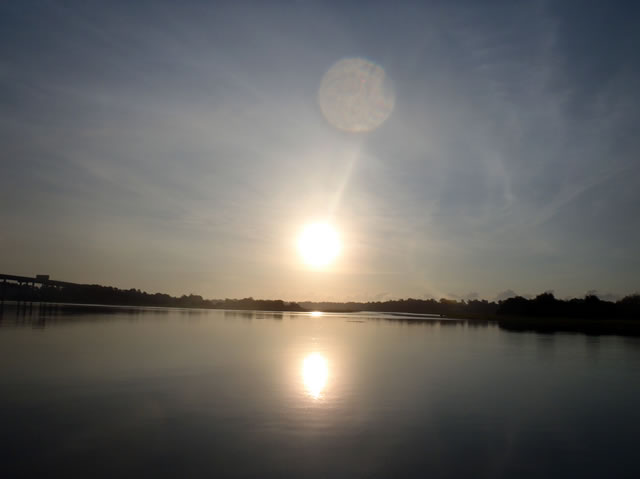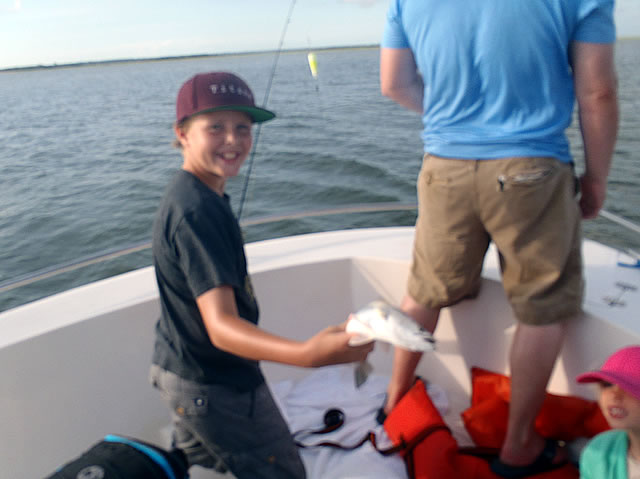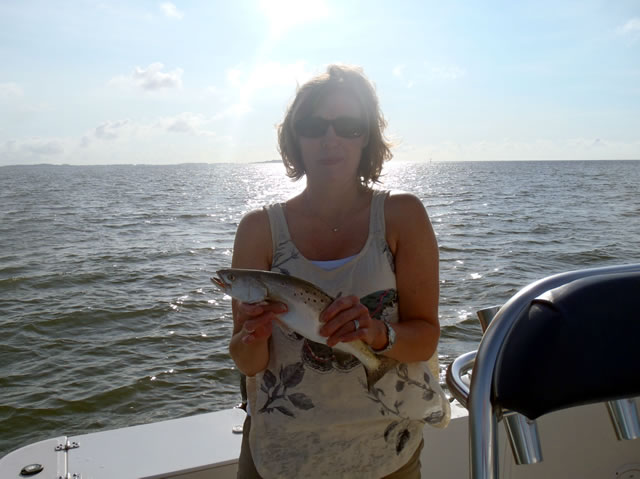 ---
07/28/2015
Capt. Jeremy had a 2 person 4 hour trip departing from Bull River Marina at 7am. They had a great trip with a nice catch of speckled seatrout and a flounder as well. Water temp was in the upper 80s, but was very foggy.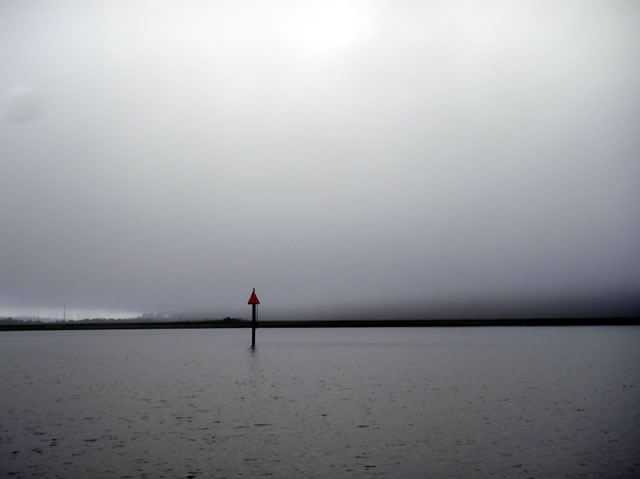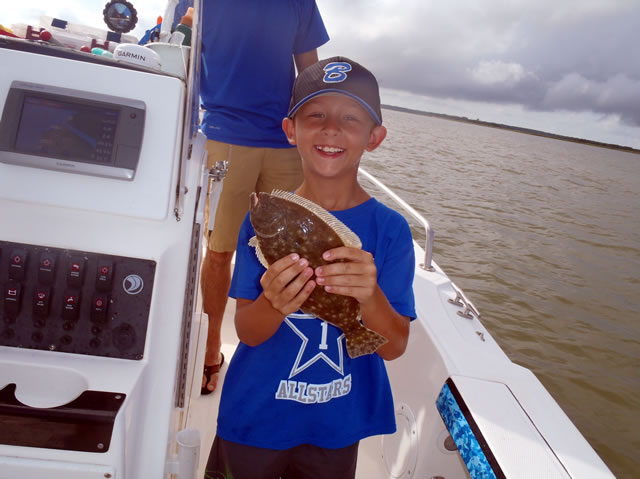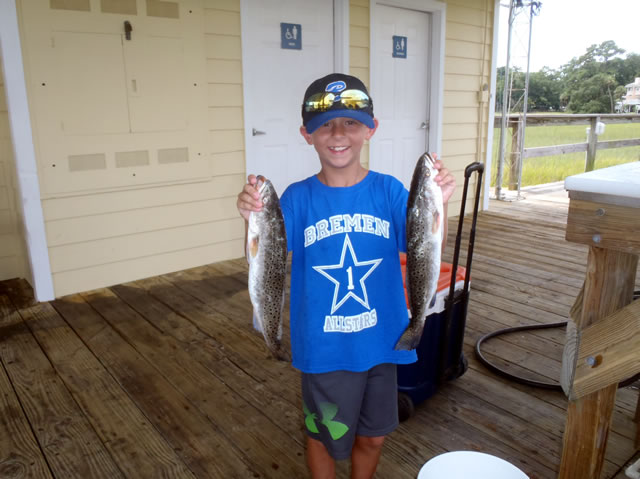 ---
07/27/2015
Capt. Rick had a 6 hour trout and shark trip with Doo's, Chris, Chris's sons Jamie and Brent, Olivia also came along as a helper. We caught some smaller sharks, but not a big sandbar, but Doo's was happy to catch and release his bonnethead. Wind was a little stiff out of the northeast, but fishable. We kept 7 speckled seatrout and 16 whiting for a meal. Trout bite was pretty good, and we caught some shorts as well as missed some. A good day on the water.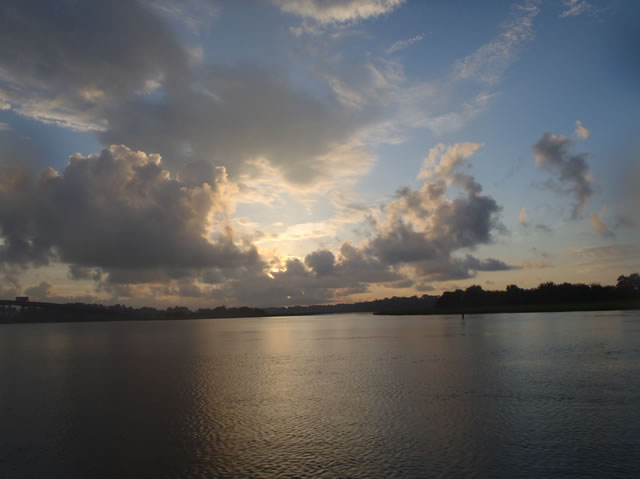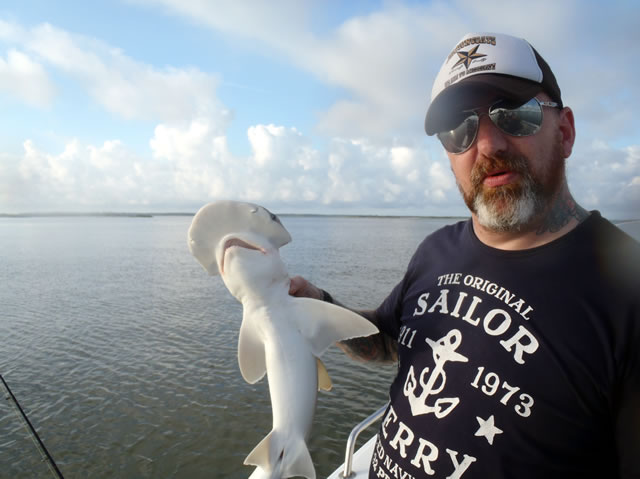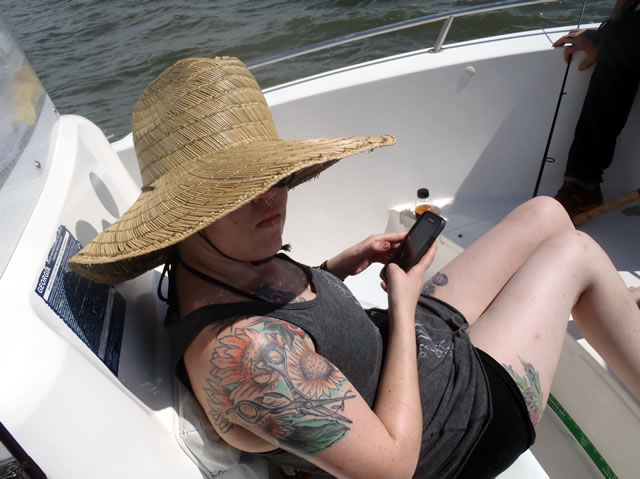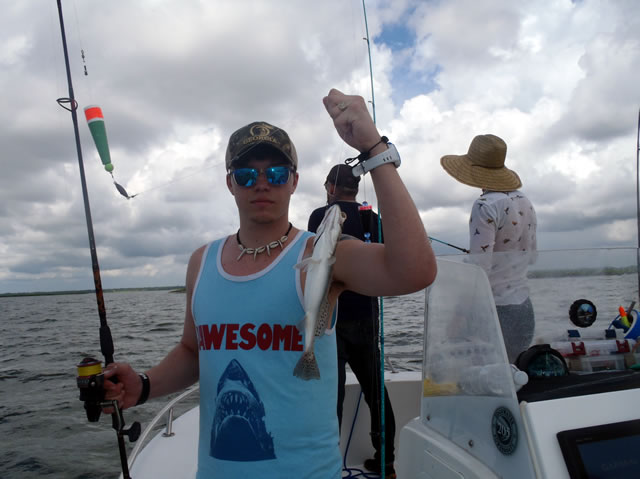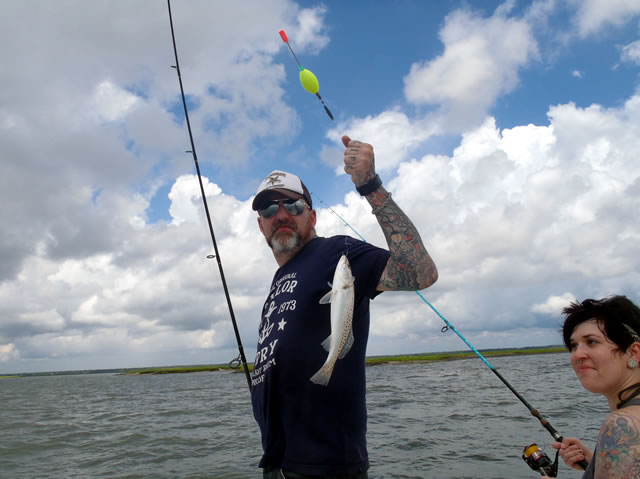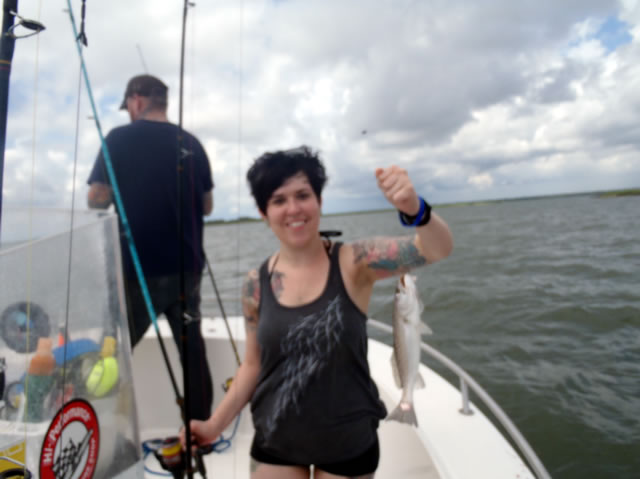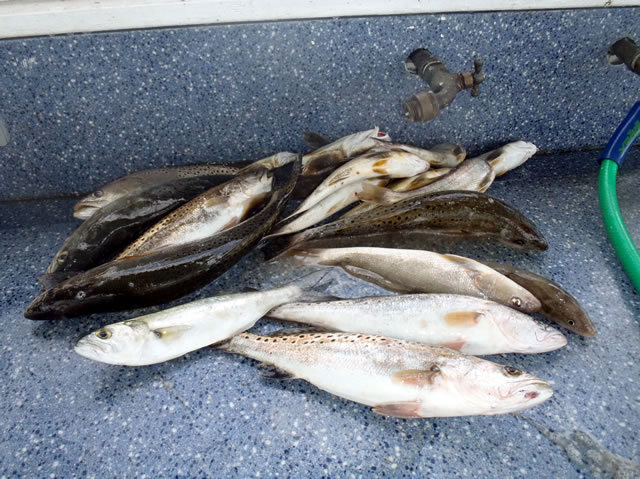 ---
07/25/2015
Capt. Rick had a 4 hour whiting trip with John and his 2 friends Charles and Brian. Everyone caught fish. We kept about 40 whiting and croakers and 2 bonnethead sharks and released another 3 smaller bonnetheads. These guys were all good anglers and a pleasure to fish with. Winds was 15 - 20 out of the Northeast, so the fall pattern is starting or going to start very soon.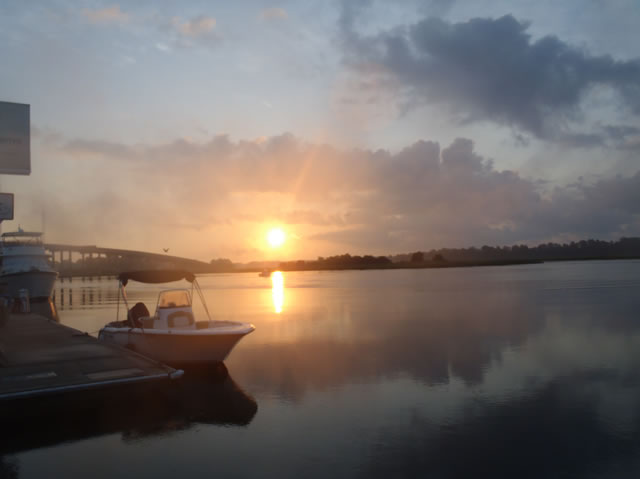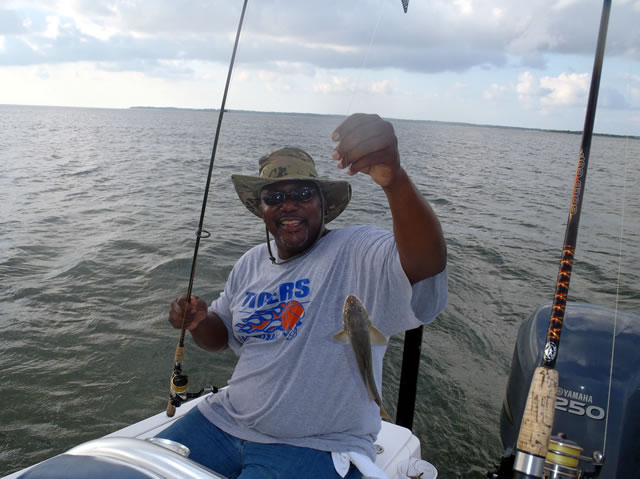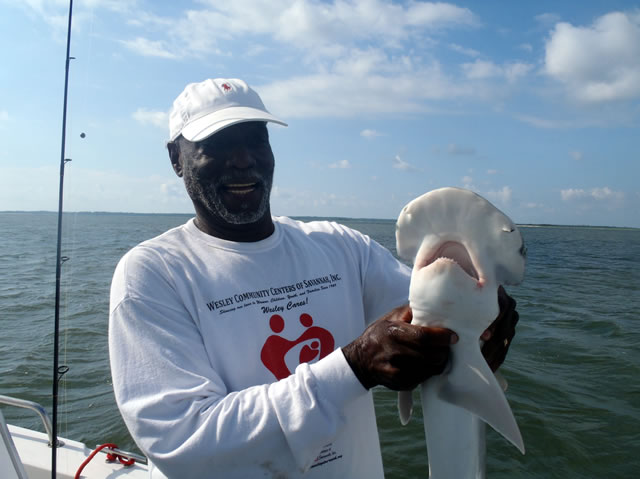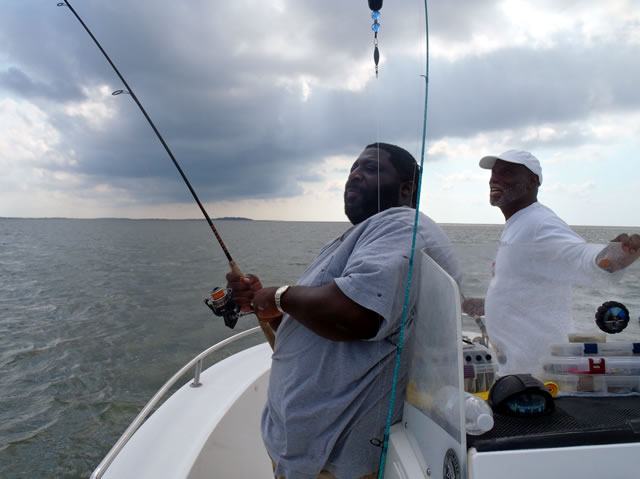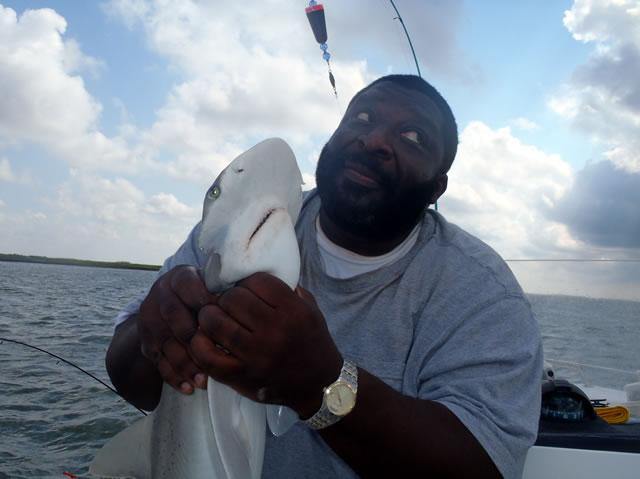 ---
07/24/2015
Capt. Jeremy had a 5 hour trip today with Jack and his 2 sons. This was a shark trip, however they only got 1 decent shark today. A cold front has pushed through the area and had the tides and wind opposite, which made for rough water.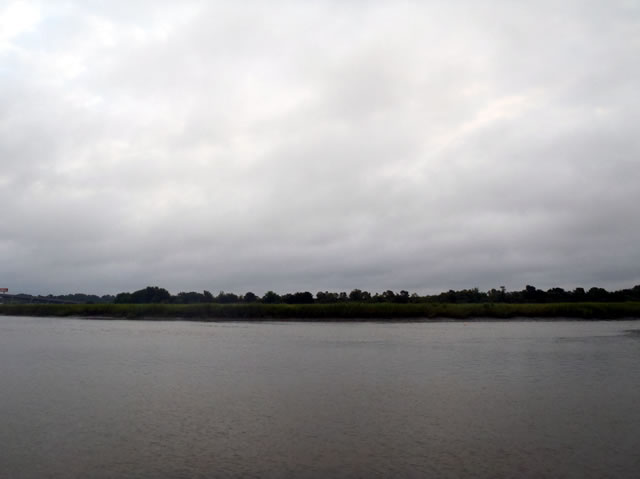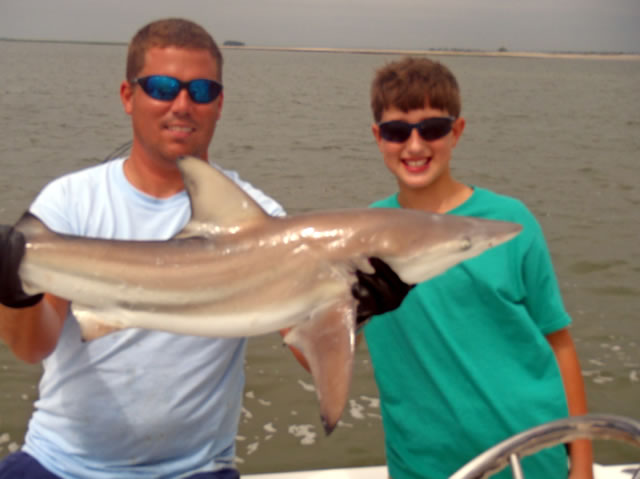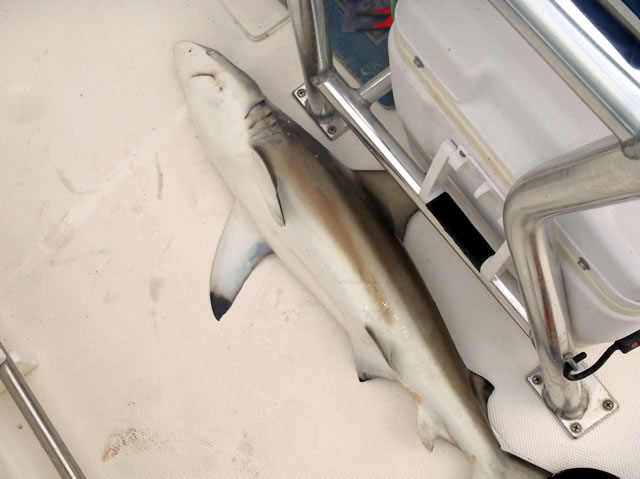 ---
07/23/2015
Capt. Jeremy had a 5 hour trip today with Alan and his grandson that departed at 8am. The target species was Speckled seatrout. They caught quite a few, but many were short. They kept 7 fish for a meal. Water temp is in the high 80's and was clear to stained with winds out of the southwest.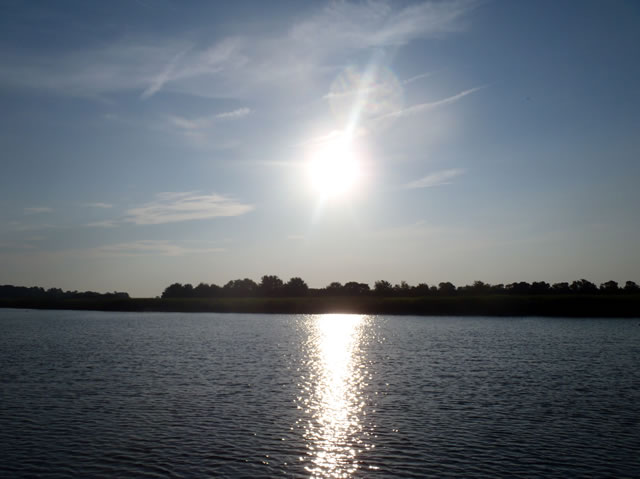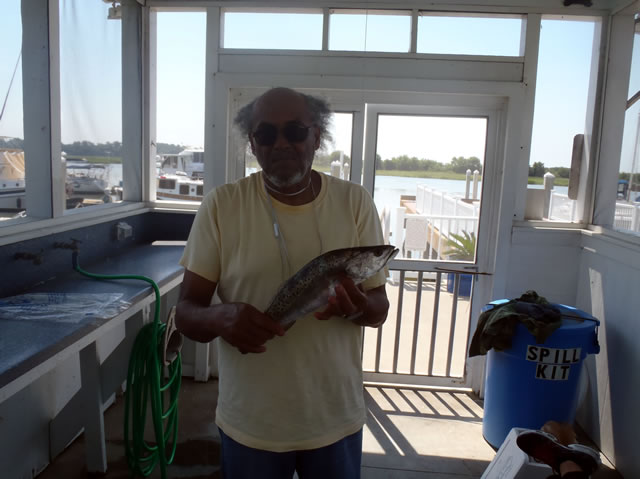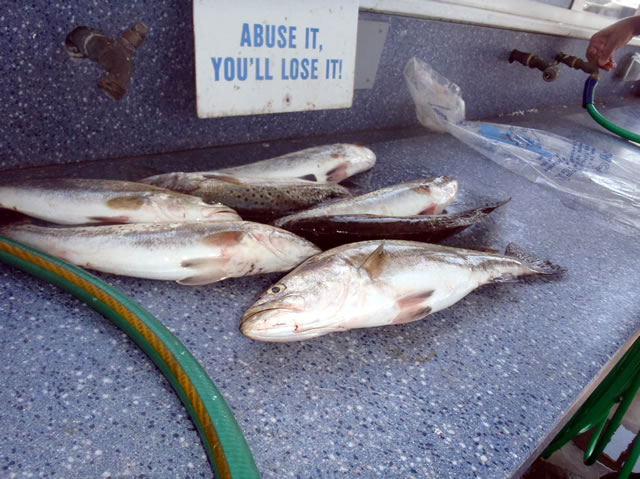 ---
07/22/2015
Capt. Jeremy had a 4 hour trip today for another captain who is ill. He had 2 people for 5 hours and they departed at 7:30 am. Caught and released several speckled seatrout and kept 7 trout and 1 flounder. also caught and released some decent black tip sharks.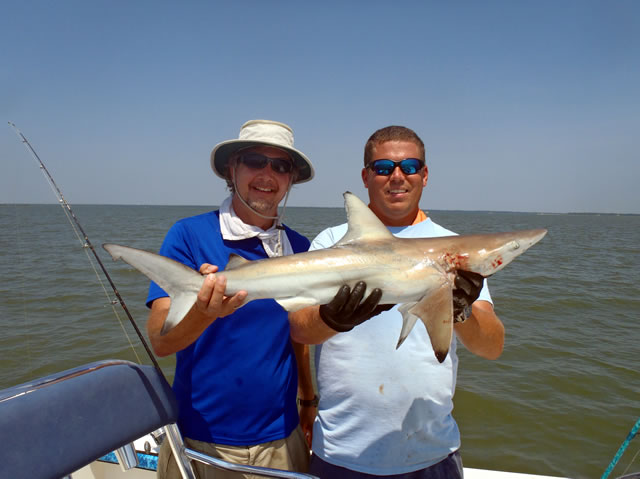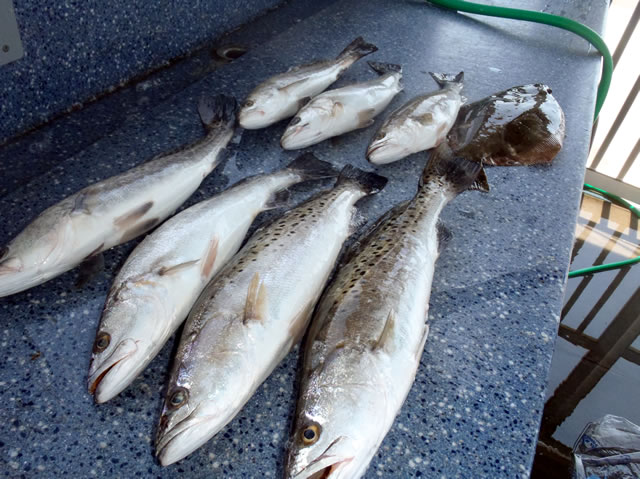 ---
07/19/2015
Capt. Rick had a 5 hour trip with Ryan and his wife Brooke from Utah. They were very experienced anglers and wanted to go for speckled seatrout and redfish. Ryan had a decent size Redfish nail a finger mullet, but didn't get the hookset and the fish got off. His wife caught the 1st of 5 nice 18 inch speckled seatrout that were about to release their egg row. She caught 4 and ryan caught 1, all released unharmed. They expressed interest in trying for a bigger shark and I had the gear, just needed A good fresh bait which Ryan supplied by catching an landing a big ladyfish. So we tried for those and caught 2 medium sized sandbar sharks in about 45 minutes. Those were also released unharmed. We caught a few more trout on the way back in, but as the tide changed, the outside heat got up to 91 degrees with a heat index of 106, so we headed in on time. All in all another great trip with some more new friends.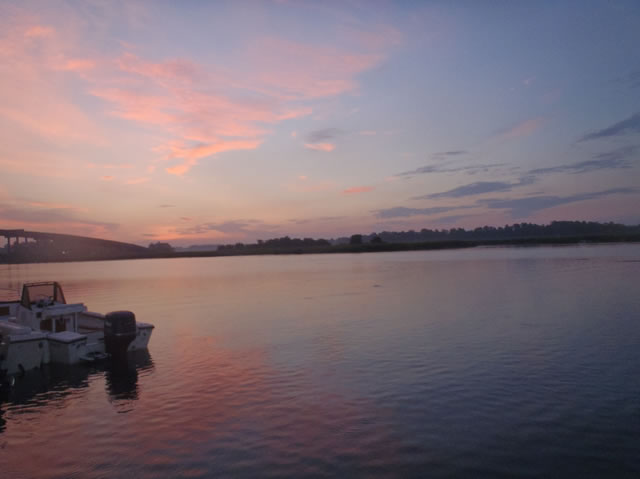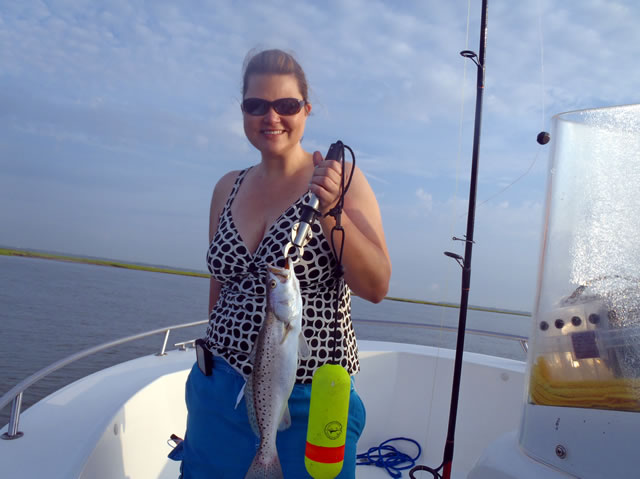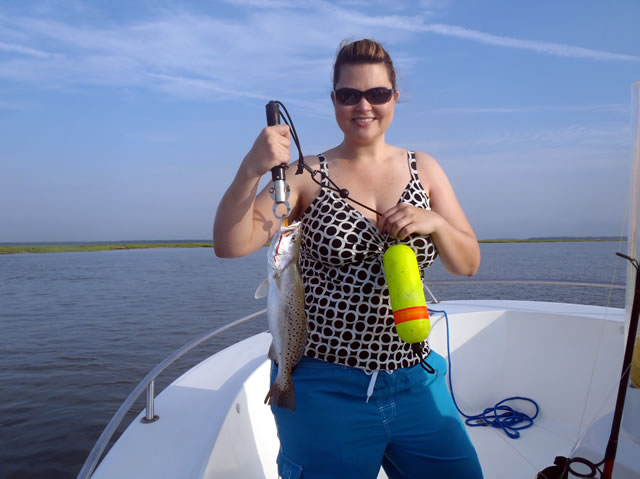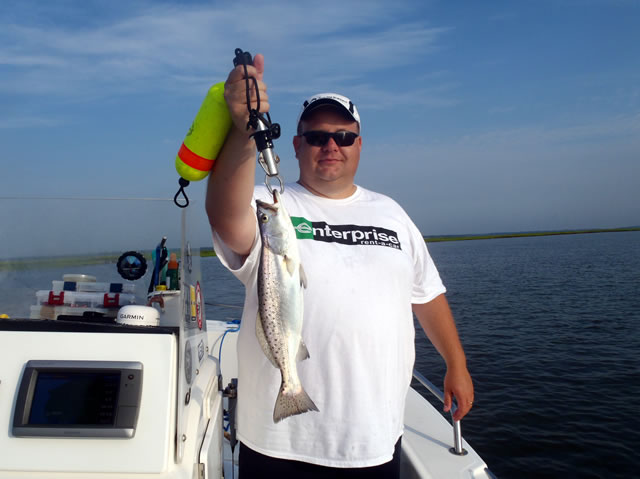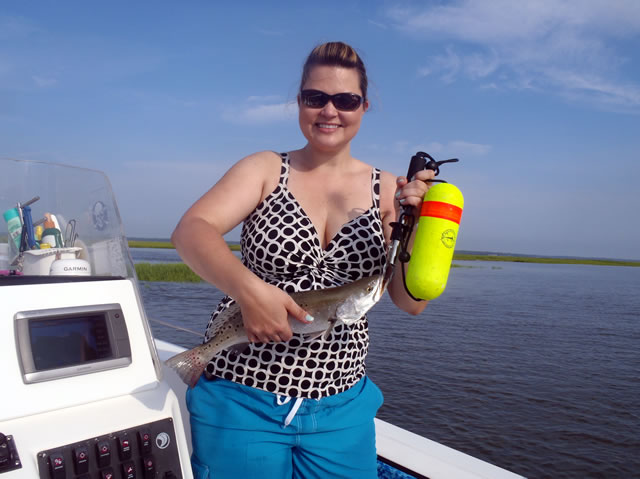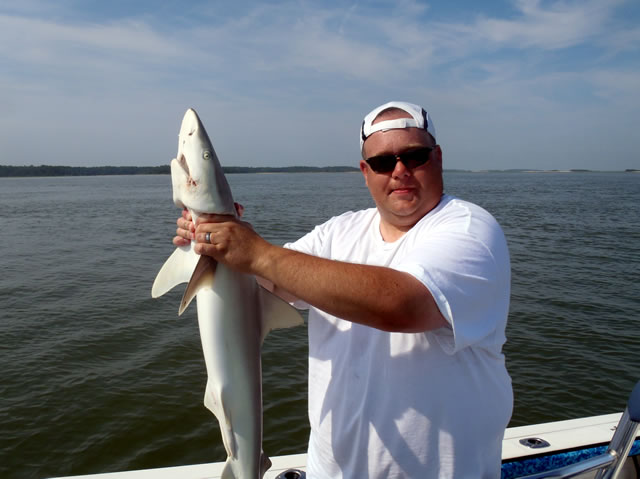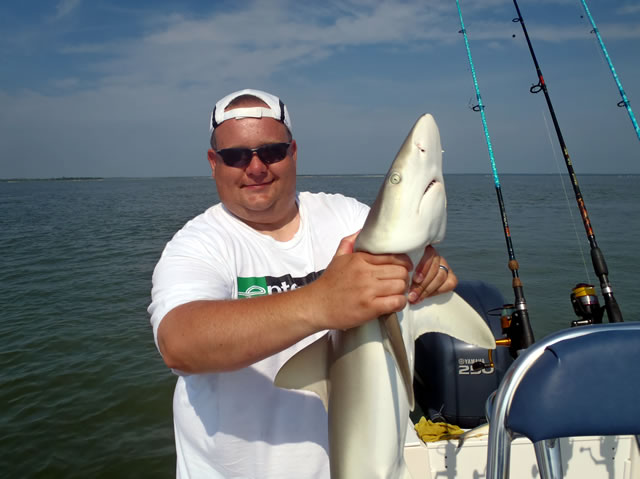 ---
07/18/2015
Thunderboltcharters had a full day today with Capt. Jeremy leaving with a 4 person 5 hour trip at 6:30 am and Capt. Rick with a 2 person 4 hour trip departing at 1 pm. Capt. Jeremy had Carey and his father - in -law and Careys 2 sons. They went after trout today and caught a few , most on the smaller side. However Capt. Jeremy reported that they had alot of action.
Capt. Rick departed the dock at 1 pm for sharks. He had some live bluefish and a ladyfish that Capt. Jeremys group had caught as well as a few live croakers. We caught and released 5 sharks of which 4 were sandbar sharks and 1 bull. All of these were in the 4 foot range. Also kept about 15 whiting, that we fished for in between the shark action. Released several small sharks as well. This was an action filled afternoon and my anglers Sandra and Sam were excellent as well.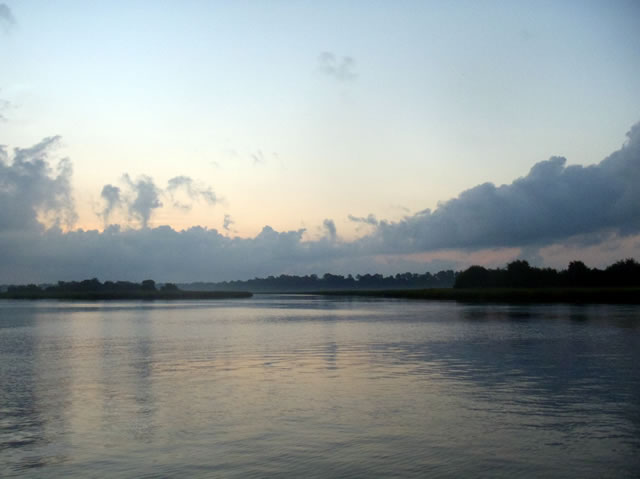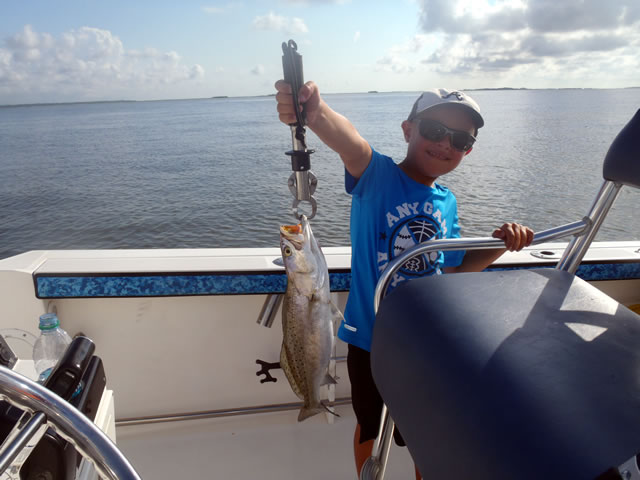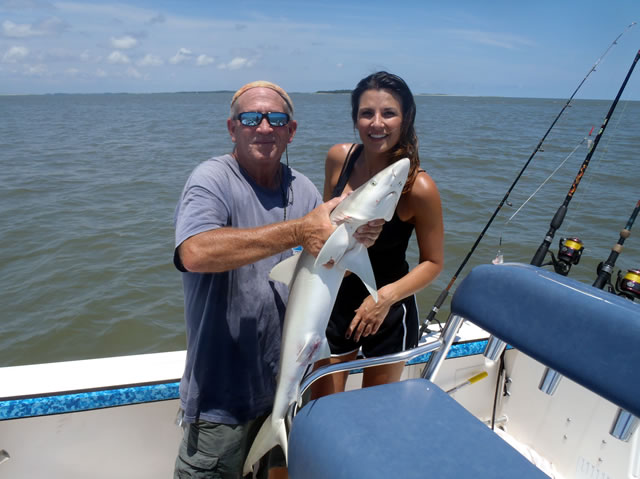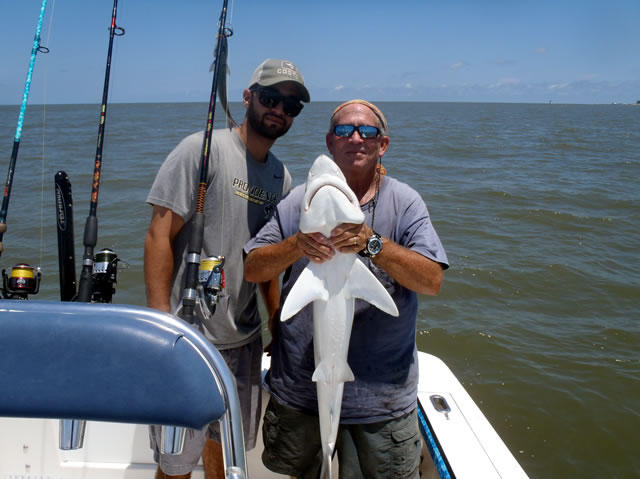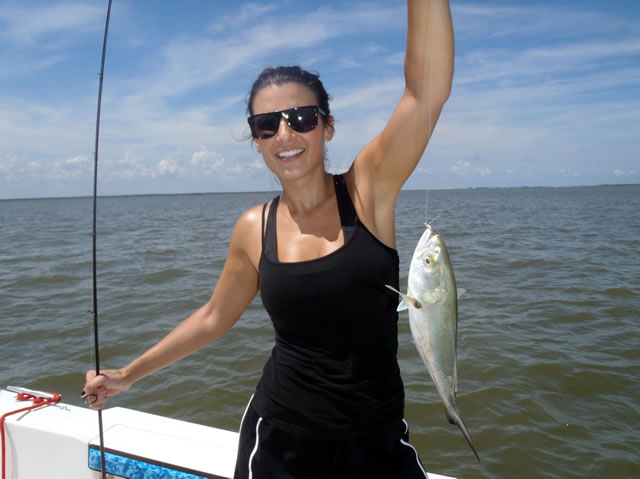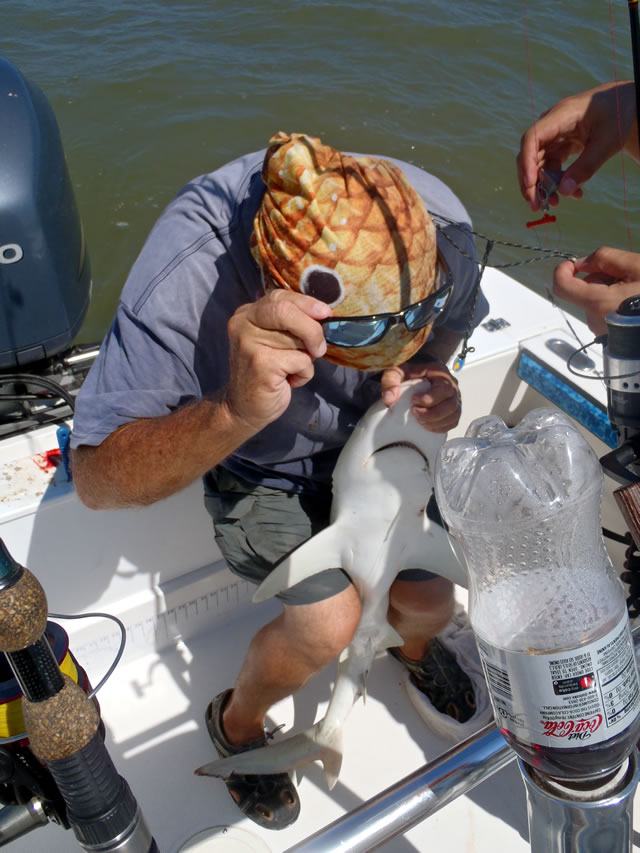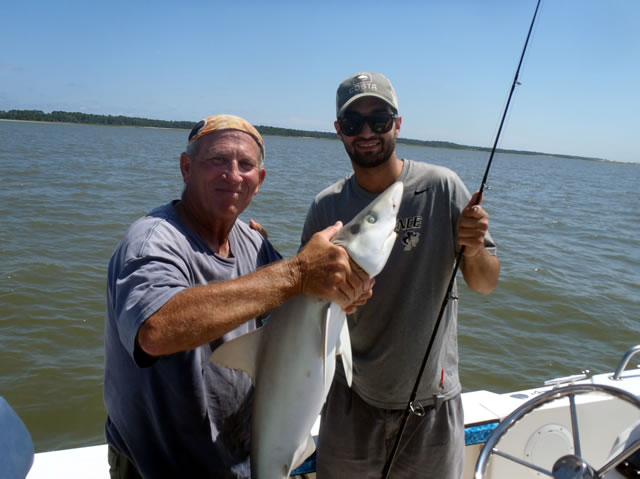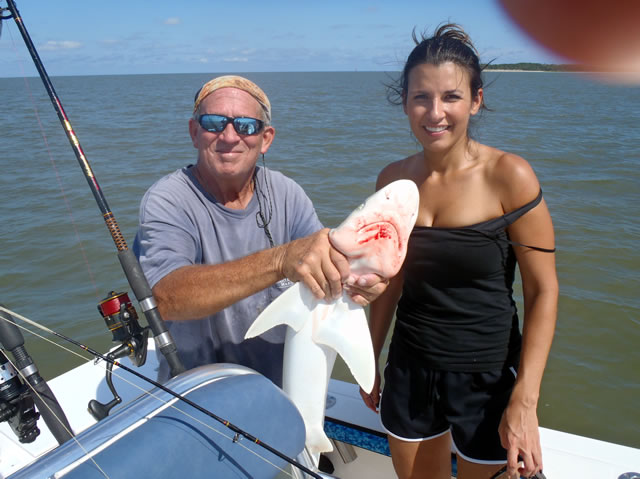 ---
07/17/2015
Capt. Jeremy had a 4 hour 2 person Charter that he ran for another charter captain that is under the weather. They wanted to target trout and flounder, but were not keeping any. Capt. Jeremy reported that the bite was quite good and they released several specks, flounder and a redfish.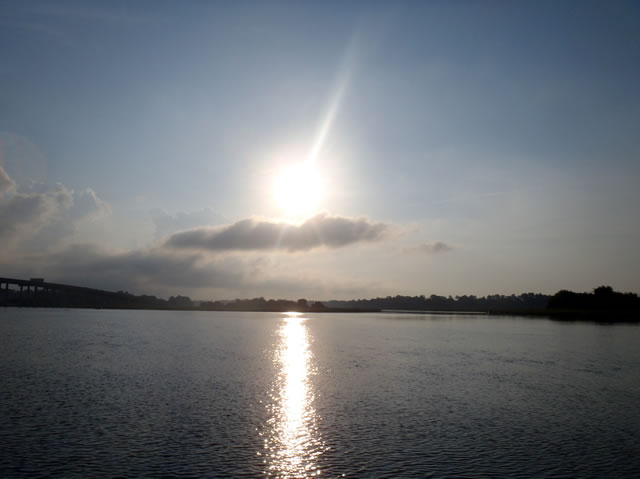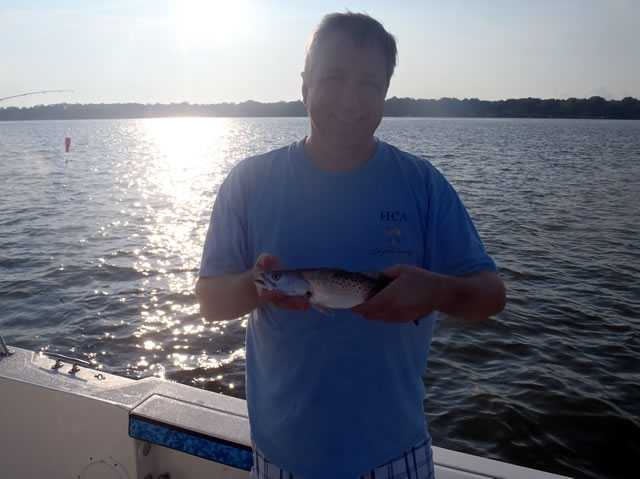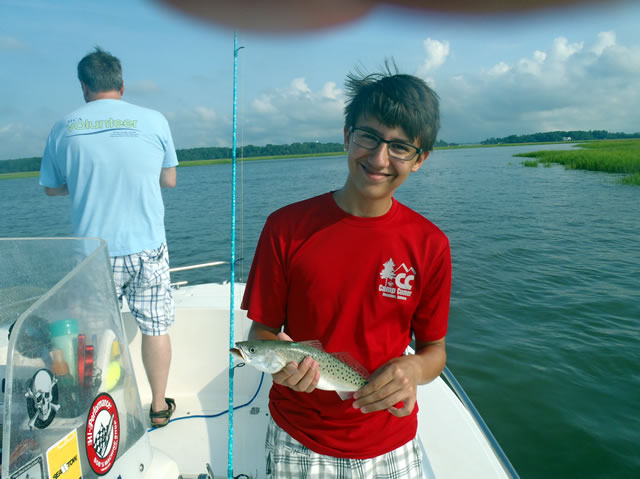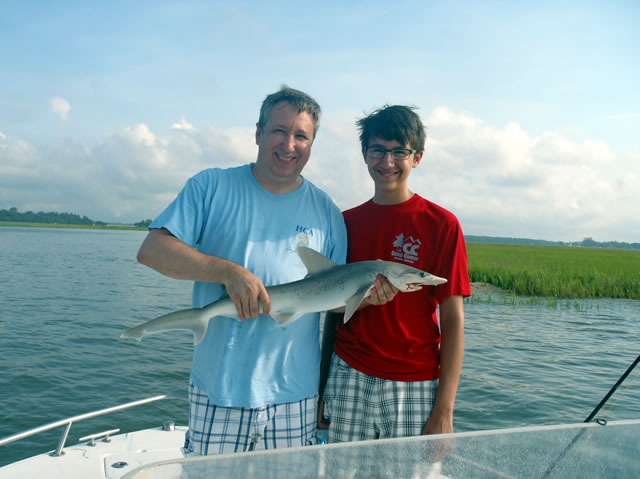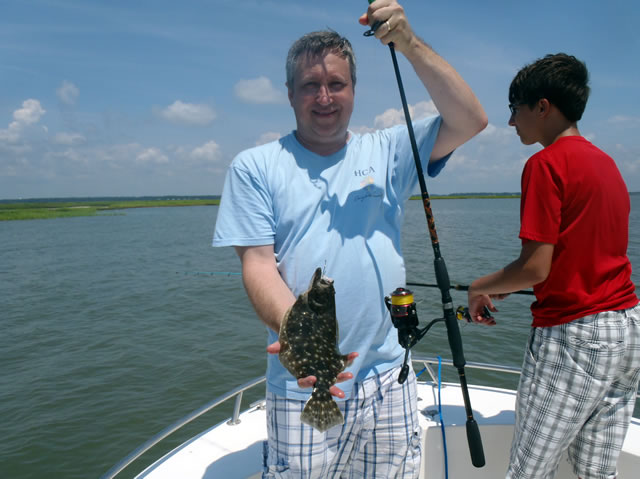 ---
07/16/2015
Capt. Jeremy had a 5 hour 2 person Charter with Chad and his son. They caught several speckled seatrout, many shorts, but they did keep 6 and a flounder as well. Also caught redfish and a nice Sandbar shark. These sharks put up a tremendous fight on light tackle, but you cannot harverst Sandbars. Not a bad day of fishing considering the day before we had storms roll in and really rained alot.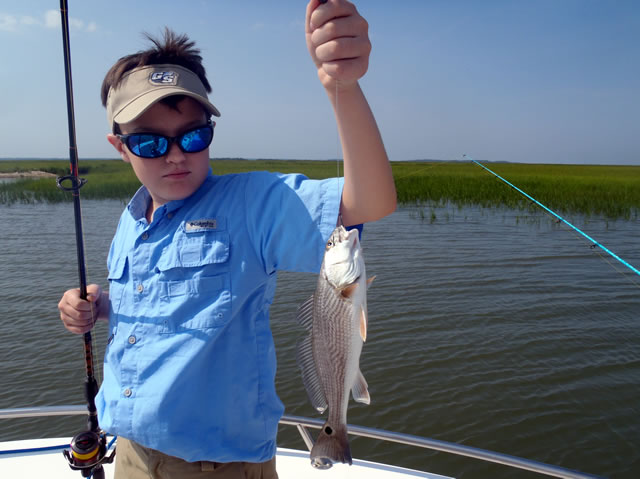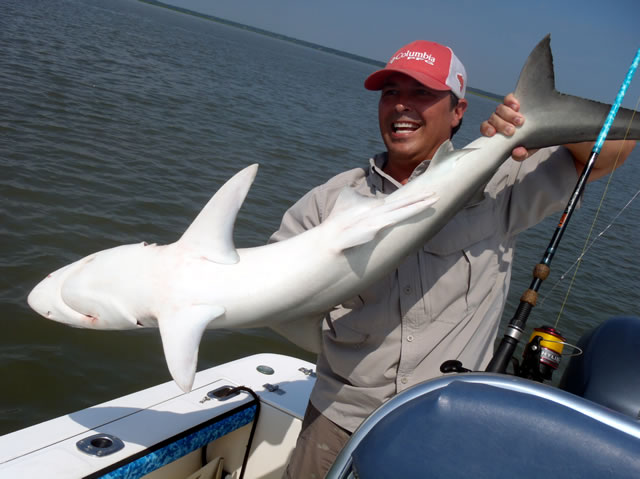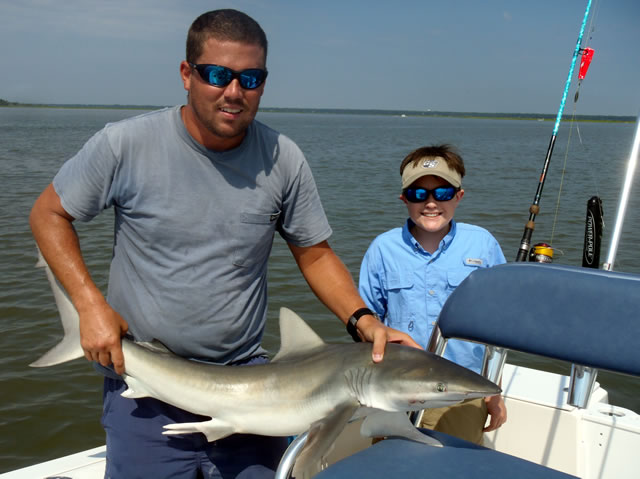 ---
07/11/2015
Capt. Rick had a 6 hour 5 person Charter with Chuck and his brother in law Jay, Aiden, Ryan and one other young man. This was a bottom fishing trip because of the amount of people in the boat. We kept approximatly 15 whiting and 2 speckled seatrout and 1 bonnethead shark. We caught and released sandbar sharks and blacktip sharks , one of which was over 54 inches. These larger sharks are very aggressive. I have a very good hold on the large sandbar sharkwith most of his length between my legs. Again the sharks were released unharmed. On another note, all these anglers were very good and again, I was blessed with a trip with younger childen and teenagers that were very polite and a pleasure to fish with.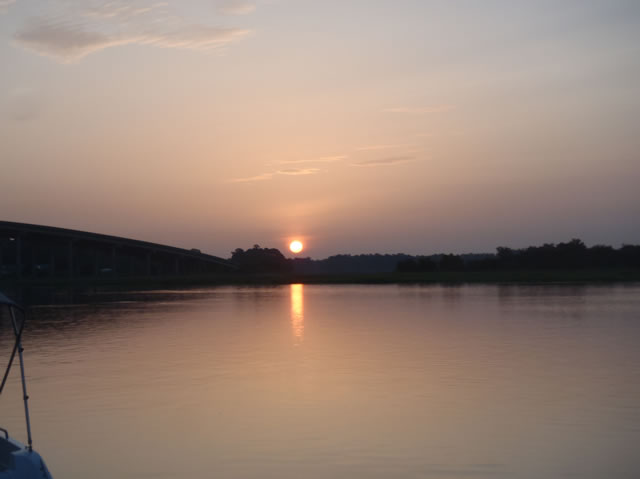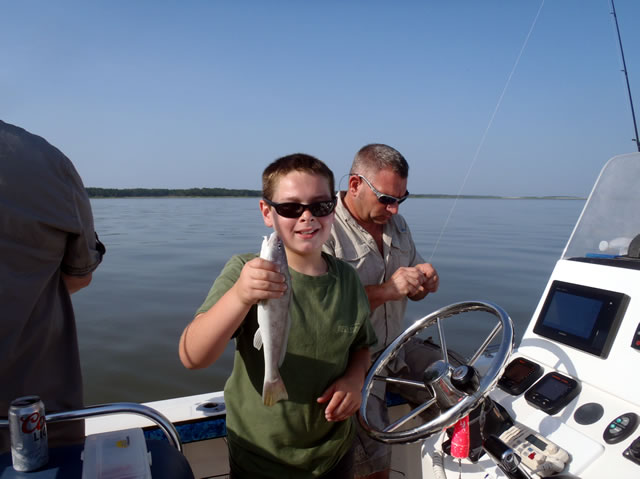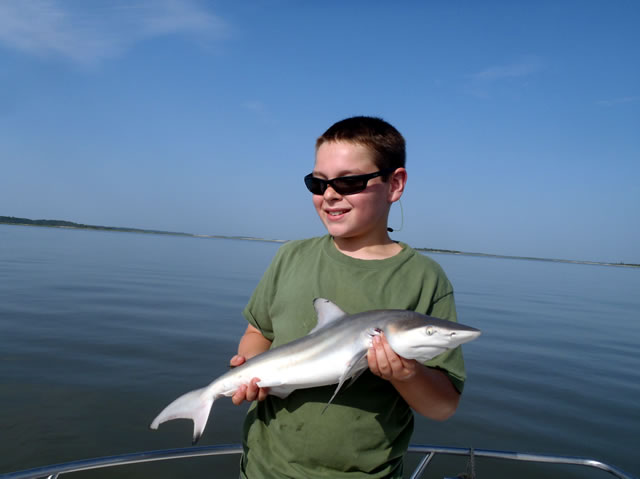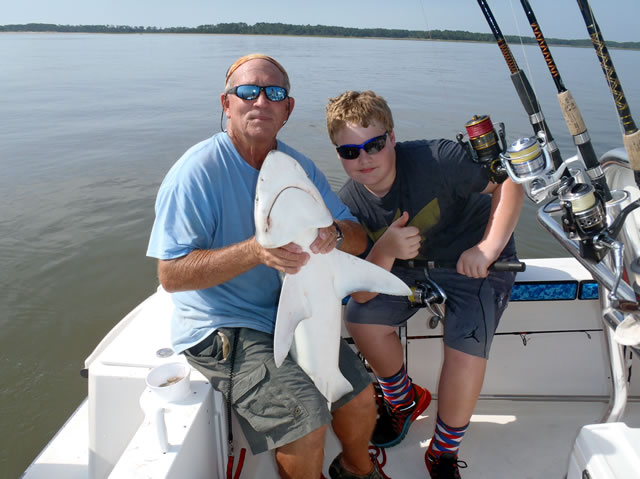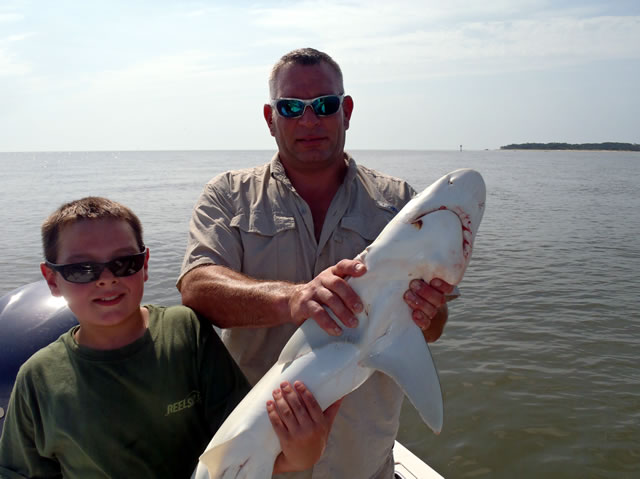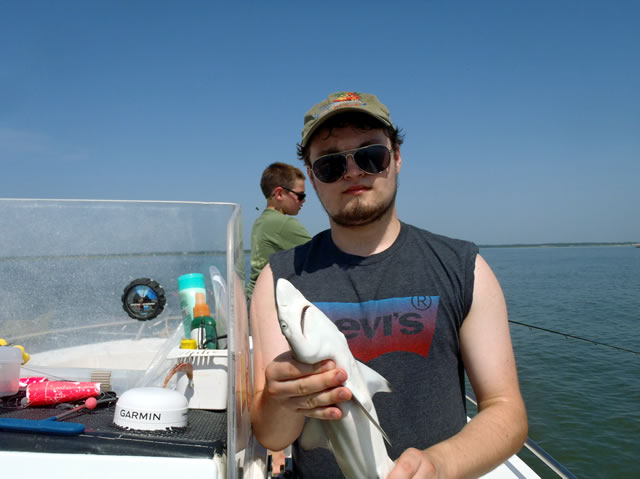 ---
07/10/2015
Capt. Jeremy had 2 trips today , the first one was a 4 person 4 hour trip with Eric and his girl friend and another couple. They indicated that they wanted to fish for whatever was biting best and in the last week, more action has been had with bottom fishing. Note that when bottom fishing, we are fishing for multiple species. To eat we are targeting whiting and for a hard pull, we are after sandbar sharks, Jack Crevelle, and the possibility exits for a tarpon to pick up the bait.
The second trip was a last minute trip for another captain that is ill and needed some help. That was a 3 person 4 hour trip that bottomed fished as well. The first trip kept 9 whiting and had multiple hookups with sharks , but no crevelles. The second trip caught and released some whiting, as well as a couple huge stingrays. They did have a school of Jack Crevelles move through the area, but only had 1 pickup the bait and it spooled the reel before they could chase it , so drags were tightened and it broke off.
One of the pictures is an oil slick with fins sticking up. This was a school of Jacks passing through that were feeding heavy on menhaden.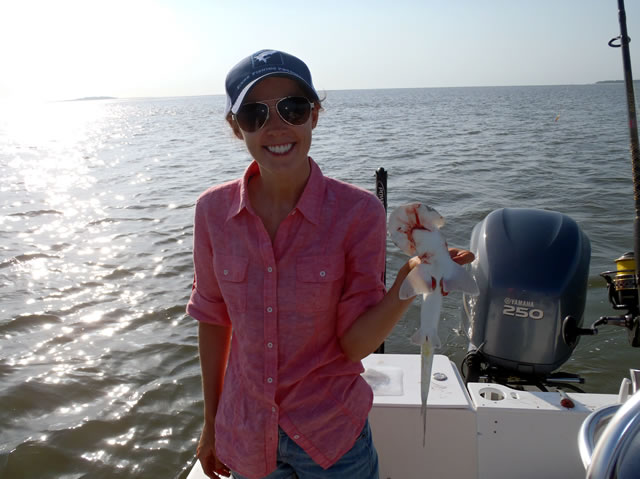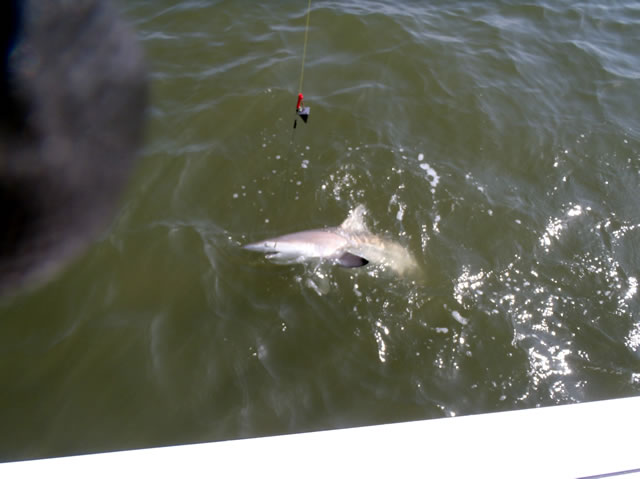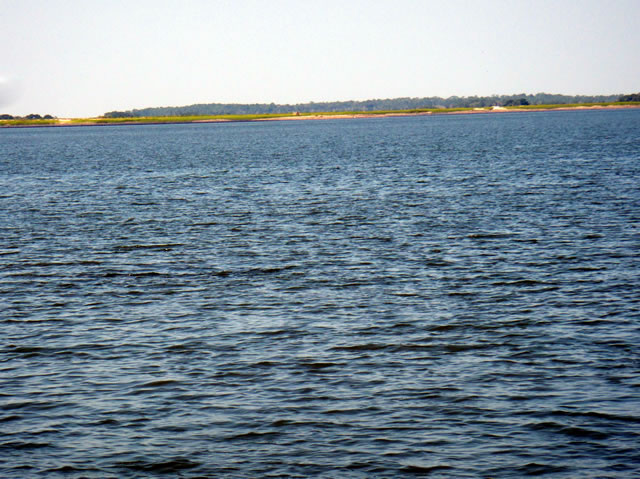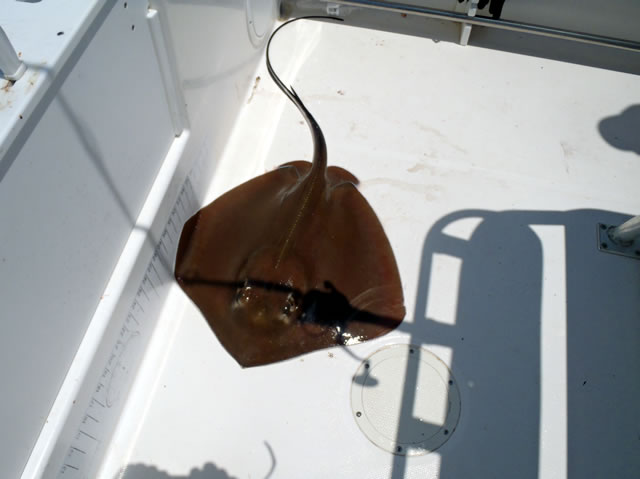 ---
07/09/2015
Capt. Jeremy had 2 trips today , the first one was a 5 person 5 hour trip with Tim, his son Drew and his other sons and a friend. The 2nd trip was a trip for Gary and it was a 3 person 4 hour trip. Both trips wanted to bottom fish for whatever was biting. This was Tims 3rd trip this Spring and Summer with Jeremy. Both trips caught an assortment of sharks, rays and whiting which is expected species bottom fishing. The Trip for Gary, the client was going to take a picture of the fish in the water and did a selfie!

Trip number 1 with Tim and his Group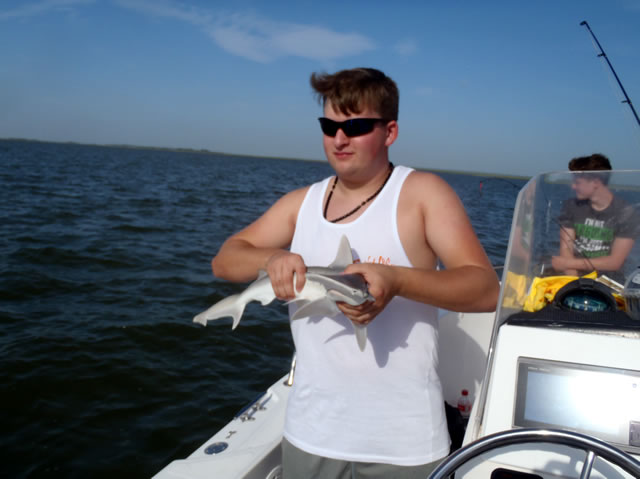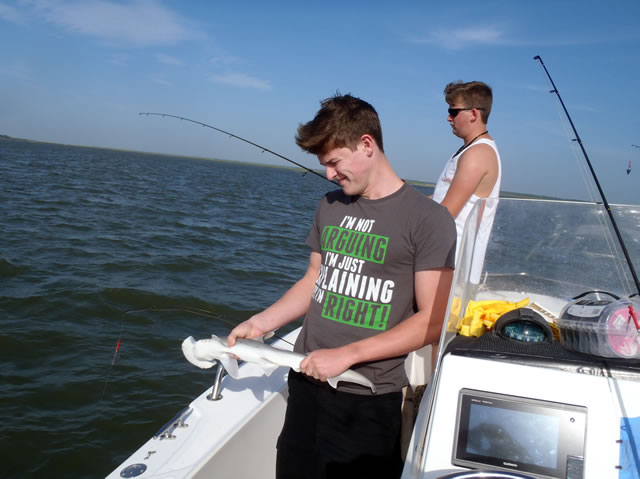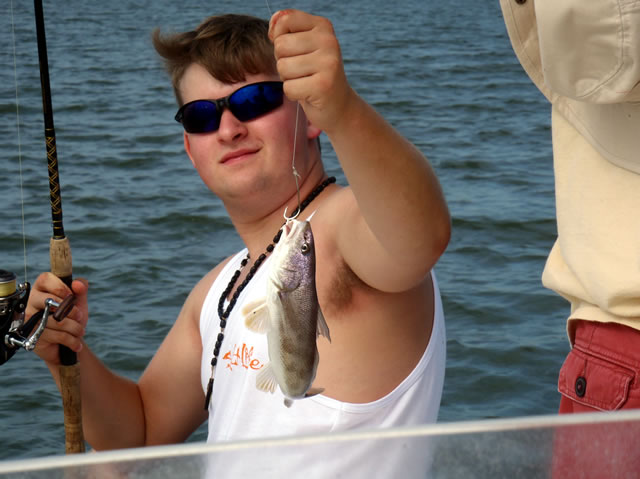 ---
Trip 2 with Garys group, Client with a selfie a little ways down.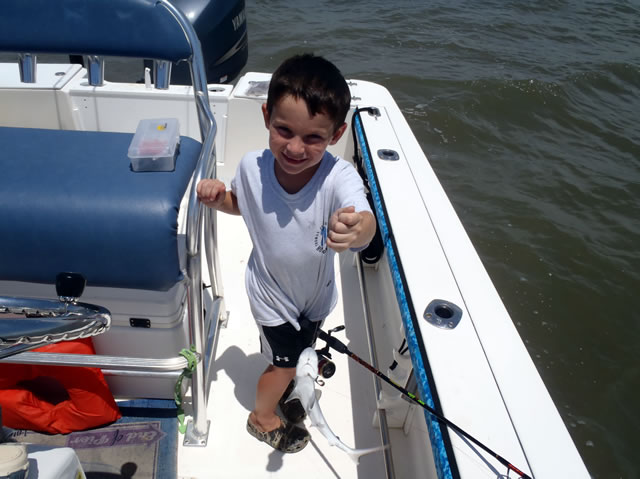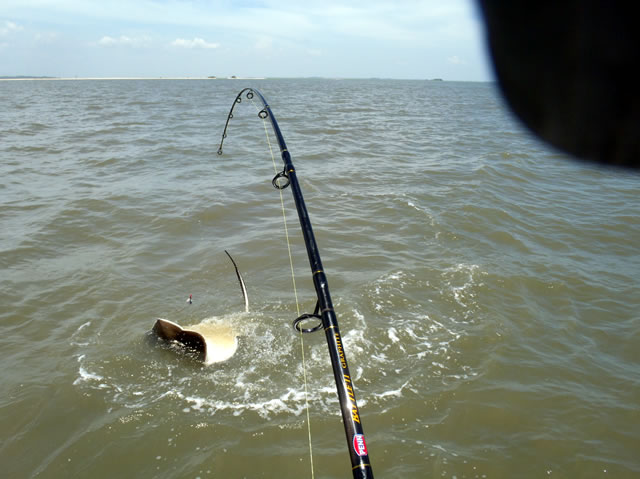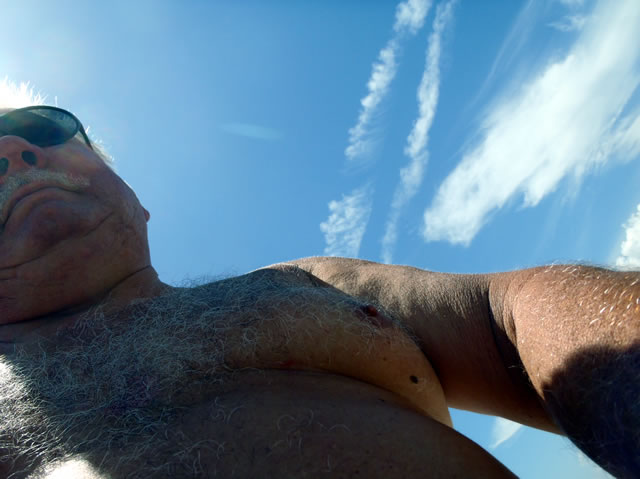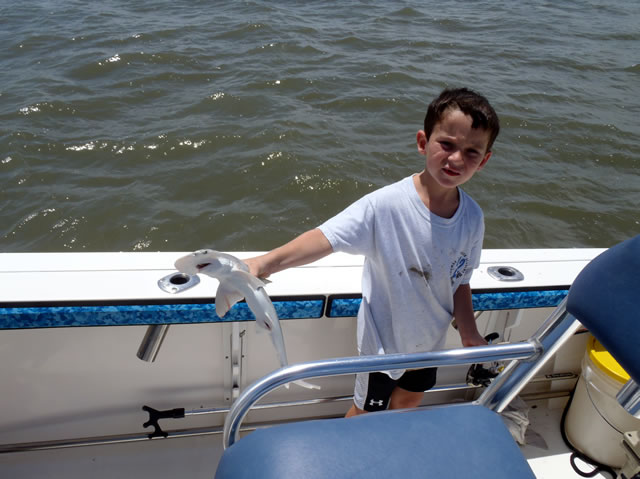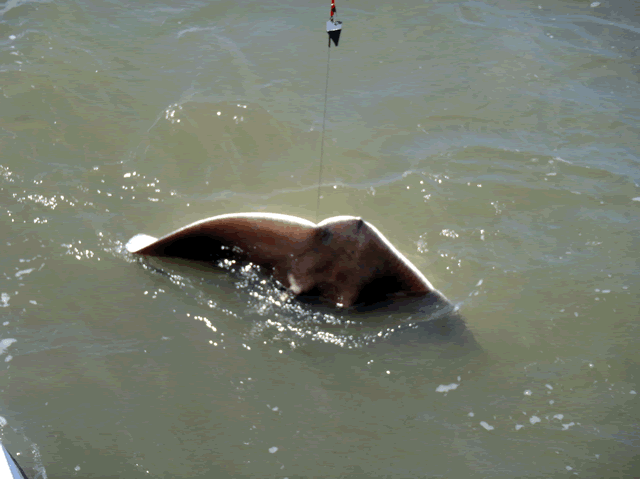 ---
07/05/2015
Capt. Rick had a 4 person 5 hour charter with Robert and his family and soon to be son in law. We caught several speckled seatrout, but these schools were all an inch too short to keep. So we moved around a good bit trying to find some keeper trout, but we did not. We did catch a redfish, that was also too short. The group knew how to fish, but did miss quite a few hard trout bites. Thats fishing, you can't catch them all and it is different than fishing for large mouth bass. They each caught a bonnethead shark and kept 2 for a meal. I noticed the barometer continued to rise all morning and that might have been a contributing factor on the bite slowdown near the end of the trip.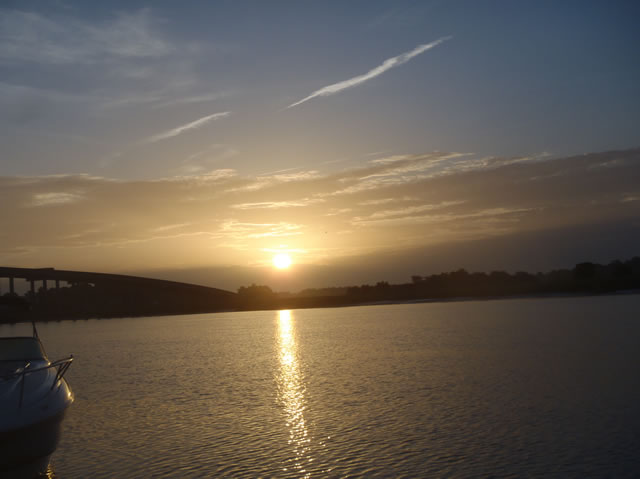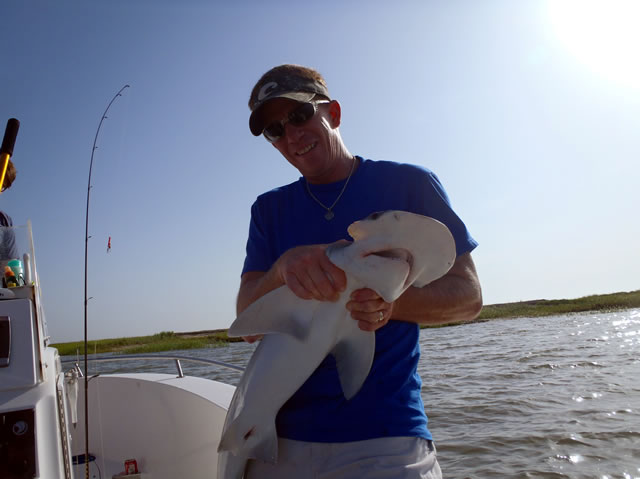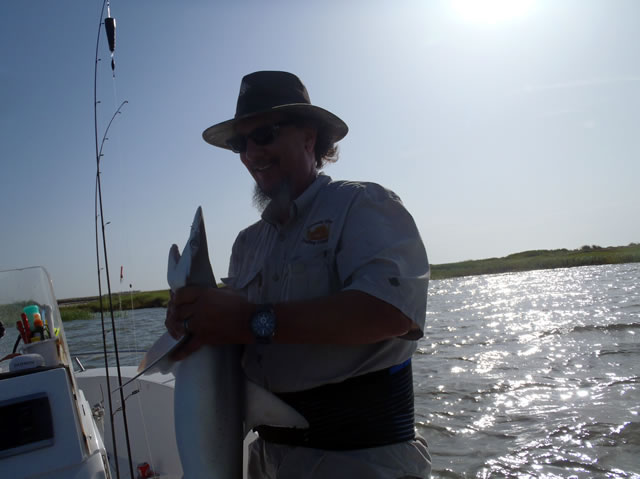 ---
07/04/2015
Capt. Jeremy had a 6 hour charter with Andrew with his charter party for a group of 3 total. Capt. Jeremy reported that the water temp had dropped some and they did catch a few speckled seatrout, but the suprise catch was a huge eagle ray that caused them to pull anchor and follow around. This fish was too big to boat, so it was released unharmed boatside.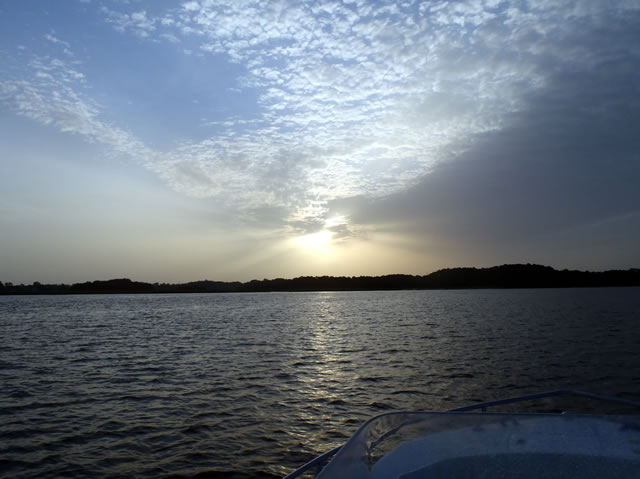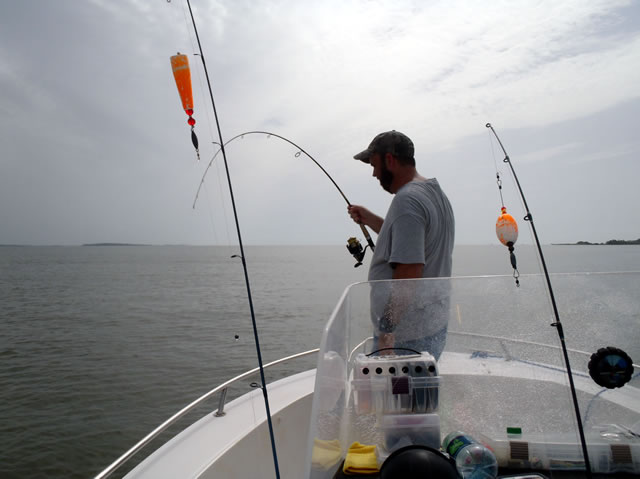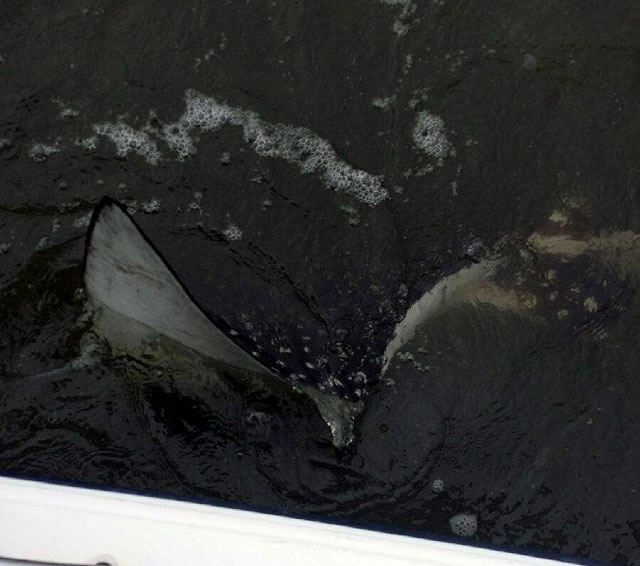 ---
07/03/2015
Capt. Jeremy had a 5 hour charter with Vladimir and his wife and sister today. The bite was good today, and the water was clear, but windy. They caught quite a few fish, but kept 6 for a meal and released the rest. All in all a good summer ( hot ) day on the water!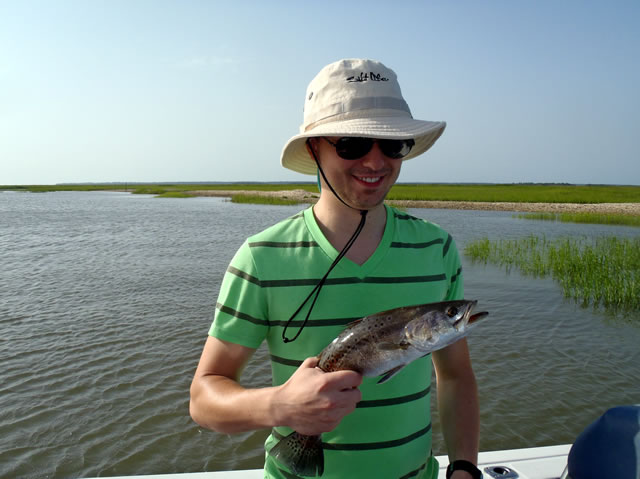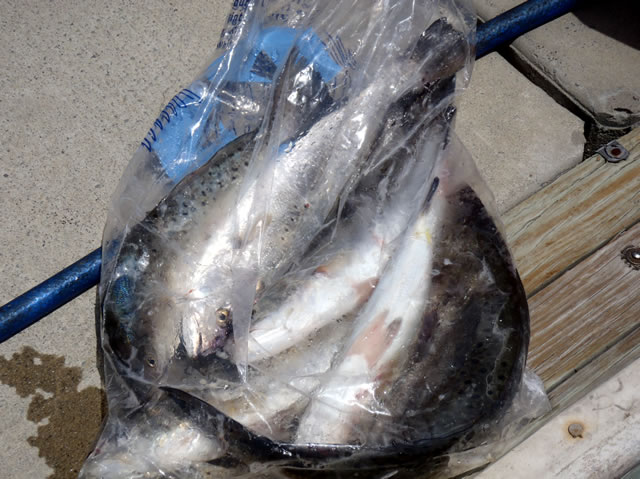 ---
Copyright © 2015 Thunderboltcharters All Rights Reserved.