---
06/30/2014
Capt. Jeremy had a 3 person 6 hr trip today. He had John, Arthur and Nick. The water was clear to stained and Capt. Jeremy reported that they had a good bit of action after the tide changed. They caught a few speckled seatrout, some redfish, bonnethead sharks and ladyfish. Kept a few fish for a meal Below is Nick holding a fierce bonnethead! This was a good day to end the Month of June!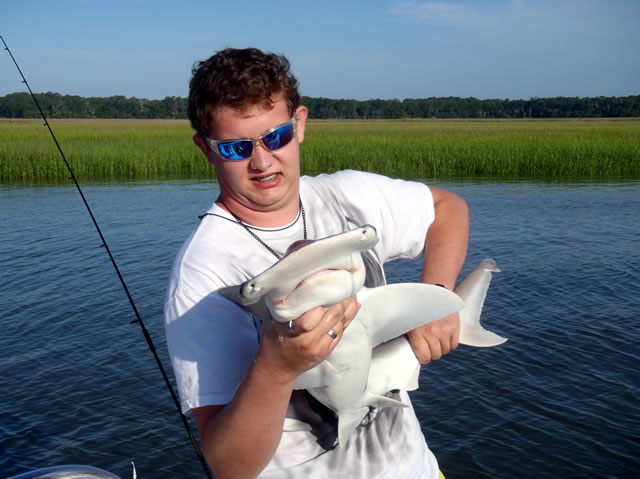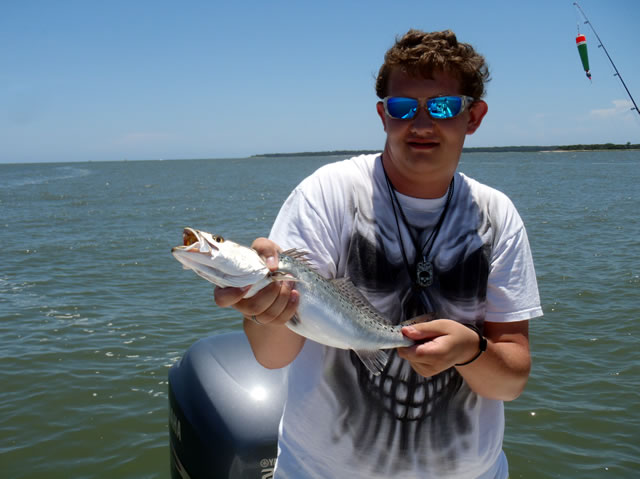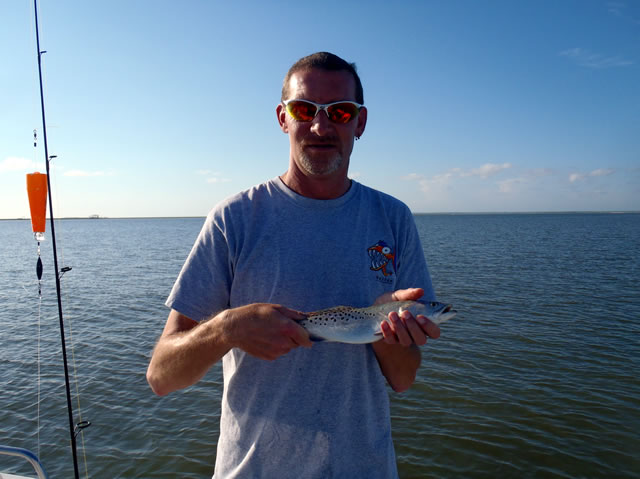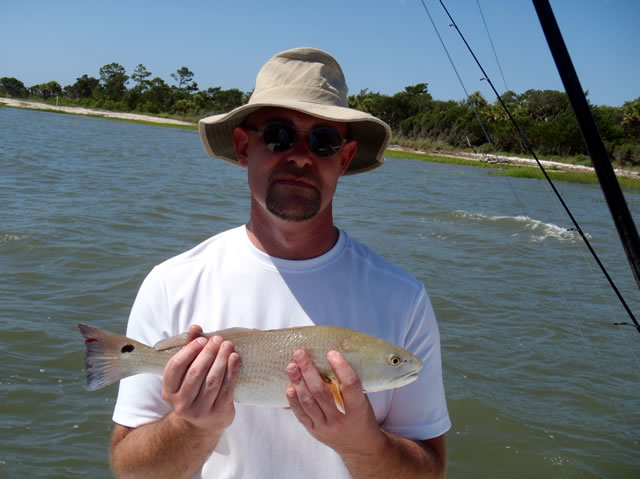 ---
06/29/2014
Capt. Rick had a 2 person 4 hr trip for Judy today. They wanted to catch some sharks, so we got with it and headed out at 6:30 am . Stopped and trout fished for about 30 minutes and caught a few, but finally got a ladyfish to the boat and a bluefish. With that we went on out to the beachfront and caught some large sandbars sharks. Lost the 1st 2 at the boat, then 1 broke the line, not the leader and finally we boated 3. Great 4 hours on the boat with 2 ladys from toronta. It took both of them to reel and hold the rod.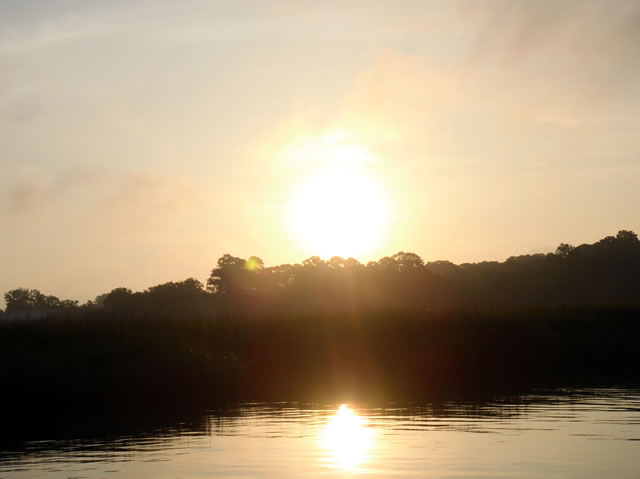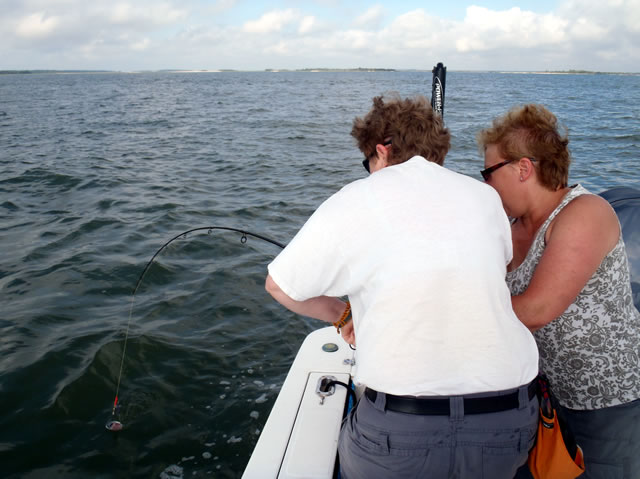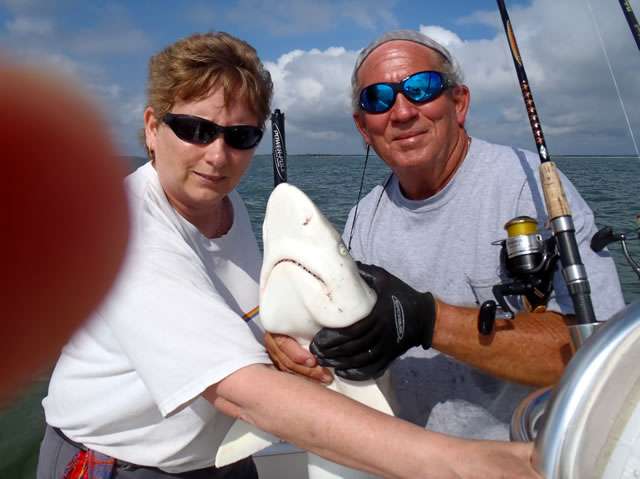 ---
06/28/2014
Capt. Rick had a 3 person 6 hour trip today, with Andrew, his son Audi and Brianna. Brianna really wanted to catch a shark today, so we tried and succeeded. Lots of small sharks, but she wanted something bigger so we first caught and released a few speckled seatrout that were just not quite 13 inches. Kept 1 bonnethead sharks and a few whiting. Released 2 spinnersharks and 1 or 2 sandbar sharks and a bonnethead. The spinnersharks and sandbar sharks were caught on a ladyfish that we used for chunck bait. Brianna lost a very nice redfish inshore and Andrew landed a 27 inch redfish that was over the legal limit of 23 inches. A good day on the water with a very nice group.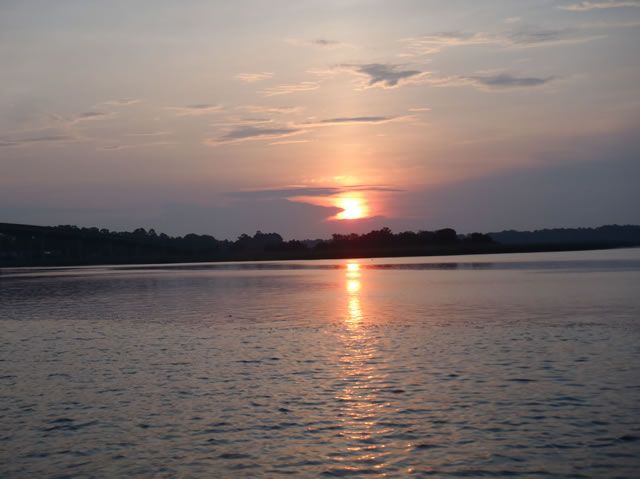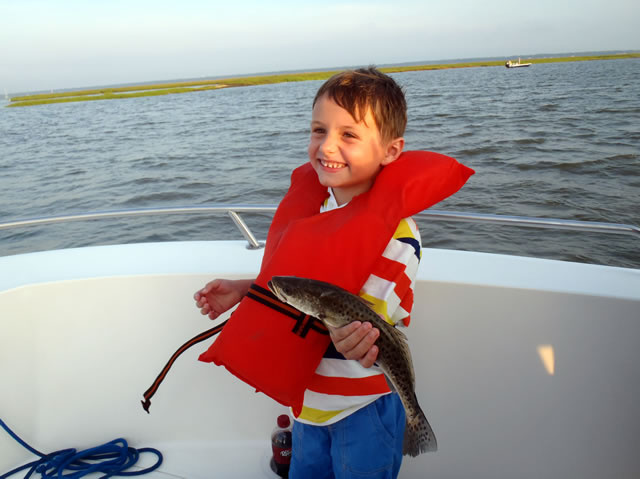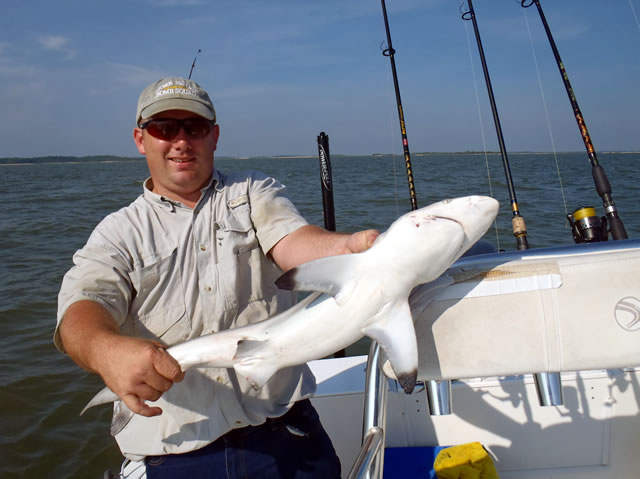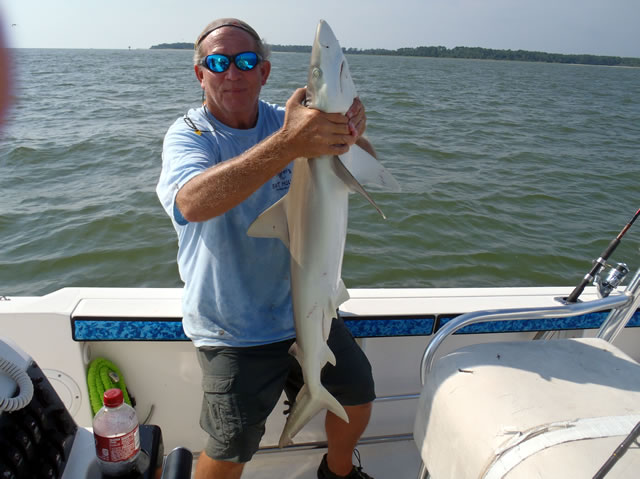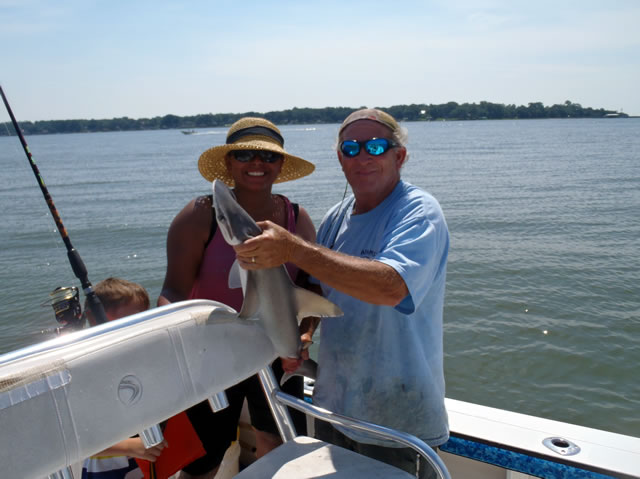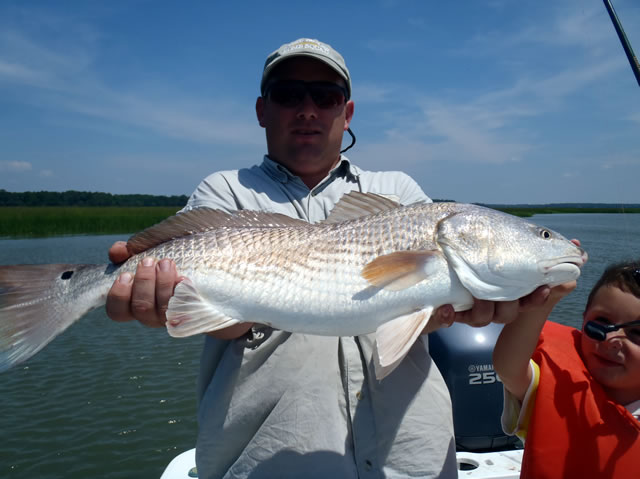 ---
06/26/2014
Capt. Jeremy had a last minute trip for Bull River Marina. They caught a number of fish, but Did not have the camera with him, so no pictures.
---
06/25/2014
Capt. Jeremy had 2 trips today a 6 hour Thunderboltcharters trip, then a 4 hour trip for Bull River. Both trips caught a mixed bag. On the first trip Capt. Jeremy had David and Betty. Besides catching some trout, and redfish, they also caught an undersize permit and a long silver ribbonfish. During the summer, you never know what fish you might catch. The trout bite has picked up, but there are quite a few short trout mixed in with keeper trout. If you cannot get live shrimp for bait, try a mudminnow or throw your castnet on finger mullet and small menhaden. The camera died after the first trip, so we only have pictures of David and Betty.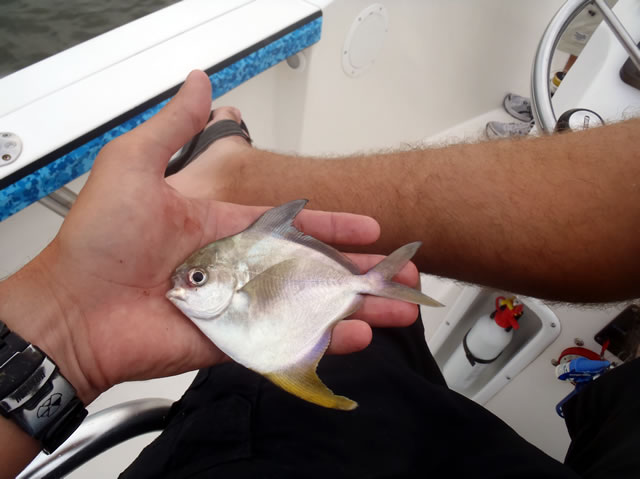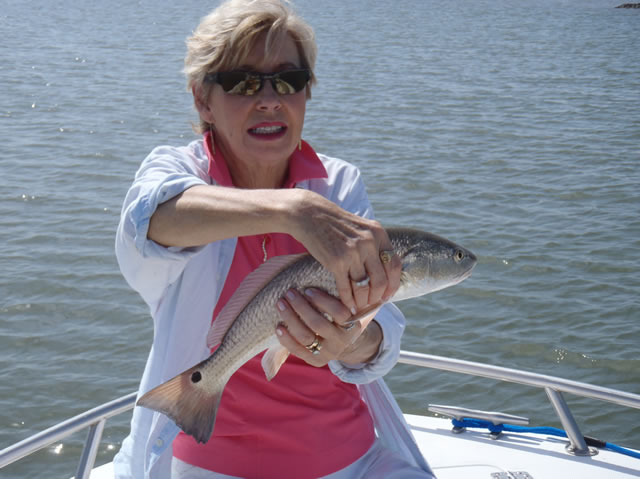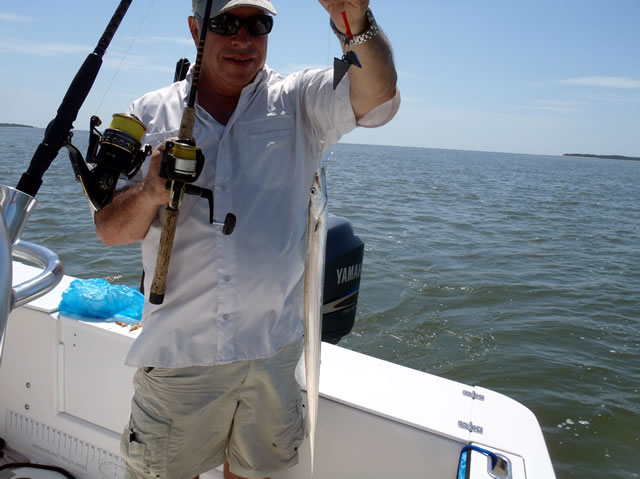 ---
06/24/2014
Capt. Jeremy had 2 four hour trips today with the 1st one departing at 7am and the 2nd left at 12 pm. Both trips had 2 people. The one that left this morning was a Thunderboltcharters trip and 2nd one was for Bull River Marina. Water clarity was good and the temp is in the mid 80's. Live shrimp are very hard to get right now, but they had some.
This first trip was with Mike and his son. They caught a mixed bag of 9 keeper sized trout and 2 slot reds and several ladyfish, and blue fish and some nice sharks.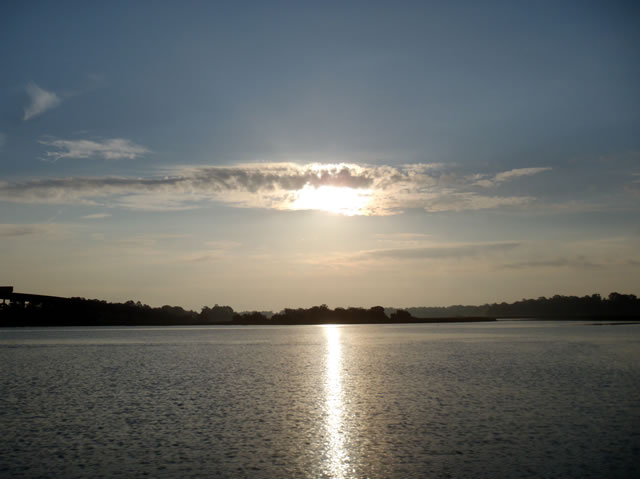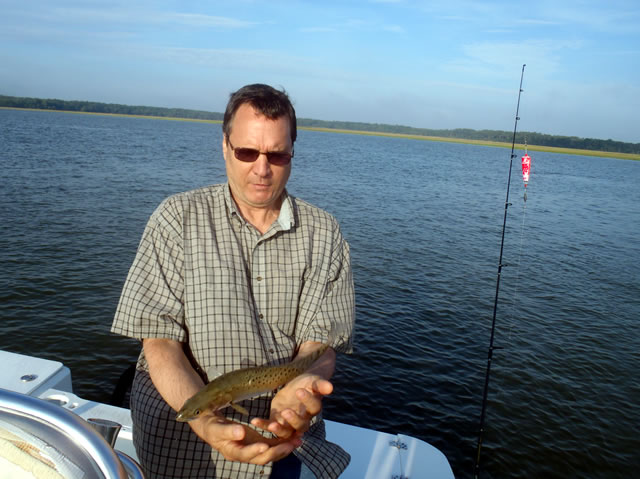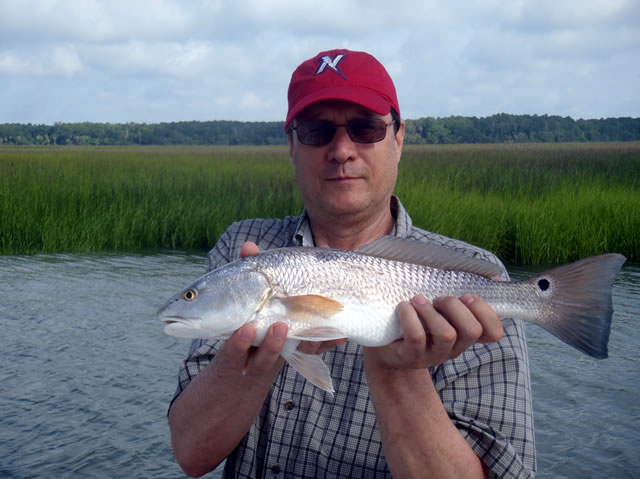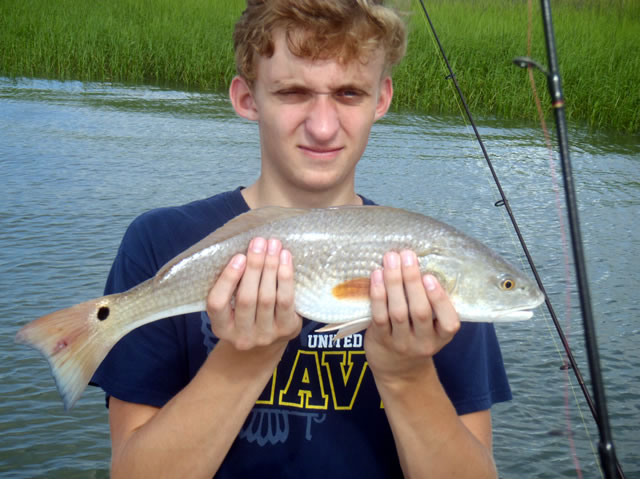 ---
06/24/2014
Capt. Jeremys 2nd trip was with Gary and his son. They caught trout, sharks and flounder and redfish.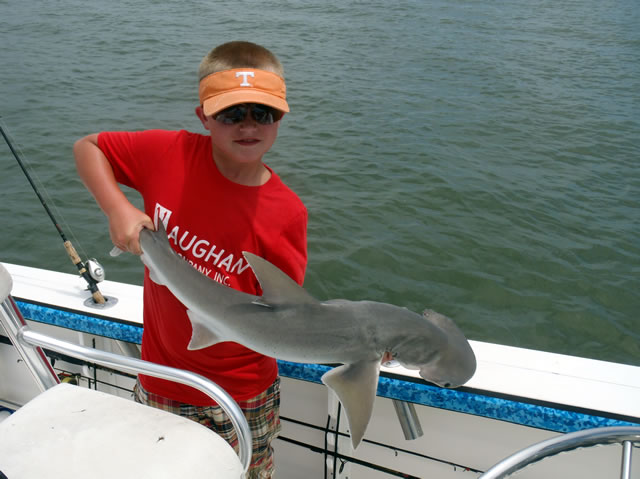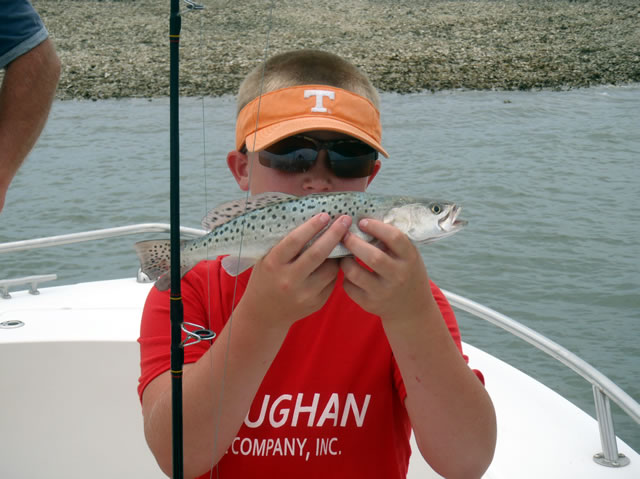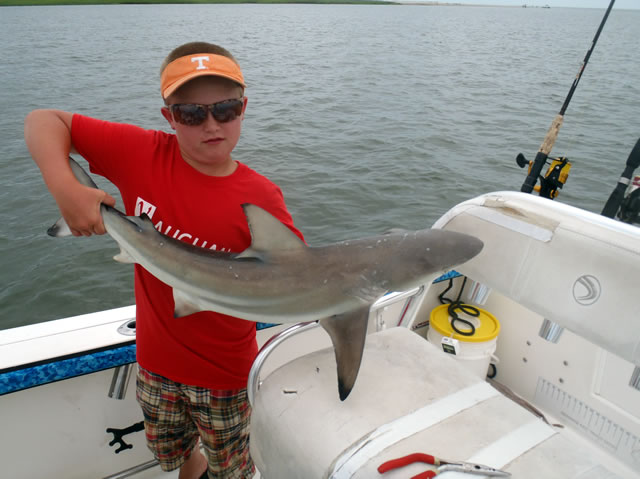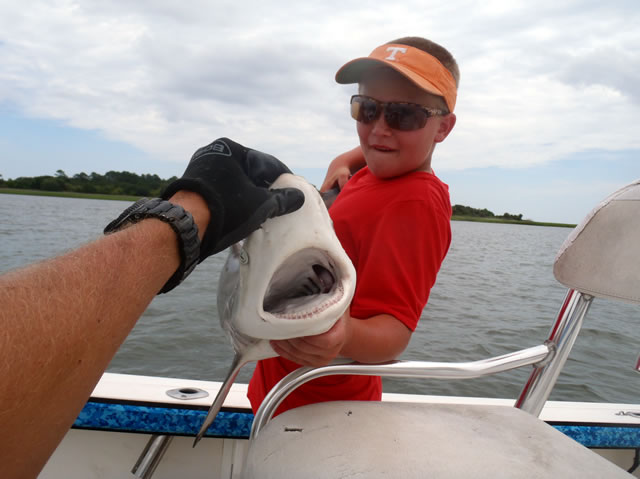 ---
06/21/2014
Capt. Jeremy had a 6 hour 3 person trip departing at 7am today. Jeremy had Pat, Maria and Rick. Water temp was 85 degrees. They had a slow trout bite on the last of the outgoing and the first of the incoming. Water clarity was dirty to stained. They also caught some sharks, ladyfish, bluefish, whiting and a small redfish.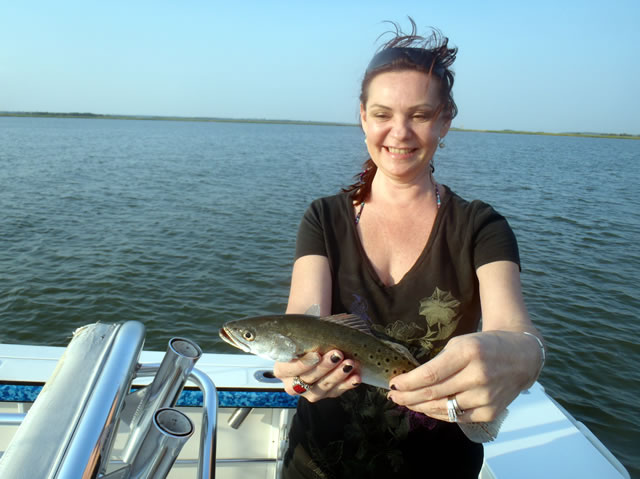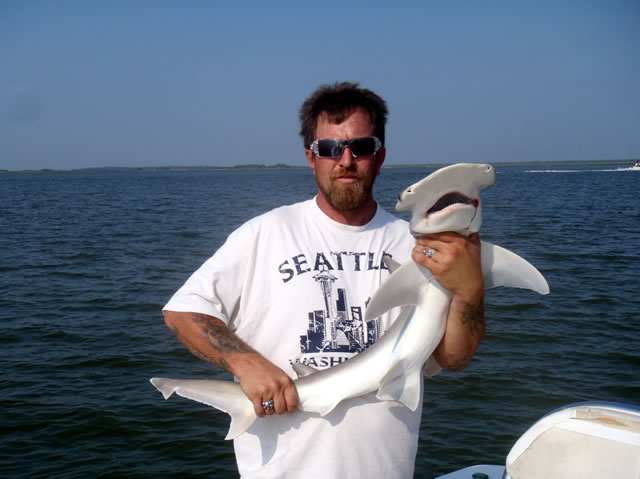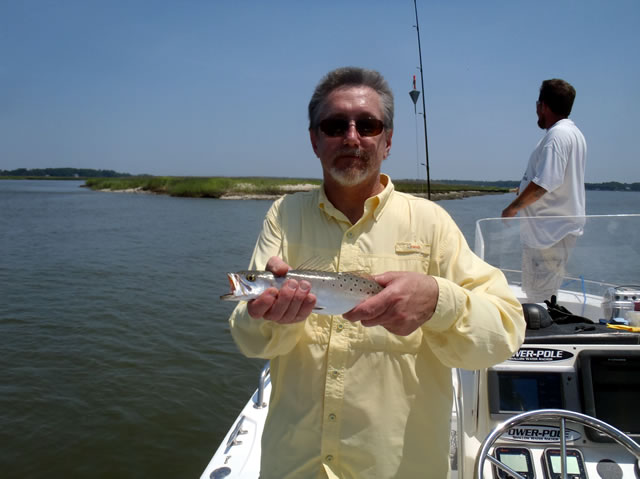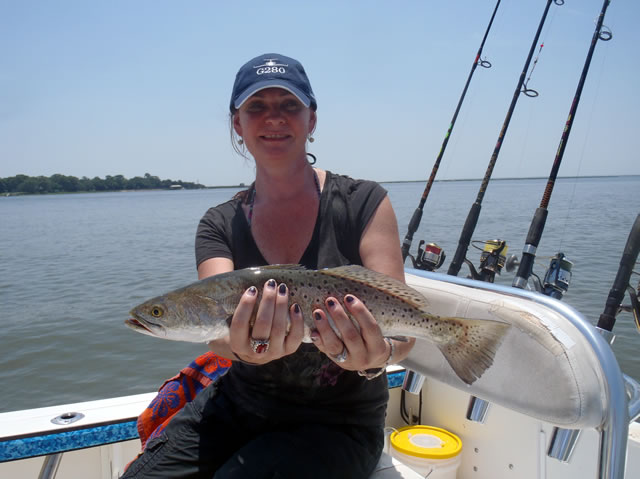 ---
06/17/2014
Capt. Jeremy had a 6 hour 2 person trip today with John and his brother in law. The winds have calmed down and the tides were better than earlier in the week. Low tide was around 6:15 am so they were able to fish all the incoming tide. Water clarity was better and the temp is still in the low 80's. They caught a variety of fish, including a juvenile Jack Crevelle. They kept a couple trout and sharks . Fishing around the beachfront they got into alot of ladyfish. Starting to get into the summer pattern where you never exactly know what you might catch.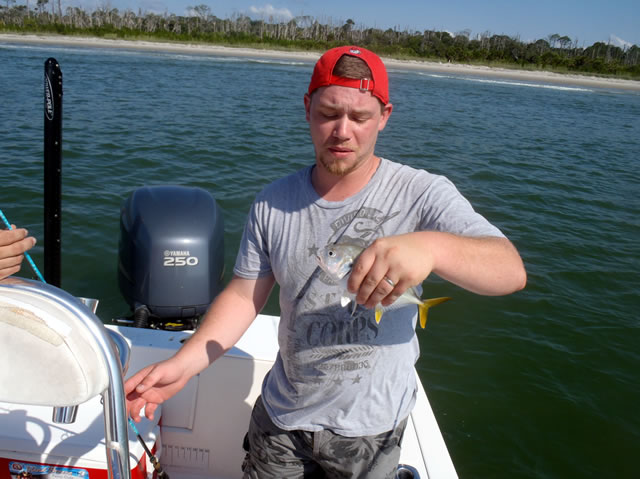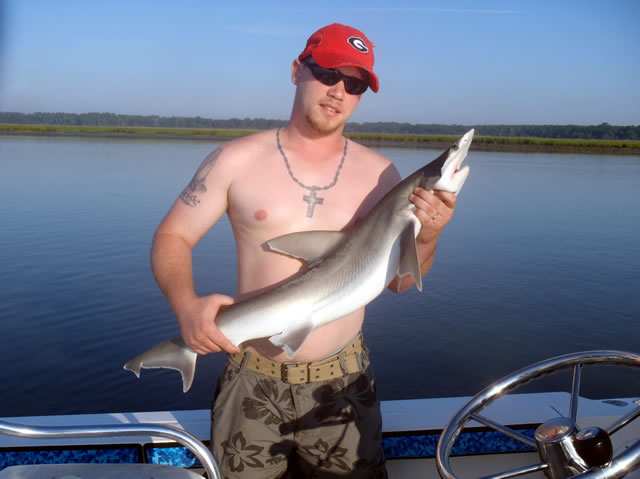 06/16/2014
Capt. Jeremy ran a trip today for Bull River Marina. This was a group of 4 and Capt. Jeremy reported that they were all good anglers. The water temp was in the low 80's and the clarity was turbid. This is partially due to the moon phase. We are coming off a perigee moon, with this past Friday the 13th full honey moon is when i the lunar cycle of the moon is at its shortest distance from Earth. This has led to some extreme currents. That being said, they caught some nice fish. Speckled seatrout, bonnethead sharks as well as some slot reds. Not a bad 4 hours on the water.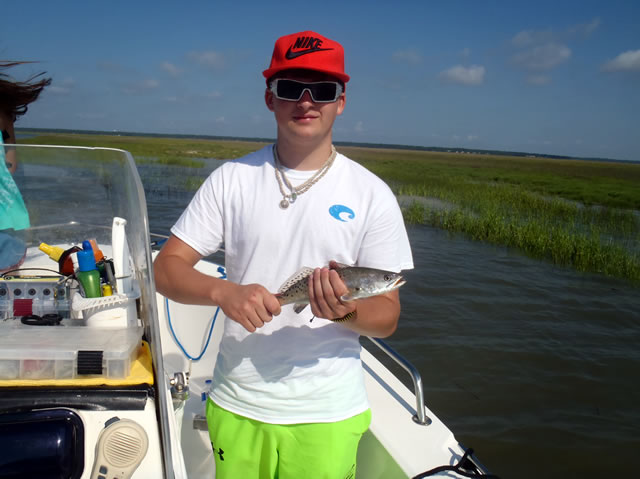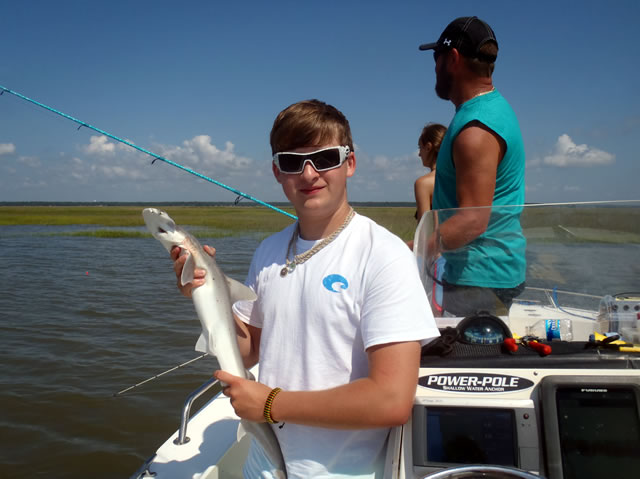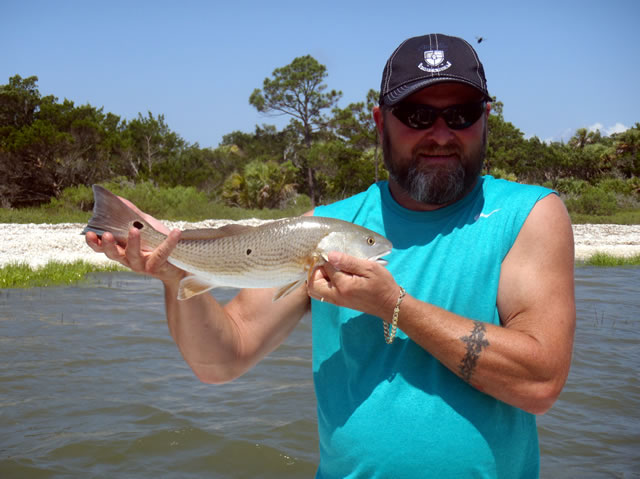 ---
06/15/2014
Capt. Rick and Capt. Jeremy both had 4 hour trips today. Capt Ricks started at 7am and Capt. Jeremys was at 1pm. Capt. Rick had a great group of 3 people, Bob, Cody and Mike. All 3 were very good fisherman. We kept 1 trout, 1 flounder several whiting , 1 bonnethead. Released some ladyfish, kept some ladyfish for shark bait and Cody, landed about a 40 lb Sandbar shark!
Capt. Jeremy had 5 people that wanted to whiting and shark fish. They caught plenty of both! Water temp was in the low 80's and the clarity was poor!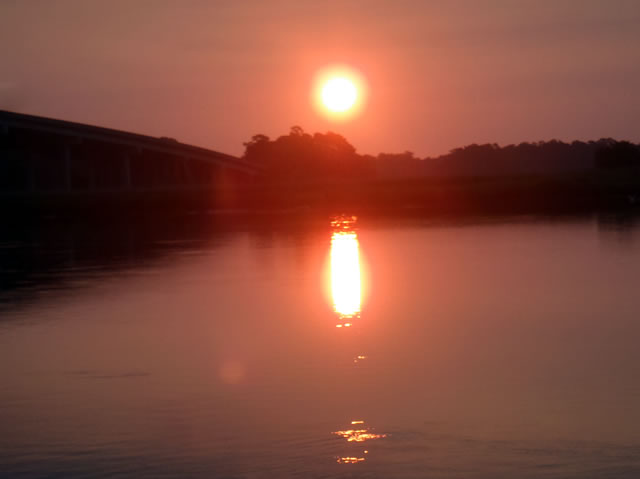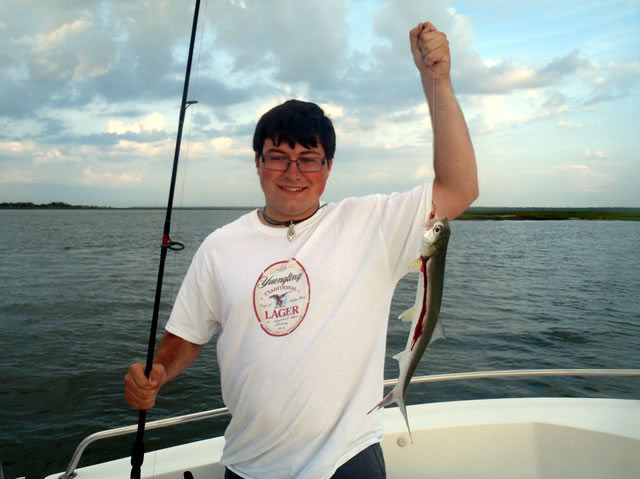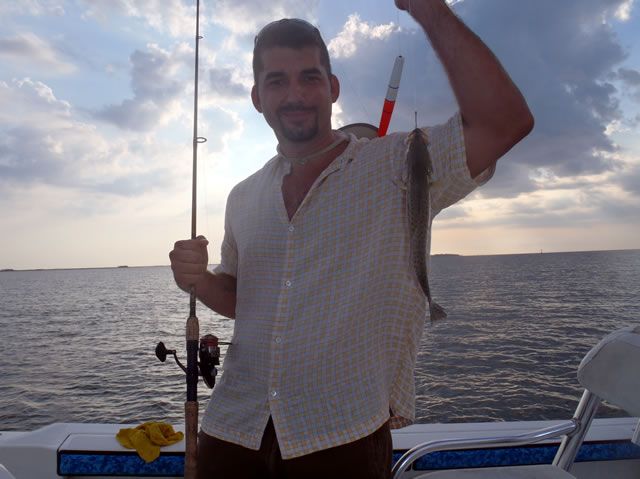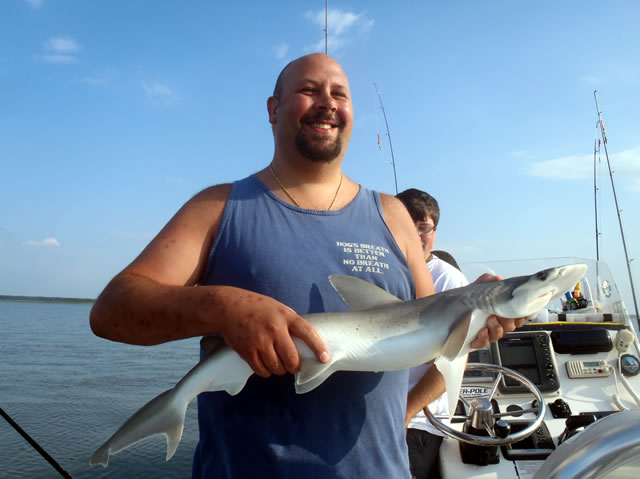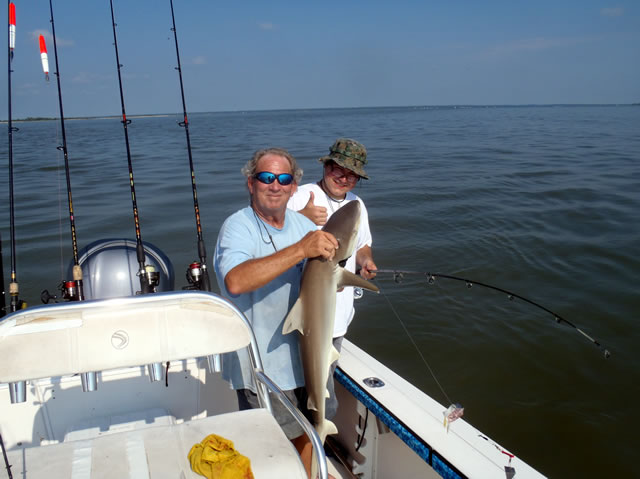 ---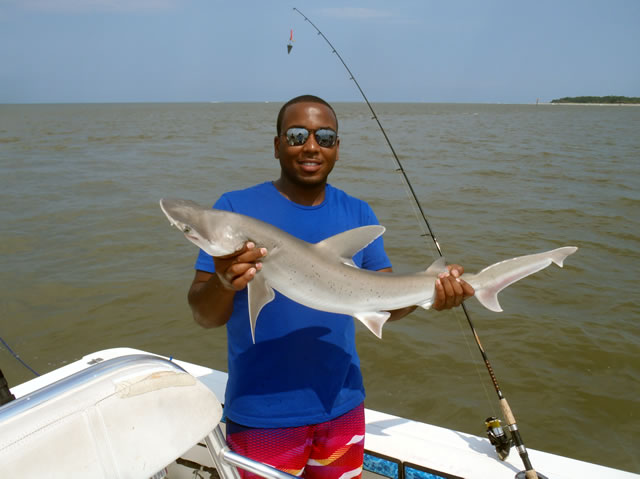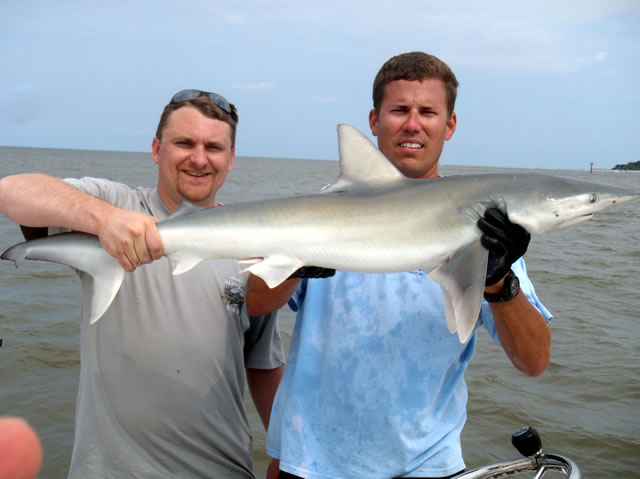 ---
06/14/2014
Capt. Rick had a great 4 hour trip for Miss Judy today. We departed her dock at 7am. Pam and Don really wanted for Pam to catch a shark, and keep a few fish to eat, so we headed out to the sound. Pam caught 2 nice atlantic sharpnose sharks that we landed. Don caught 1 that we got in the boat and 1 that got off at boatside. In between sharks we kept 12 whiting for a meal and released a few more. When we got back to the dock another guides group had kept 2 Speckled seatrout that they did not want so we cleaned those as well. I think we had a great trip and accomplished what Pam wanted.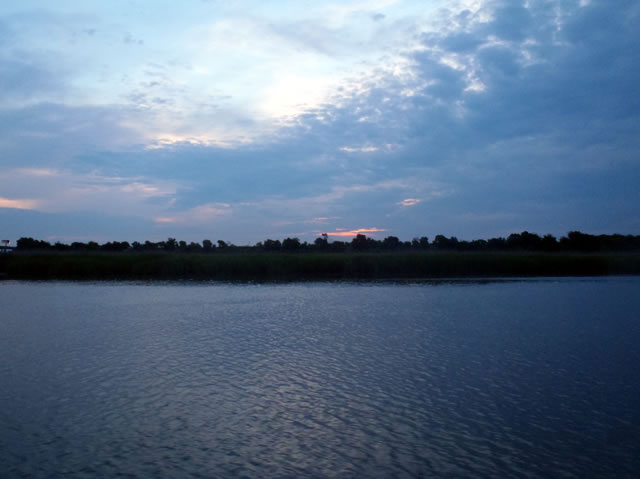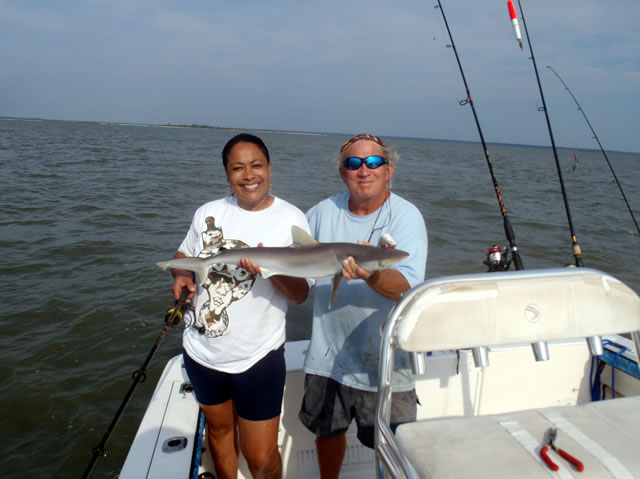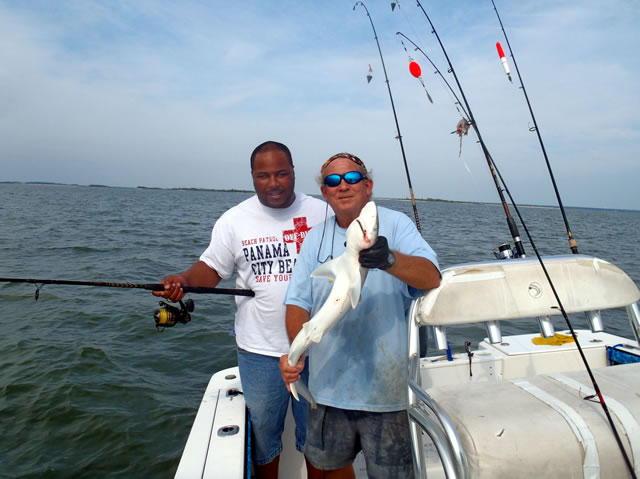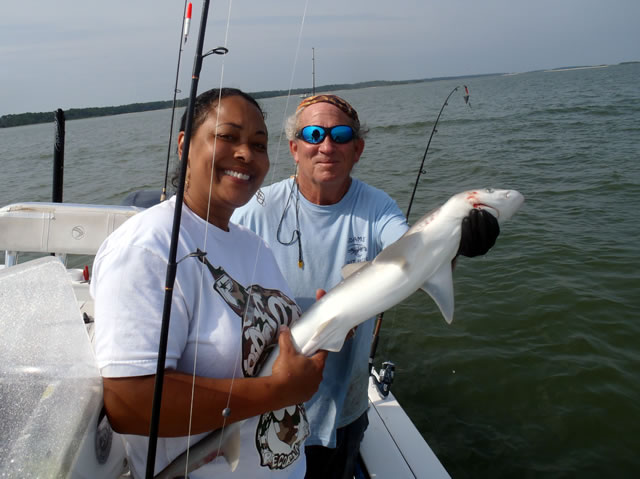 ---
06/12/2014
Capt. Jeremy had a 6 hour 2 person trip today. He had Trey and Bill from Texas. Capt. Jeremy reported that they were both very good anglers. Water temp was low 80's and clear despite being on the cusp of a full moon. They caught and released approx 40 speckled seatrout, a flounder, a couple bonnethead sharks. Had a nice redfish break them off. All in all a great day on the water!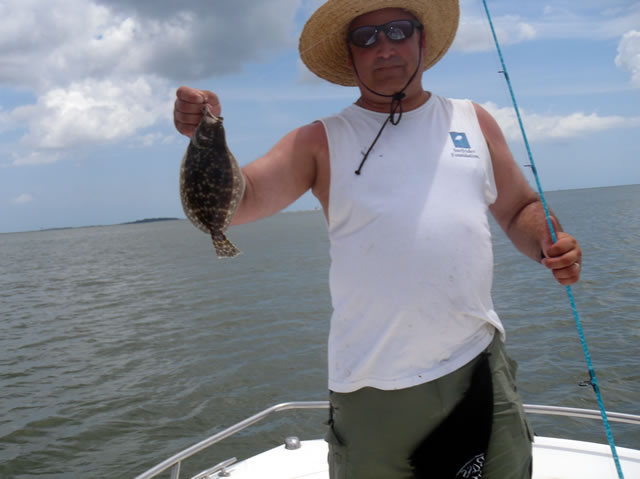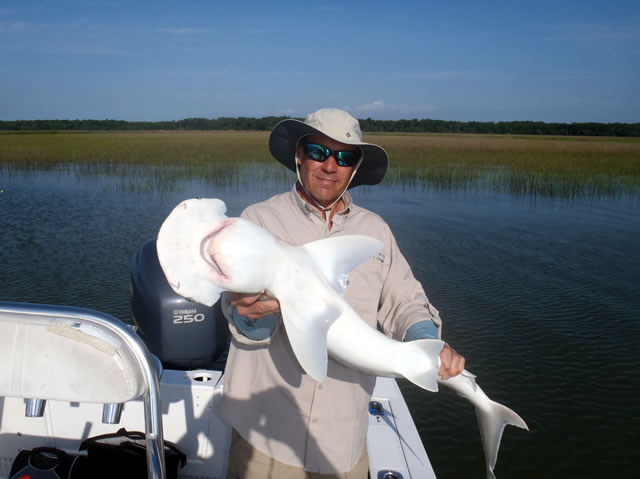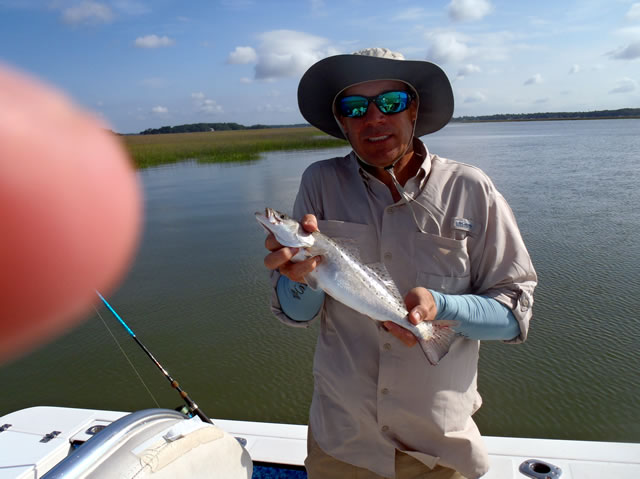 ---
06/11/2014
Capt. Jeremy had a 6 hour 1 person trip today. He had Jordan today and they decided to go for Trout and redfish. Well they actually got an inshore slam, being they got speckled seatrout, 3 nice redfish, each one bigger than the next, the largest right at 28 inches and a flounder. They also caught some bonnethead sharks , but stayed close and did not go after Sandbar sharks today. Water temp is in the low 80's but the fishing was excellent today. All fish were released unharmed. The spot pattern on the last 2 pictures is very close, but you can tell they are 2 different fish!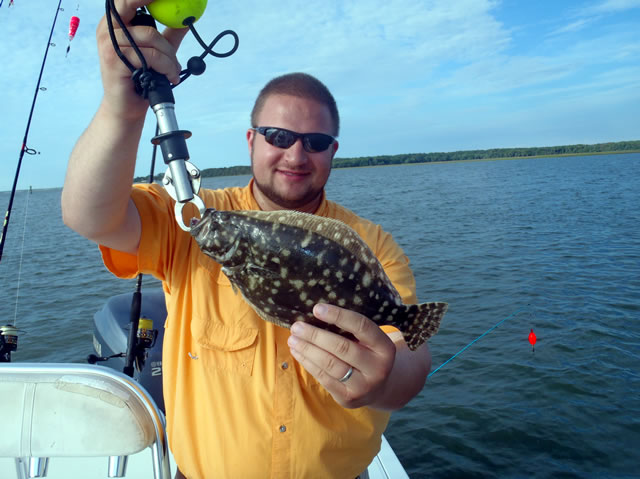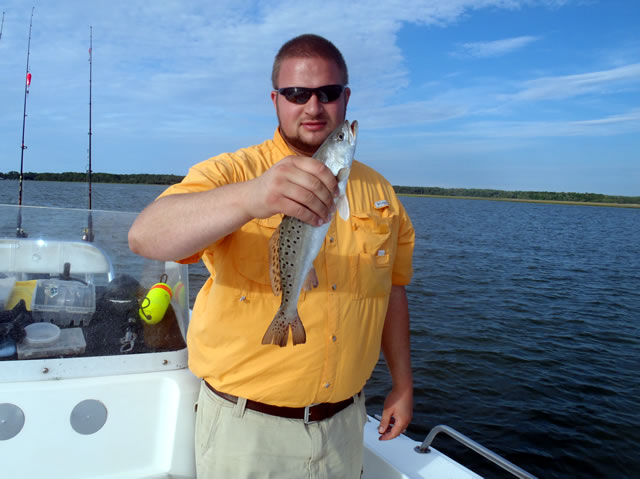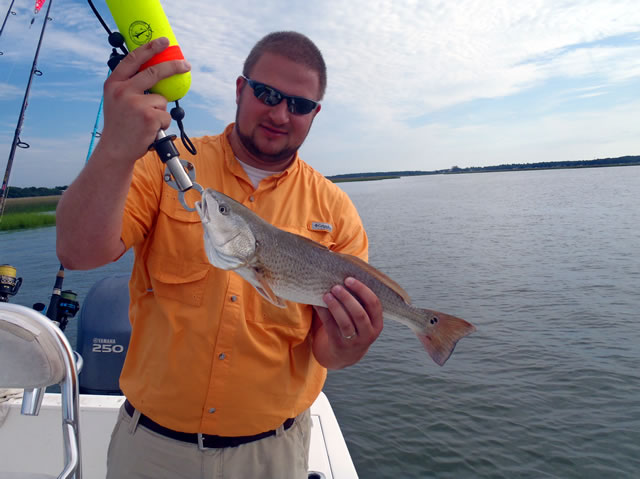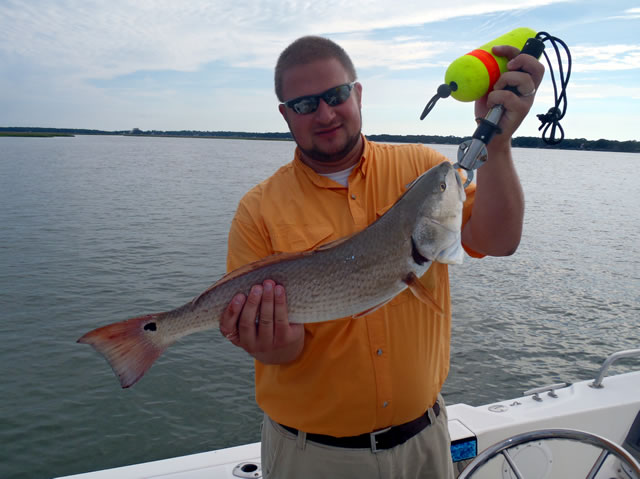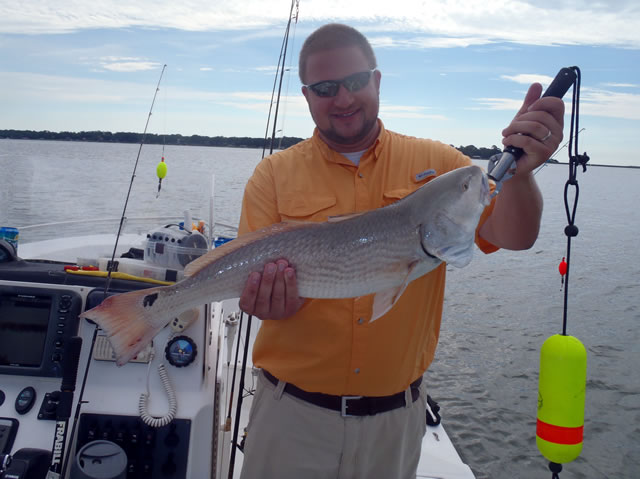 ---
06/10/2014
Capt. Jeremy had a 6 hour 3 person trip today. He had Ricky,Billy, and Caitlen on board. They caught a several different fish. Below is Billy holding a ladyfish that was used for bait on one of several sharks caught and released. Water temp is in the low 80's but the current is fastand the water clarity is stained due to the upcoming full moon.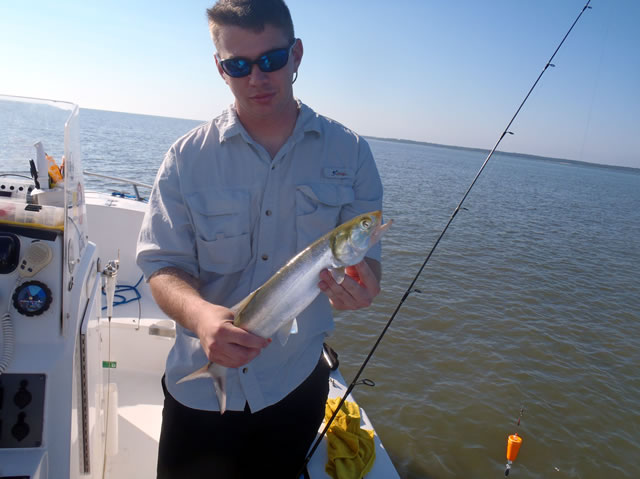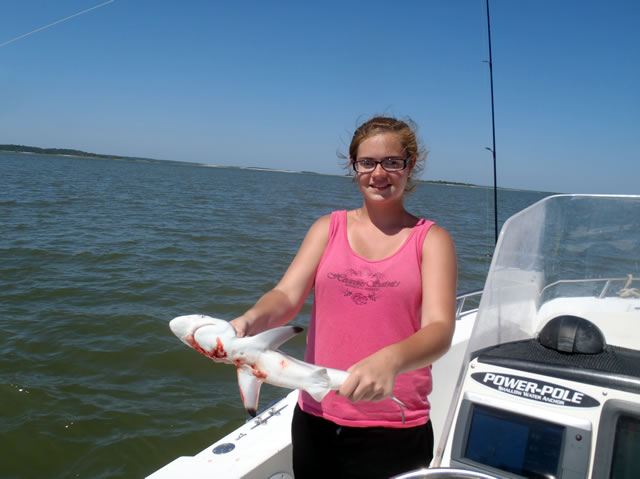 ---
06/09/2014
Capt. Rick had a 6 hour 3 person trip today for miss judy charters, my boat was part of several that was on a group trip. We departed her dock at 6:30 am and headed out. Apparently a front started passing through as the wind picked up but the barometer had not moved any from yesterday. It appears we are under a low pressure. Anyway the trout biting pretty good. My guys caught a few and missed some as well. Also got a ladyfish that we kept for Bull Red and Shark bait. Moved to another spot that was protected from the wind, but only had 1 good hard trout bite and that fish got off. Moved out near the beach front and tried for bull reds. Caught a number whiting and a couple sandbar sharks as well as atlantic sharpnose. All sharks were dehooked and released alive. I had a great day on the water and made some new friends.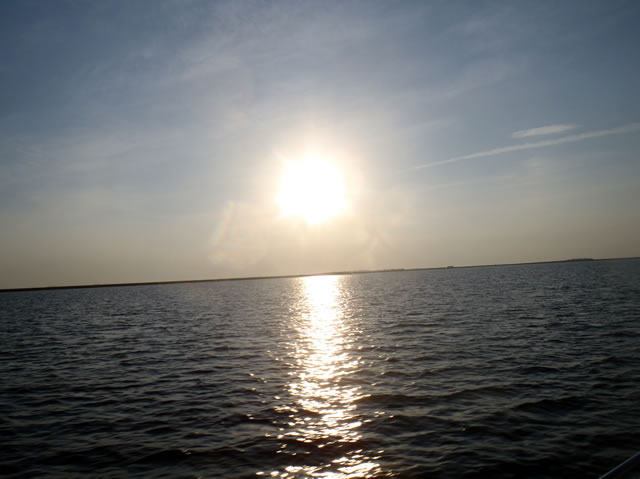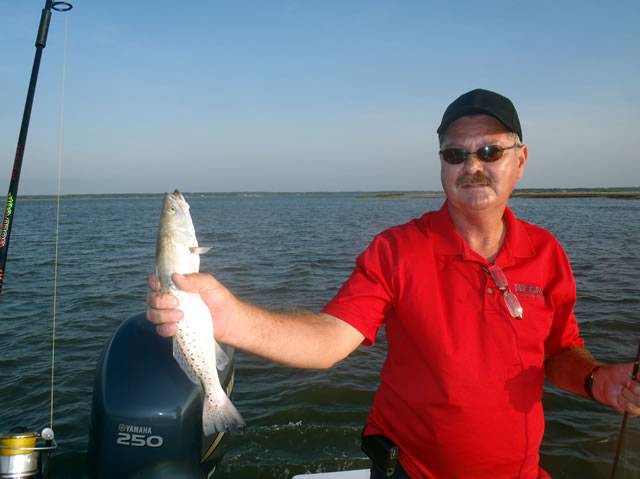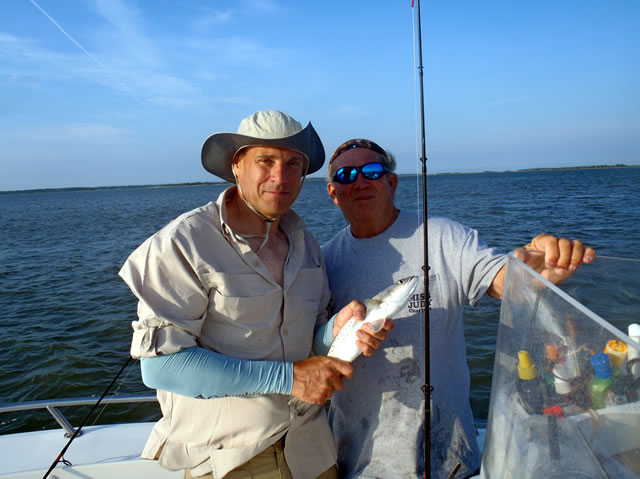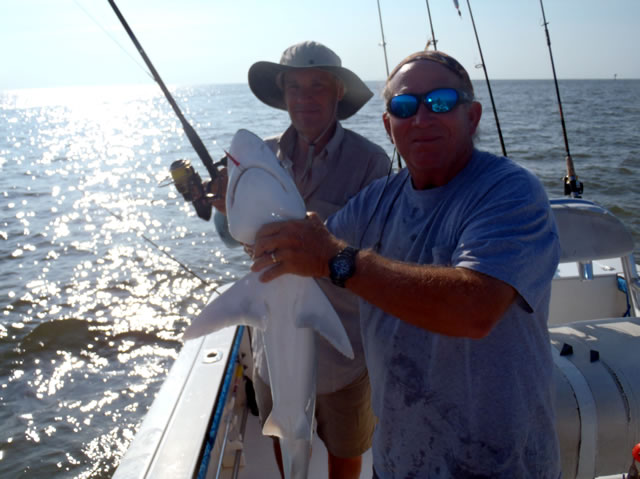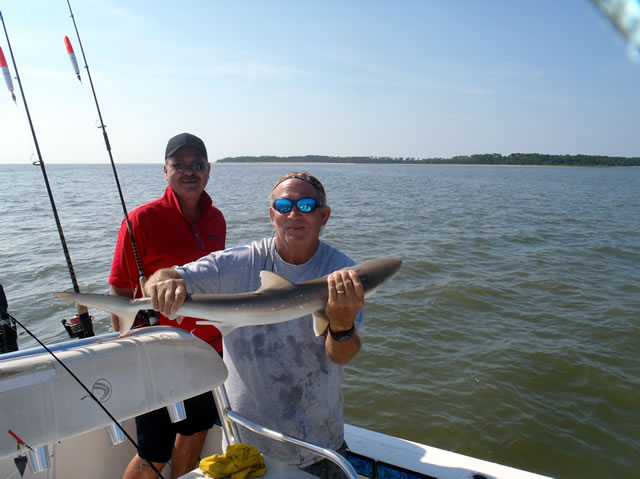 ---
06/08/2014
Capt. Rick had Dawn and her son Conner today for a 6 hour trip. We departed the marina at 7am. Had lots of action all day. Caught a few Speckled seatrout, whiting, bluefish, atlantic sharpnose sharks and 2 big sandbar sharks. We didn't get a bull red today, but did get the sandbar sharks. Water temp is in the very low 80's and clear at some spots. Beat the bad thunderstorm in by about 15 minutes. Didn't get any pictures of the sharks with my camera as these were bigger than normal and I had to get the hooks out and get them back in the water safely.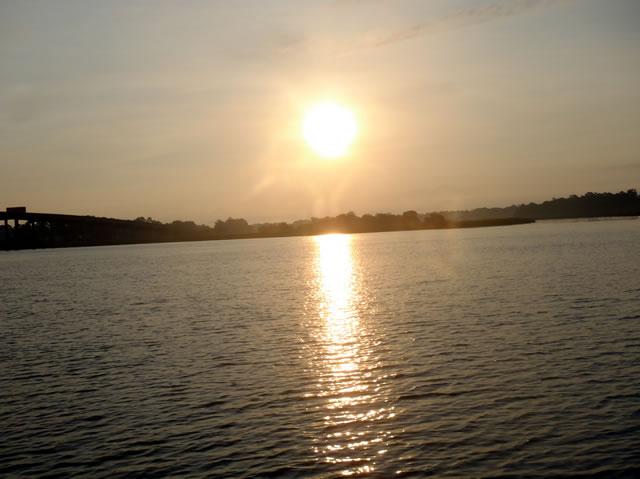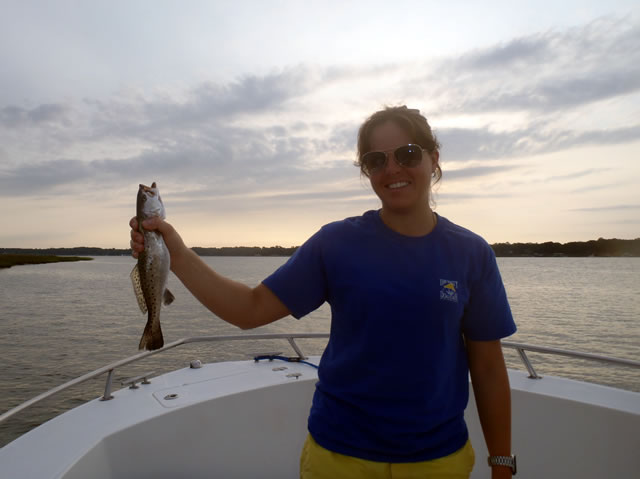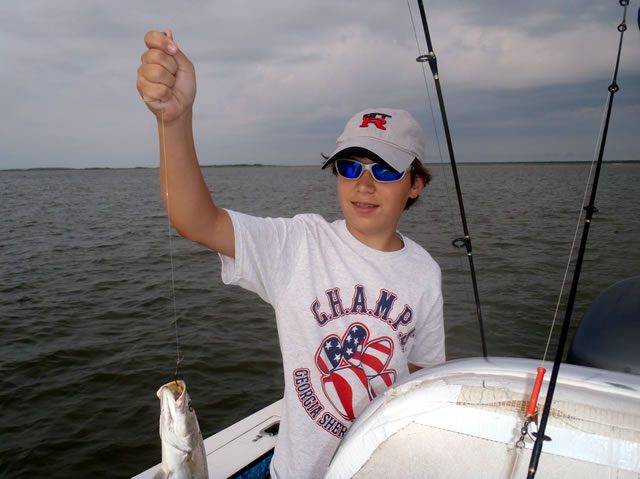 ---
06/07/2014
Capt. Jeremy ran a trip today for Bull River Marina. Tried for Bull Reds but only got into atlantic sharpnose sharks and a large ray. The water temp was mid 80's and the clarity was stained. The person holding the Ray really wanted a picture, so Capt Jeremy tied his stinger to his tail for the picture, then released the Ray without the rag unharmed. While rays can deliver a significant wound, we do not cut off the rays stinger.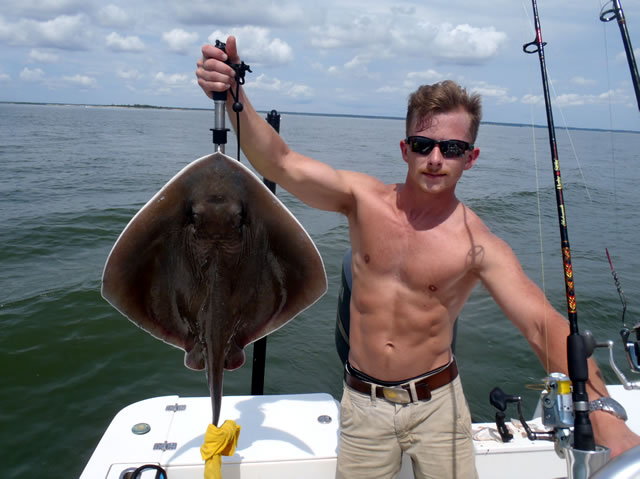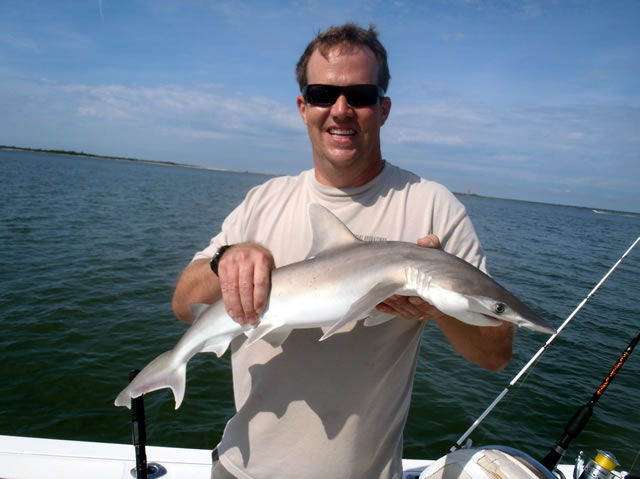 ---
06/05/2014
Capt. Jeremy ran a trip today with Artie and his wife and son. They caught some small trout, but was shooting for a bull red. Water conditions were rough, but not too bad, however they did not connect with a Bull Red today only sharks. They caught small sharks and a nice atlantic sharpnose. Moved inshore to try for some trout and caught a nice bonnethead shark. Also caught some whiting and had 1 large Bull or possibly a large stingray that pulled the steel leader from its crimp.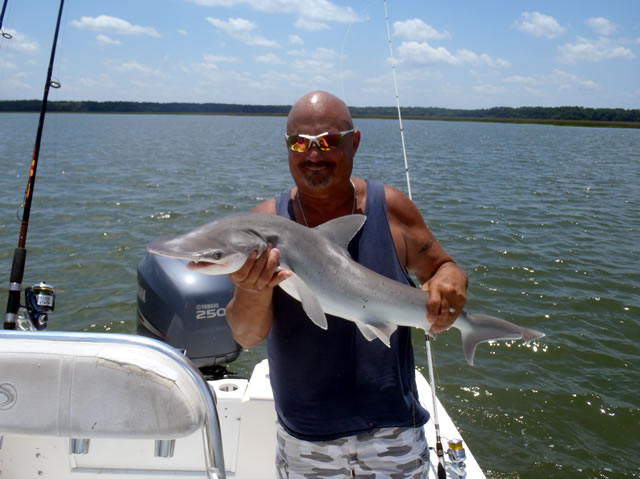 ---
06/01/2014
Capt. Rick had a great party of 4, but the weather conditions were awful to bad. Winds truely were a steady 20 knots out of the east. We experienced rain and clouds for most of the trip. No one complained. The goal was to get out and catch a bull redfish, but unfortunatly I could not SAFELY do that. It was just too rough. I had Tommy, Libby, Donna and Alan. Water temp was mid 70's and when we sought shelter it was clear. Caught a couple speckled seatrout, bluefish and Donna hooked a huge brownnose cowray that broke the surface, but went for the dock and parted the line. Alan did catch a beautiful 25 inch redfish, that was revived and released . Hoping to try this again when the weather is better!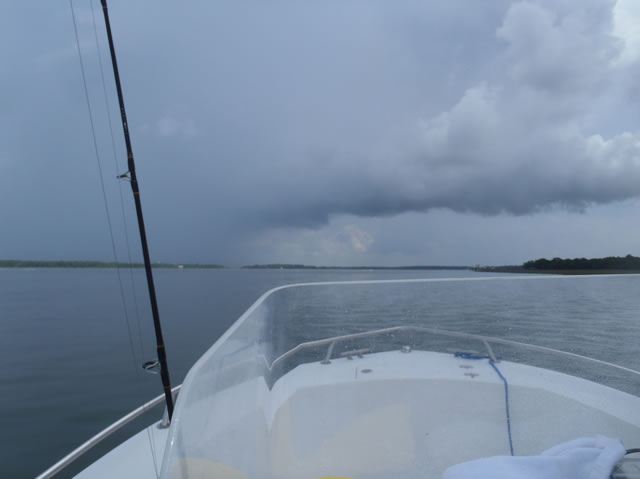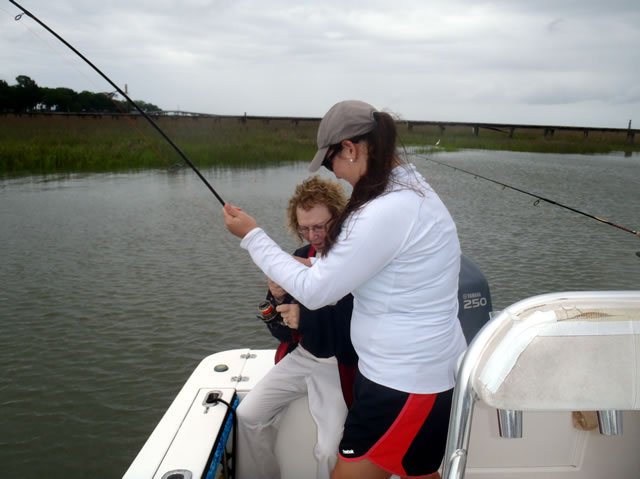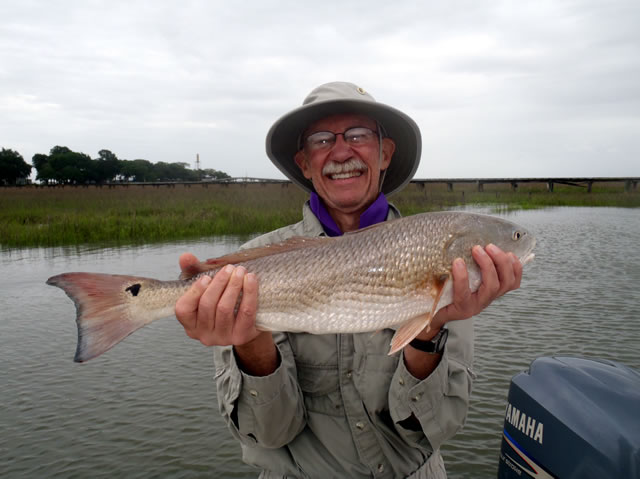 ---
---
Copyright © 2014 Thunderboltcharters All Rights Reserved.