---
09/30/2013
Capt. Rick had a 4 person 4 hour trip today for Miss Judy, part of a multiple boat trip. We departed the Weston at 8am and had to be back at 12pm sharp. We caught and released about 12 Redfish, several trout and a huge gar. All in all a good day on the water. Water was dirty in the Savannah River, so we move closer to the ocean.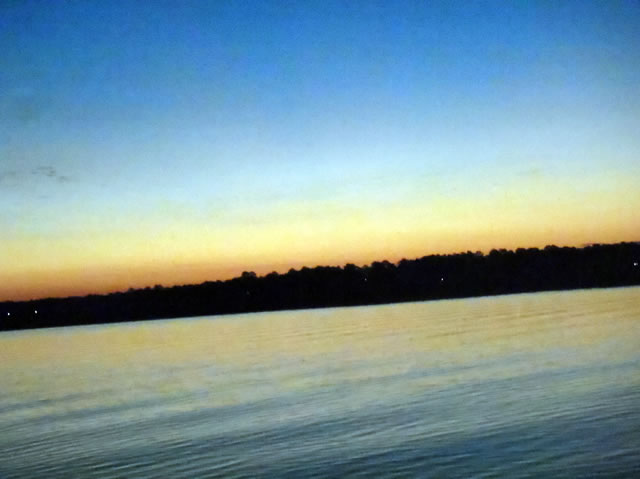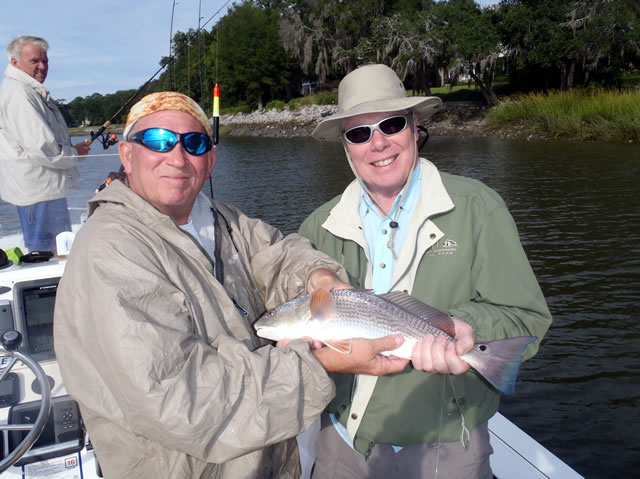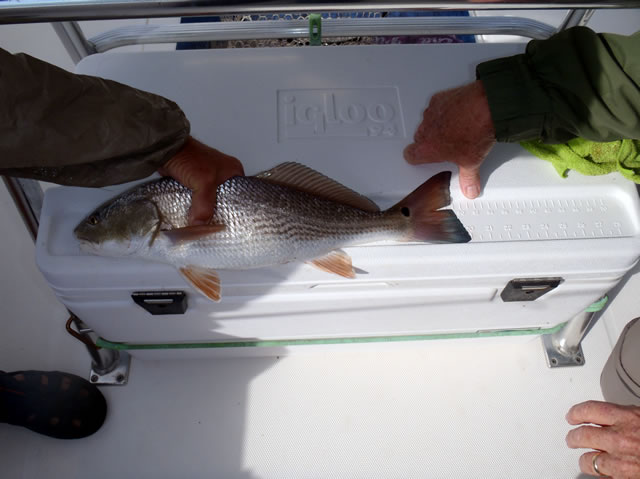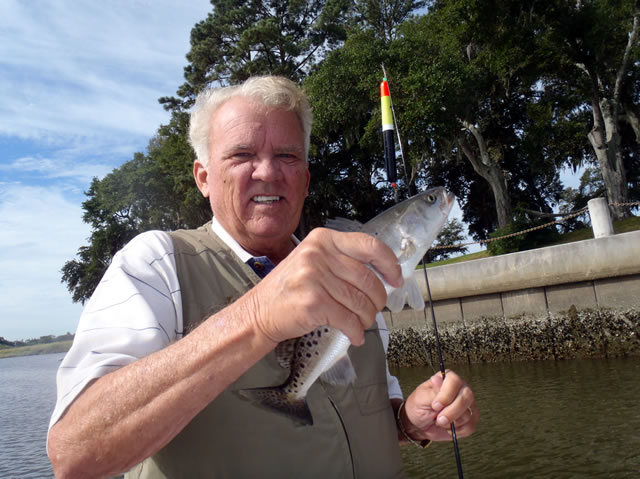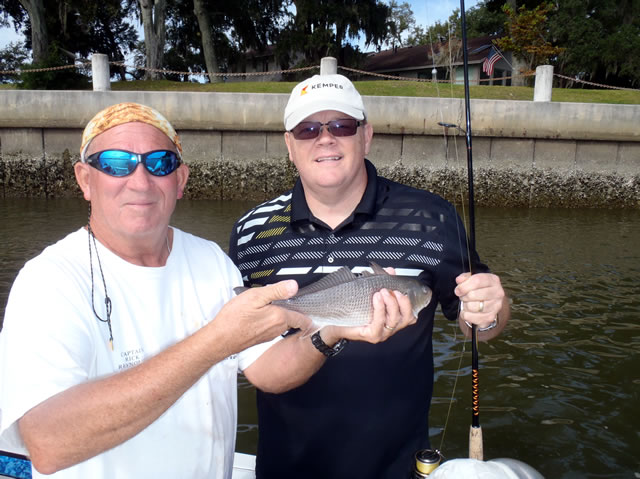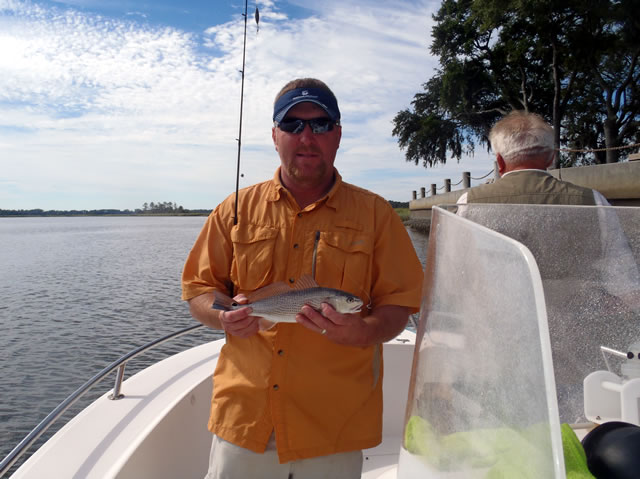 ---
09/29/2013
Capt. Rick had a 1 person 6 hour trip today. Windy as all get out, but we had nonstop action all day. Left with Gary at low tide, 10am and water temp was mid 70's and very clear. Kept 12 Trout, 1 whiting and 4 redfish and released the rest. Great day with a great angler. Largest trout 18 inches.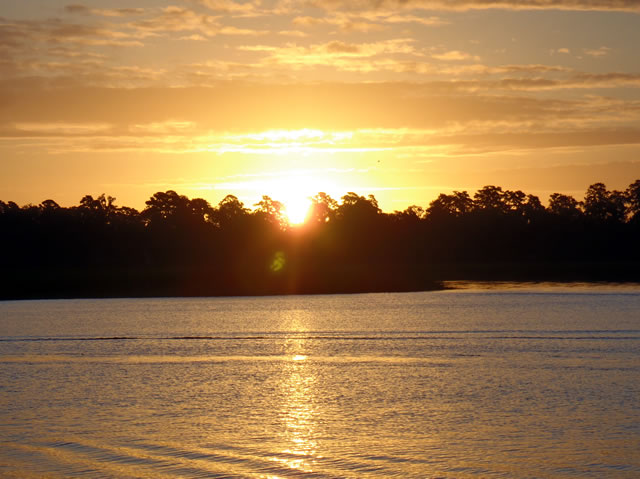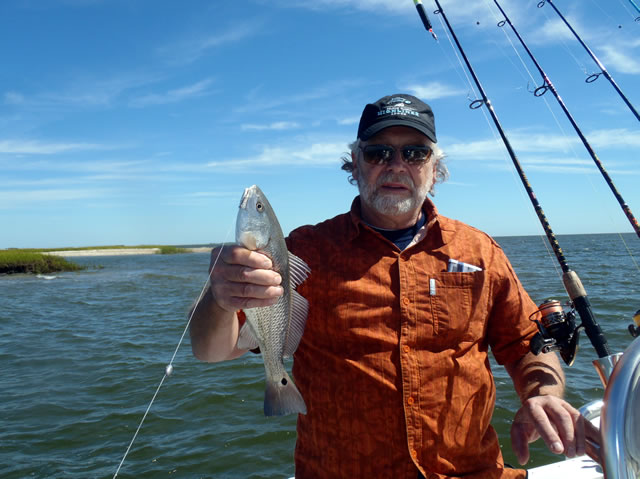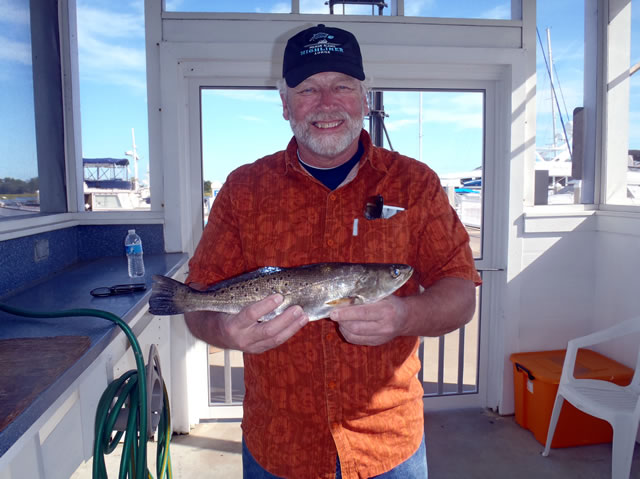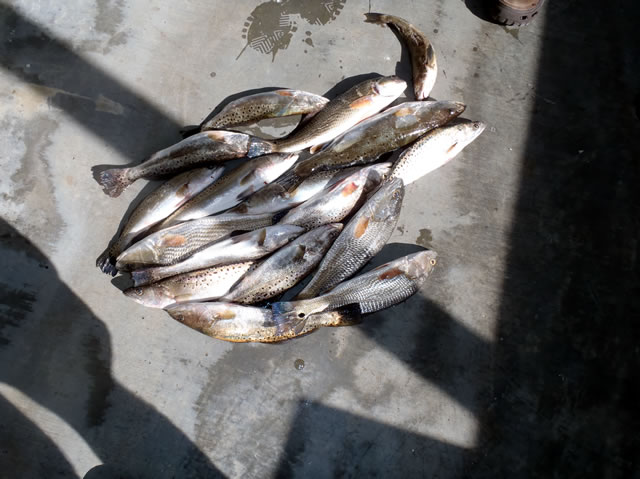 ---
09/28/2013
Capt. Jeremy had a 6hour 2 person charter with Terrance from atlanta, ga who was a NO SHOW! No phone call either. Bad thing was had 2 calls for charters for today that we didnt take. Thanks Terrance!
However Capt. Jeremy was lucky enough to have aa 3 person 4 hour trip this afternoon for BULL RIVER Marina. They did very good, even in the 15 - 20 Knot wind They caught Trout, Redfish and a few ladyfish. Had one bull red break off in the Grass and Landed a nice 31 inch Bull. Very Nice. This boat was in competion for big fish with another boat, Capt. Jeremys group won!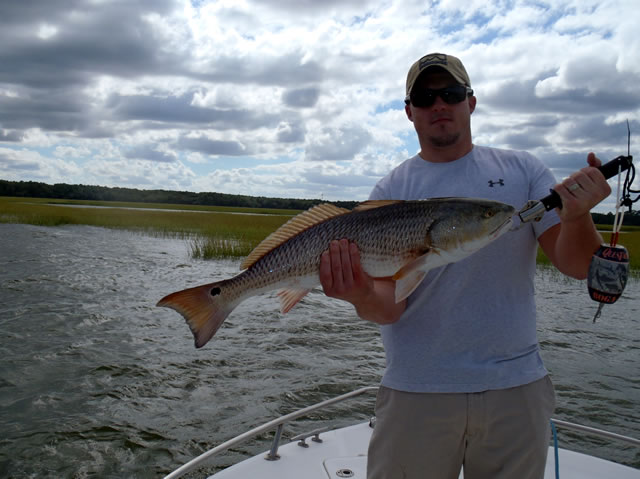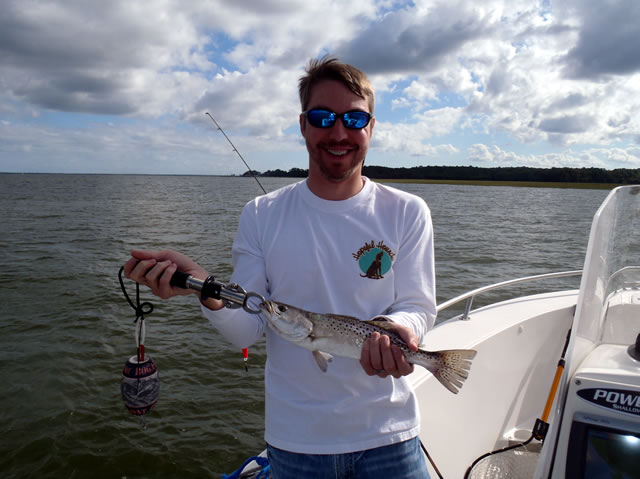 ---
09/26/2013
Capt. Jeremy had a 4 hour 3 person trip for Bull River Marina today. Weather was very marginal, but they were able to still get the trip in. They departed at 10:30am, after a heavy rain and fished out in Wassaw Sound. Wind started getting up aroun 18knots. They fished some protected structure and caught several redfish, Trout, ladyfish and 2 bonnethead sharks at once. Water was stained to dirty and the water temp was 76°and falling. Weather is being influenced by 2 depressions in the Gulf of Mexico combined with a cold front moving south. Expect the weather to clear up, but stiff winds on Friday.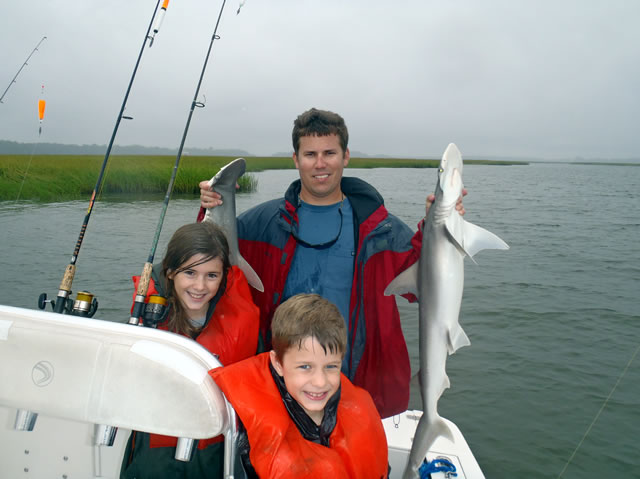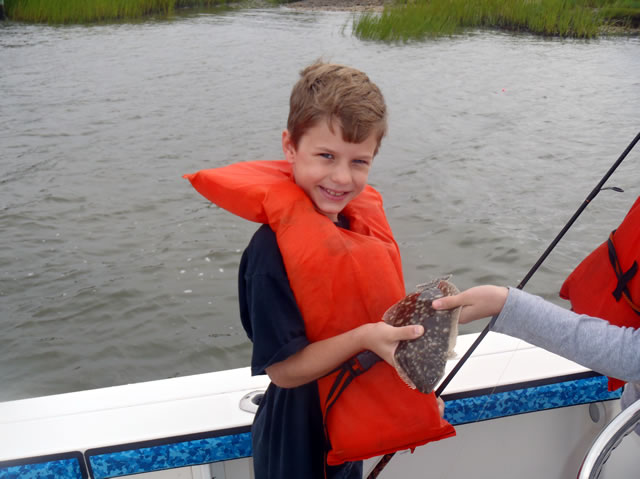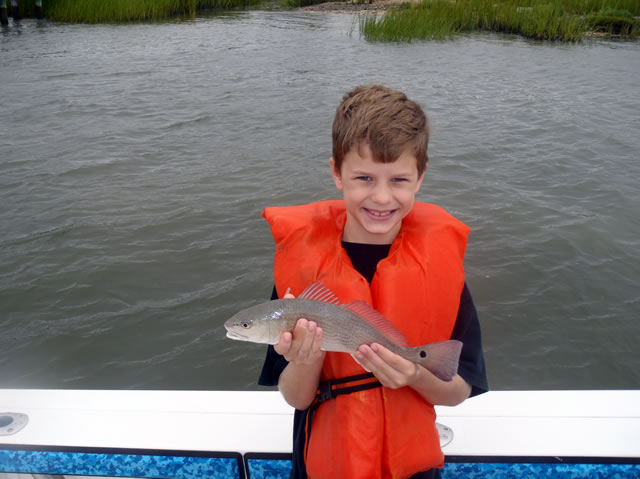 ---
09/22/2013
Capt. Rick had a 4 hour 3 person trip for Miss Judy today. Departed at 7:45 and returned at 12pm. Had steady action in between rain and wind. Wind was west at 15 K and it showered, rained all trip. We kept 5 or 6 redfish and 3 trout. Caught and released 1 bonnethead shark, several ladyfish, and bluefish as well as some short redfish and trout. Didn't get an oversized Redfish today.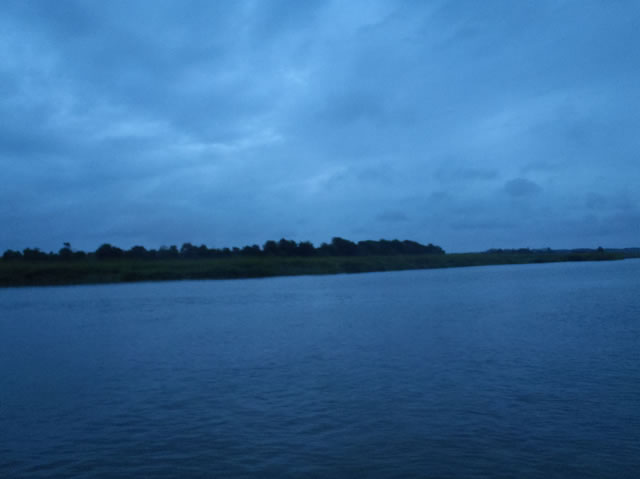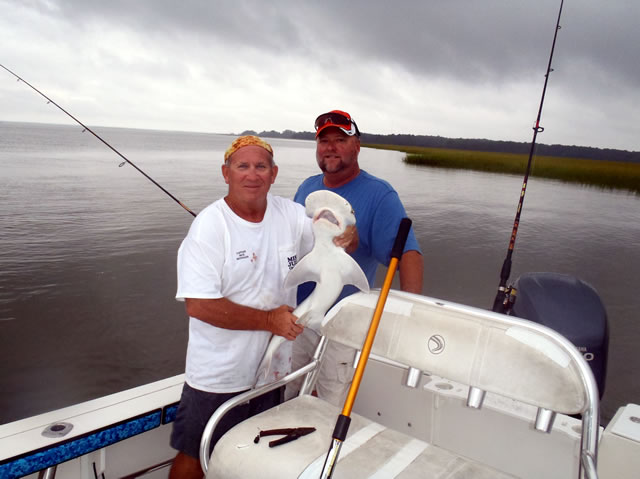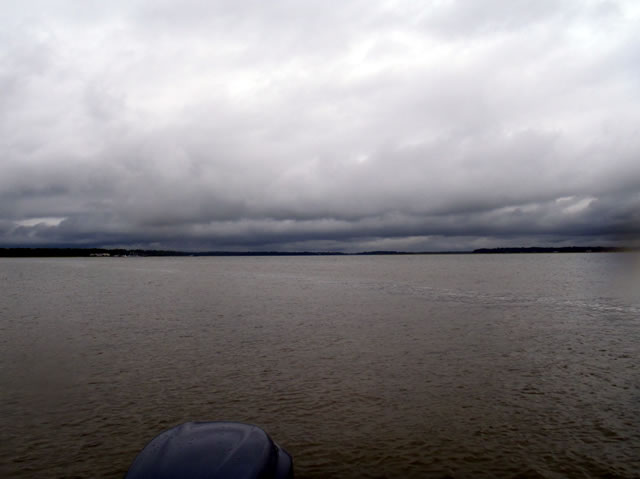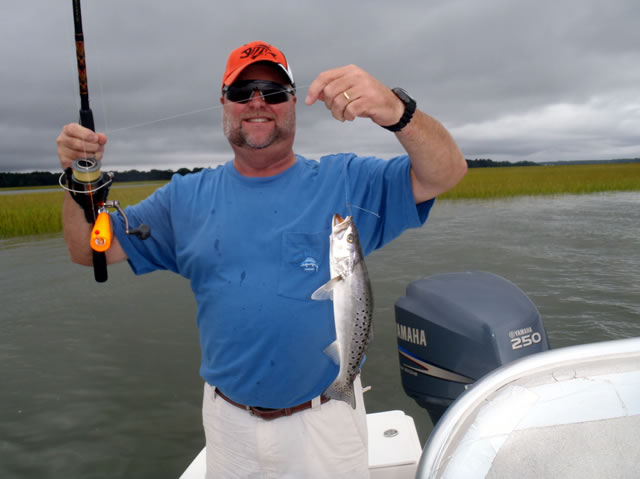 ---
09/21/2013
Capt. Rick had a 6 hour 2 person charter for Miss Judy and Capt. Jeremey had a 4 hour 2 person trip for Bull River. Capt. Ricks trip started early at 7am and Capt. Jeremys started at 2:30pm. We are on the influence of a full moon and are experiencing exceptionally high tides and swift currents. Luckily Capt. Ricks trip got on some Redfish before the tide reached the grass, once in the grass it was a couple hours before the bite started back. We kept 4 slot redfish and 1 nice trout. Released an oversized redfish and several smaller ones as well as ladyfish, bluefish. We also released a decent bonnethead shark and was broken off many times.
Capt. Jeremy had to fish the end of the tide, which was a negitive tide and the first two hours of incoming late in the afternoon. They did catch and release a few redfish that were not in the slot, but good considering the conditions.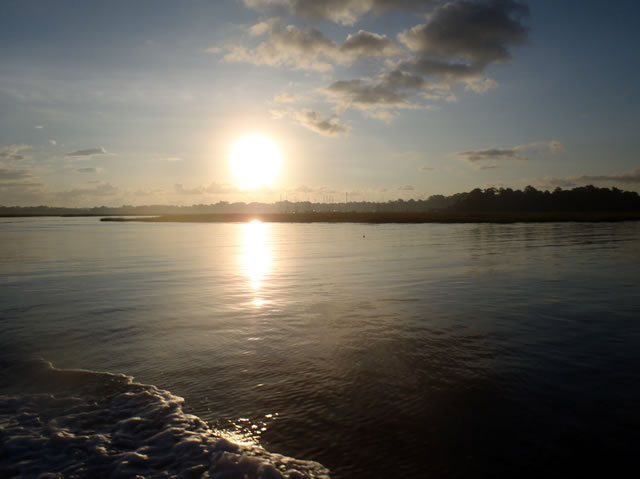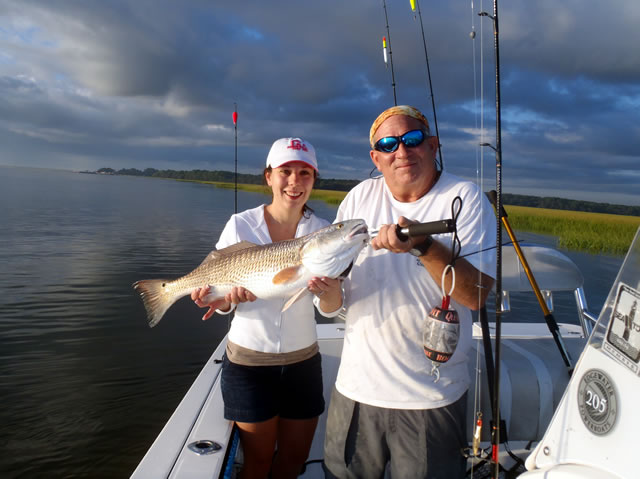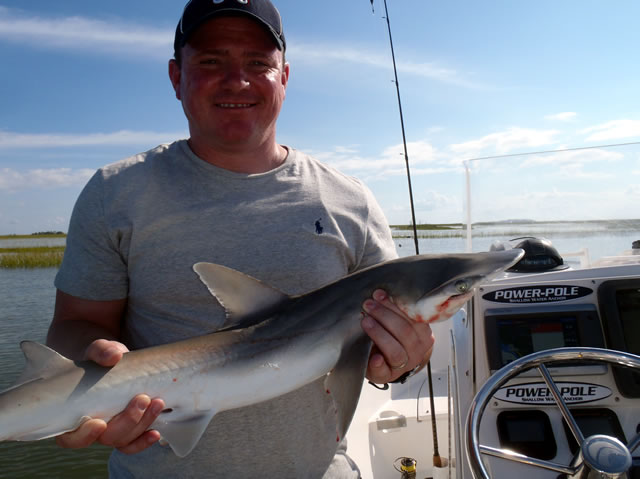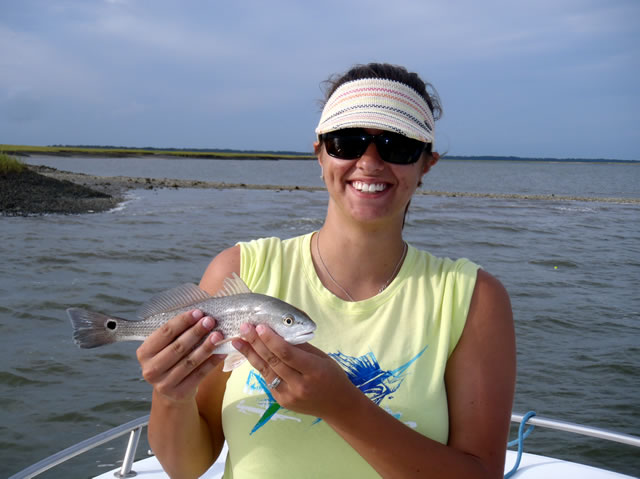 ---
09/18/2013
Capt. Jeremy had a 4 person trip on 9.18.2013, for Bull River Marina. The winds were howling out of the northeast at 20knots, so they were unable to fish wassaw sound today. Water temps are dropping to the upper 70's and low 80s. Also coming up on a full moon so the currents were fast and the tides high. They caught a few fish as this was a 4 hour trip starting at 7am. They best fish of the day was a nice flounder.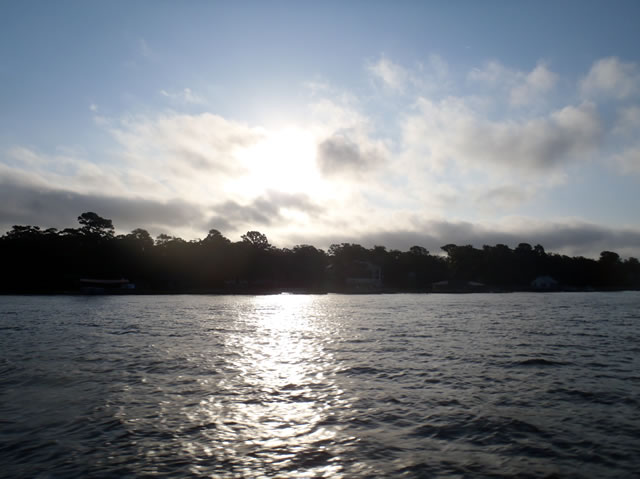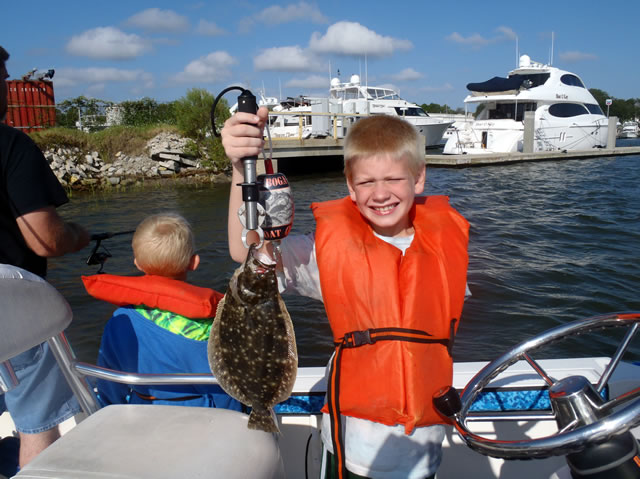 ---
09/15/2013
Capt. Jeremy had a 4 person trip on 9.14.2013, but they forgot to cancel.....Capt. Rick had a 3 person , 5 hour charter for Miss Judy today. Had to pickup at the Weston at 7am, so that entailed running up the savannah shipping chanel in the dark and in a thunderstorm. Rough Trip. We fought the weather all day. The 3 guys I had were from Russia and they wanted to catch some sharks, so we caught a few trout, ladyfish, and several bonnethead sharks and atlantic sharpnose sharks. All released except 1 bonnethead they kept. My boat was part of a 3 boat trip with 8 russians total. We did catch but we got wet as well.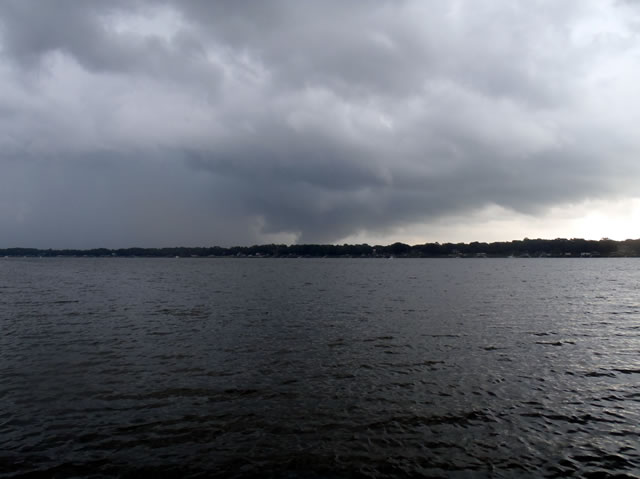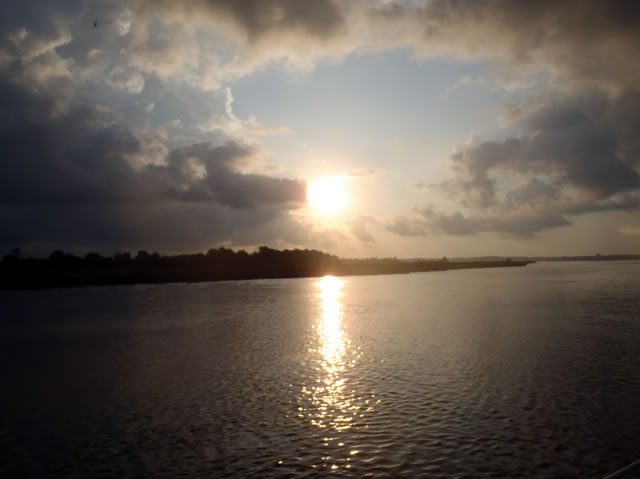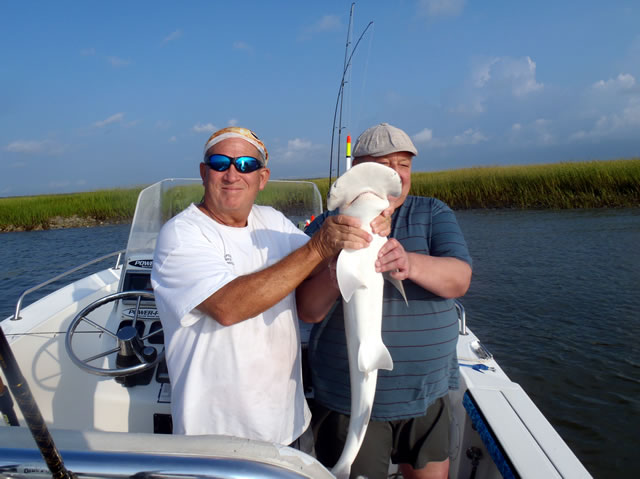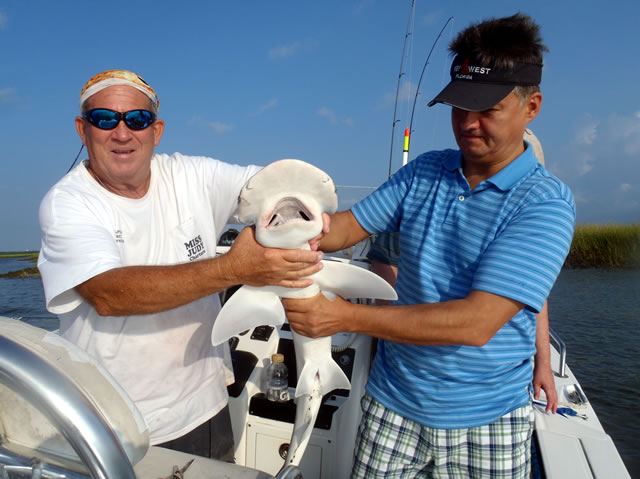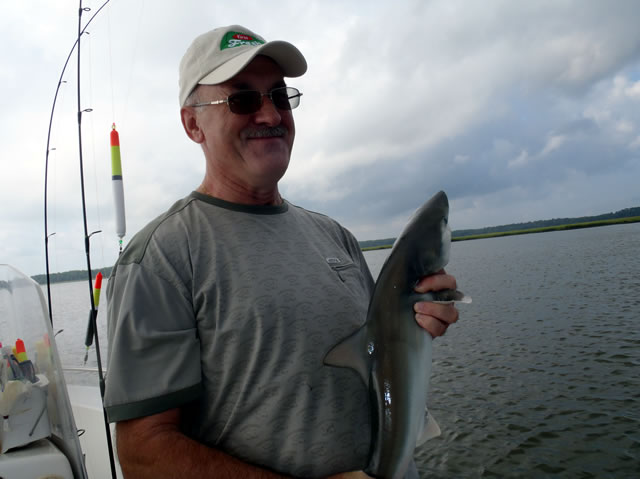 ---
09/07/2013
Capt. Rick had a 3 person , 6 hour charter with Jeff and his daughter and daughters boyfriend Will. We pretty much had steady action all day except at a few drops. We departed around 6:50 am with the water temps in the low 80's. Stained at some places, muddy at others and surprisingly very clear at other places. We Released a huge number of ladyfish, some redfish that were just under the slot and several bluefish.
Both Guys were excellent anglers. Wills first keeper was a very nice 6lb plus flounder. The trout bite was good if you could get a bait past the ladyfish. We Kept 9 speckled seatrout and the 1 big flounder. We are scheduled to fish again next month, and it should be great!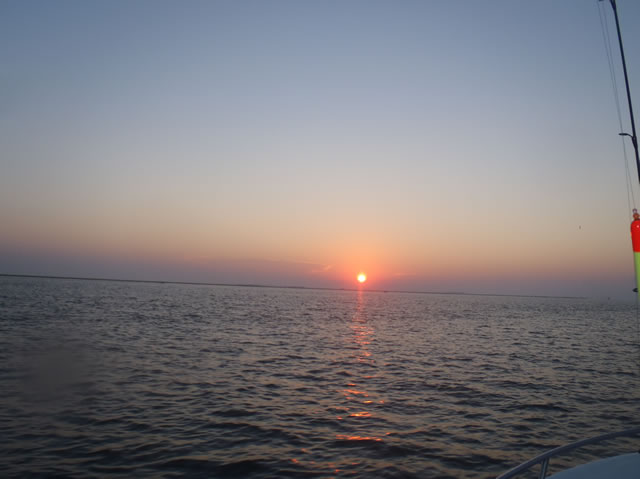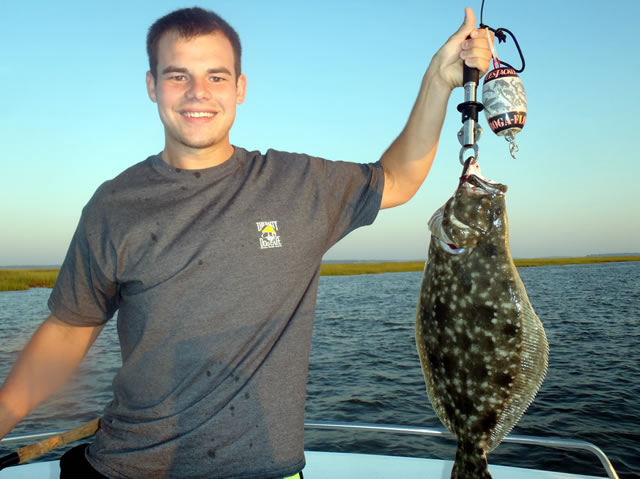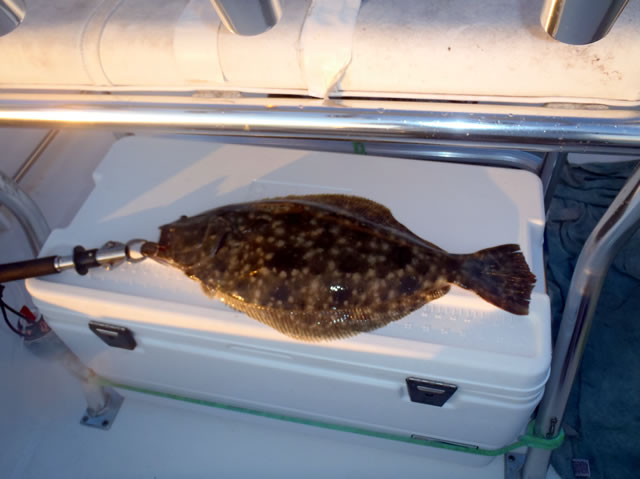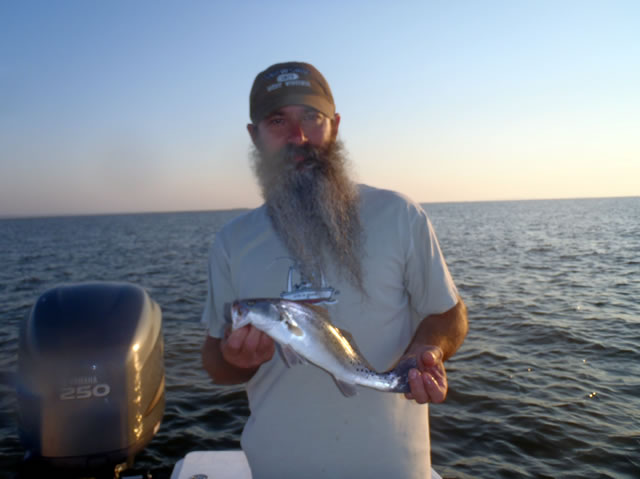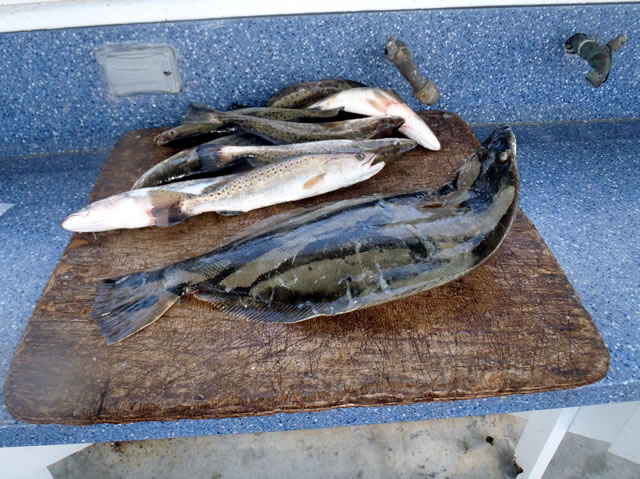 ---
09/04/2013
Capt. Jeremy had a 3 person , 6 hour charter with Billy and his group from Covington. They departed the marina at 7am and fished 1 hour of the incoming and 5 hours of the outgoing. Capt. Jeremy reported that the water was stained and the temp was 84°. However its still summertime and the redfish were very plentiful, but just short of legal to keep. They also caught some trout, and ladyfish as well as a sharpnose shark. The croakers are very plentiful as well. They did also catch a juvenile Jack Crevalle.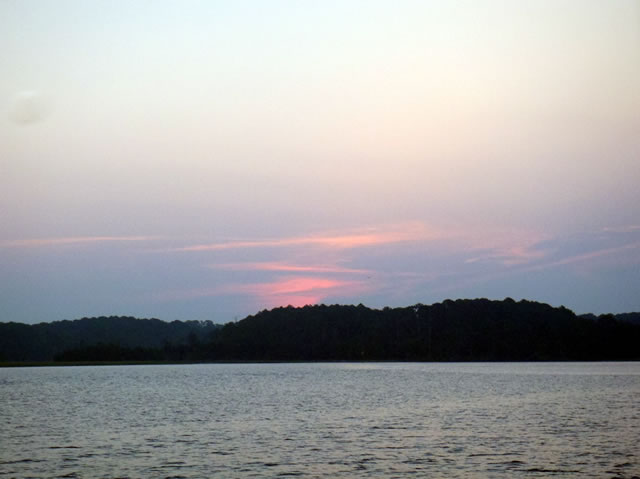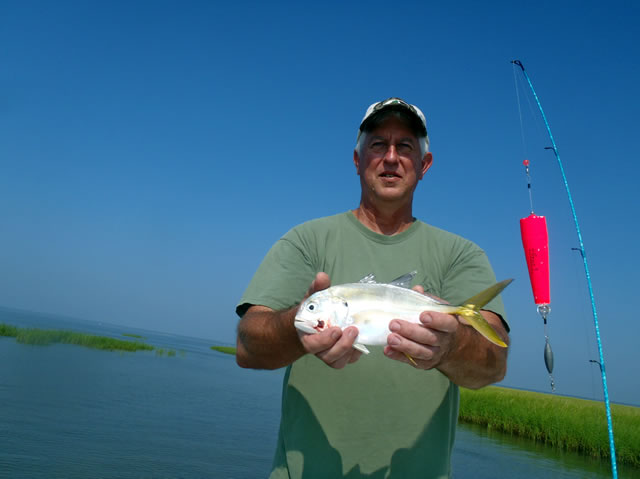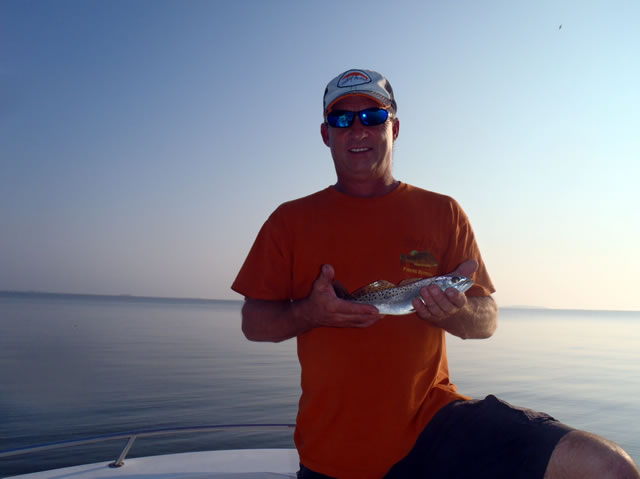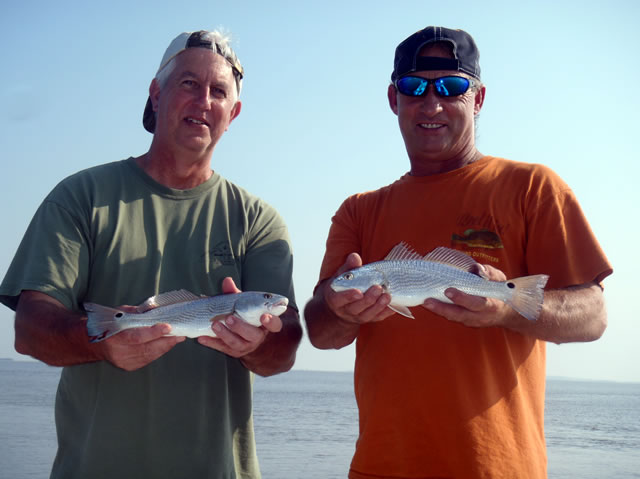 ---
09/01/2013
Capt. Rick Had a 2 person , 6hour charter with Baker and his wife Lauren. We departed at 6:45 am and fished all the outgoing tide. Had quite a bit of action, with catches of redfish,bluefish, whiting,flounder, spinner sharks, and bonnethead sharks with a few small ladyfish. All fish were caught and released today. Also hooked up a ladyfish, pitching a gold spoon. The rest were caught on Live shrimp from Adams Baithouse.

Water temp was 84°at most drops and clear at the top of the tide, turning stained by the end of the day. Winds started out light out of the southwest, but picked up to about 10- 15k by 12pm. Both were very good anglers and Lauren caught on quickly on casting with a spinning rod.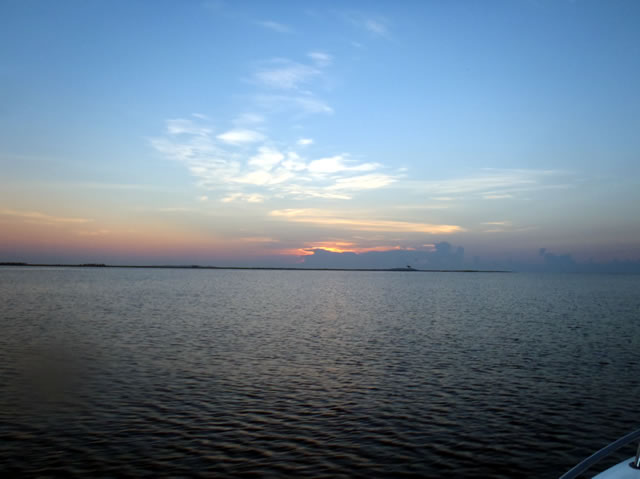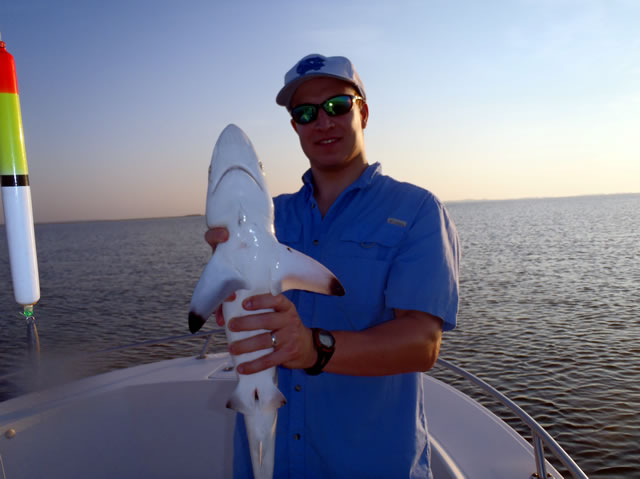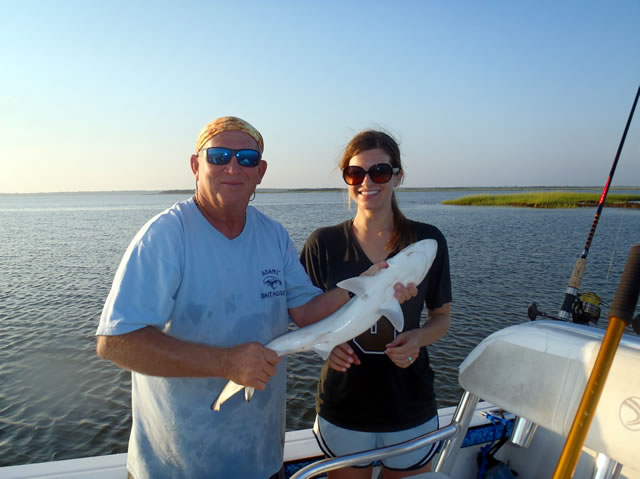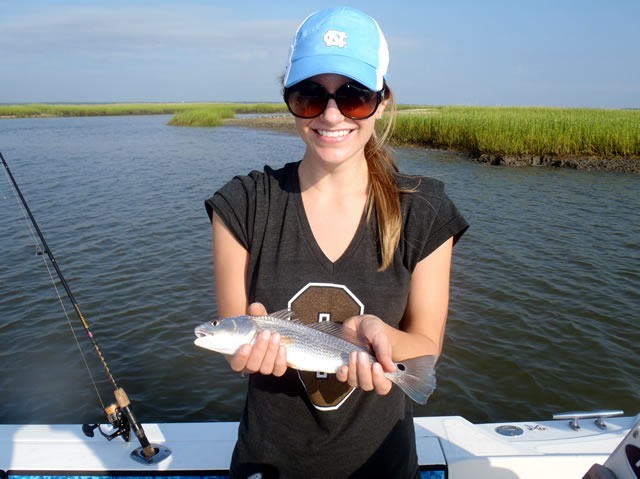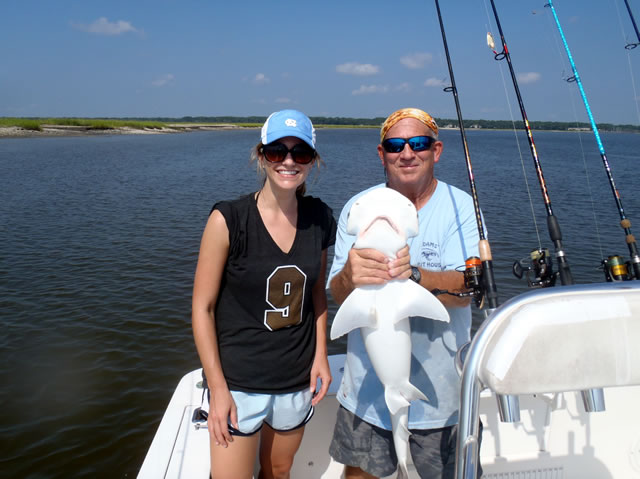 ---
Copyright © 2013 Thunderboltcharters All Rights Reserved.