---
07/28/2013
Capt. Rick had a 6 hour 2 person trip with Linda and Chris from Kentucky. Water was much cleaner today , due to the waning moon phase. Water temp was in the very low 80's. Current was not ripping and fishing was good. Linda wanted to catch a bonnethead shark which she did, but I broke it off at the boat. Then later she caught a nice spinner shark, that we did land. She also had a rather large spinner shark on for a few minutes. We also caught and released many blue fish and ladyfish.
The trout bite was very good today. They kept 10 very nice speckled seatrout for a meal and we released about 20 more, that was either short or 16 inches. They set a limit of 10 fish to keep and released the rest which they did! It was a very pleasent trip with a fair amount of action. I hope they enjoyed it as much as I did. The last picture of Chris holding a trout by himself, Made a quick jump over the side of the boat. Didn't make it to the cooler, but that was ok, she was a very pregnant roe trout.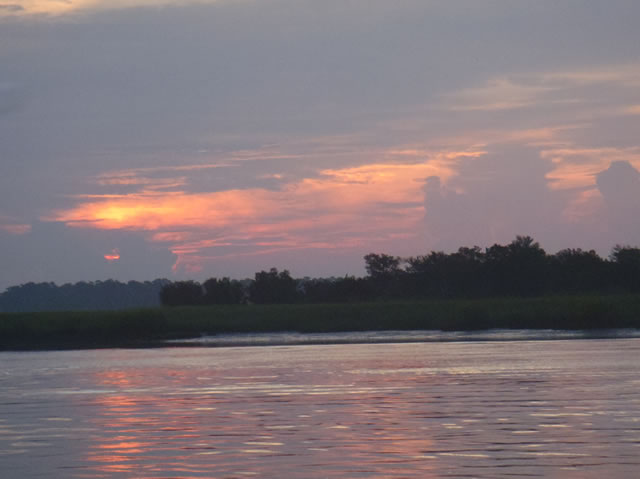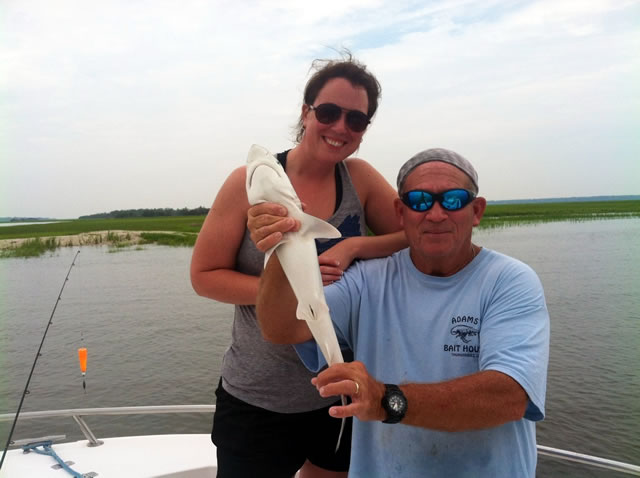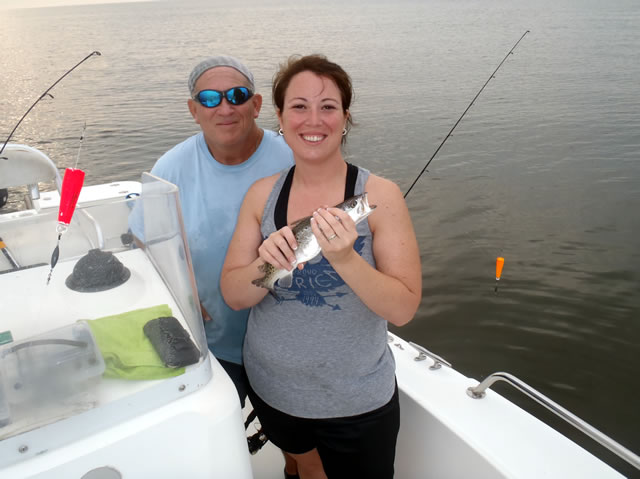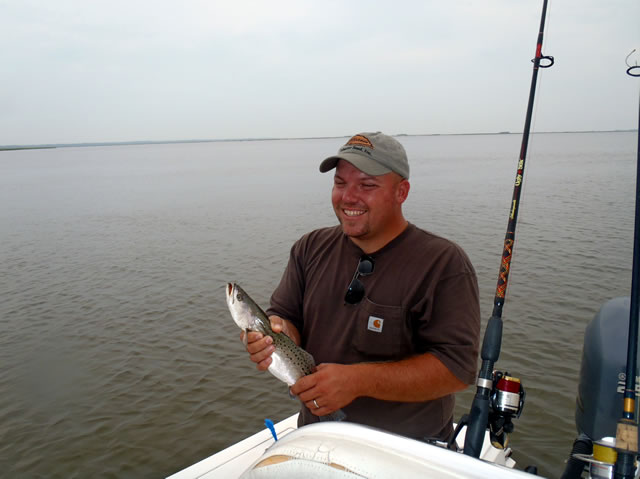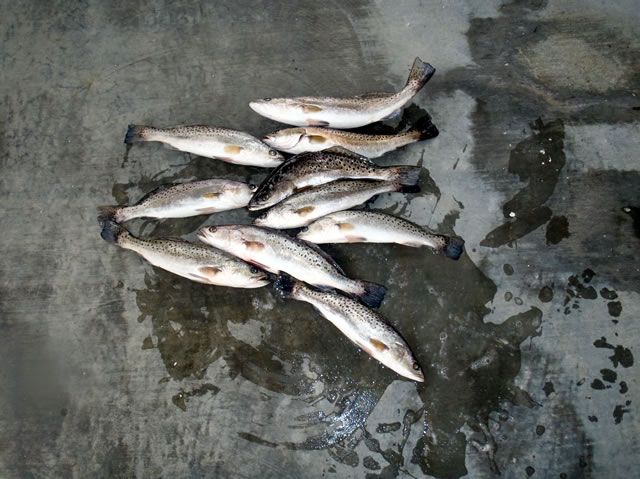 ---
07/25/2013
Capt. Jeremy had a 4 person 6 hour trip today with Jesse and his family. Water conditions were much like yesterday, water stained and temps around 80 degrees. They caught some undersized redfish and plenty of ladyfish, which do put up a nice fight, but were not the target species. They also caught some sharks and a decent flounder.

This is Summertime fishing and you are going to get a mixed bag of fish. We are hoping for cleaner waters in the next day or so. We are finally coming off the affects of the past full moon and that combined with the flooding is responsible for the dirty water.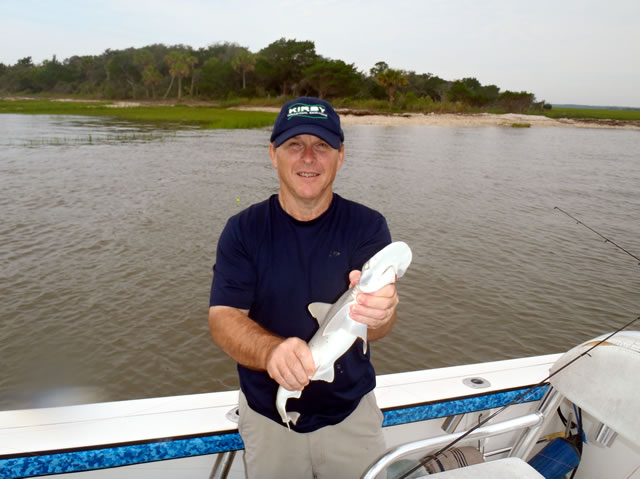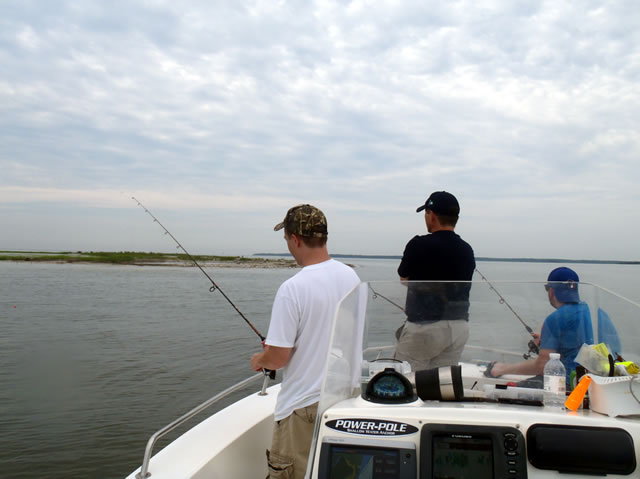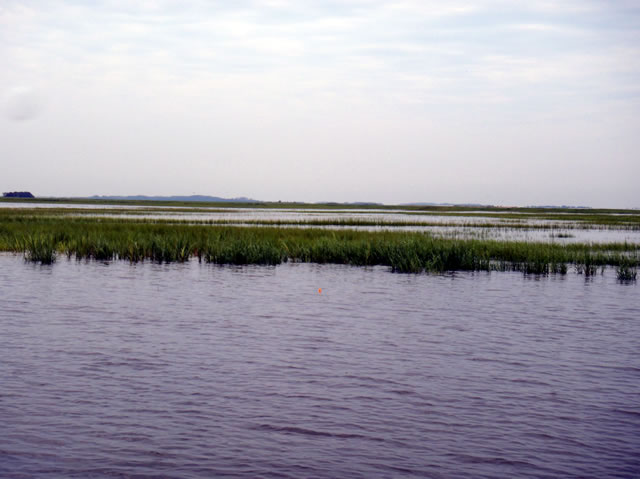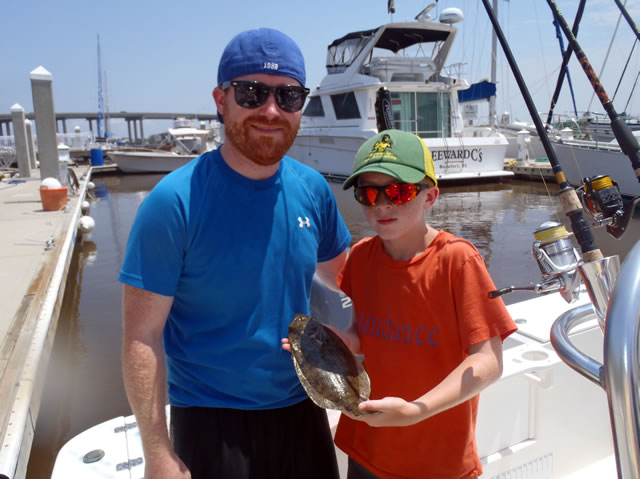 ---
07/24/2013
Capt. Jeremy had a 4 person 6 hour trip today with Roger and some of his family. Water temp was 80 degrees and muddy. However they caught about 10 blacktip sharks, 1 bonnethead shark, several short redfish, some short trout and 1 nice flounder. This was an afternoon trip that started at 1 pm. I took Roger about a year ago. According to Capt. Jeremy they caught more today than when they went with me.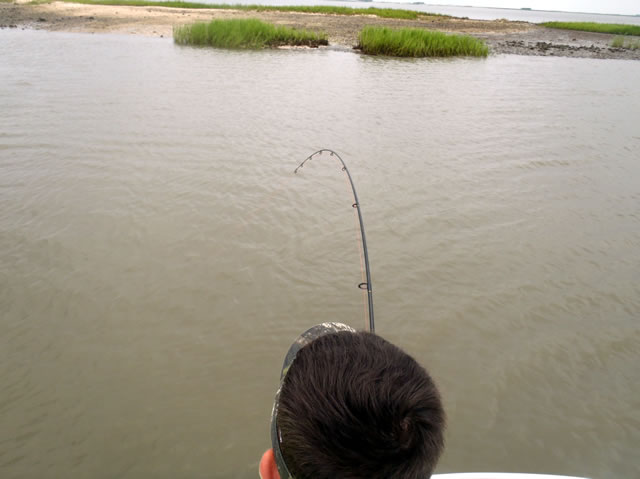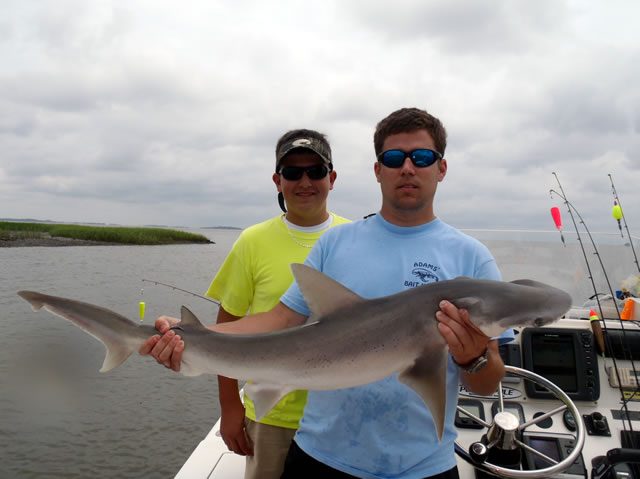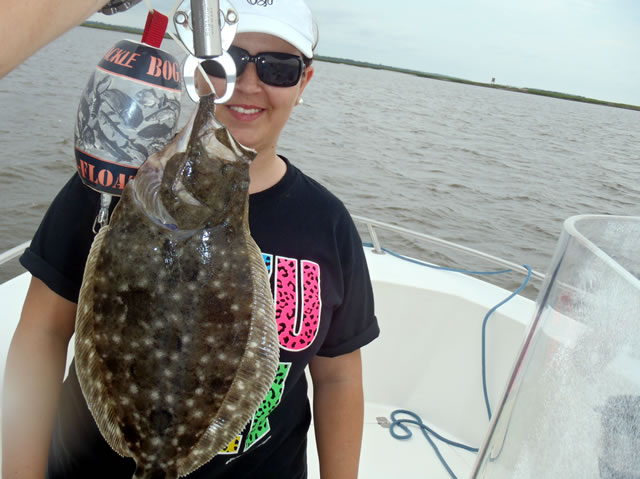 07/20/2013
Capt. Rick had a 5 person 5 hour trip for Miss Judy today. I will only take 4 people usually, but this was a special case. She had committed to a very large group and 2 boats that ran for her today were going to have 5. That being the case I opted to only bottom fish. We did quite well considereing the amount of people. We released several small sharks and 1 large eagle ray and kept 35 whiting. Weather was calling for rain and I did get in a storm after dropping off the 5 guys at her dock.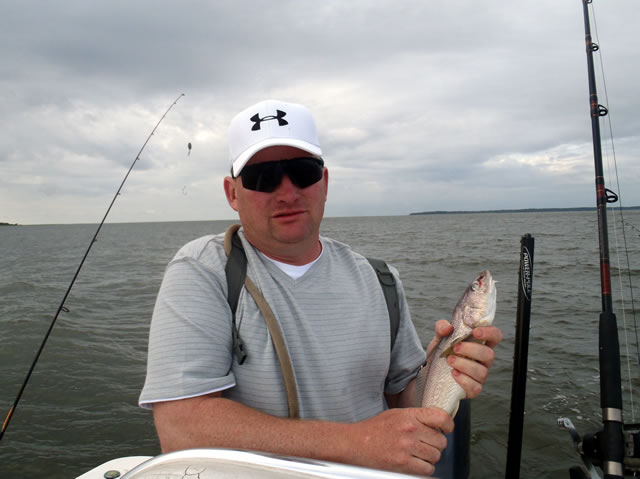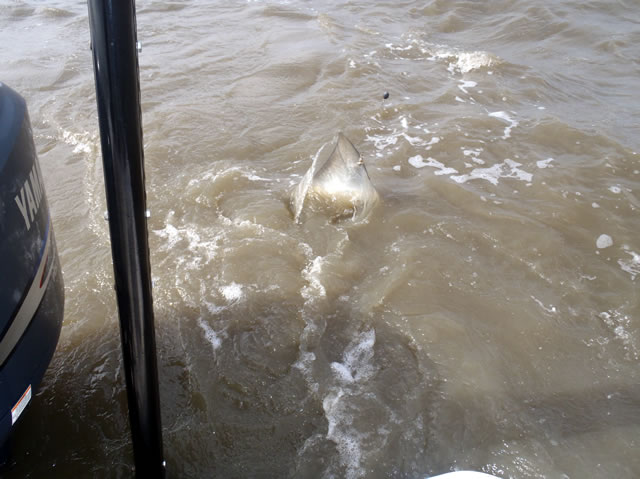 ---
07/20/2013
Capt. Rick had a 2 person 5 hour trip for Miss Judy today. Fished the last 5 hours of the outgoing tide. Caught a few Speckled seatrout, and undersized redfish as well as some croakers, whiting, and 2 bonnethead sharks. Action was ok to slow due to all the freshwater and the approaching full moon.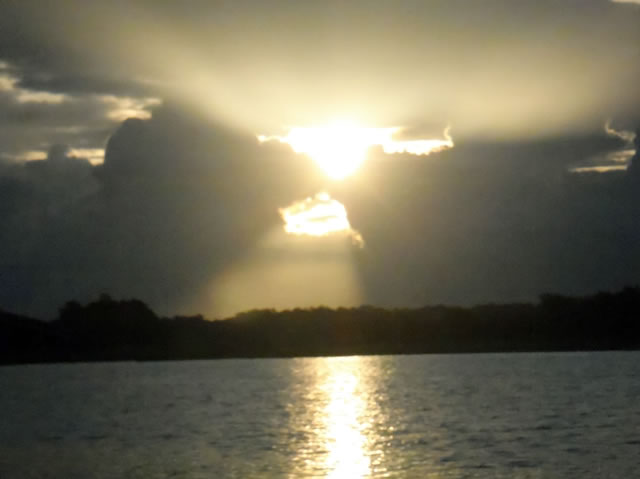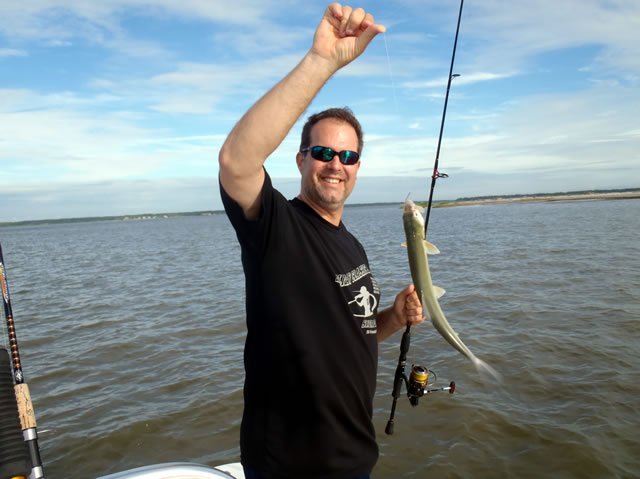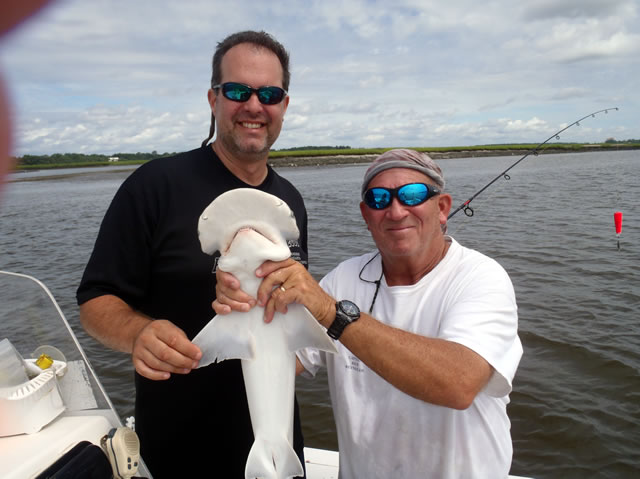 ---
07/19/2013
Capt. Jeremy had a 3 person 4 hour trip today with Joe and his wife and young son. However the day started out wet and they were rained on off an on. Also the Savannah river is dumping a lot of fresh water into our watershed fishing area, so we are hoping it won't impact fishing too much. They were able to catch a few fish, but again there were quite a few small ones . They lost on big fish, that was either a shark,tarpon or a redfish. whatever it was went deep, pulled off almost 200 yrds of line. They regained almost 100 yrds, before the leader broke cleanly.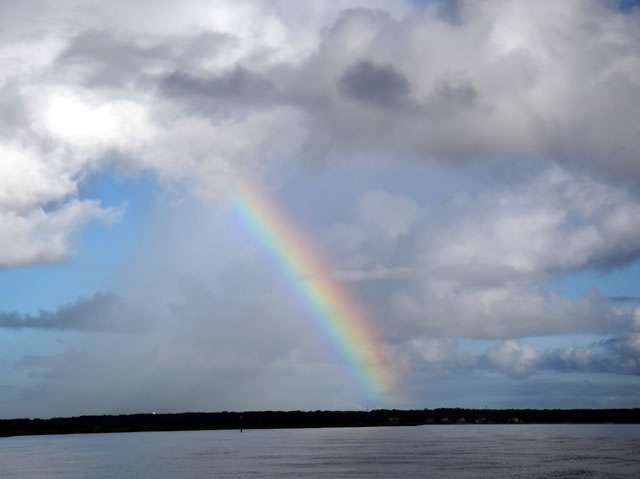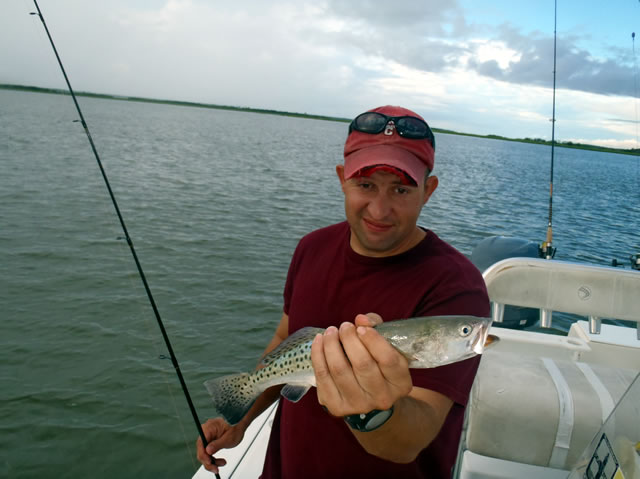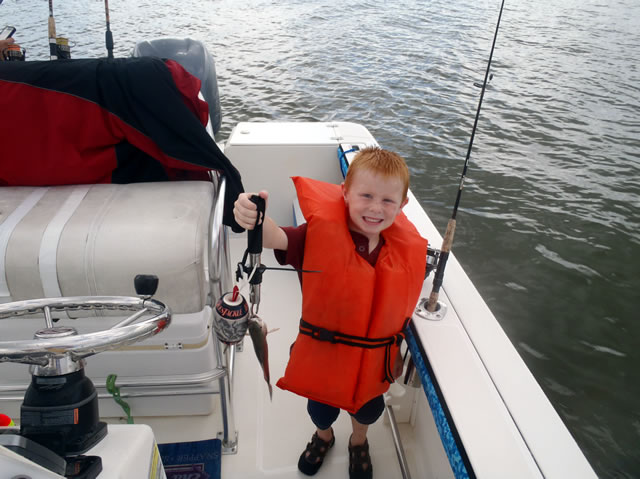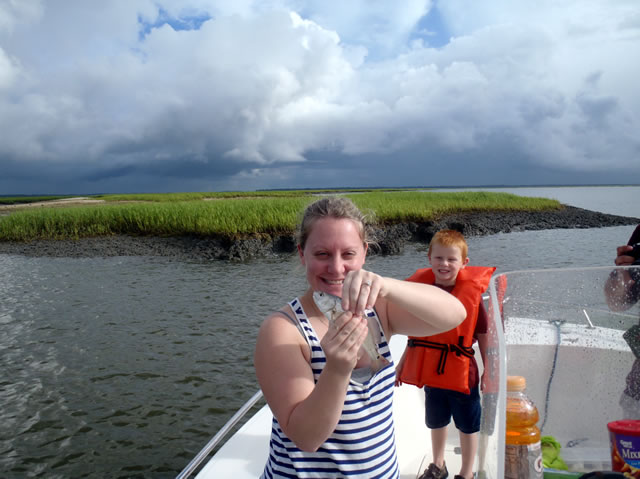 ---
07/18/2013
Capt. Jeremy had a 4 person 6 hour Trip With Randy and his family. The Water temp was 84 to 85 degrees and stained. We have been having extra water due to all the rain we had last week and its flooding the sounds. They caught a good many trout and reds, however they were mostly smalls. They also caught 2 very nice Bonnethead sharks and released one of those and 4 smaller sharks. It was steady action, but alot of these fish were small.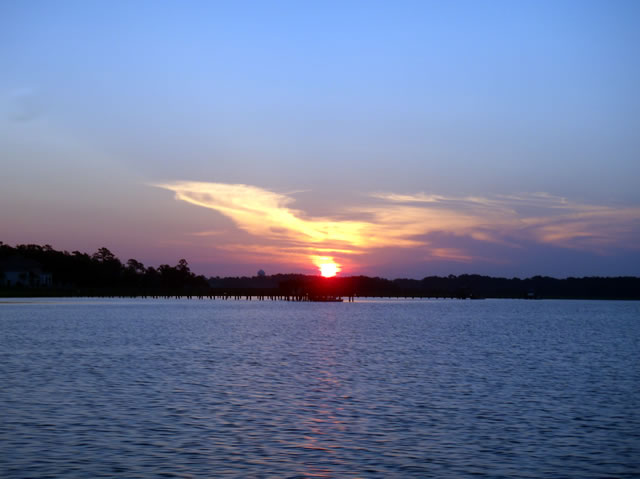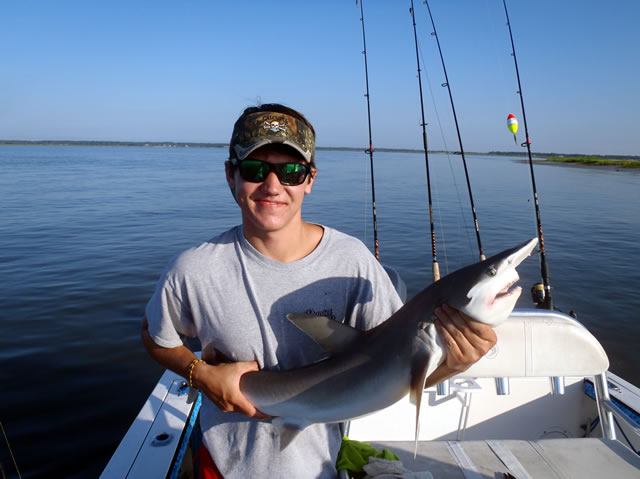 ---
07/17/2013
Capt. Jeremy had a 2 person 6 hour Trip today with Dan and his son. A high pressure moved in last night and slowed the bite down some. They did catch a few trout and undersized redfish. They wanted to catch a bonnethead and they did catch 2 but one broke off at the boat after going around the powerpole. A clear day, but with some wind. Hopefully these guys will come back in October or early November and catch the schooling Trout and redfish.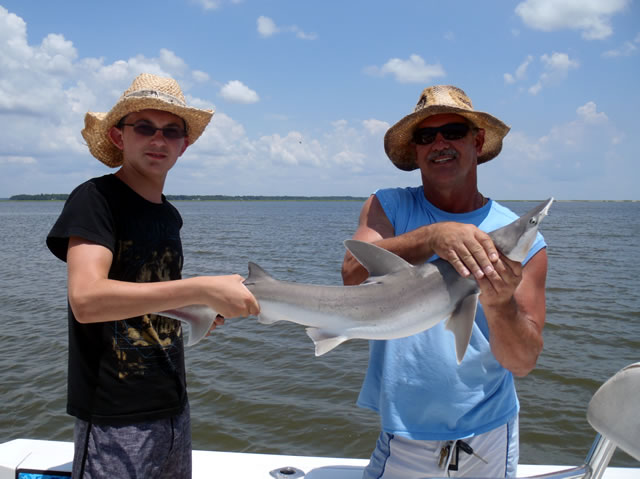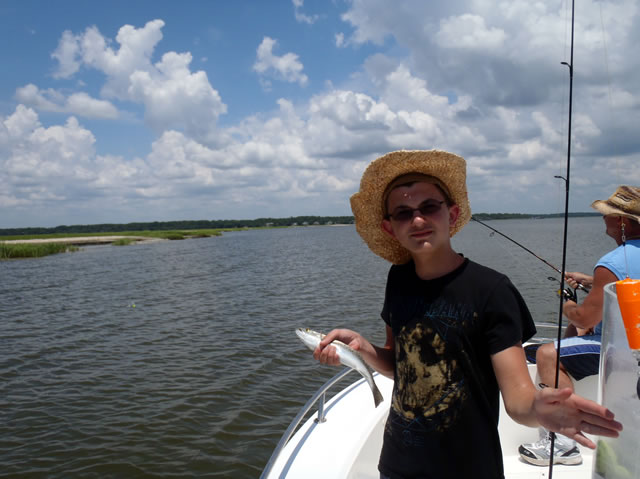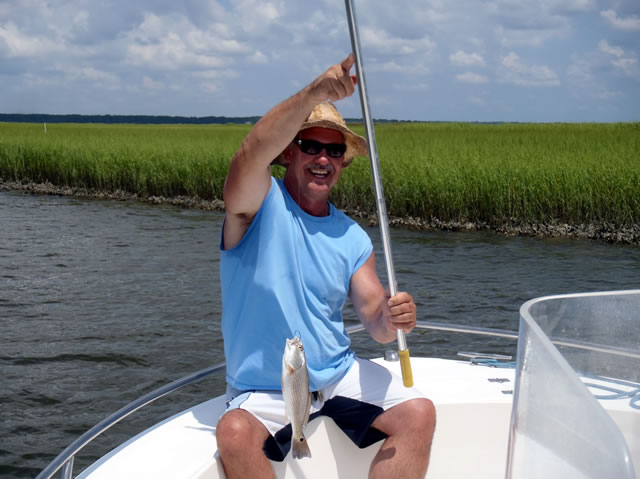 07/16/2013
I had a 3 person 6 hour trip today with a friend Brian and his friends William and Jeff. Again I had a great group of anglers who were very good. Water temp was 78° when we departed at 7am. We fished the last hour and 20 minutes of the outgoing and the rest of the time was on the incoming tide. Wind was stiff out of the East at 10 knots, gusting to 15. We caught fish on most drops, some produced better than others. Brian wanted to catch a bonnethead Shark and we started the trip with one of those. Everything today was Catch and Release. We caught several 16- 18 inch Speckled Seatrout and several bonnethead sharks. There were many catches of ladyfish and a few croakers. Had quite a few smaller trout. William landed a very nice 27 inch Redfish that we revived and released. All in all a great day of fishing with a nice group of people. Brian ended the trip with a Bonnethead shark that was a handful.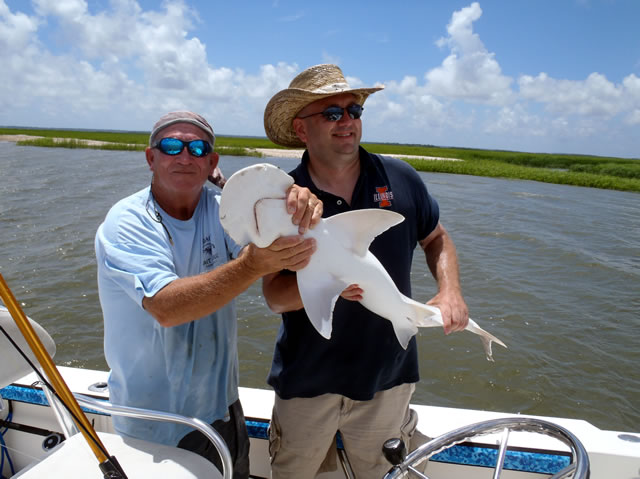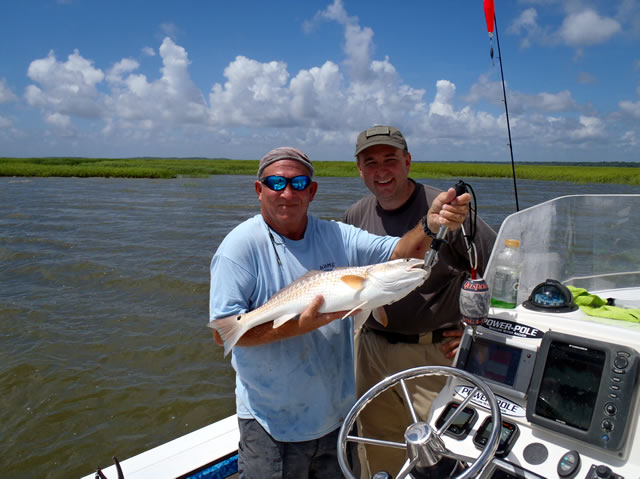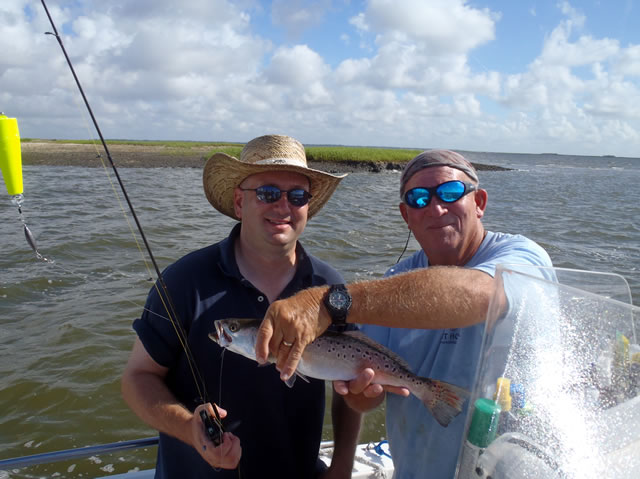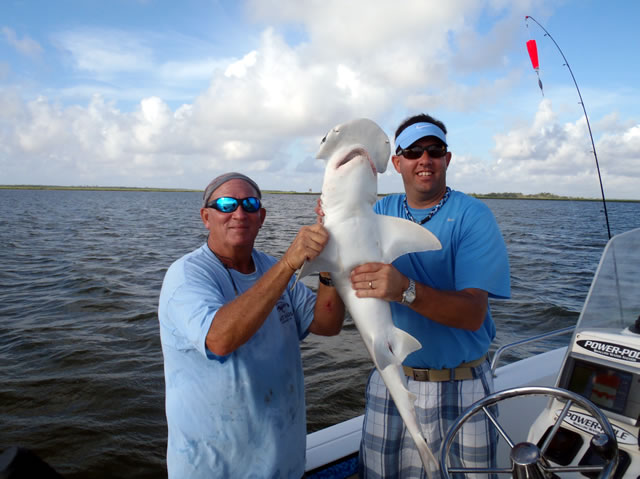 ---
07/14/2013
I had a 2 person 6 hour trip today, but had to cut it down to 4 hours due to the rain, wind and thunderstorms, that were not really supposed to have been here today. However we did catch some speckled seatrout and Michael, brought his own shark rig, hooked up 4 times and landed 1 small blacktip. He had leaders break, but is learning what to try next time. I have fished with Scooter and Michael several times and as always, a pleasure. We might try to sqeeze in a night trip before the end of the week.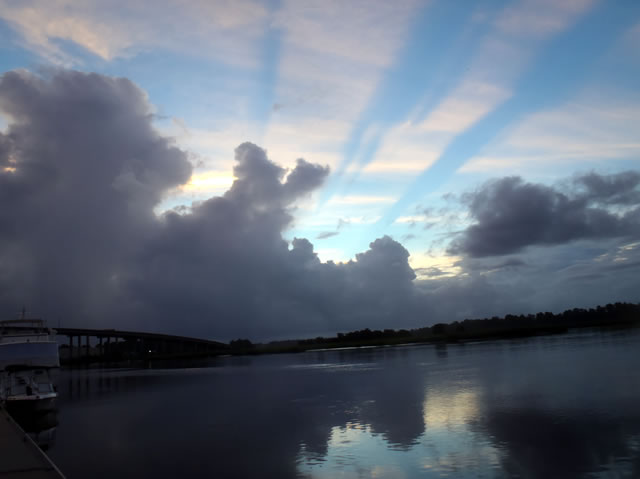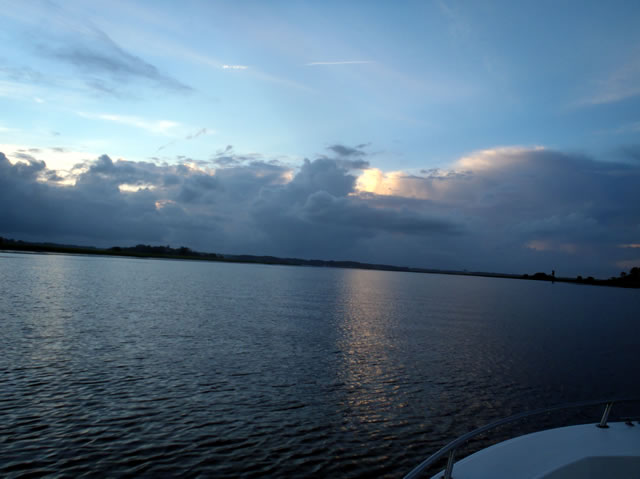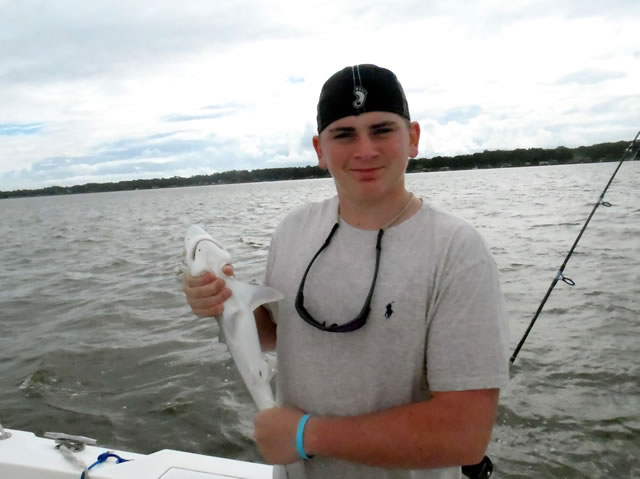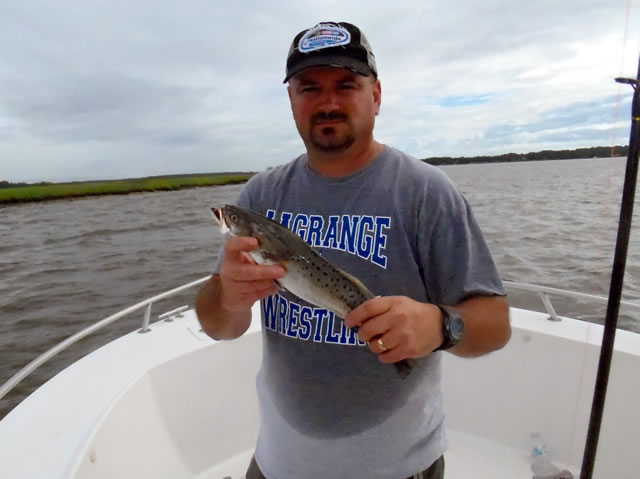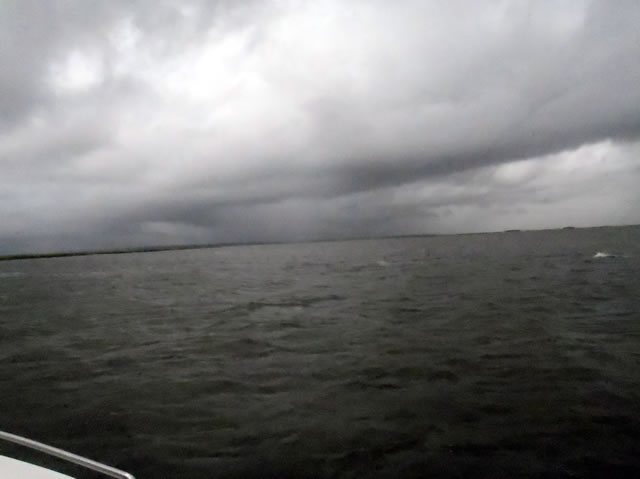 ---
07/13/2013
Capt. Jeremy, had a 2 person 6 hour trip today for Thunderboltcharters today. This is a repeat trip for Andrew and the first time bringing is wife.They did extremely well catching Speckled Seatrout, flounder, ladyfish and bonnethead sharks. They kept 2 flounder, 7 Trout, and 1 redfish. Everything else was released. Water was stained to clear, after fishing through some light rain this morning. Water temp is mid 80's as was the airtemp today. Winds were light out of the the southwest. Andrew is planning another trip before the end of the year!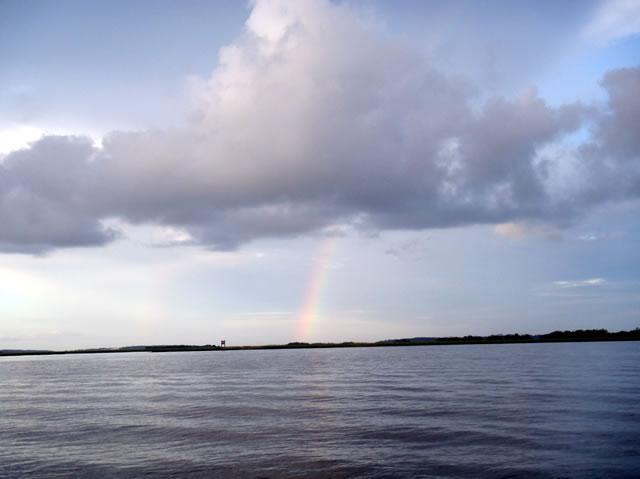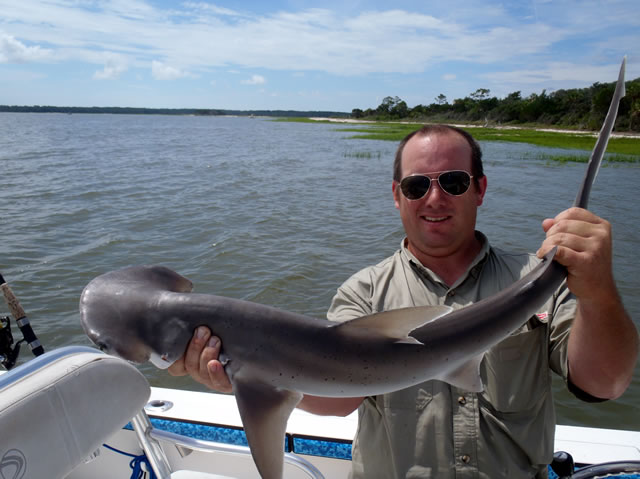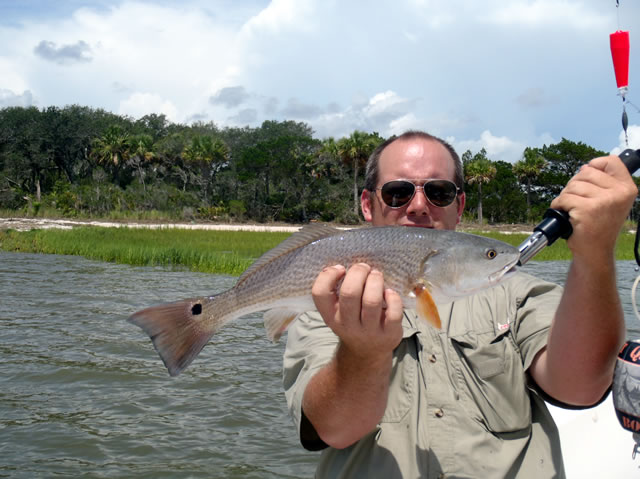 ---
07/10/2013
Capt. Jeremy, had a 3 person 6 hour trip today for Thunderboltcharters. He had Victor and his family. Water temp was mid 80's. Wind layed down for the first part of the trip, but picked up as it got closer to noon. They started at 7am and fished the last of the incoming and the first 3 of the outgoing tide. Capt. Jeremy reported steady fishing for the whole trip. They released all that they caught which included, redfish, flounder, trout and bonnethead sharks. Capt Jeremy reported that they were a pleasure to fish with. below is Capt. Jeremy and Victors grandson.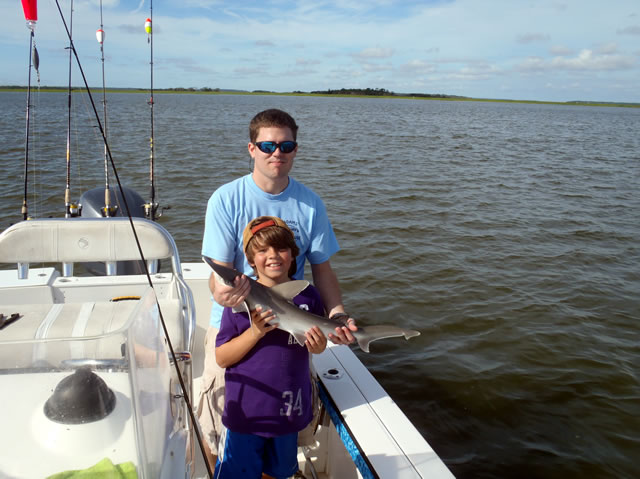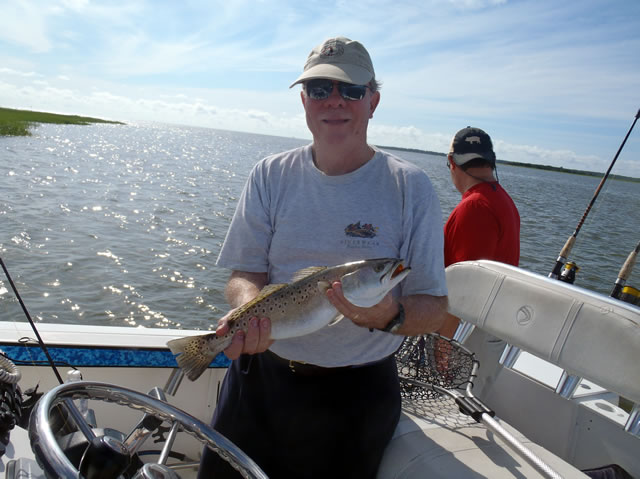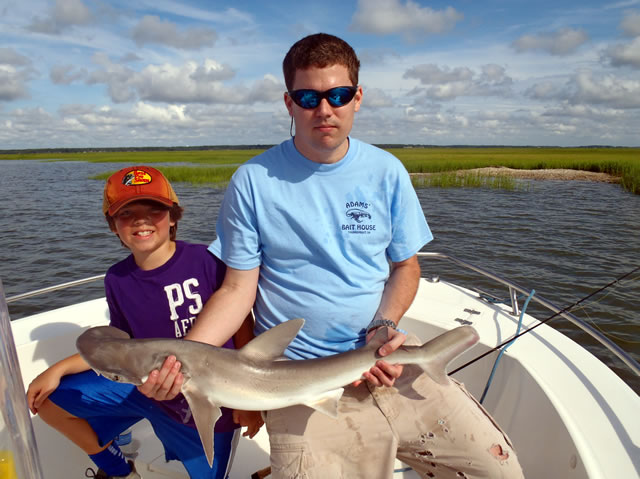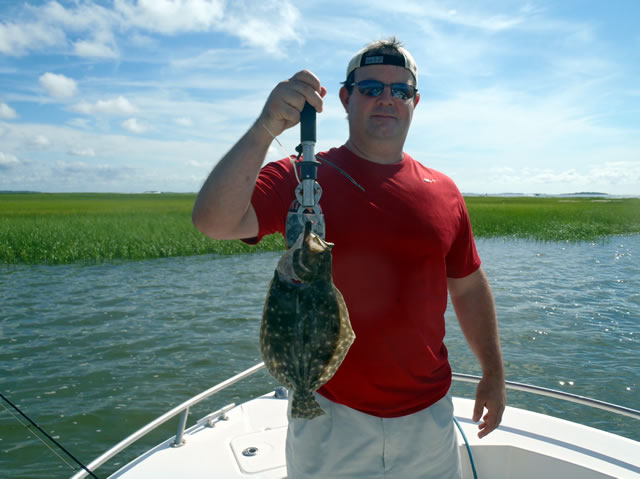 ---
07/07/2013
I had a 4 person 4 hour trip for Miss Judy this morning. Departed her dock at 7:30am and returned at 11:30 am. I also had a 3.5 hour trip for Thunderboltcharters that departed Bahia Bleu at 1 pm and finished at 4:30pm. Had quite a bit of action all day. The morning trip we caught several sharks, spinner sharks and bonnethead and kept a few speckled sea trout and caught a few short redfish. The afternoon trip was almost the same except we released everything including some nice trout and 1 whiting. Had a large fish strip drag so fast that he tangled 2 other lines before breaking off while we tried to free his line. Wind was bad this morning but layed down this afternoon. Water temo is now in the mid 80's and the sharks will be with us for awhile. Some people love to catch them as they fight hard, others people look at them as a nuisance, but again they are here and you will catch some.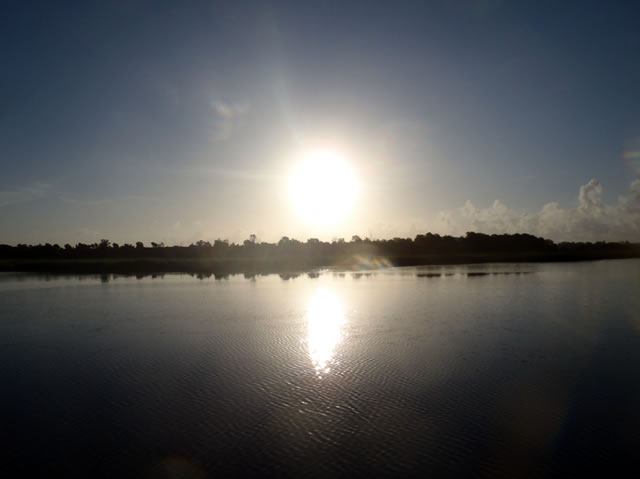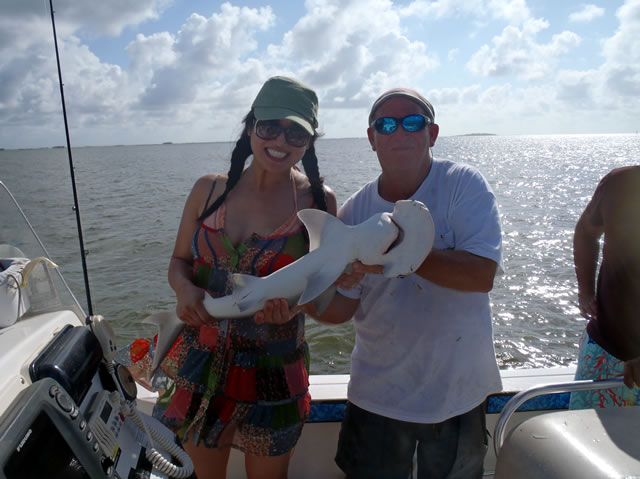 trip nbr 2 for today below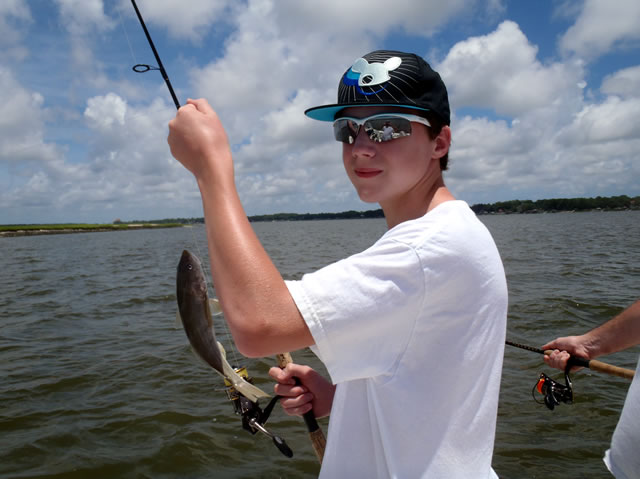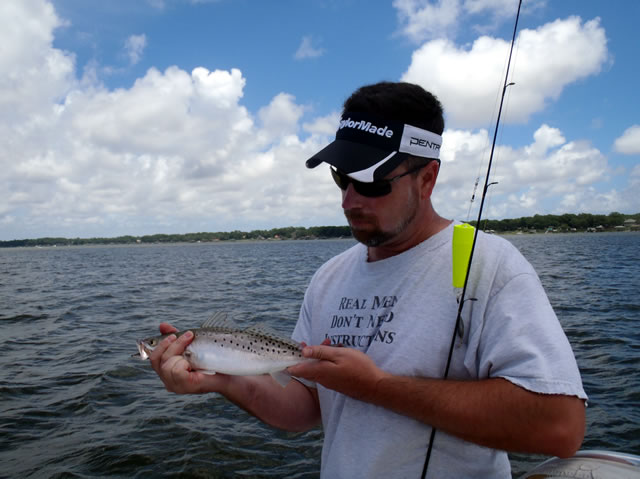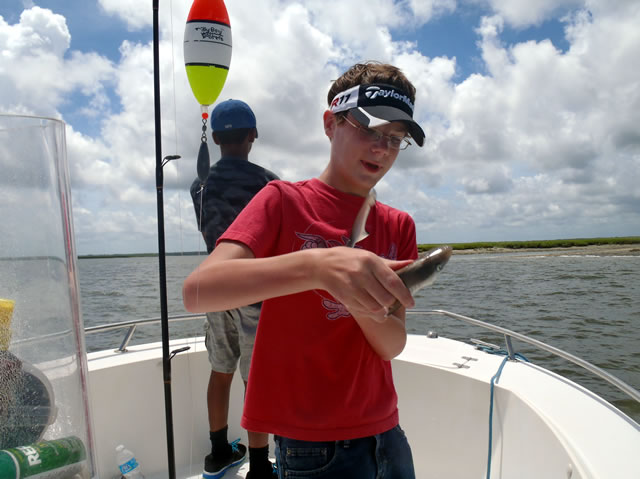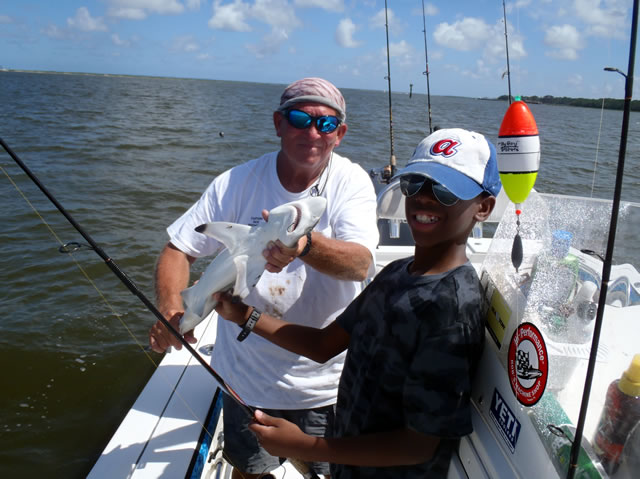 ---
07/06/2013
I had a 4 hour 4 person trip for Miss Judy that didn't start until 3pm. Lots of boat traffic, thunderstorms, low tide, however the water temp was 83 and we did manage to catch and release several sharks. They wanted to keep 1 and they did keep a bonnethead. We released several spinner sharks and had multiple break offs. Tuff, late day on the water, the first picture is after the trip was over and the storm had passed.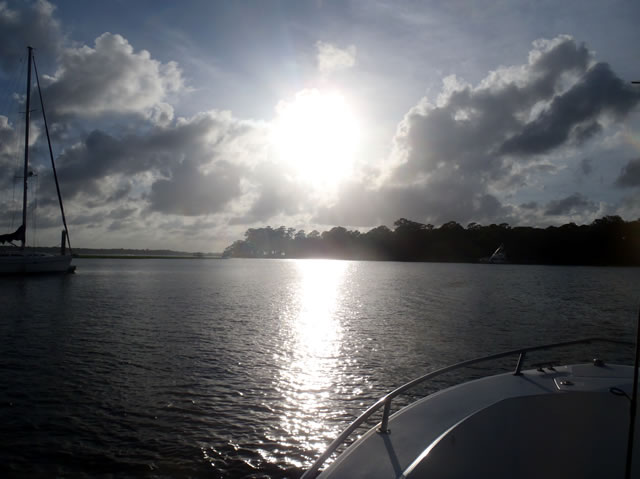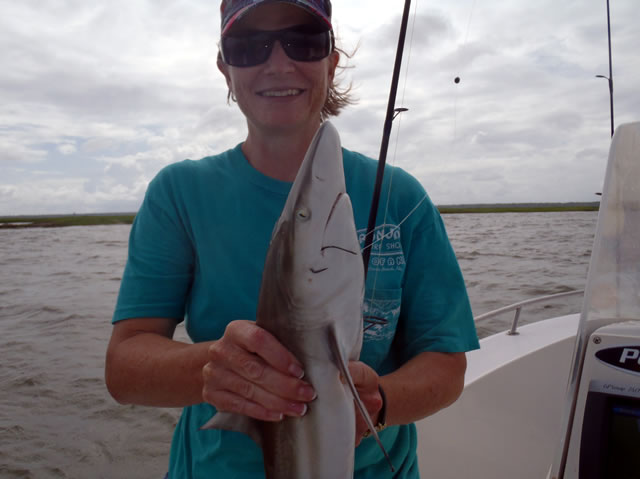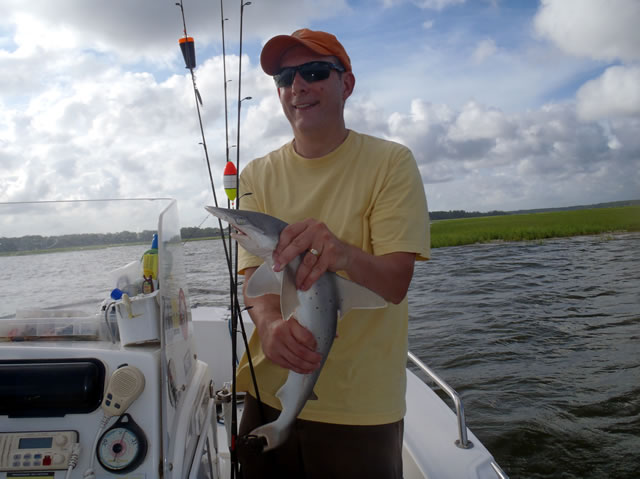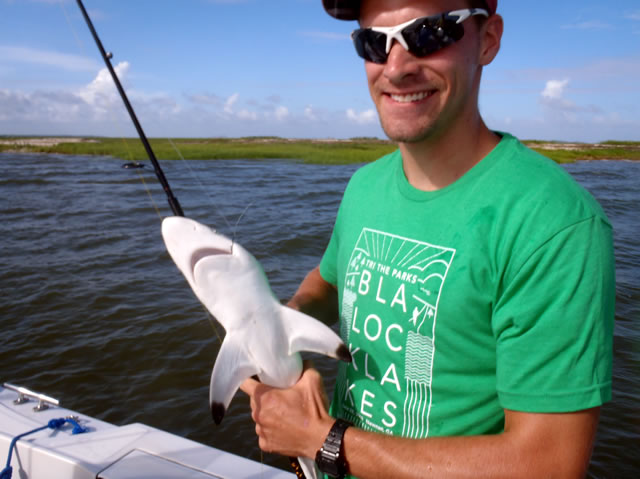 ---
---
Copyright © 2013 Thunderboltcharters All Rights Reserved.