---
06/29/2013
I had a 6 hour trip today with Joe, Lucy and Kyle. They wanted to catch some of everything, but we only got into a few bonnethead sharks and trout. Missed quite a few trout bites, but we had a lot of action. They also caught a decent sized whiting, lost a few trout at the boat and some were undersized. Wind was very stiff out of the southwest and contributed to less than favorable fishing conditions. Lucy took a picture of Kyle with his shark, but it didn't come out. Water was stained at most drops. Must say it was a pleasure to fish with these fine anglers.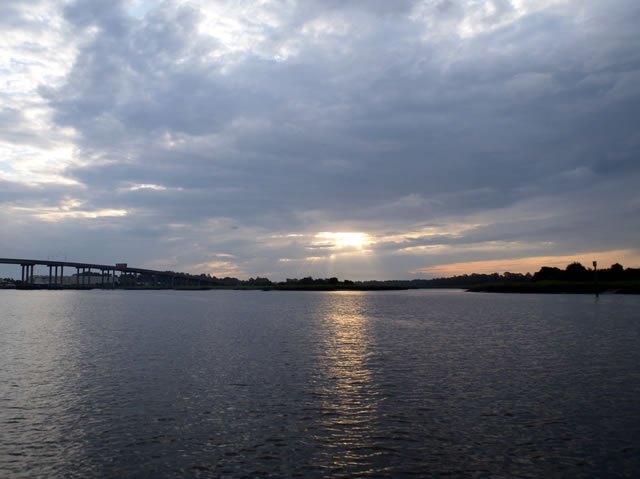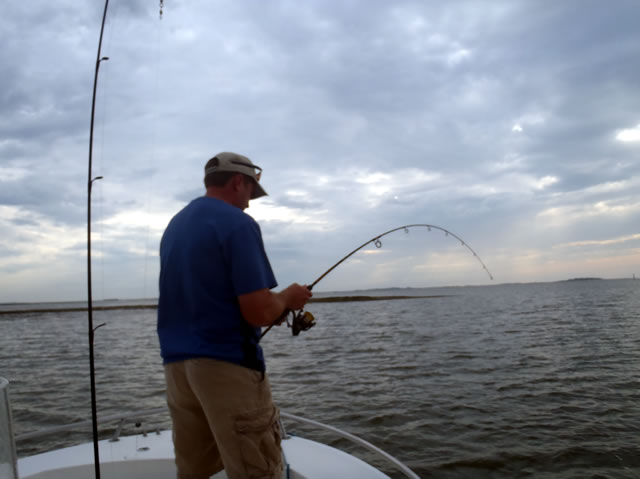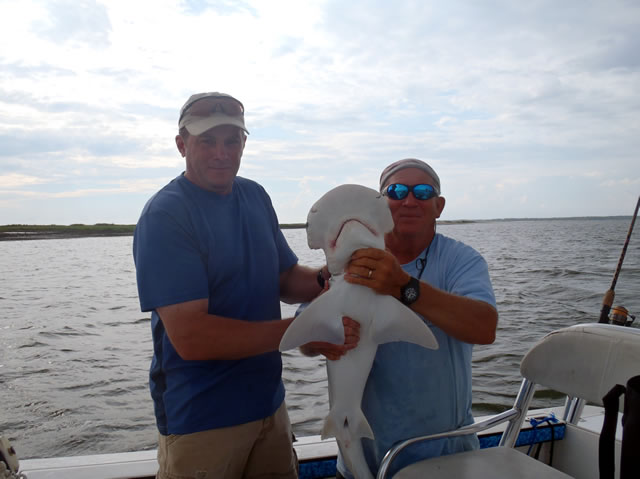 06/28/2013
I had a 4 hour 3 person trip for Miss Judy today. Windy but fishable. Water temp was in 83.4 and clear at some spots. They wanted to catch at least one bonnethead shark, but we caught 5. Also caught and released some trout, flounder and ladyfish.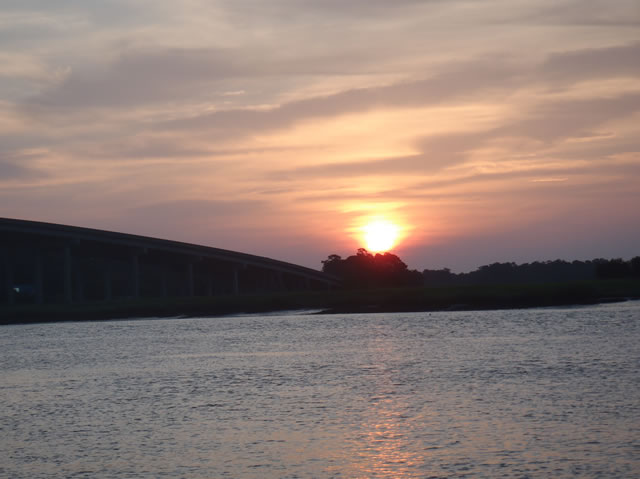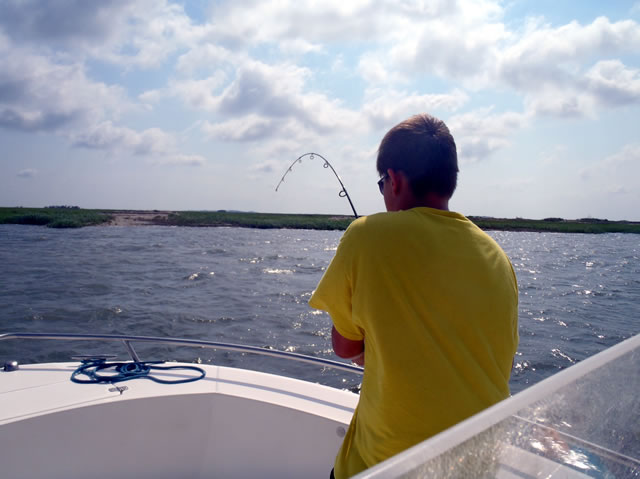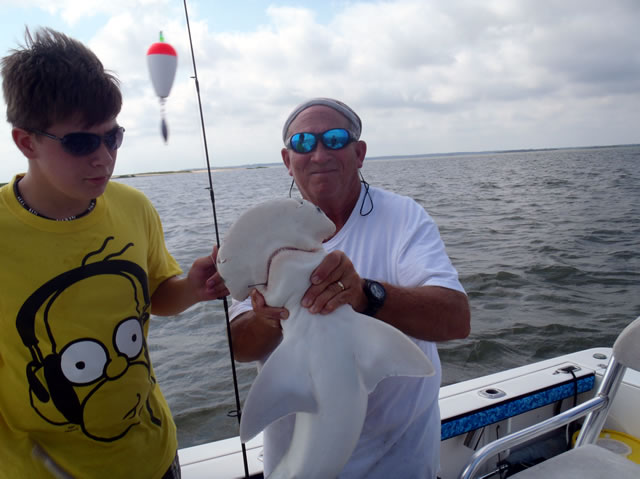 ---
06/23/2013
I had a 4 hour 4 person trip for Miss Judy today. The two guys, Jeff and Dane wanted to try to catch some bonnethead sharks. We caught 5, kept 2 and caught some bluefish and whiting as by catches while after the sharks. Day started out stormy at 7am , but sun came out nicely and we were able to get the trip in. All in all a good 4 hours of fishing with some good anglers.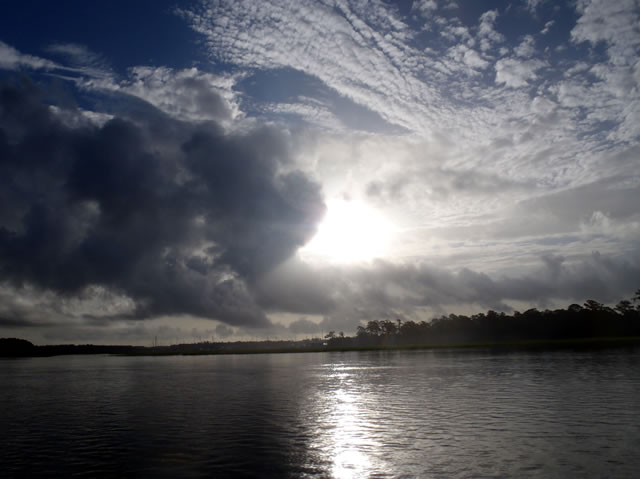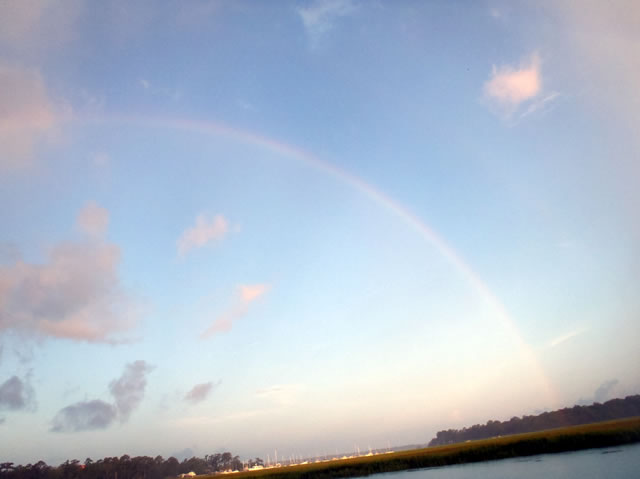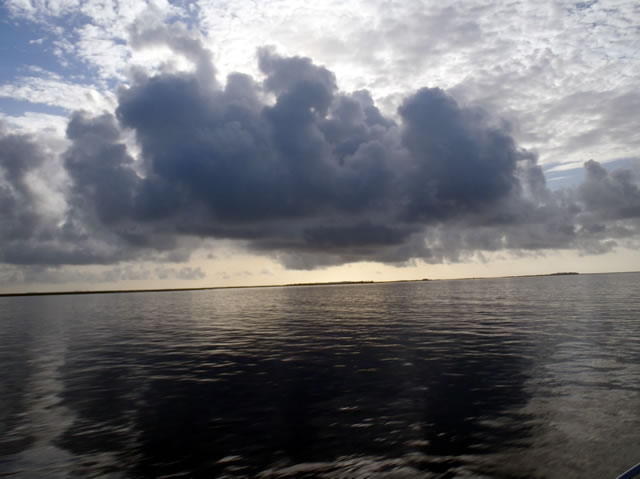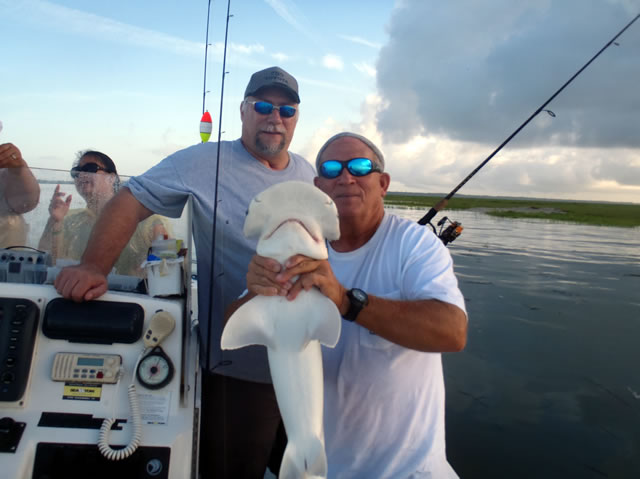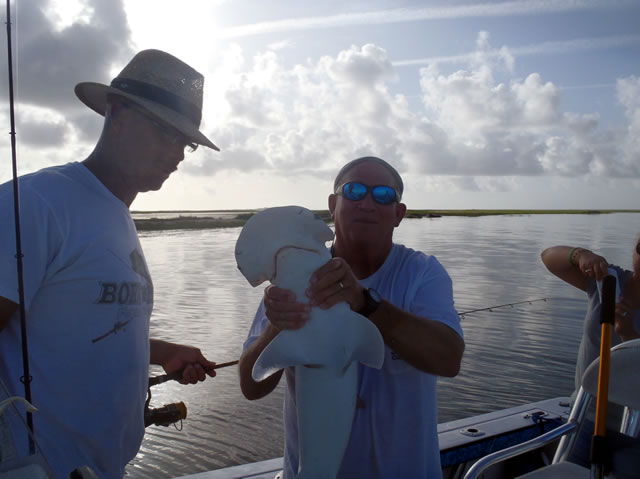 ---
06/22/2013
I had a 6 hour 3 person trip today with Paul from Chicago and his son Ryan and friend Tyson. We had very high tides due to the upcoming full moon. However Paul caught 10 fish and Tyson caught 11 and Ryan was able to land a couple. Water was stained almost everywhere we went. The tides were very high and the current ran fast. Water temp was in the low 80's and overcast today. We caught a mixed bag of puppy drum, black drum, speckled seatrtout, ladyfish, bluefish and croakers. I had an excellent time fishing with these very experienced anglers.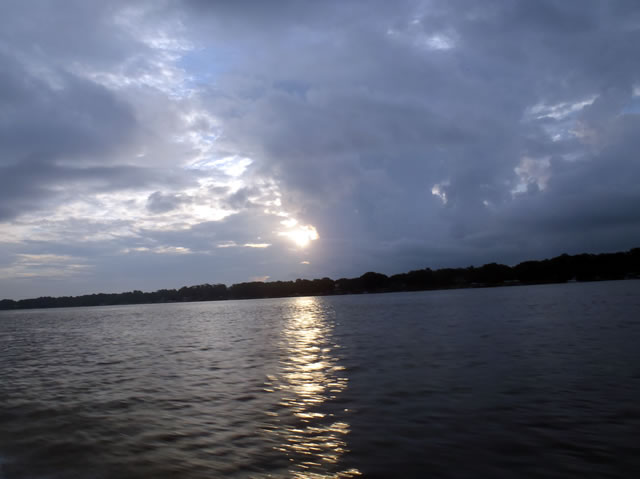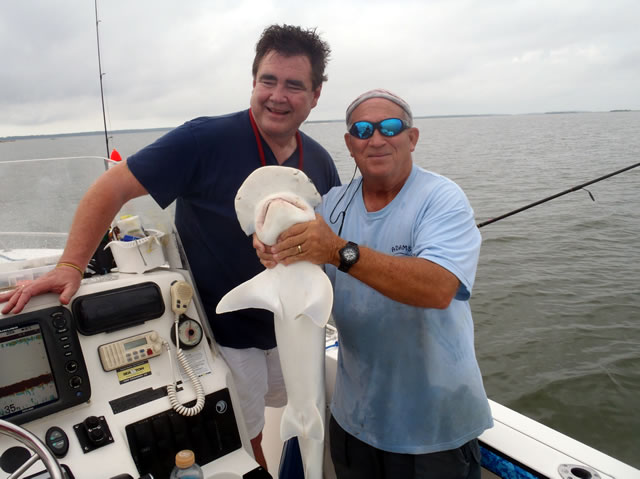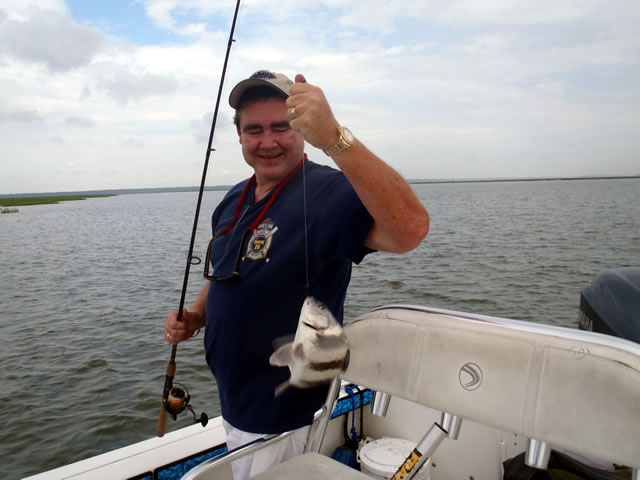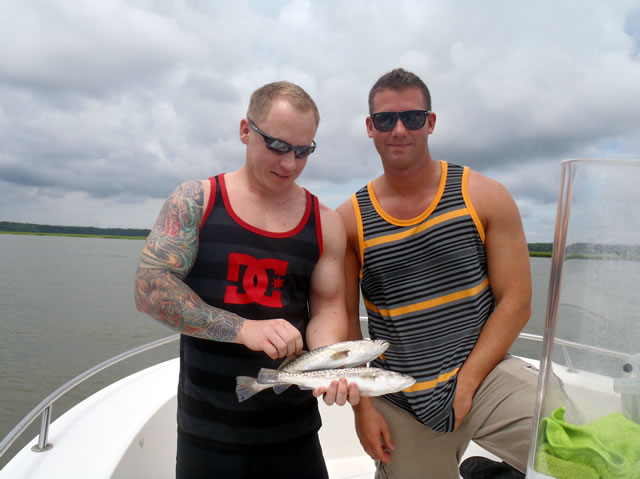 06/19/2013
I had a 6 hour morning charter today with 2 people living in New Jersey, Ellysa and Aaron. I have had back to back trip with very experienced anglers. Both wanted to catch a bonnethead shark and they did. We also kept 5 speckled seatrout for a meal, the largest being 20 inches on the button. Wind was rough out of the west at 15- 20 k all day. We fished the last 3 hours of the outgoing and 3 hours of incoming water. Also released a searobin as well as a few short male trout and a few ladyfish as well. We had a fair amount of action, and it was a pleasure to fish with this couple!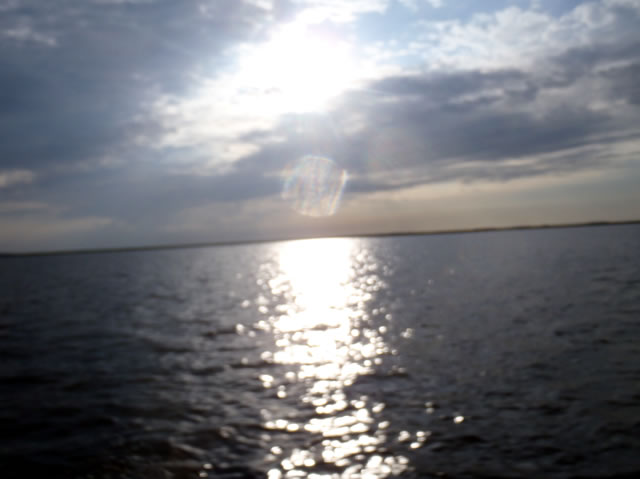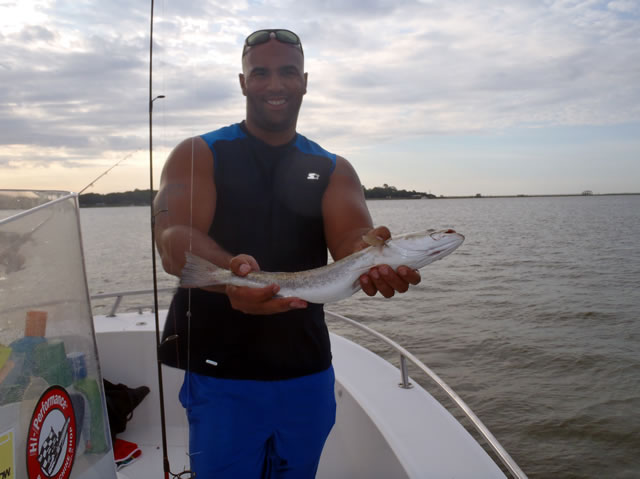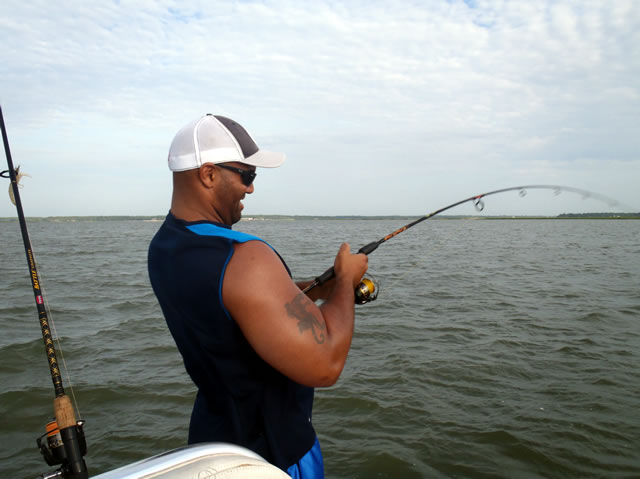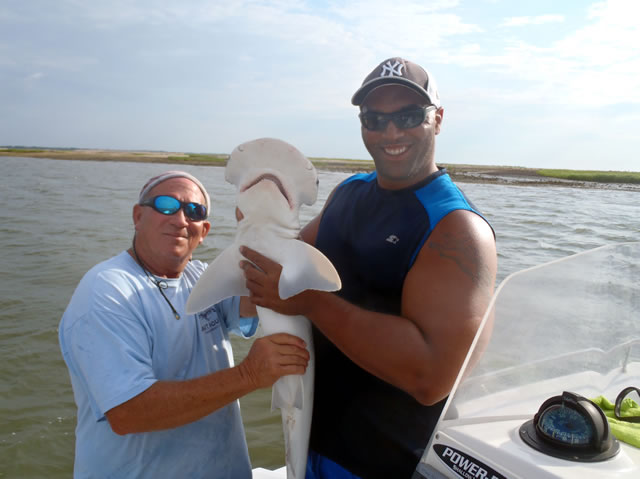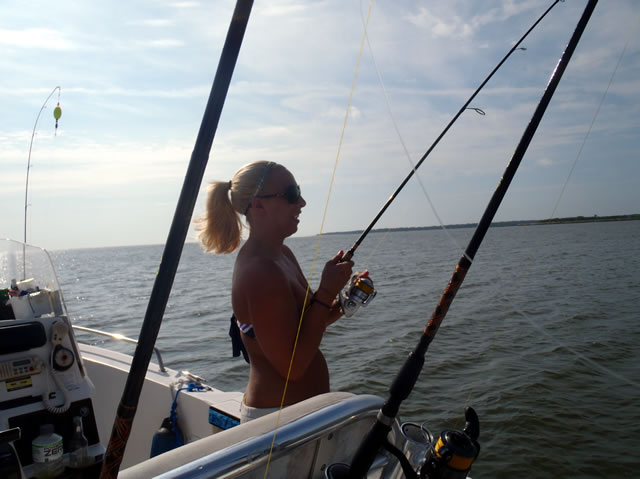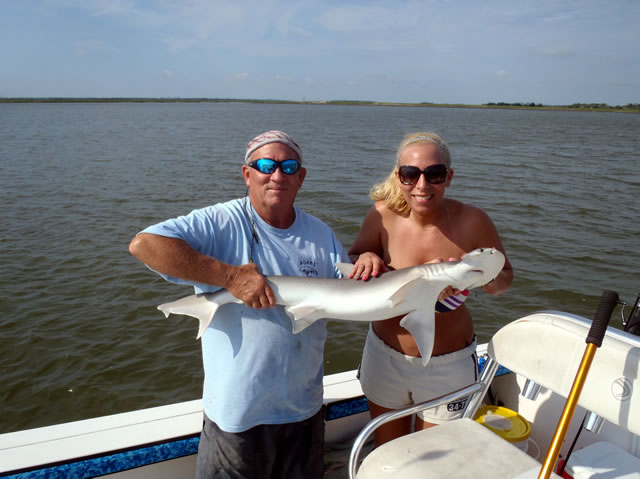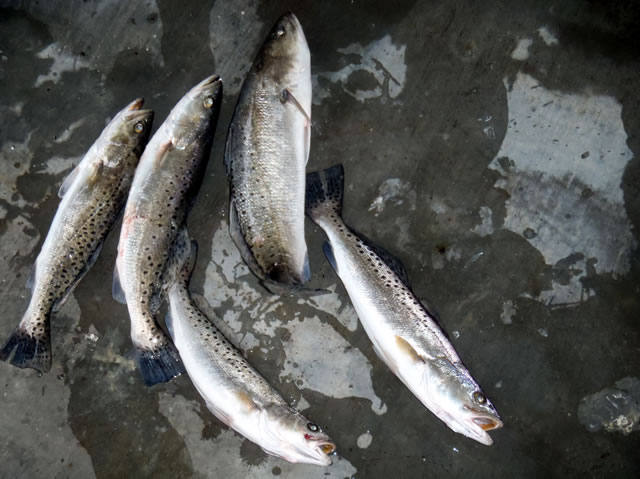 ---
06/18/2013
I had a 6 hour morning charter cancel, but had a great 5 hour afternoon trip starting at 3:30pm with Kaden and his mom Sarah and father Justin. Water temp was 82.5 at most locations. We fished the last hour of the incoming and the first 3 outgoing.
Looked like it was going to be slow at first, but we moved around until we found some smooth, clean water. The wind died down and Kaden and Sarah got a very nice tripletail to the boat that made a hard surge that straightend out the hook. Even though we were a little disappointed, cast right back out there and Sarah hooked up again with another tripletail that we did land. He was almost 7 lbs. Kaden caught a speckled seatrout and hooked up a nice bonnethead that his father helped him land. We released a few ladyfish and Sarah hooked a bonnethead shark that weighed in at almost 20 lbs. We were in 2 feet of water and the shark just stripped line out and tried to break her off over the oyster rake. It took a few minutes but she landed it. We released a couple atlantic sharpnose sharks as well. They kept the tripletail and 3 trout for a meal. I had a great time fishing with this competitive family. We got back at sunset.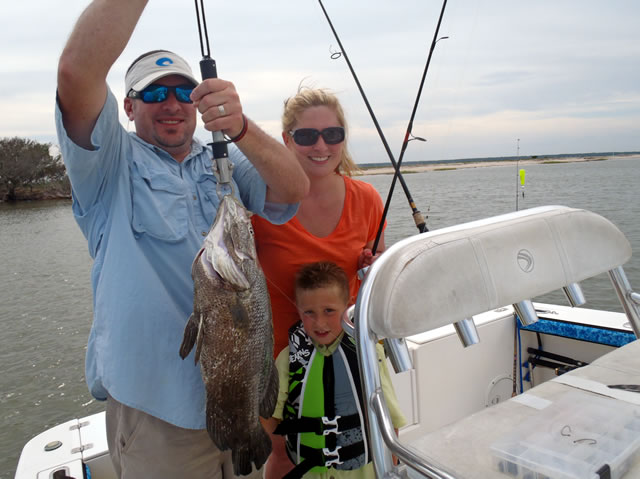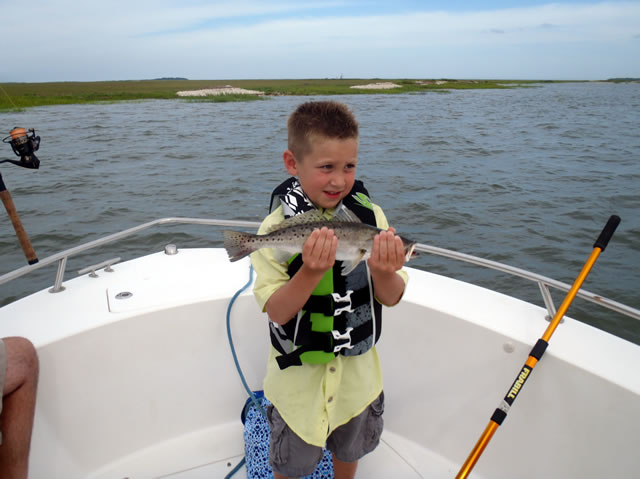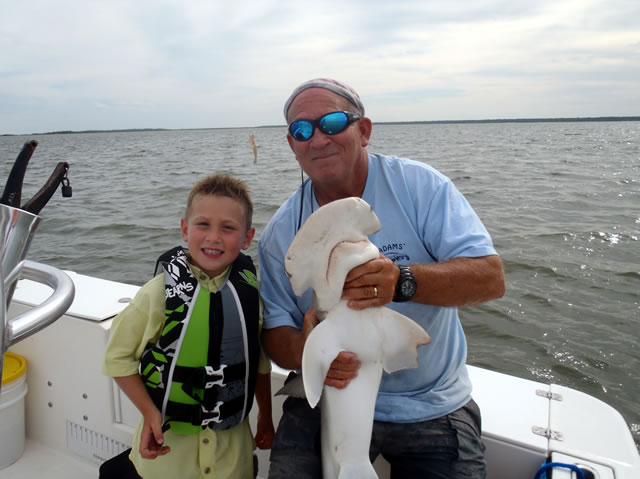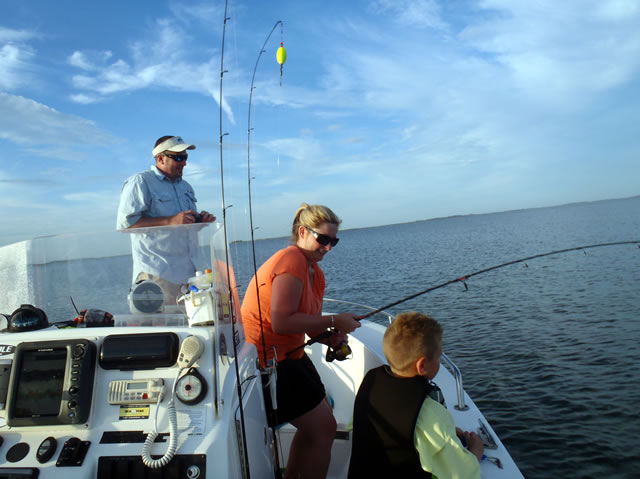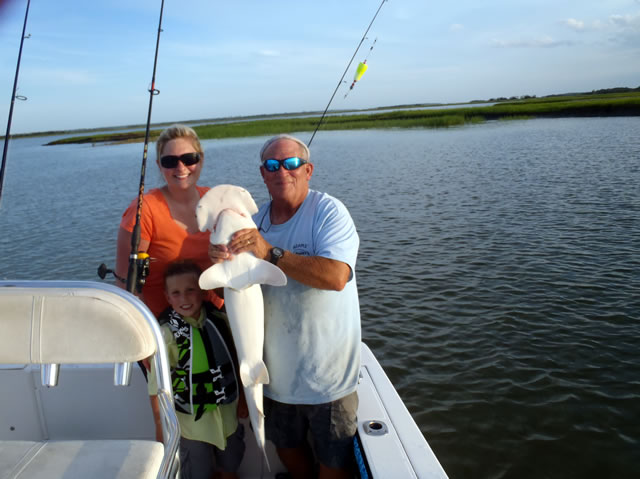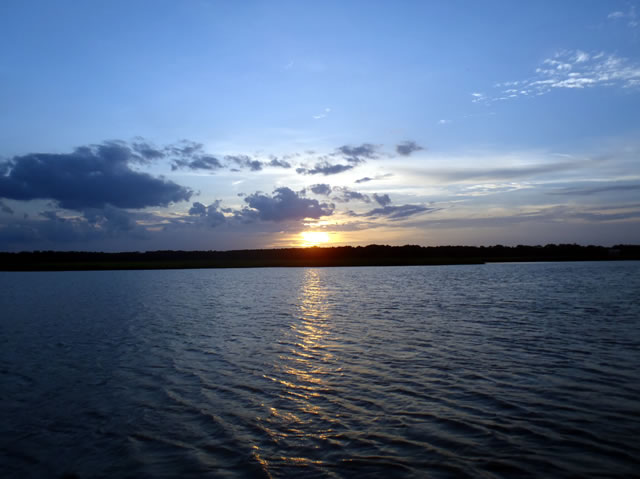 ---
06/15/2013
I had a 4 person 4 hour charter today for Miss Judy today. However the conditions were like night and day from yesterday. The barometor rose alot and we had stiff winds out of the East blowing at 15K . We left at 6:30 am and they did miss catching a few fish. The bait of choice was mudminnows again. However we did catch a variaty of fish and they kept some speckled seatrout. It was a tuff 4 hours of rough weather, but they did a good job. A couple had not fished in years, so it was an experience for them.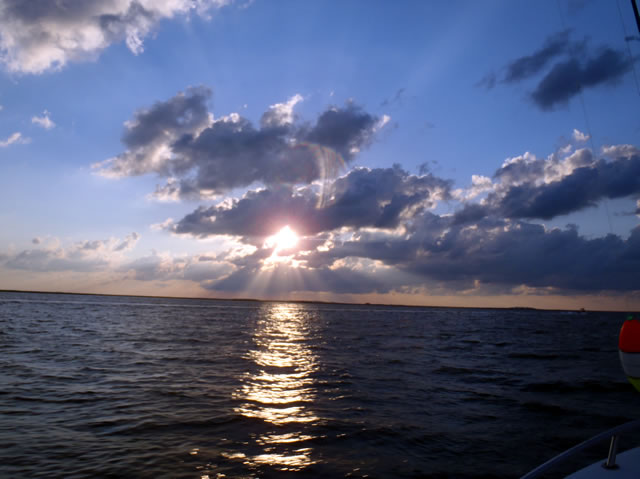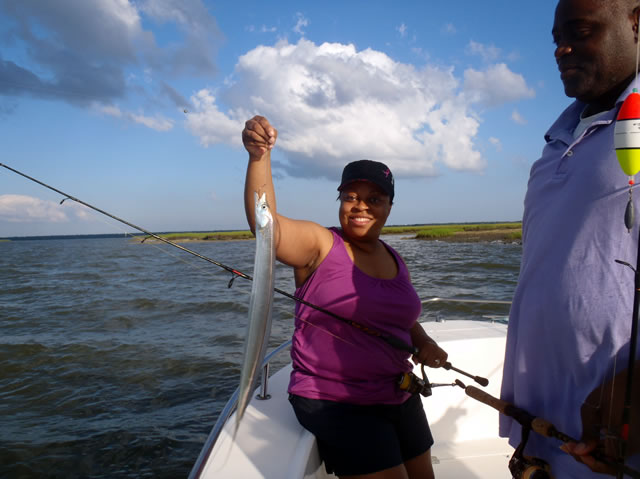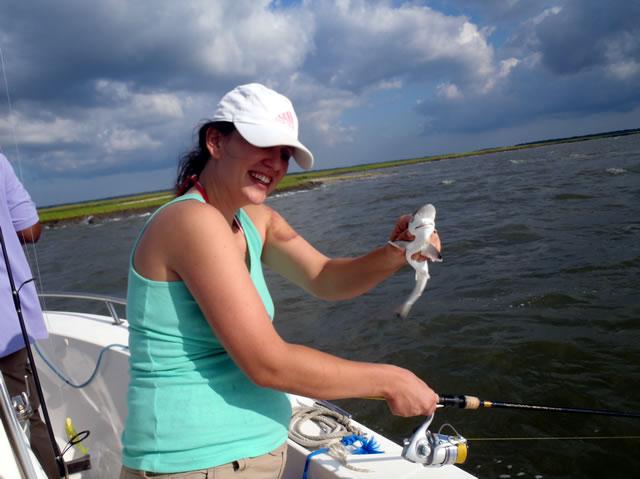 ---
06/14/2013
I had a 2 person 6 hour charter today with Robin and his Father-in-law, Paul. Weather was nice today, we had a cool front push through, later in the morning. The bait of choice today was mostly mudminnows.
Water was clear at most spots. Water temp was 82.9°, which is still below normal. We released a few fish today. Kept a few as well. We released 2 atlantic sharpnose sharks, and 1 bonnethead shark self released at the boat, as well as a couple croakers and 1 bluefish. We had a few short trout, but did keep 9 nice trout, 1 whiting and 2 flounders. Both were excellent anglers and a pleasure to fish with.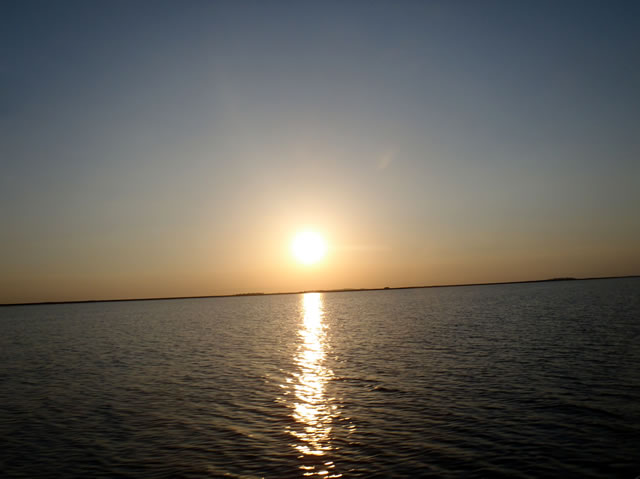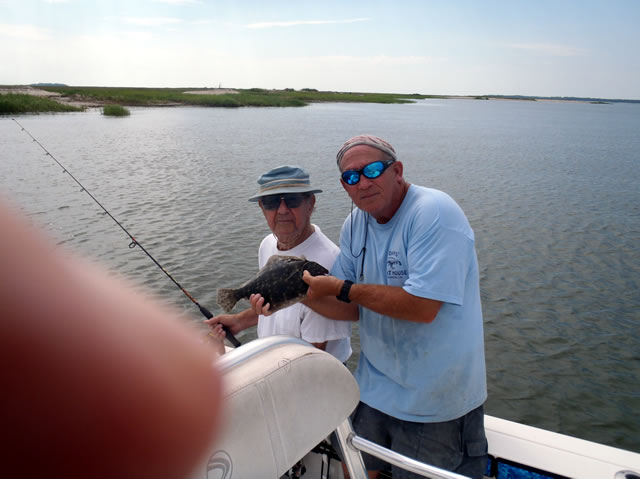 ---
06/09/2013
I had a chance to spend a few hours on the water with my daughter today. We released everything. She caught 2 sharks, and several nice trout. Left late today, but the water was clear and the water temp was 80 degrees. She learned to keep her eye on the cork!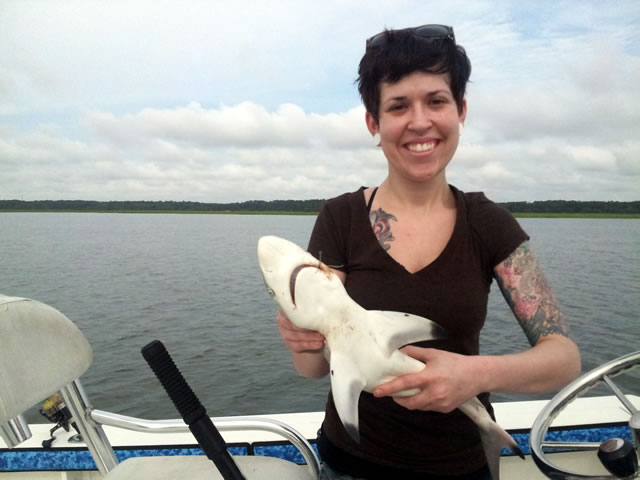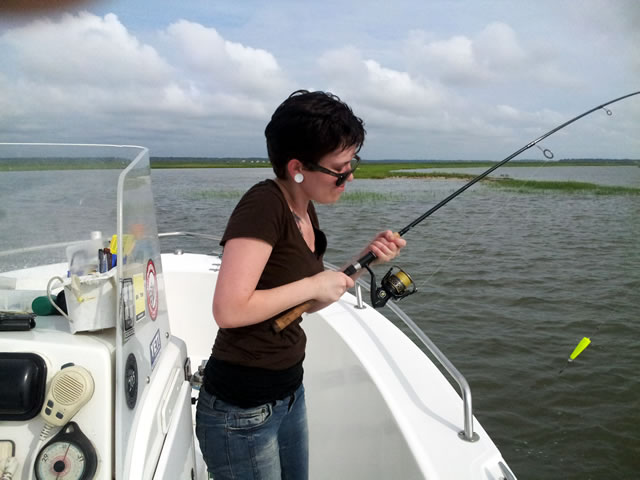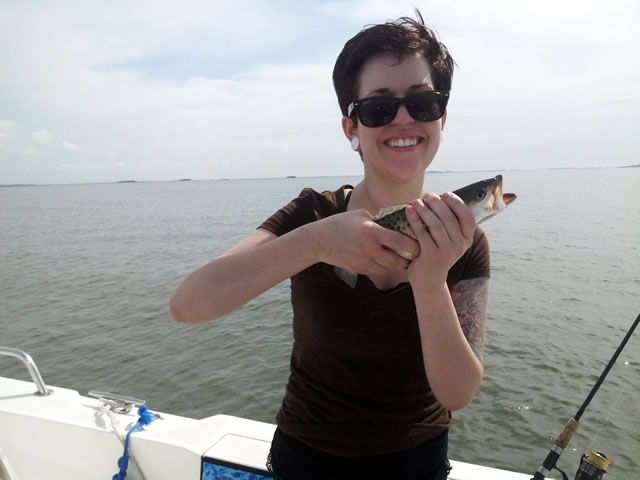 ---
06/08/2013
I had a 4 hour 4 person charter today for Miss Judy. We departed late, 9am but still hit the fish pretty good. Water temp was upper 70's and the water was stained. However gentle tides helped with the clarity of the water. Winds were 10- 15 out of the South west. Definatly in the summer wind pattern. Kept 7 trout, 3 whiting and 1 flounder. Tossed back at least 12 short trout and numerous ladyfish. Also released several spinner sharks as well as a couple bonnethead sharks.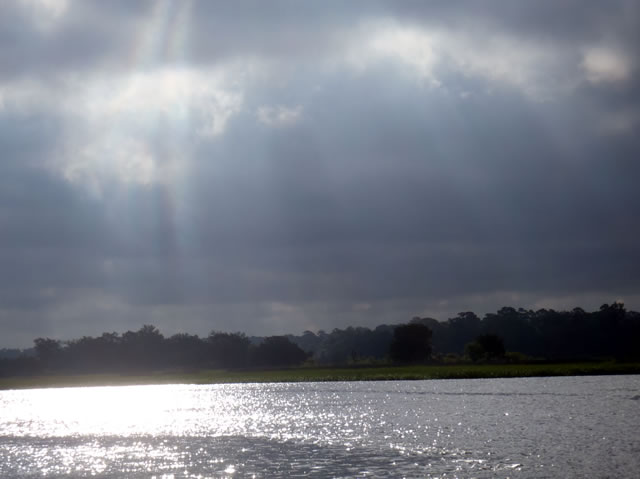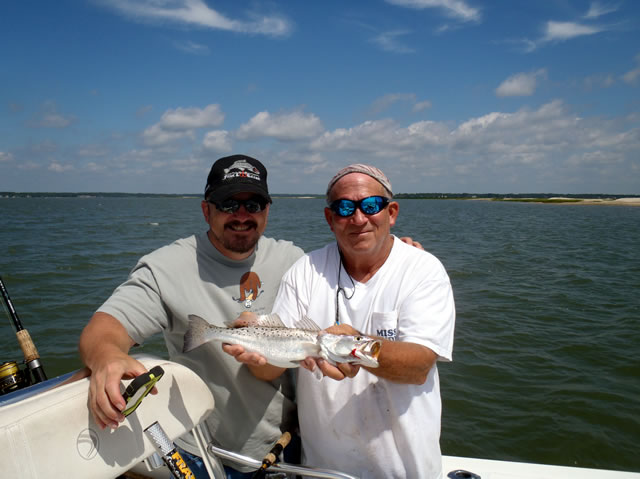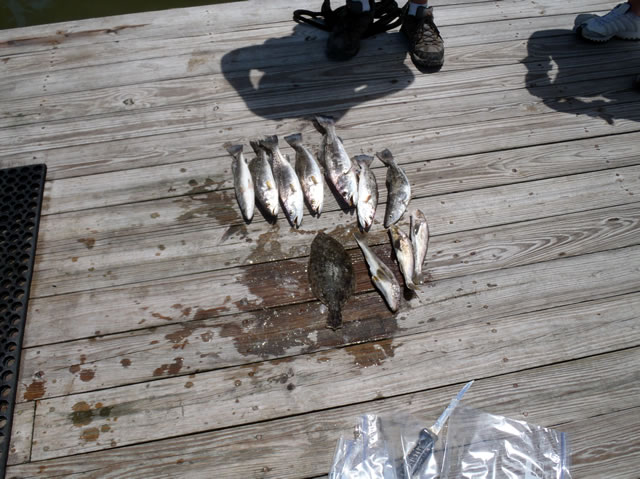 ---
06/01/2013
I had a 6 hour 4 person trip today. I have fished with Chris and his son Ben in the past. Today, Chris had his father and brother with him. Water was smooth and 78 degrees, but as soon as we hit the sound, the 15K southeast wind kicked up. We caught several species and kept 6 trout, 1 pompano. Released several sea robins, blue fish and ladyfish. The bite was pretty steady, just not one after the other. We did miss a few fish and had a handful of undersized trout. Considering the conditions, I think we did pretty good.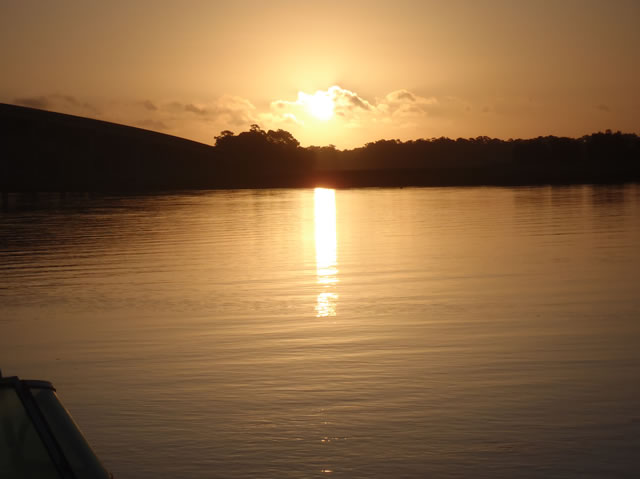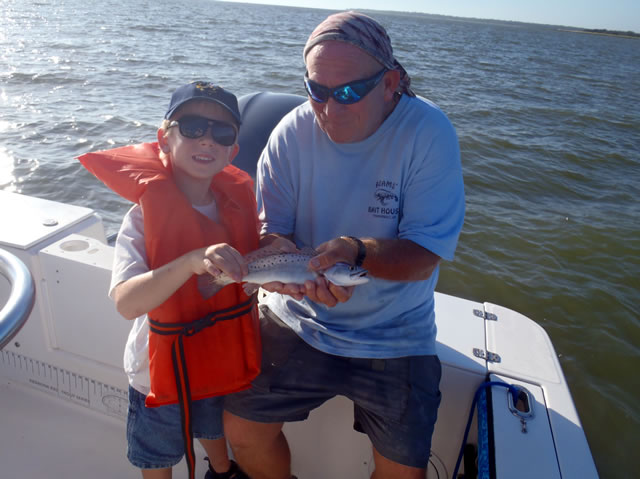 ---
---
Copyright © 2013 Thunderboltcharters All Rights Reserved.