07/28/2012
I had a 2 person 6 hour trip today with Fernando and his father Jose. We had steady action most all day except for an hour when the bite died down. Water temp was 86° and clear to stained at most places. Again I had 2 guys that could fish very well. We kept 6 Speckled seatrout, 1 whiting and 1 nice Bonnethead shark caught by Jose. Fernando had a nice shark on the line, but we lost him at the boat when I tried to land him and he surged. Sometimes we land them all, but sometimes we don't. We released upwards of 20 speckled seatrout that were just short.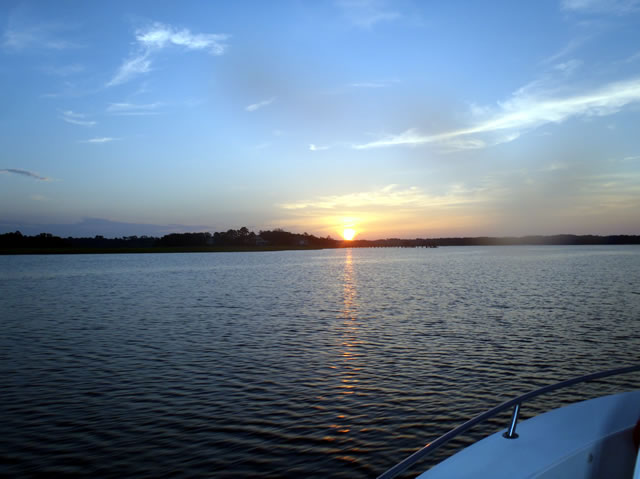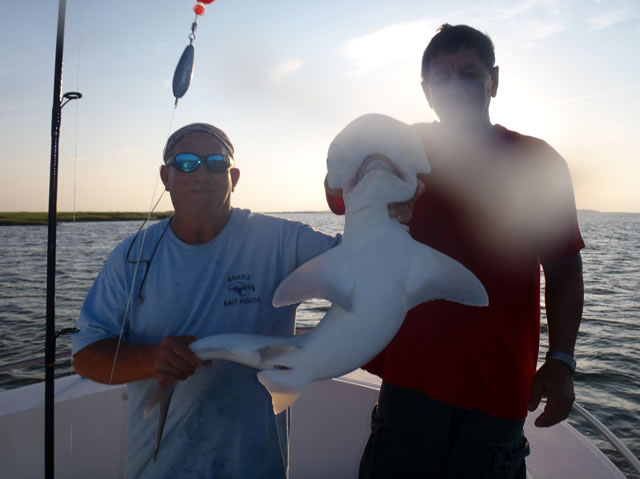 ---
07/26/2012
I had a 3 person 6 hour trip today with Jordon, Art and Arts son John from Statesboro. Water temp was 86.7 and stained to muddy at most areas, but we did find some clear water in some locations. Key was trying to get out of the west wind. All 3 caught fish and we probably released around 40 trout and a couple of redfish and 5 bonnethead sharks. John was very polite and got to reel in 3 or 4 sharks. Kept 2 whiting and 4 or 5 speckled seatrout. Released everything else. All fish caught on live shrimp from Adams baithouse today. Saw a nice size cow nosed ray swimming by the boat.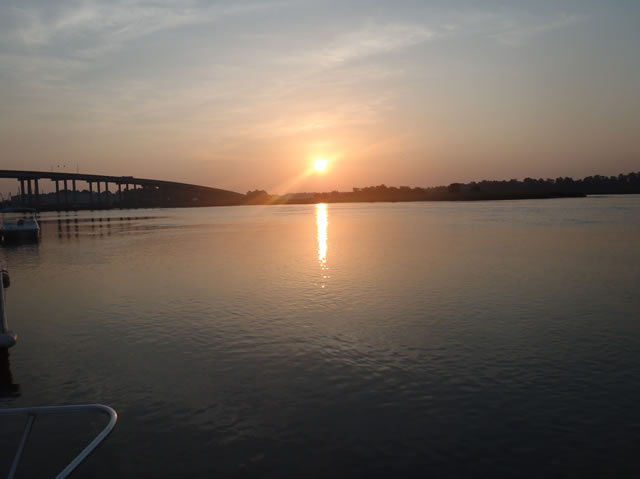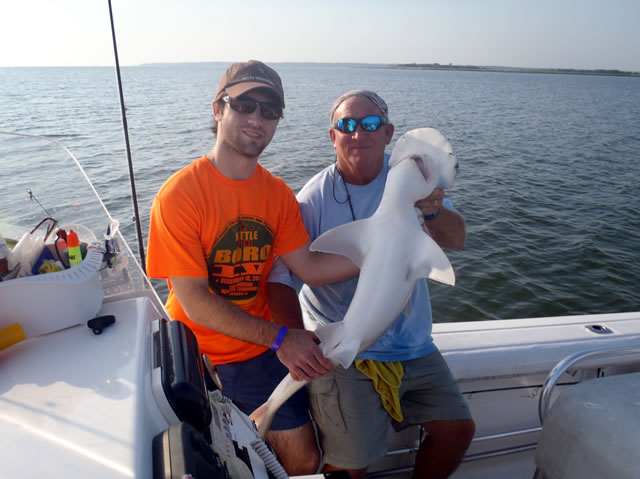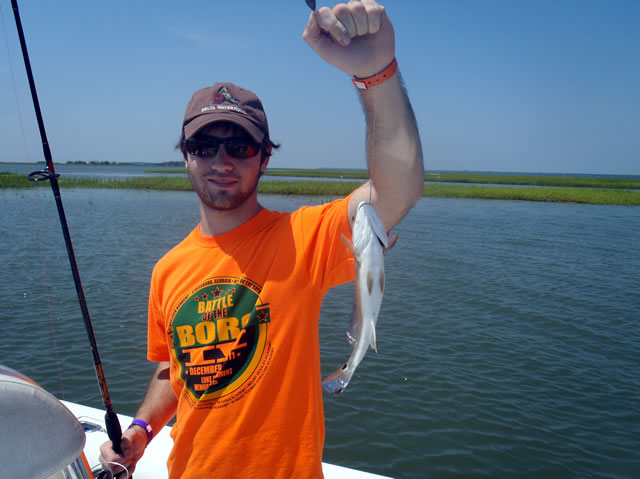 ---
07/24/2012
I had a 1 person 6 hour trip today with Landon from Missouri and we had a blast! We departed at 7am from Bahia Bleu with a couple quarts of live shrimp from Adams Baithouse. Wind was 15 knot out of the west/southwest and the water temp was 85.5°. Finding clear water out of the wind was tuff, but helped. We started out in Wassaw Sound and fished all around it, including the Salt Ponds. Caught a few trout, but water clarity was a problem.
Moved around as Landon expressed an interest in catching a shark and we accomplished that as well as a huge Cow nose ray. Also had a few breakoffs and site casted to some sharks and redfish. Landon practiced catch and release today. We caught speckled seatrout, ladyfish, cow nose ray,Bonnethead sharks, a croaker and a very nice 29" Redfish, that was Tagged and Released healthy! Even though Landon had not fished in Georgia saltwater before he quickly got the hang of it as shown in the pictures.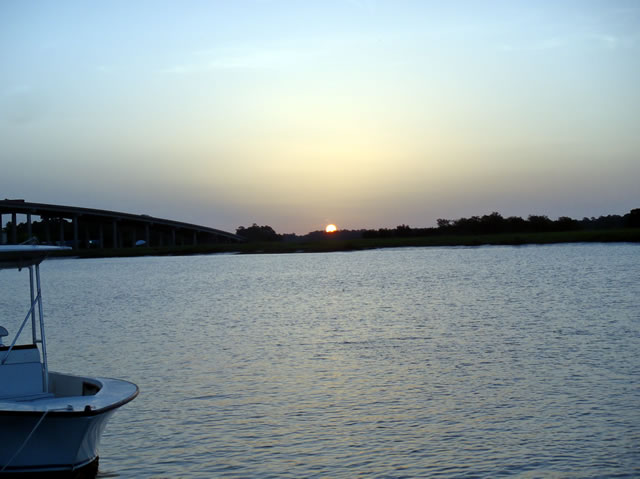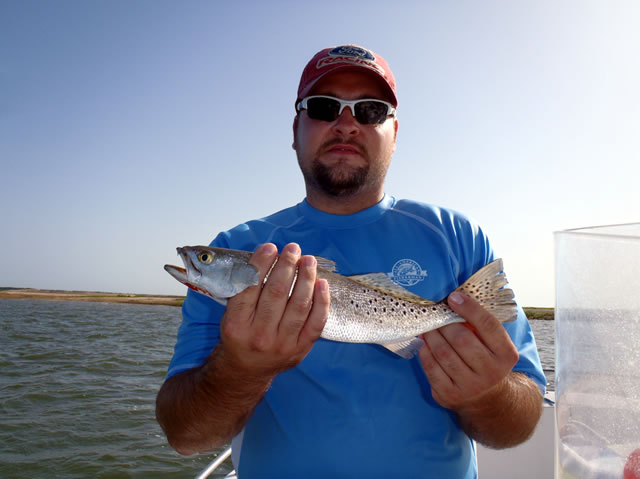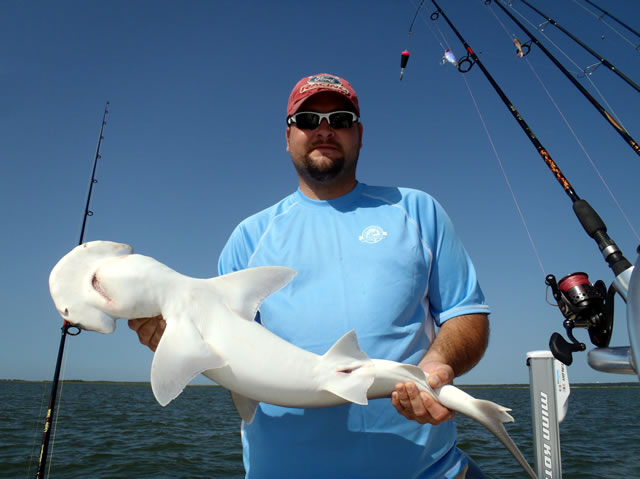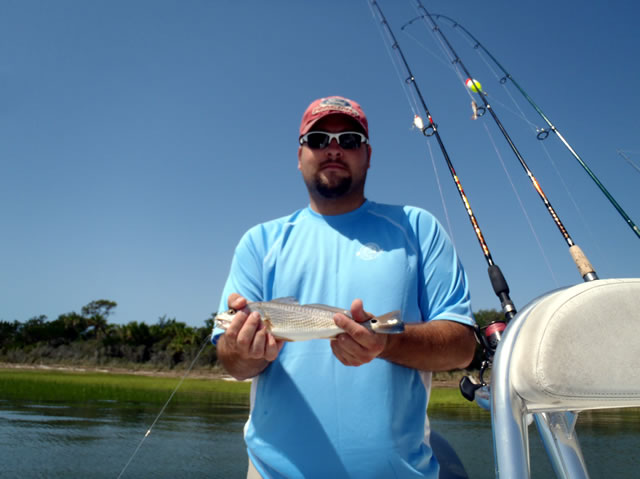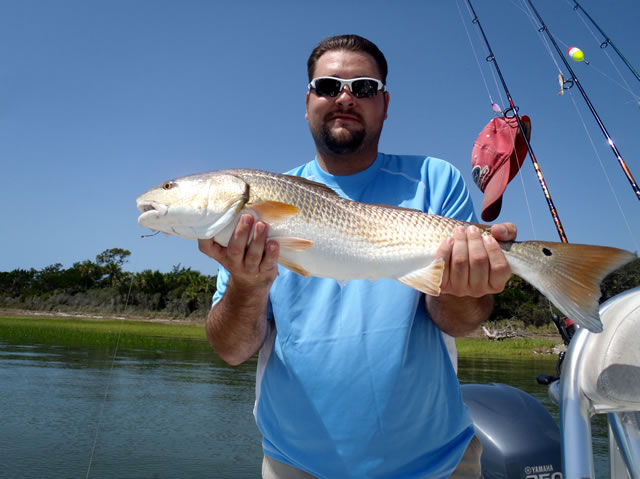 ---
07/22/2012
I had a 4 person 6 hour trip today for Miss Judy Charters. We departed her dock at 6:30 am, so I had to run pretty fast to get there in time to pick up. Water was clear and the winds were light. We caught fish all day. I had the pleasure of fishing with Colson, Derek, and his parents today. All four were excellent anglers. We Kept 2 bonnethead sharks, released a couple more and kept 7 Trout and 1 whiting. Released a jack crevelle, redfish and a couple bluefish also. A very good day for midsummer. Water temp is in the 80's, but you can tell we are starting to cool down. Days are starting to shorten up now, I can tell we are in the beginnings of the fall fishing pattern.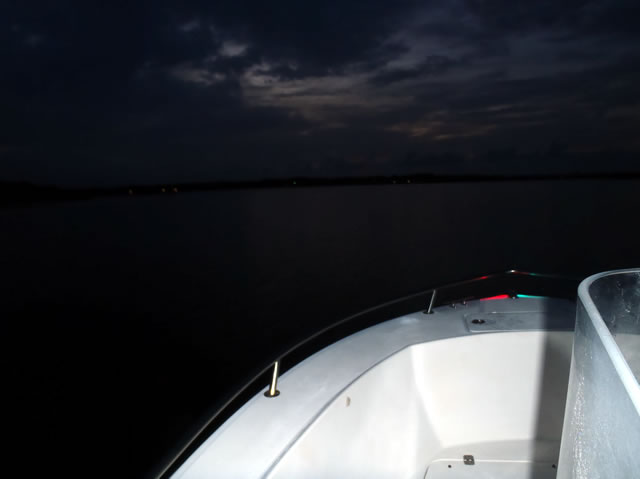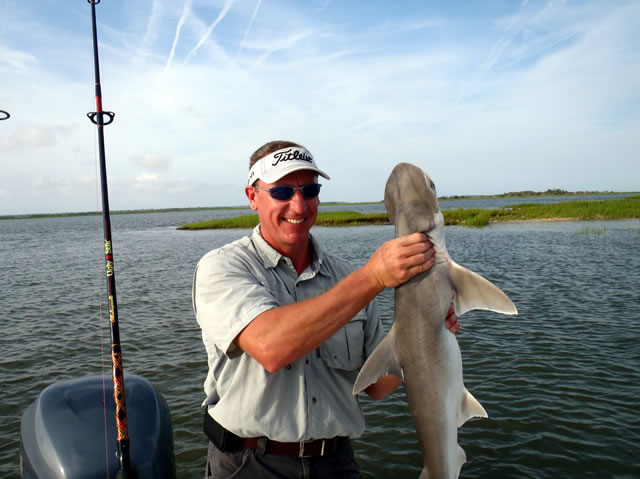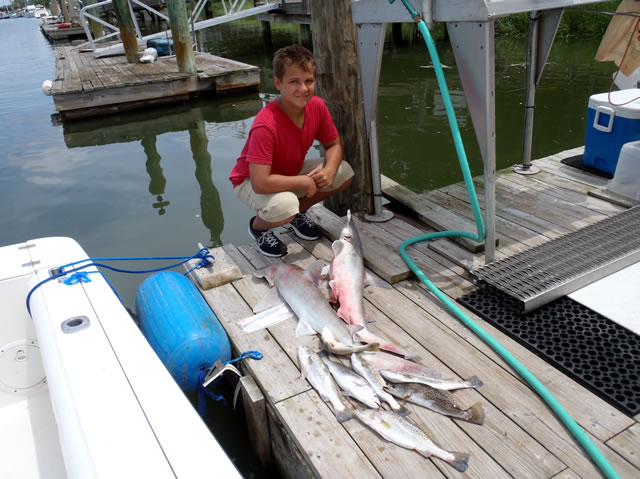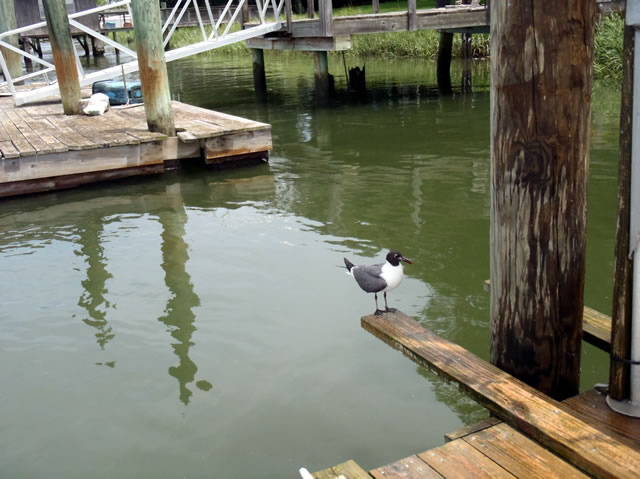 ---
07/21/2012
I had a 4 person 6 hour trip today for Miss Judy Charters. Wind was stiff out of the southwest but we did find some clear water. Kept 8 Trout, 1 whiting and 2 bonnethead sharks. Released about 25 short trout. Bite was not as hot as it has been,and all fish were caught on live shrimp and live mudminnows.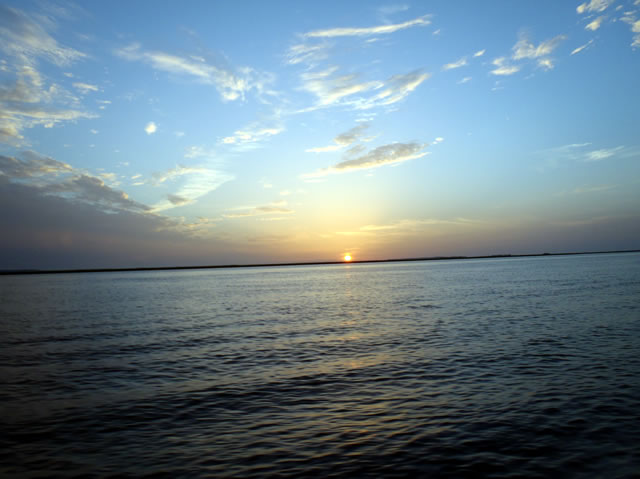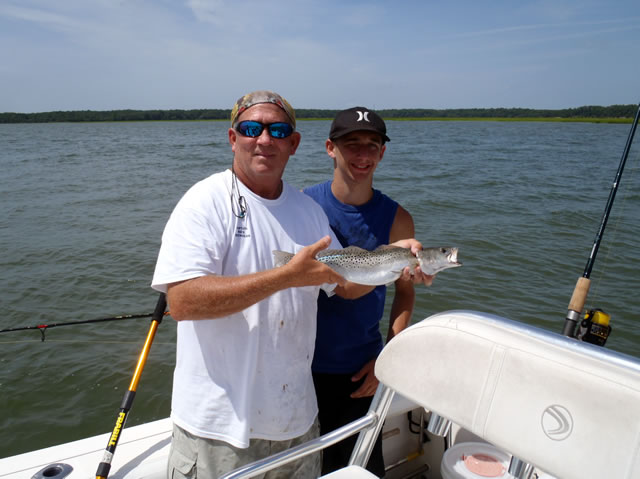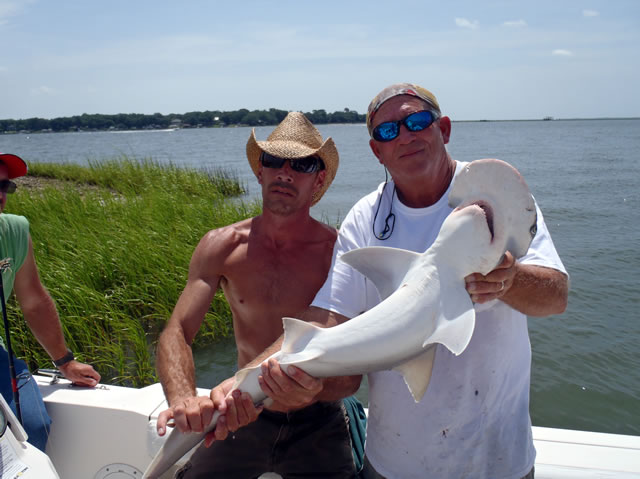 ---
07/15/2012
I had a 2 person 6 hour trip today with Curtis and Billy. Water temp was 85°and mostly clear. Winds started out a little stiff, but calmed on the lee side or the North side of the Sound. We caught and released 12 bonnethead sharks and a few speckled seatrout. Also caught whiting, ladyfish, and small Jack Crevalle. Most of the speckled trout were in the 18 inch range. They decided to keep 2 trout and 1 shark for a meal, and released the rest. All fish caught today were on Live shrimp from Adams Baithouse.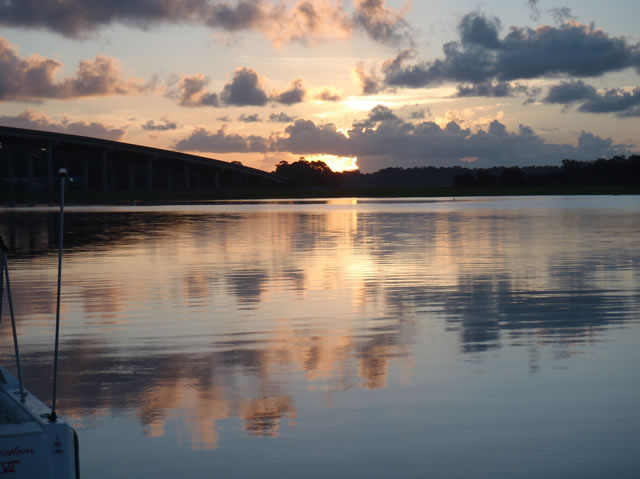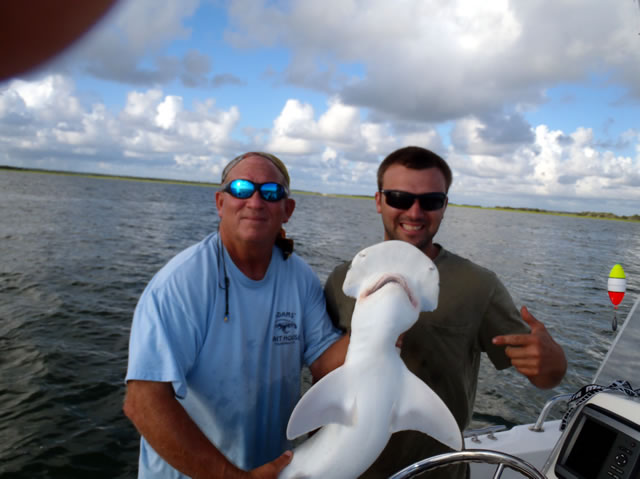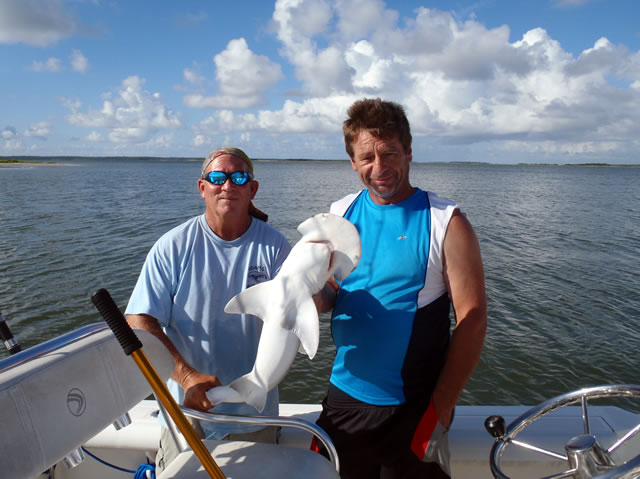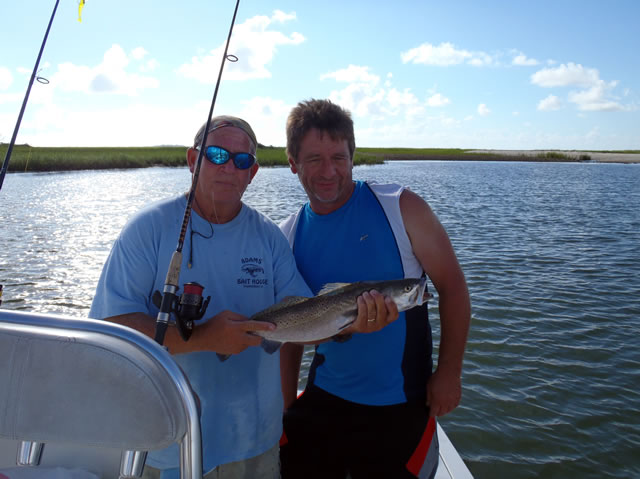 ---
07/14/2012
I had a 5 person 4 hour trip today for Miss Judy. Wind was east at 10 -15K and the tide was falling. We fished the last 4 of the outgoing. Water temp was low 80's but we found clear water. Caught about 25 speckled seatrout and kept 3 trout and 1 Jack Crevalle. Also Kept 2 bonnethead sharks. Great day on the water fishing with the Birthday boy, Dillon.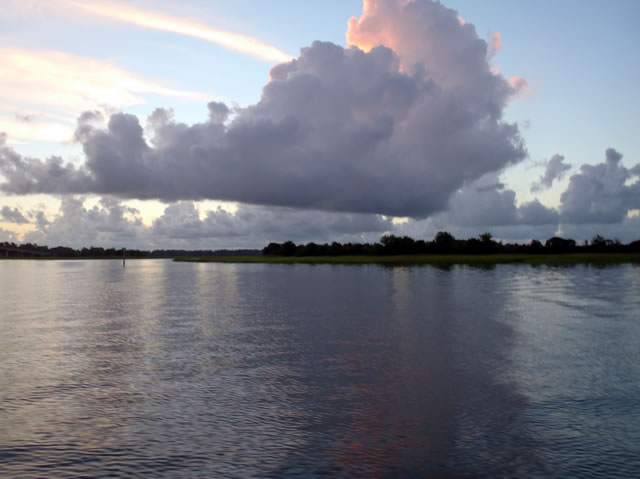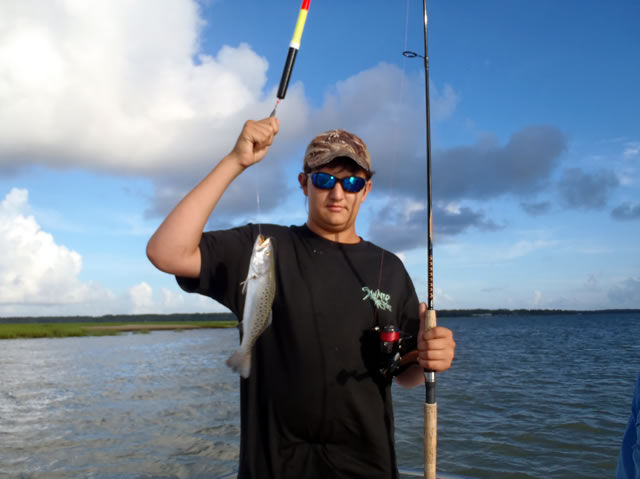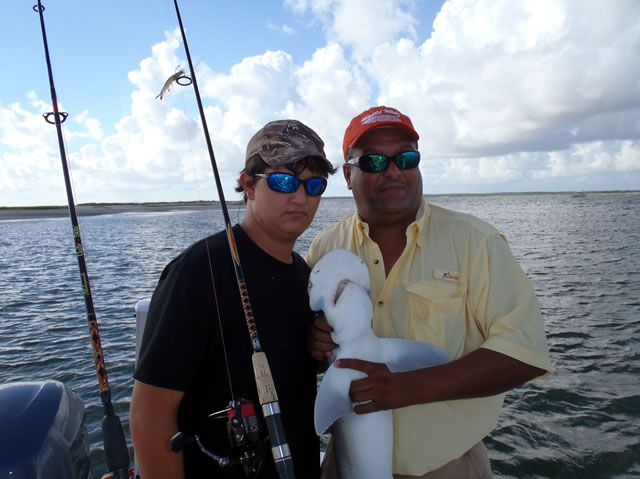 ---
07/11/2012
I had a 3 person 6 hour trip today with Scooter and his sons Michael and Hunter. The winds were gentle to day and the fish bit pretty good. Started off slow as we fished the last hour of the outgoing and 5 hours of the incoming. Water temp was 85 and mostly clear. Scooter has done a fine job with his 2 sons as they are good anglers and very polite. Michael lost the biggest fish of the day but both his dad and older brother caught a couple of keeper sized bonnethead sharks. I kept a tally of all the fish that came in the boat and we landed 27 . Lost a few at the boat and had a few breakoffs, which is not uncommon this time of the year.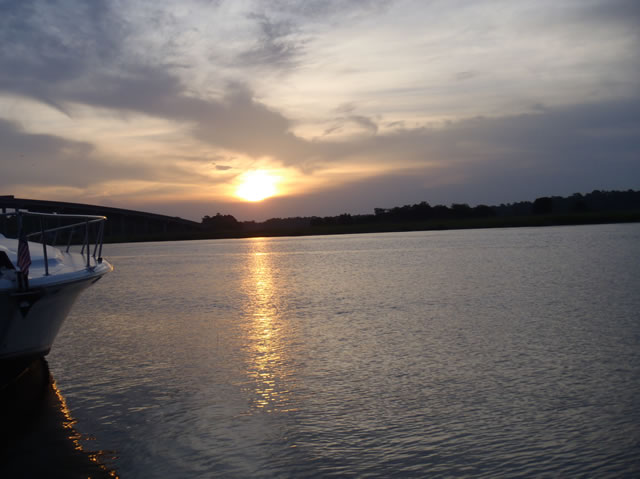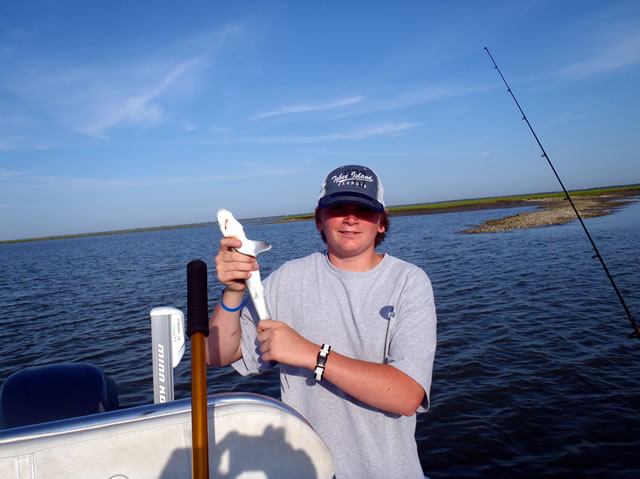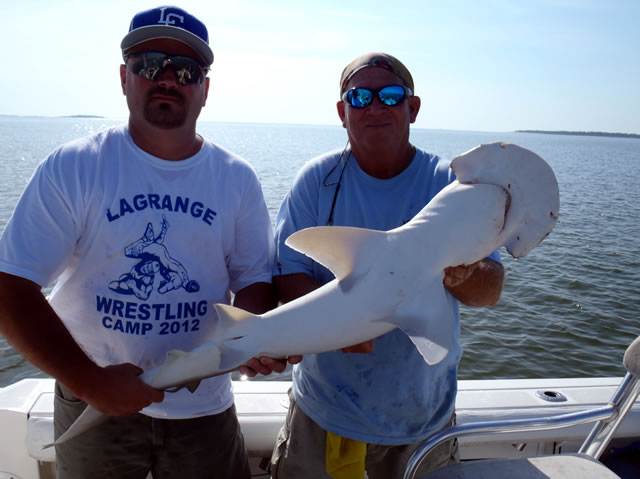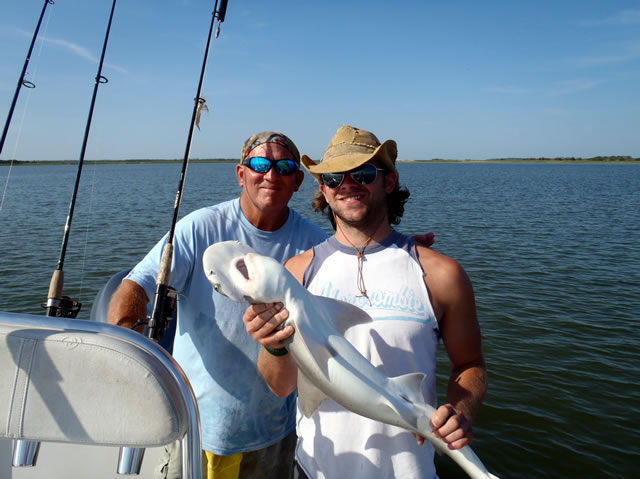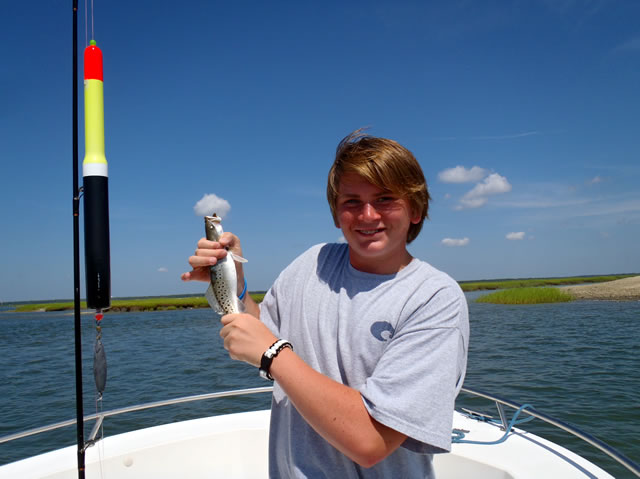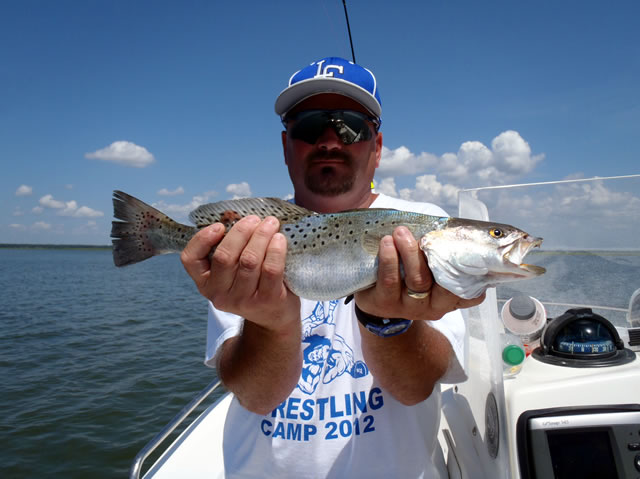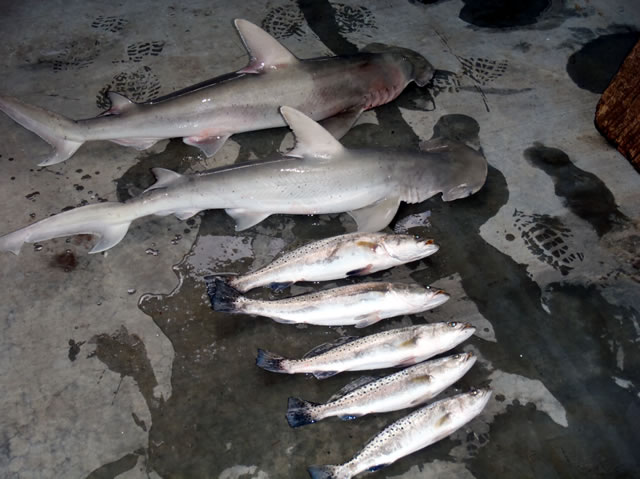 ---
07/08/2012
I had a 2 person 6 hour trip today with Scooter and his son Michael. Water temp was 85 out in Wassaw Sound. Michael wanted to catch a bonnethead shark, and we did hook up with 3 that made some long runs before breaking off. Possibly a blacktip or spinner shark, as we never saw it. Caught and released about 30 speckled seatrout and kept 8 trout and 1 whiting. Picture of Michael with a small shark didn't come out. Water clarity was stained, but we were able to find some clear patches. Wind was about 10 knots out of the west.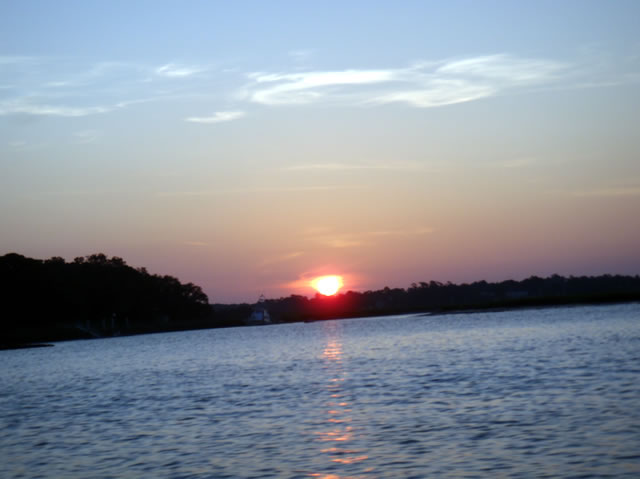 ---
07/07/2012
I had a 2 person 4 hour trip today with Dan and his son Cody for Miss Judy Charters. We departed from her dock at 7am. The water temp was 83.4°, but the wind was kicking up a little bit and muddied the water. We had a steady bite up until about the last 45 minutes and things slowed as the day heated up. They only wanted to keep enough for a meal, so we kept 4 nice trout and 1 whiting. Released a few ladyfish and small trout. Did not get keep any sharks or Redfish today.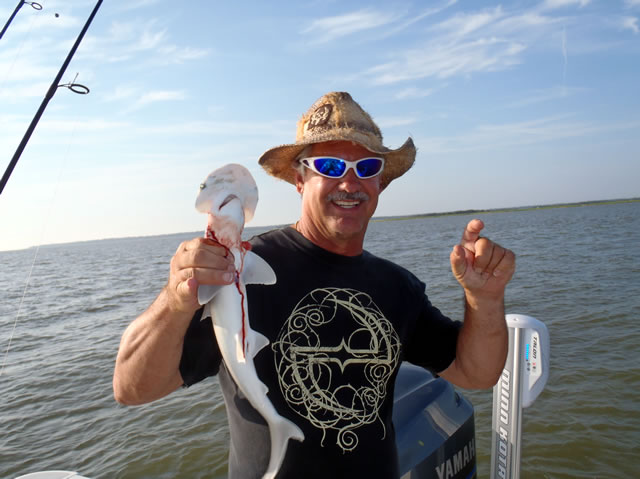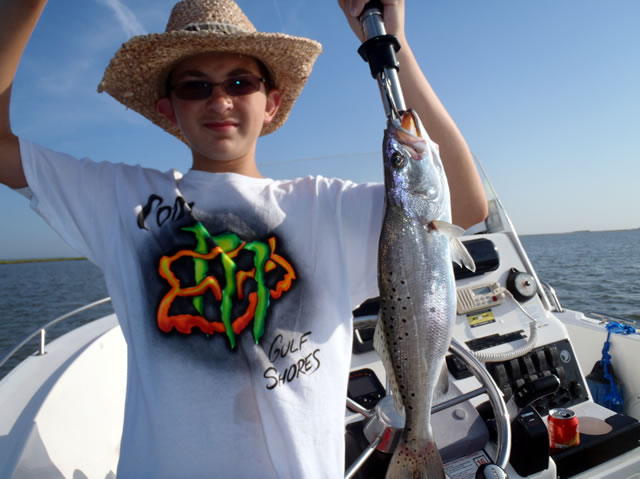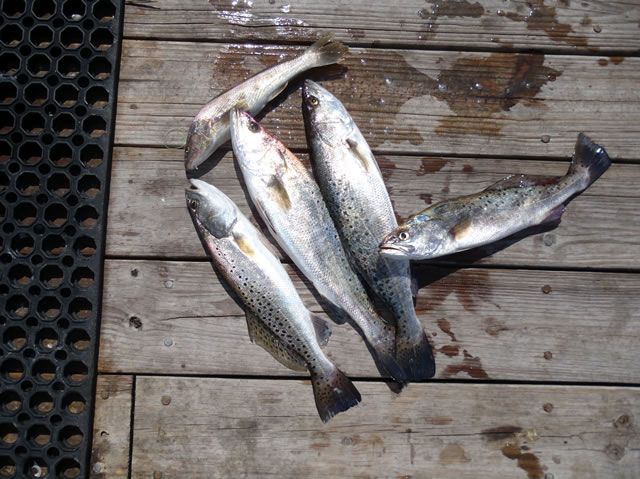 ---
07/06/2012
I had a 2 person 6 hour trip today with Jeff and Karen. We departed from Bahia Bleu at around 6:45 am. Water temp was low 80's and the air temp got into the low 90's. Water clarity was stained, but some clear water was available. We caught all fish on either mudminnows or live shrimp.
Released several small speckled seatrout and kept 4 Speckled seatrout, 1 redfish, 1 whiting and 2 bonnethead sharks. Released a couple redfish as well. Karen and Jeff were both excellent anglers and was a pleasure to fish with.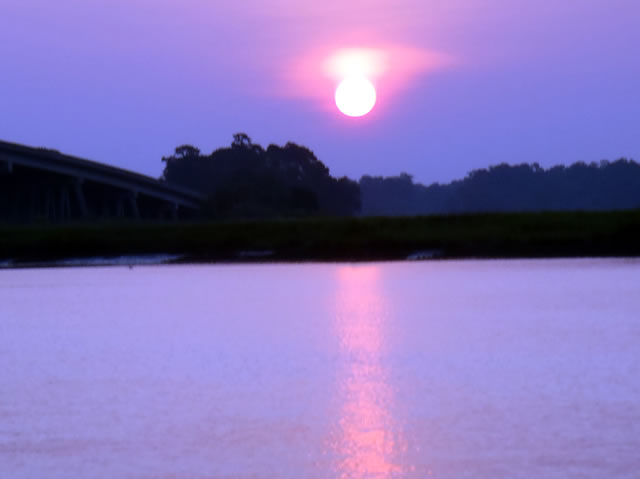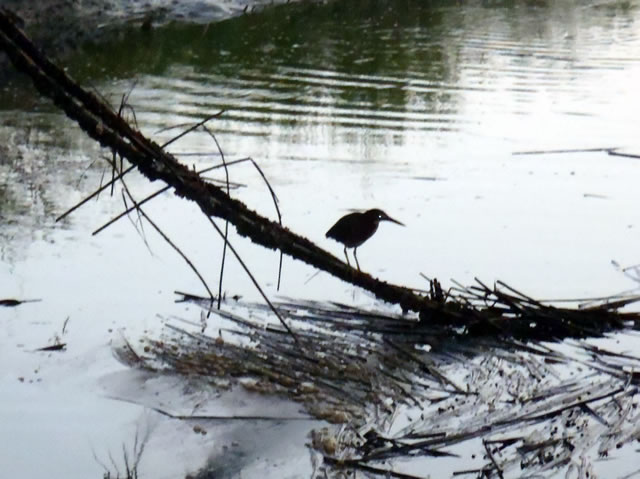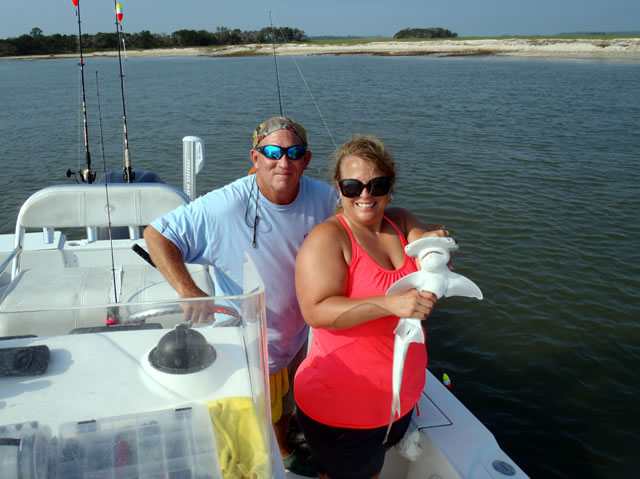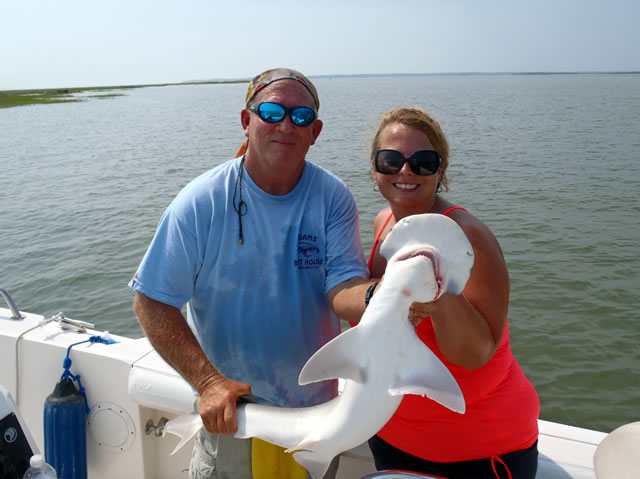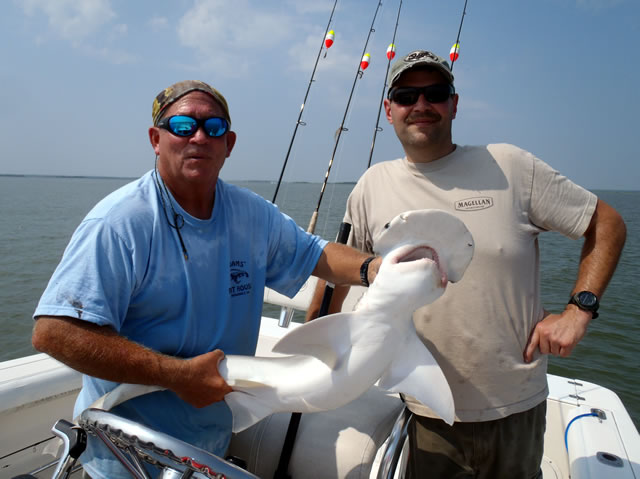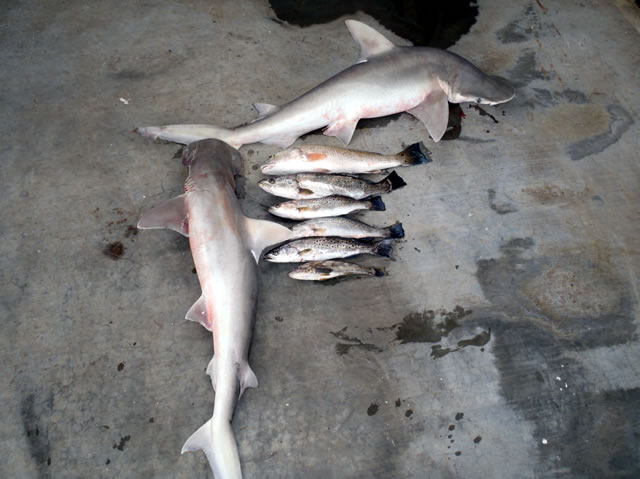 ---
07/04/2012
I had a 2 person 4 hour trip today for Miss Judy Charters. I had George and Tracy on the boat and had an excellent time fishing with 2 great anglers from Northern Mississippi. Water temp was 83°'s and the water clarity was silty or very stained. We are coming off a full moon and the tides were higher than normal and the current speed was faster, making fishing conditions more difficult.
We missed a few trout bites at first, then caught a few ladyfish and a couple of small redfish. George lost a nice speckled seatrout at our last drop of the day, but she shook off a few yards from the boat. Both George and Tracy expressed an interest in the bonnethead sharks here, so we targeted them. George caught a nice one that was around 16 lbs, that we landed. Tracy hooked a nice one that looked larger, but lost her at the boat. The only thing for the shark to get wrapped up on was the Talon anchor, and that's how we lost that on. Tracy came right back and hooked a smaller Spinner shark that broke the leader as well. All in all a good day of fishing.



---
07/01/2012
Summertime Weather Patterns
By Capt. Rick Reynolds of Thunderboltcharters
During the summer months, weather can change in an instant, often going from calm seas and bluebird skies to heavy winds and violent thunderstorms. If you don't have a barometer on the boat, then you might not notice the pressure changing, unless you have an old injury. Often these old injuries will ache with the onset of a thunderstorm, due to the barometric pressure dropping.
Over the years we have also noticed some telltale signs that signal severe weather approaching. Notice how the flies covered up the boarding ladder of our boat. When you see an accumulation of flies, expect very violent weather within 24 hours.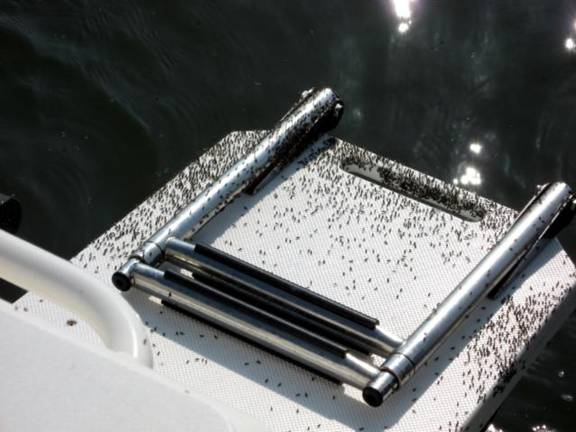 Also always keep a watch of the sky, not just above you but look around you for 360 degrees. Weather can approach from any direction. Also know that our weather is controlled in part from all the fronts that approach us from the west. These same fronts help protect us from hurricanes that typically come at us from the east, unless they cross over from Florida and hit us from the back.
Also if you boat from a Marina, you should also notice that the flags will normally be pointing to the North east as the controlling winds in our area are predominantly from the south or southwest during the summer.
Below are some pictures of some very bad weather that developed when either I or Capt. Jeremy Reynolds was fishing. By observing these conditions we were able to head to port and avoided most of the bad weather. Often lightning will accompany these violent storms and can strike from clear blue skies. If you are unfortunate enough to get caught in a lightning storm, I suggest getting to safety as fast as possible. Also lay any rods down that you have in rod holders sticking up. If your rods start humming or the hairs stand up on your arms, be prepared for a close lightning strike. Take cover if possible. Notice below how choppy Wassaw Sound is right before the storm hit.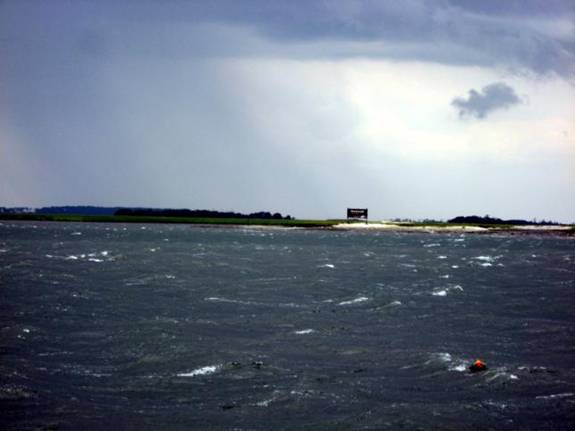 Below is a picture of a scalloped sky that is telling me of an impending tornado or waterspout. I was on a charter with the 2 young men below and quickly dropped them off at the landings, but I had to take cover as this system quickly circled me. It produced extreme lightning.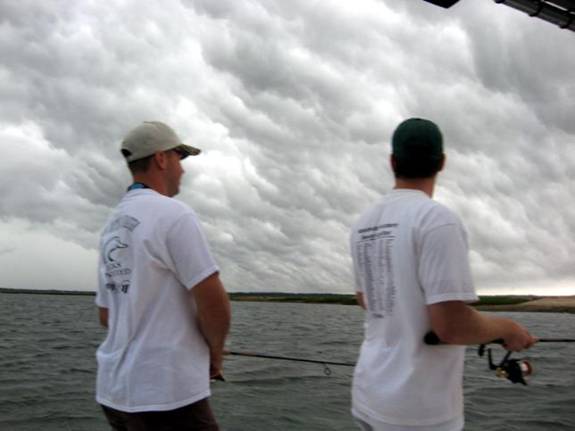 Below is a picture of sky that produced hail and lightning; however I was safely back to the marina and took shelter in the ships store. Not only did this system produce hail and lightning, but it rained a lot as well.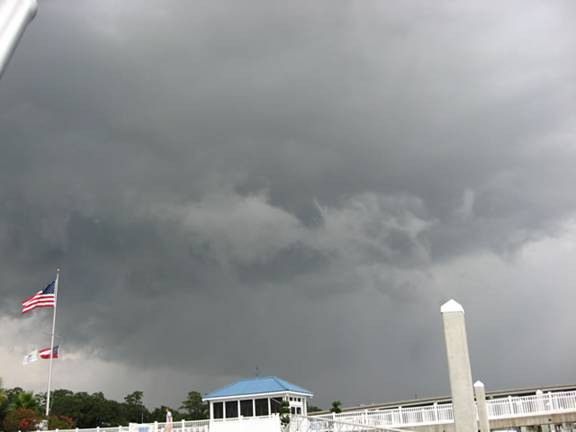 This next picture is of very heavy rains that I got caught in. Below that picture are a few pictures of a waterspout that formed over me and actually dropped down on top of the boat as I was making way to shelter. This waterspout produced so much rain that I had to put the boat in idle as I could not see past the bow of the boat. The winds that accompanied that storm were very strong and tried to lift the boat.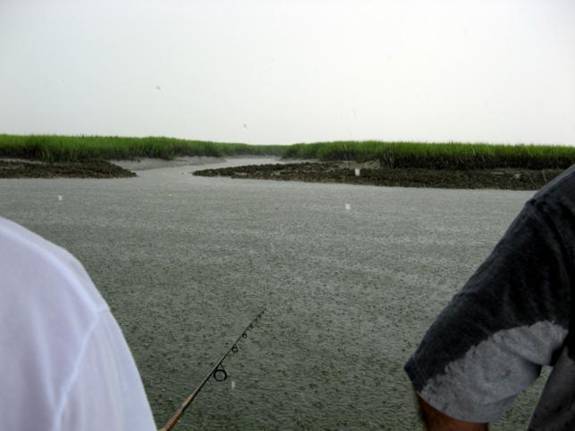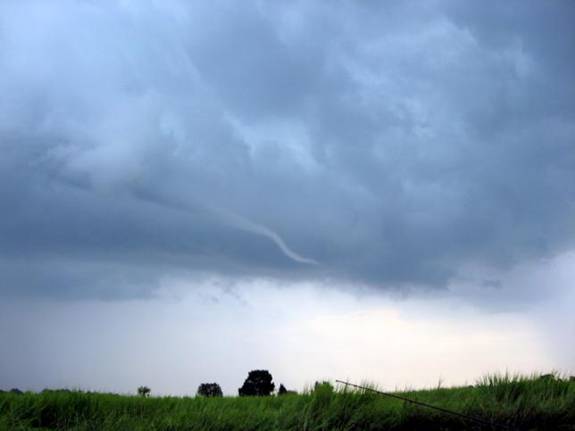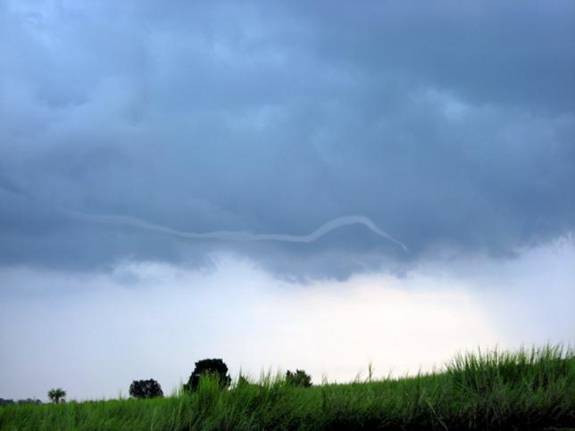 Finally a picture of a waterspout developing on the other side of the Wilmington River. We avoided that one.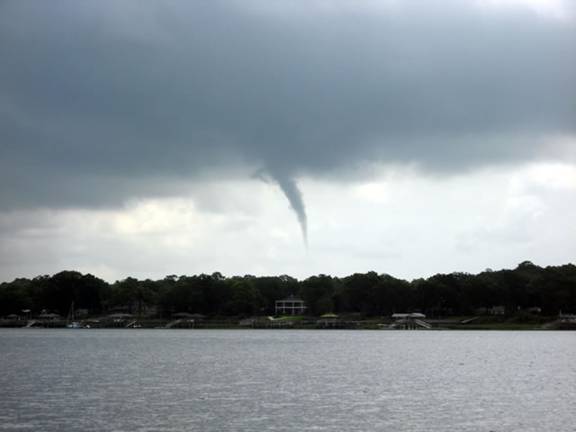 Remember in the summer all kinds of weather can change in an instant. Be prepared by monitoring your local weather on your radio. Weather is constantly broadcast on either channel 2 or channel 3 in our area. If storms are predicted, than plan your day carefully and accordingly.
Copyright © 2012 Thunderboltcharters All Rights Reserved.