06/29/2012
I had a 4 person 6 hour trip todaywith Henry, Herbert, Jacob and Charity. We started slow but when the tide turned, caught and released at least 30 speckled seatrout. Water was stained and the wind was 12- 15 knots out of the Southwest. We also fished on the 27th and they wore jackets, today it was closing in on 100 degrees. They kept a few fish for a meal. Saw a large shark today, but it didn't bite. Also had a coastguard helicopter hovering right over the water near where we were fishing.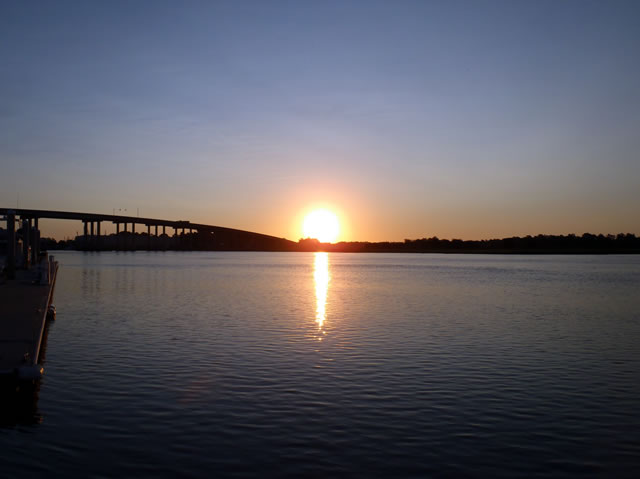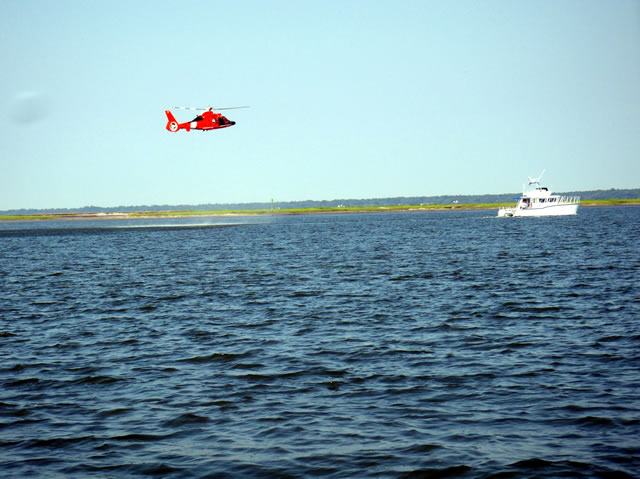 ---
06/24/2012
I had a 4 person 6 hour trip todaywith Bill, Jeremy, Chance and Chase. These guys fished with me a few weeks ago when the last tropical storm was approaching. We were able to get this trip in before we started getting the effects of tropical storm Debby, thats in the gulf, moving NW. At the start of the trip, you can see some of the rain bands that were off the coast. Water temp was 83°, and the winds were calm. We departed the dock at 6:30 and had nonstop action the first 3 hours, then it tapered down somewhat. Release about 25 or 30 short trout and kept 7 trout, 1 whiting and 1 Blue fish. Released a small Jack Crevelle. I had a great time fishing with the 2 boys while the adults fished without much assistance. Best bait today was the mudminnow.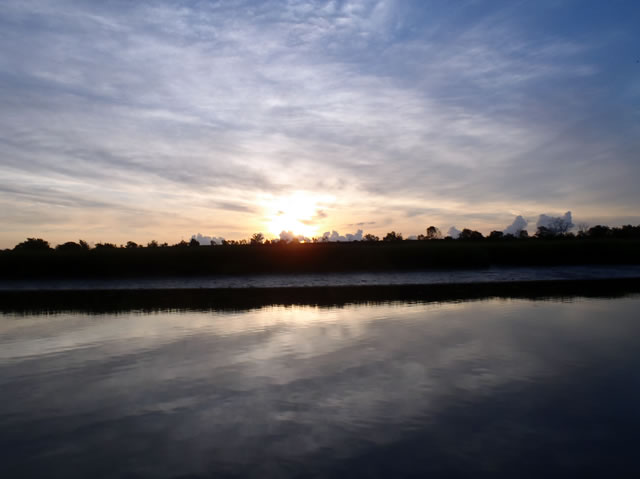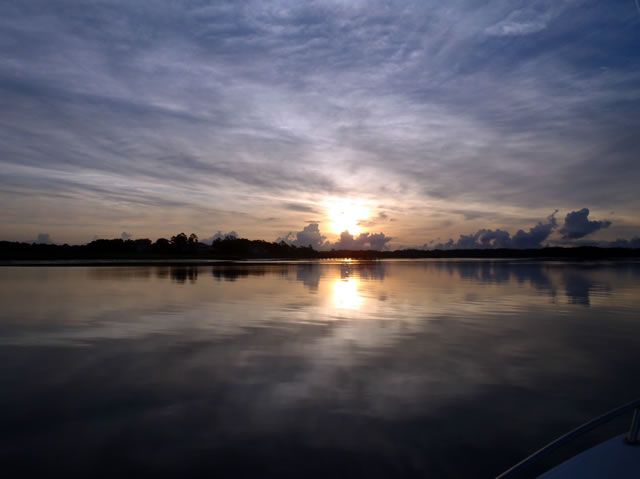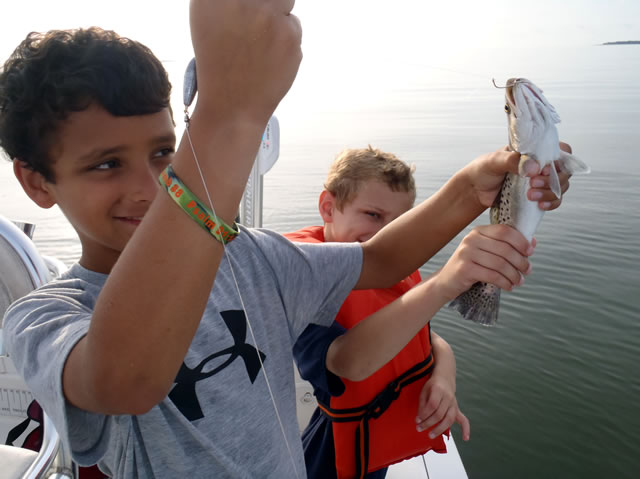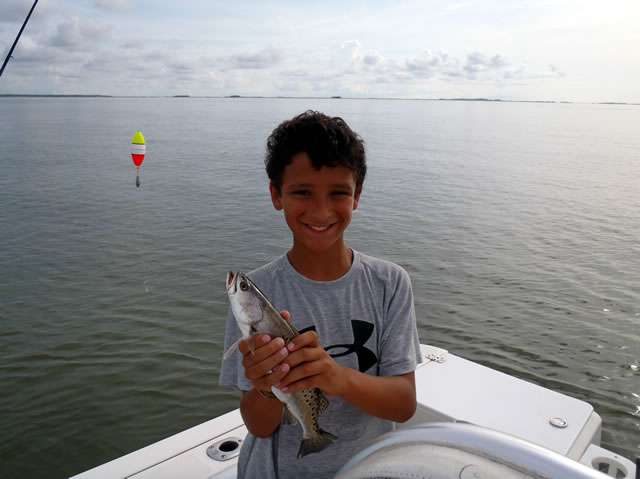 ---
06/23/2012
I had a 2 person 6 hour trip todaywith Katie and Jonathan. Water temp was near 83°. Water clarity was excellent today and we did release about 25 short trout. We also caught quite a few ladyfish and a small Jack Crevalle. Kept a few trout for a meal as well as a very nice Tripletail and 3 whiting. We had steady action most of the day. Katie did want to catch and release a bonnethead shark which we did during the last 15 minutes of the trip. Unfortunatly Jonathan lost a Huge speckled seatrout at the boat, one of the largest that I have seen in a couple years. He and Katie were alot of fun to fish with and Jonathan was happy to play with that big trout. I suspect she was full of roe.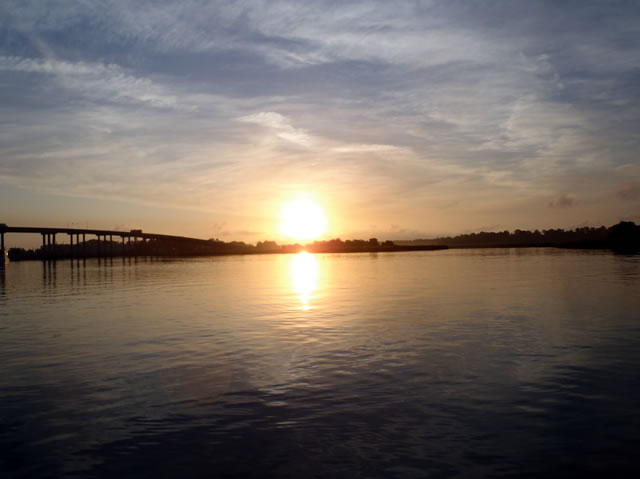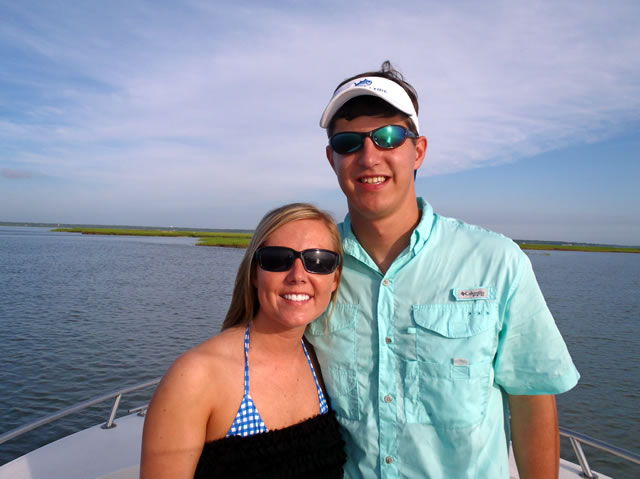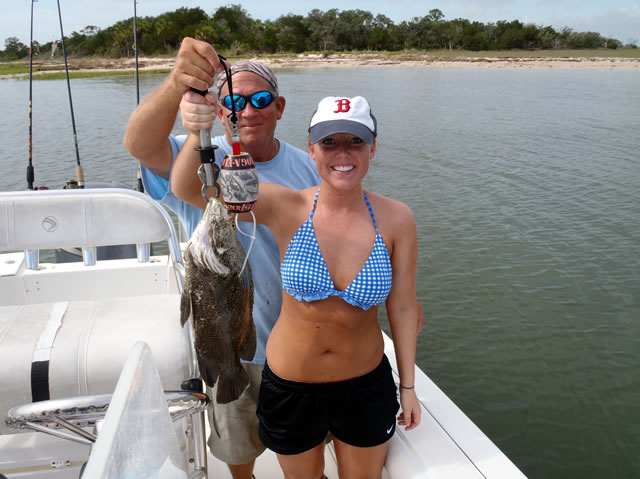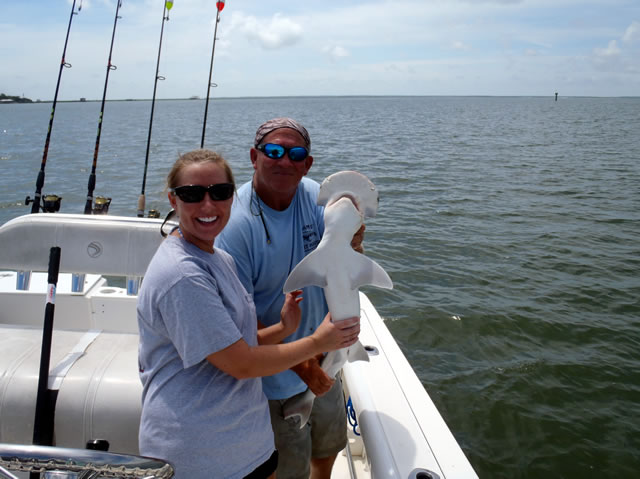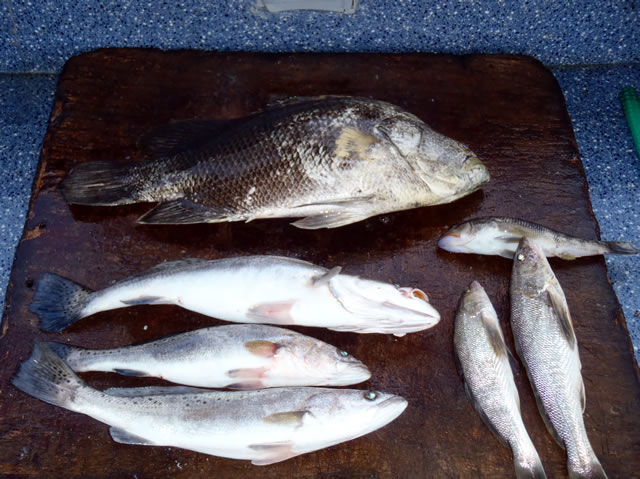 ---
06/22/2012
I had a 2 person 6 hour trip today. I had Trinity and Brandon today on the boat. Water temp started at 80° and got up to 83°. Water clarity was excellent today and we did catch quite a few fish, but most of the trout were about 1/4 inch short. Everyone caught several ladyfish. Brandon hooked an overslot redfish that broke him off in the oysters. We kept a couple trout, 3 whiting and 2 pompano. They both caught a couple spinner sharks that put up a good fight. It was a pleasure fishing with such a well mannered young man.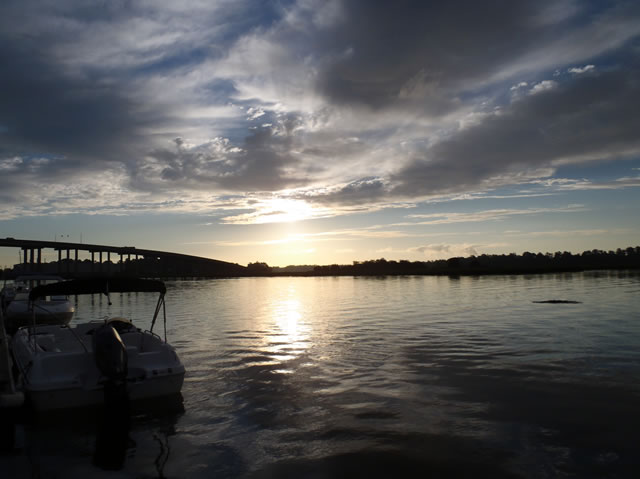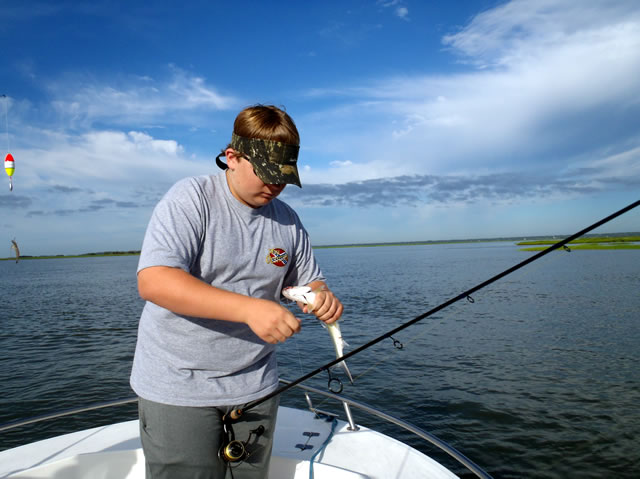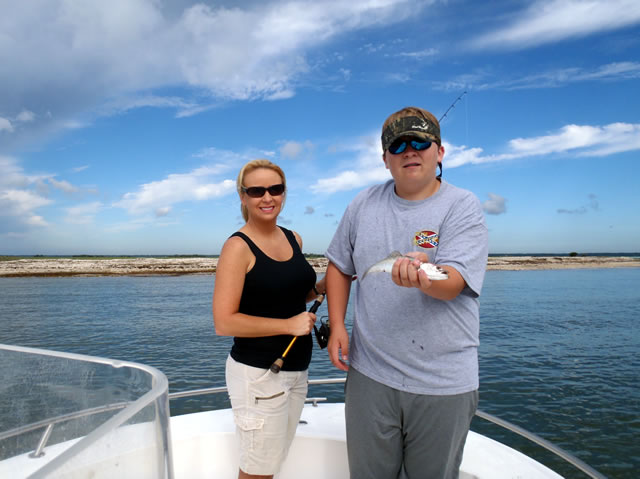 ---
06/21/2012
I had a 3 person 6 hour trip today. I had the Terry, Sherry and Terrys brother Chris today from Texas. Today was catch and release and we released about 10 speckled seatrout, some whiting, some bluefish, a puffer fish, 2 bonnethead sharks . Also caught several ladyfish. We had many breakoffs due to spinnersharks. All in all a very action packed day .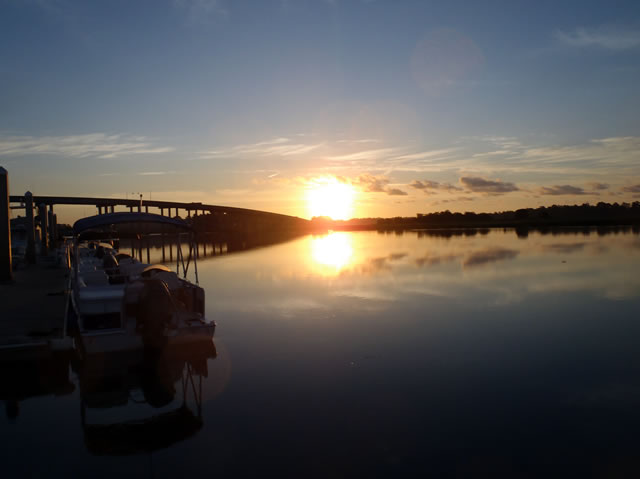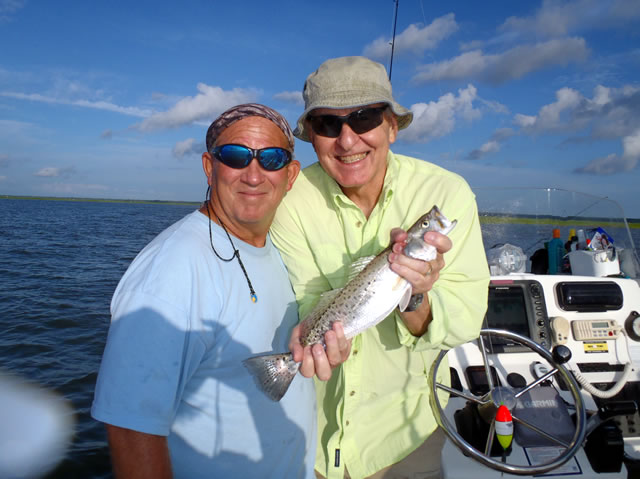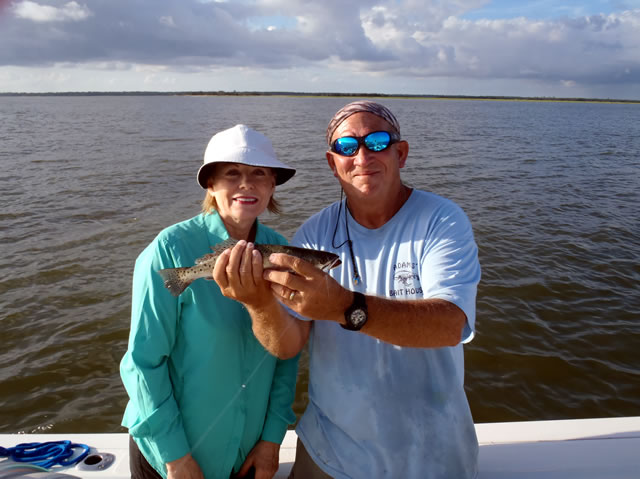 ---
06/16/2012
I had a 3 person 8 hour trip today for Miss Judy Charters . We departed her dock at 6:30 am to a full 15 knot wind out of the east , north east. We found some clear water and that water temp was about 79 degrees. Caught and released several small trout, and ladyfish, but kept a few keeper trout and 2 bonnethead sharks. Release 2 sharks as well. Lost a lot of tackle to spinner sharks, that hit the bait like a train, then jump and spin. Hard, long day on the water. The best bait was mud minnows today.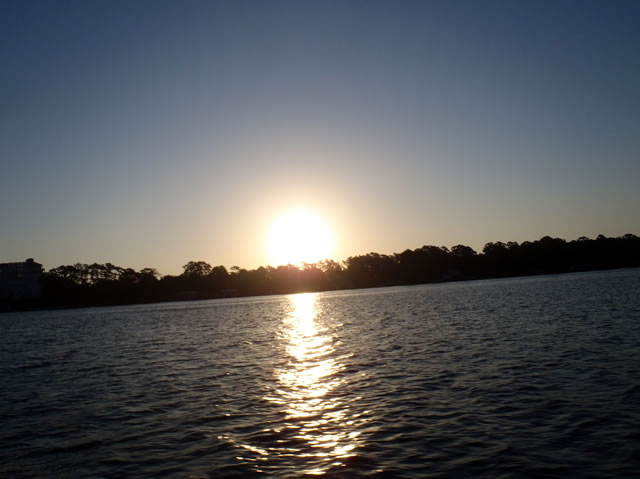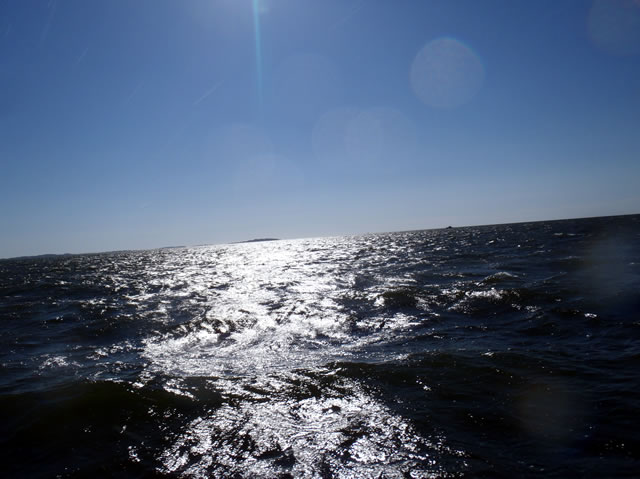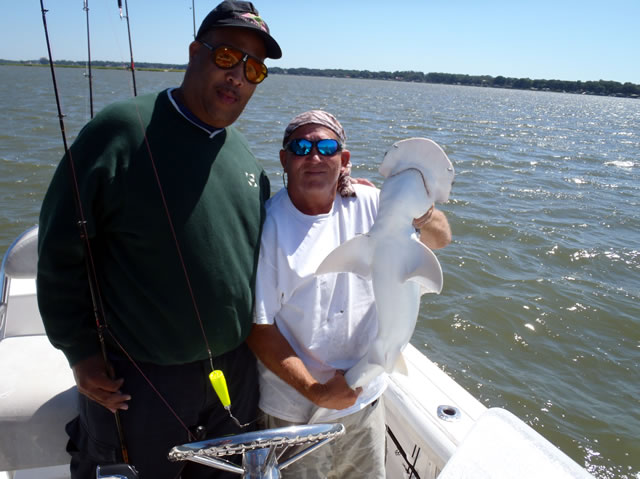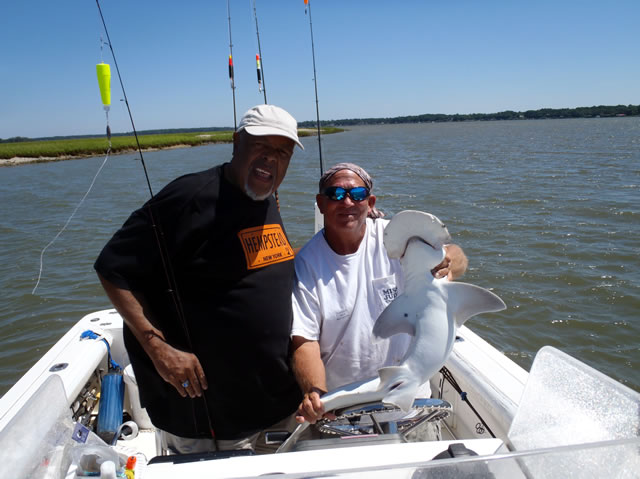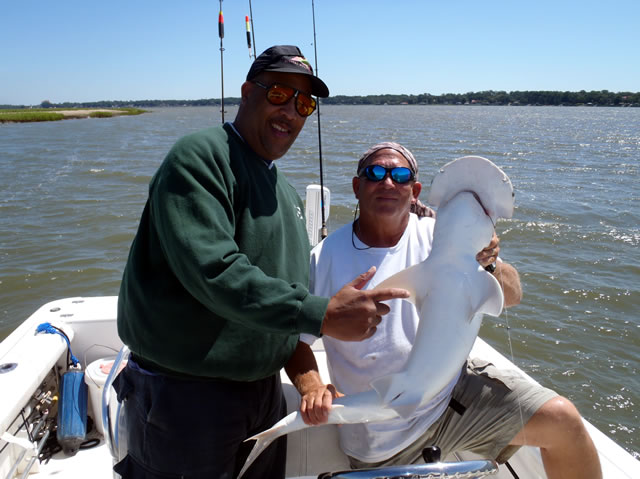 ---
06/13/2012
I had a 3 person 4 hour trip today for Miss Judy Charters . We were part of a 5 boat multi boat trip. It was a mini tournament for Pentastar Aviation, who is down for Gulfstream Aerospaces' Operators Conferance. I had 2 of these guys 2 years ago, Mark and Rodney. Eddie was new to my boat this year. We started to fish with the other boats up the Savannah River, but decided to run to the jetties. The tournament was for the longest redfish. Our boat released several Trout, 1 that was over 17 inches and a very young flounder. Mark caught 90% of the fish, including a 25 and 1/2 inch redfish, that was definatly in the running for first place. Can't say if we won or not, as the dock space was limited and 1 boat dropped off at a time. Also the only proof needed was what the Captain of each boat reported. No pictures were necessary, but we did take a few. Had to be at the pickup point at 10:30, so we were on time.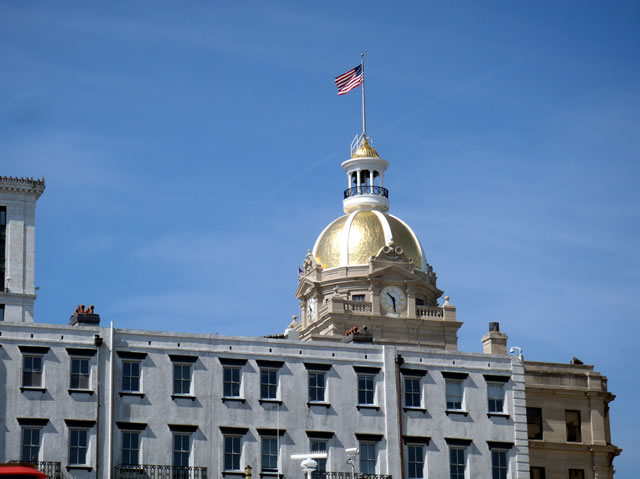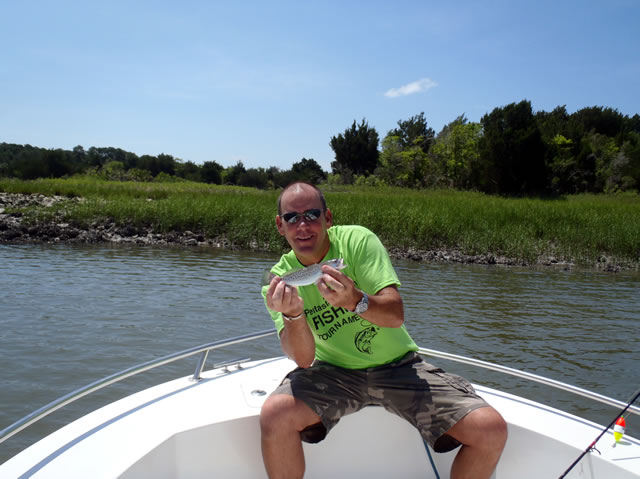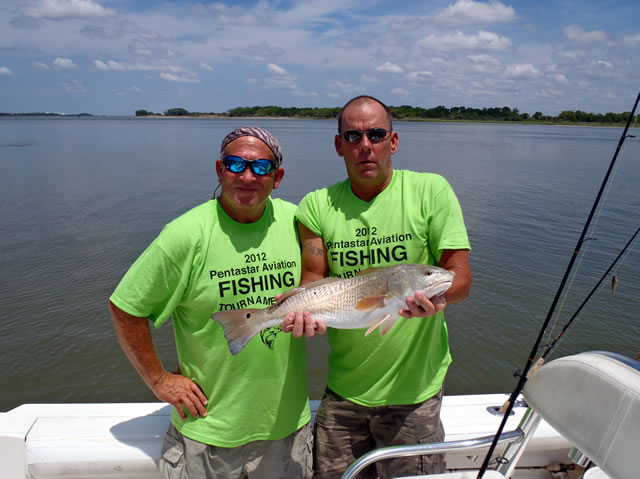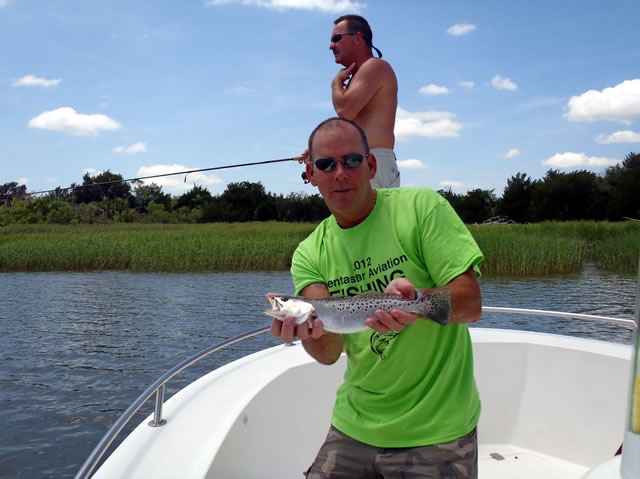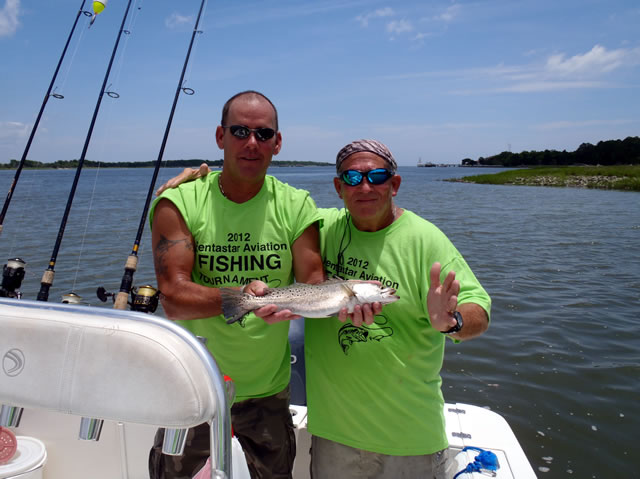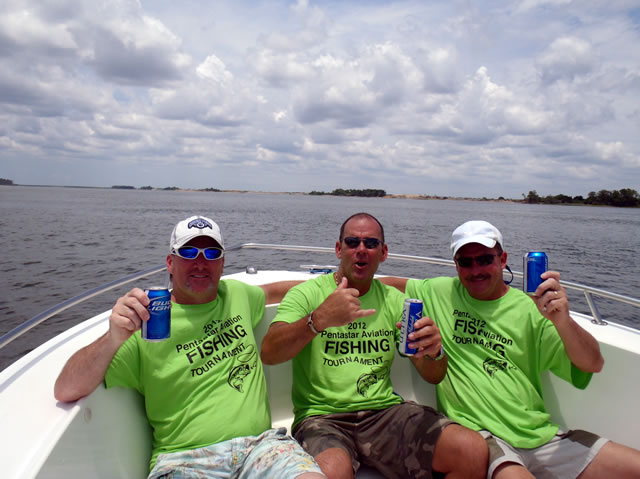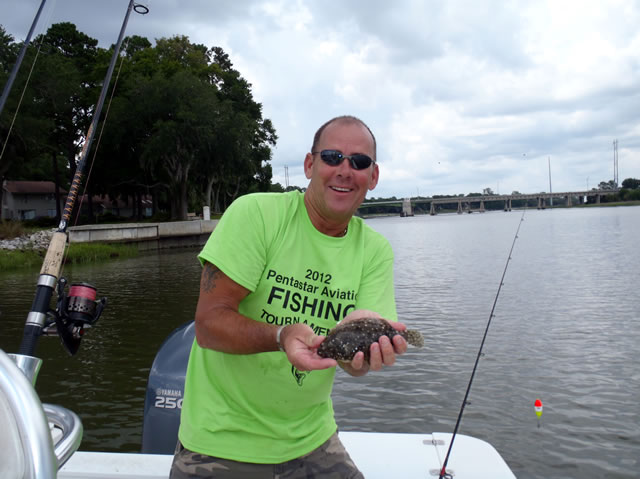 ---
06/10/2012
I had a 5 person 4 hour trip today for Miss Judy Charters . We started right on time at 8am. Water temp was upper 70's and air temp got into the mid 80's. Since this charter was 3 children and 2 adults, I took equipment and bait for trout, but also took some medium bottom outfits for whiting, and heavy equipment for sharks. So we decided to not trout fish and concentrated on whiting and sharks. We kept 12 whiting and released about 20 small sharks. Tried for larger sharks, but they didn't bite today.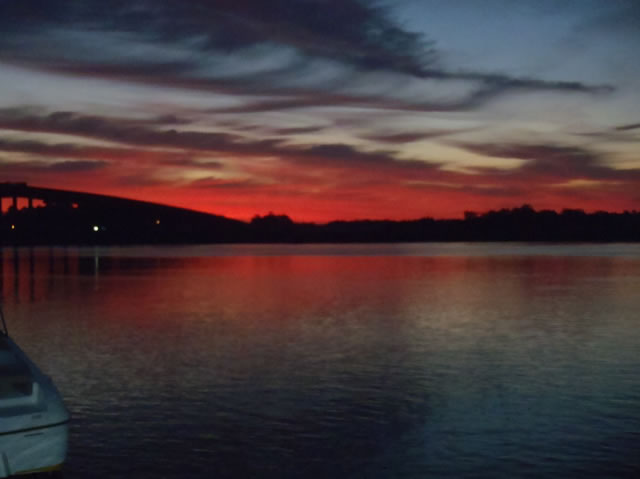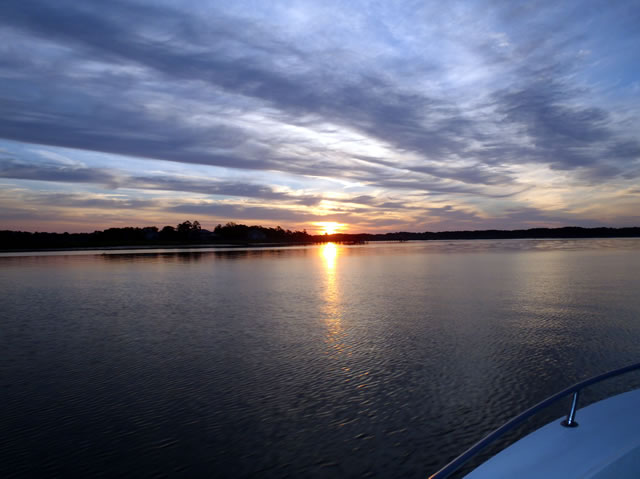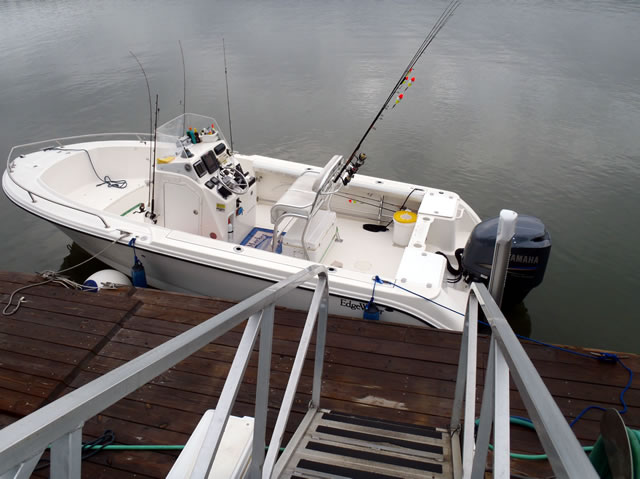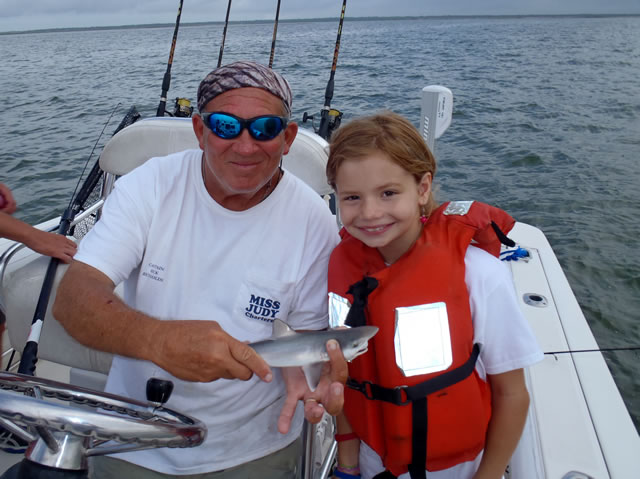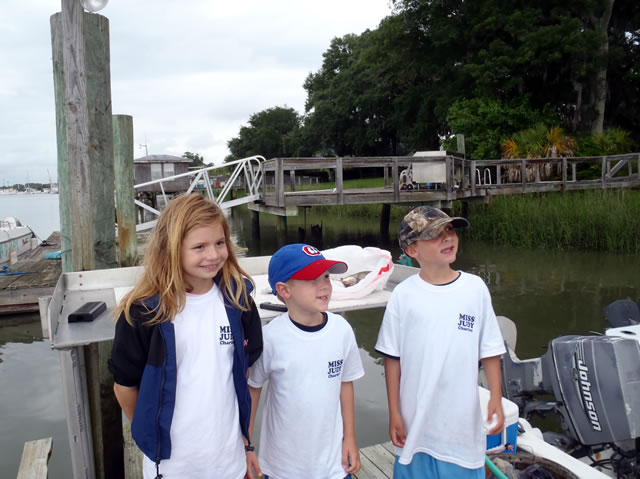 ---
06/08/2012
I had a 2 person 5 hour trip today for Miss Judy Charters . We got a late start of 9:30 am, but got on the first drop around 9:50. Water temp was upper 70's and air temp got into the mid 80's. Clear water was difficult to find due to the high tides and fast current due to the stage of the Moon. We kept a few fish, released some small sharks and small sea trout. Also tagged a nice redfish, and caught a couple blue fish. Released about 10 ladyfish. All in all a good day on the water with Brett and Joe.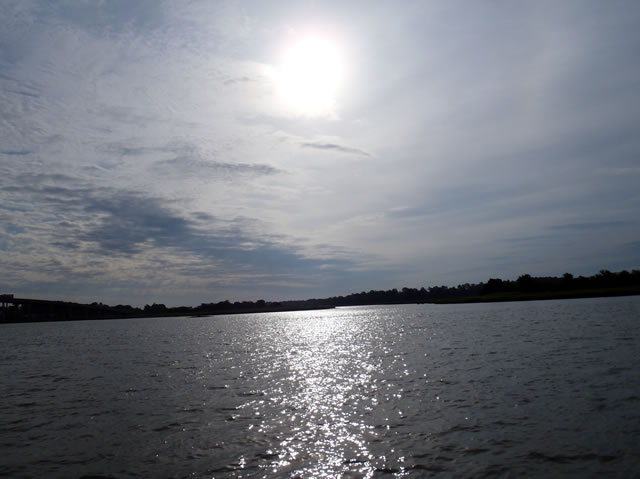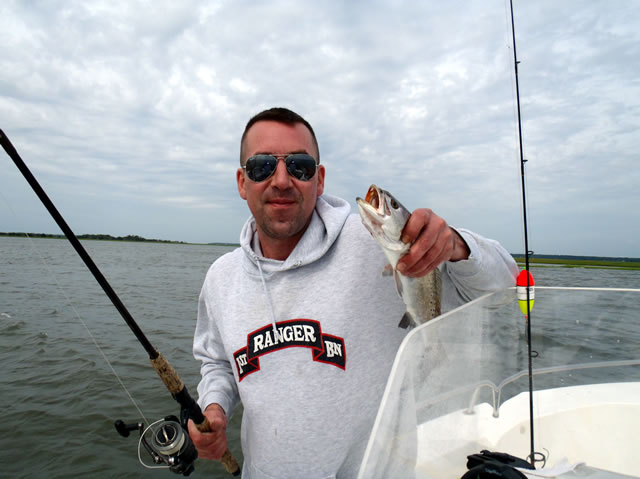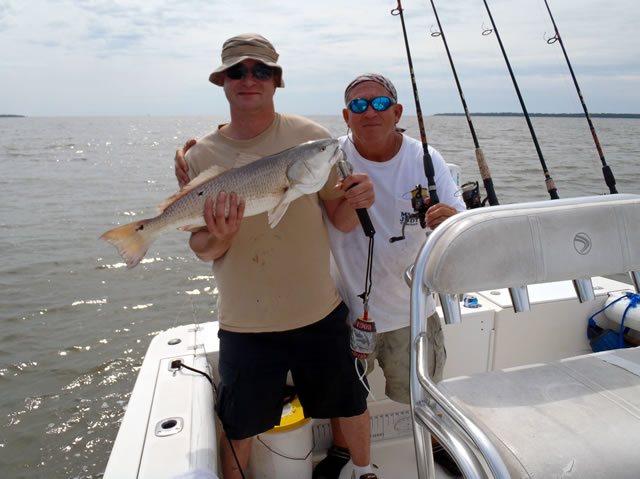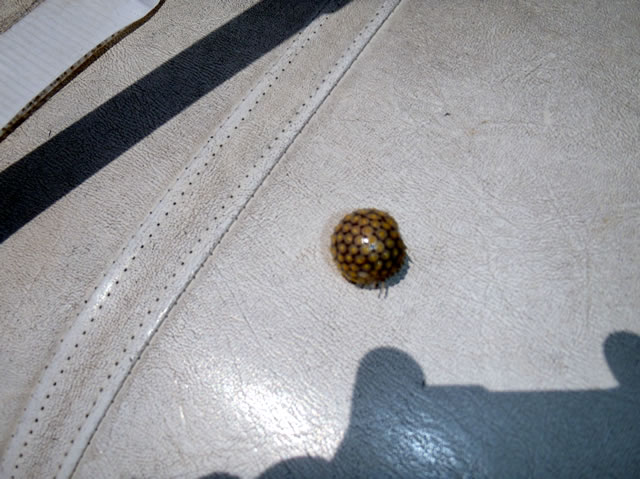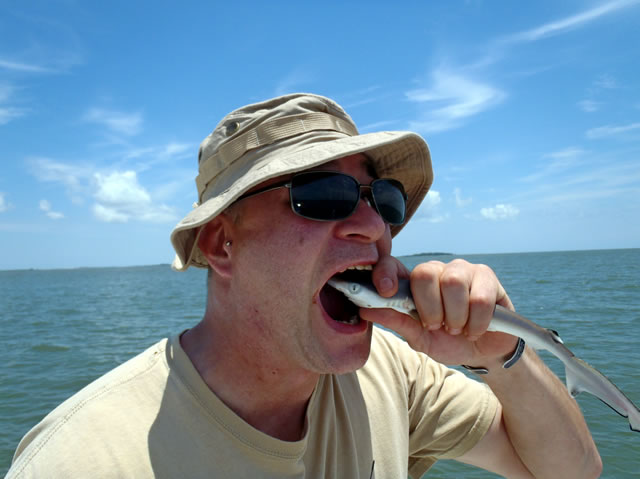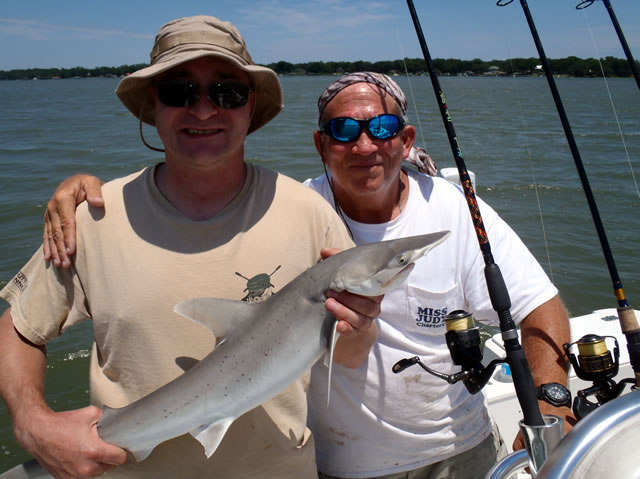 ---
06/07/2012
I had a 4 person 4 hour trip today for Miss Judy Charters . Actual air temp was in the upper 60's and the water temp was mid 70's. Started off cloudy then an hour into the trip started raining. The bite was good up until the rain started and then the wind really picked up out of the North East. Both boys were under 10 and had not fished out of a boat. Their Grandmother wanted to fish with them, so she came and caught a couple blue fish. Once the rain set in, they decided to come on in early.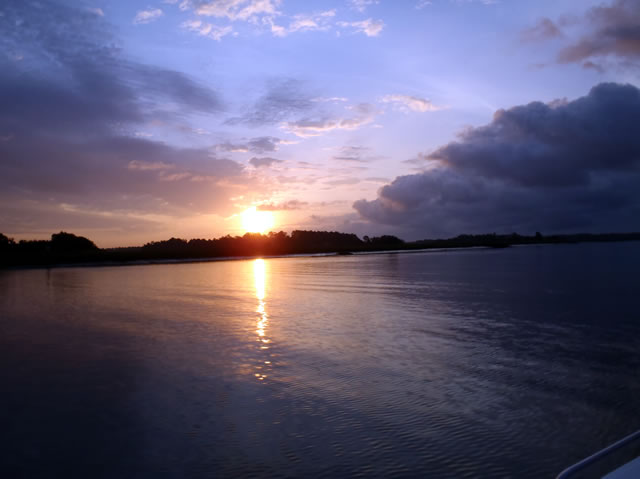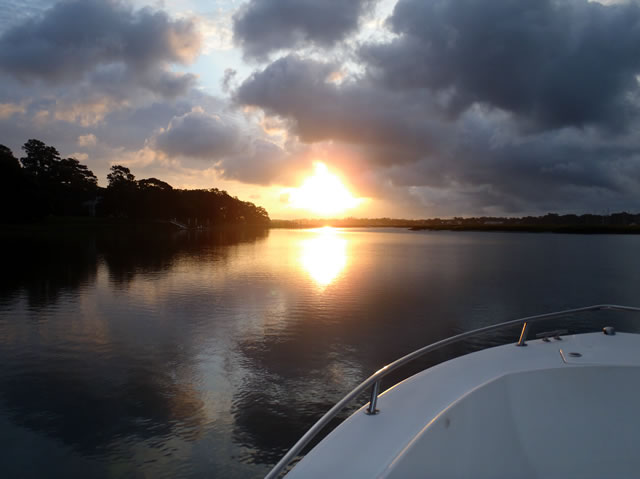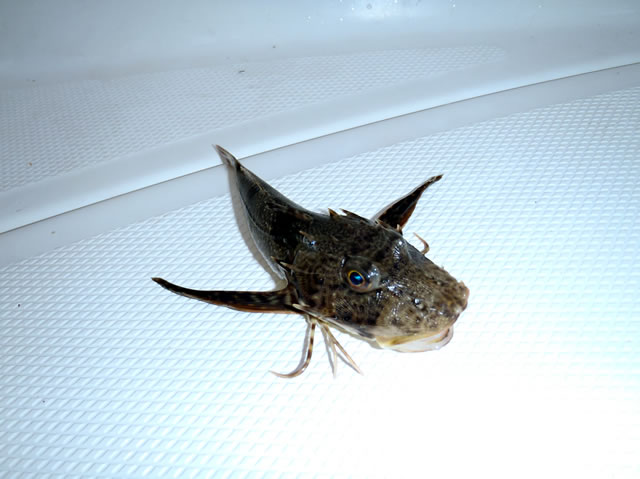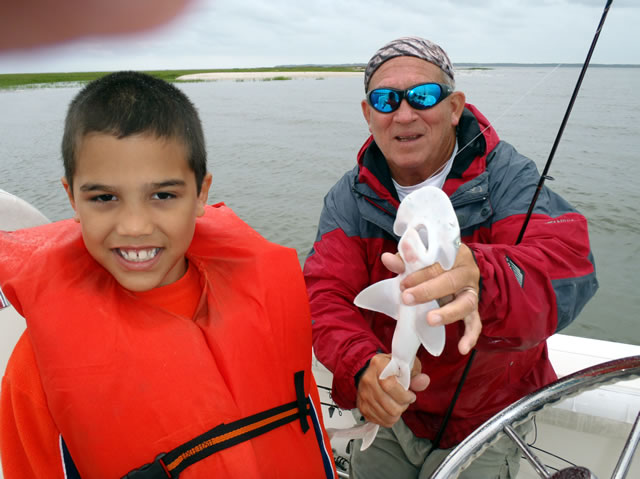 ---
06/02/2012
I had a 3 person 4 hour trip today for Miss Judy Charters Today. I have had these guys before. Today we kept 5 flounder, 1 speckled seatrout and released 5 undersized trout. Also caught and released 1 spinner shark. The picture of all the flounder was taken after I had cleaned 1 and the trout. Water temp was in the upper 70's and the clarity was not good. Very high tides and a gentle west wind kept the water turbid.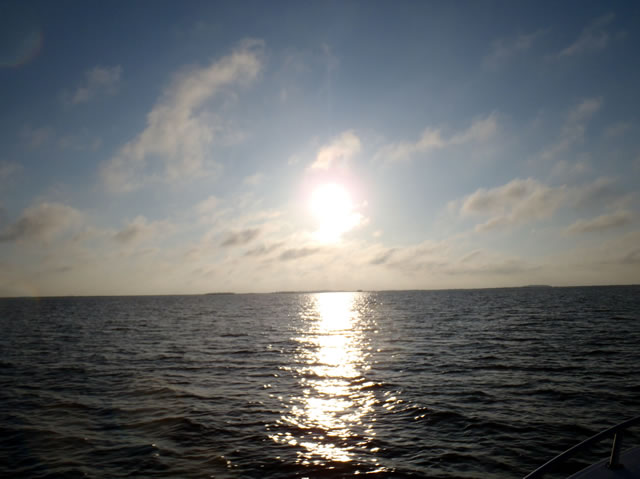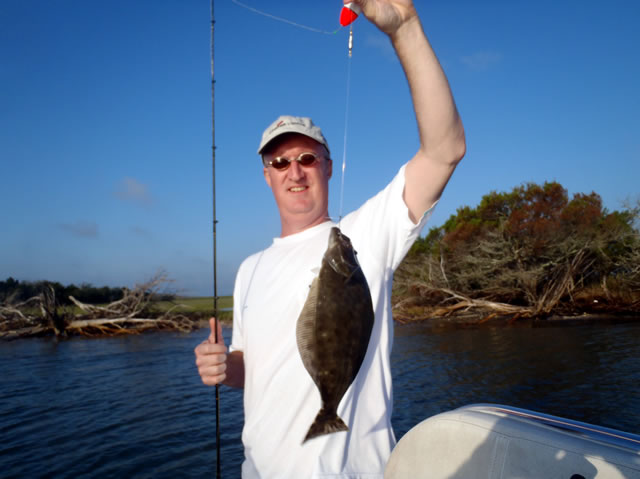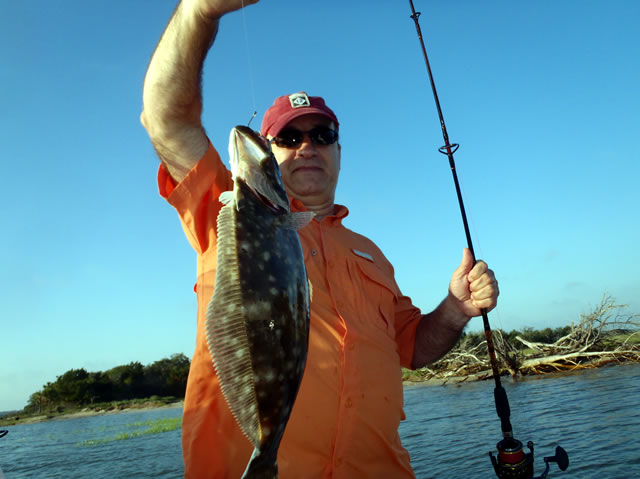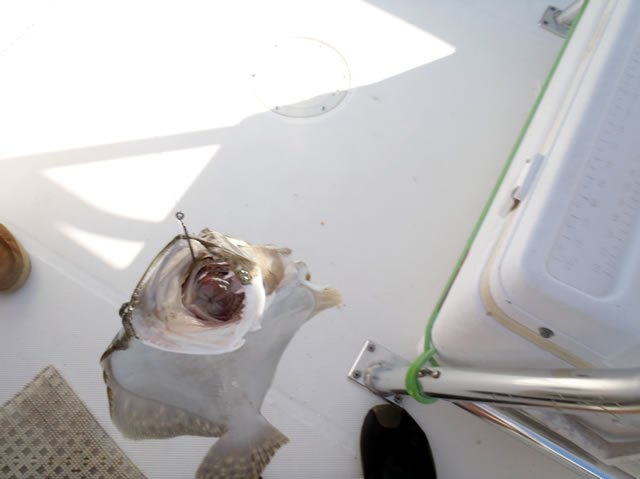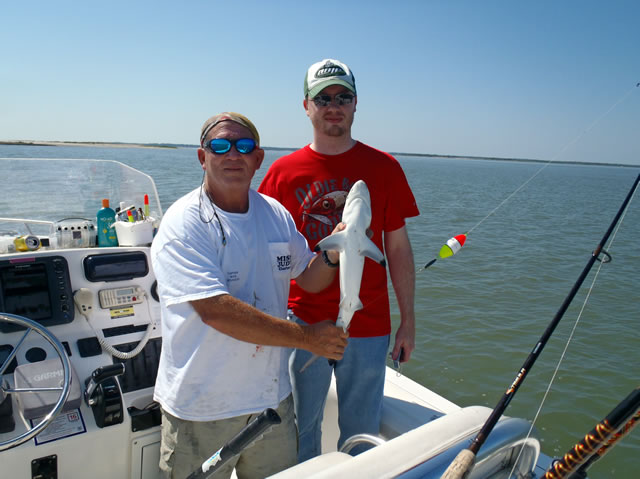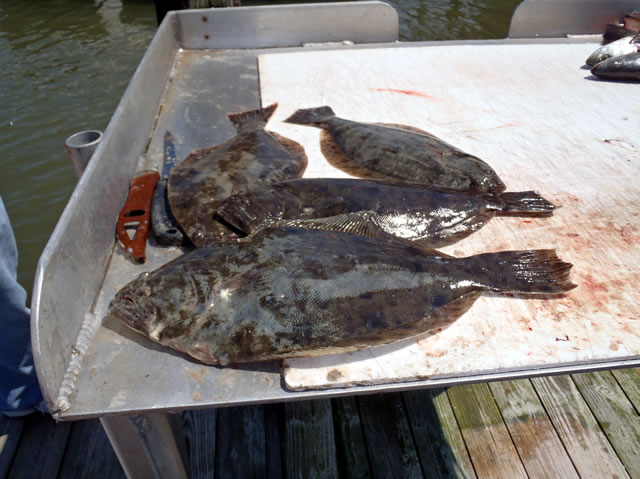 ---
06/01/2012
Thanks to my good friend Charles Finney, he removed my useless PowerPole and installed a Talon shallow water anchor. We also removed my trim tabs that were not being used, but was taking up much needed Transom space. I have pictures and will post soon of the old technology Power Pole, driven by hydraulic fluid vrs the Talon, which has an electric motor and drives the spike down into the bottom. I have a 4 hour 3 person charter for Miss Judy charters on 6.2.2012, so will get a chance to try it out in the water.
Inferior PowerPole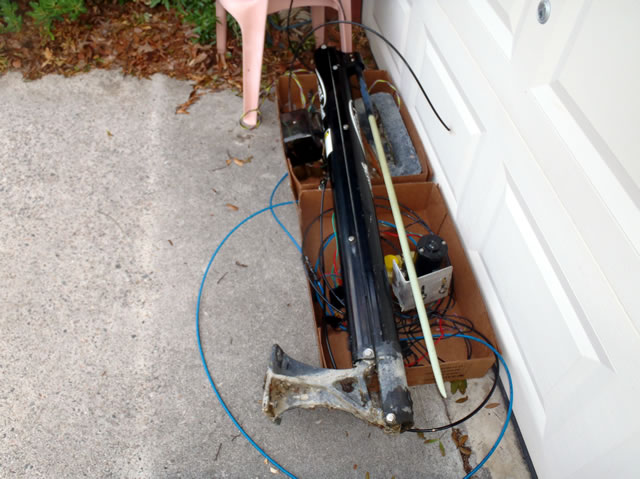 New Talon deployed in 3 feet of water.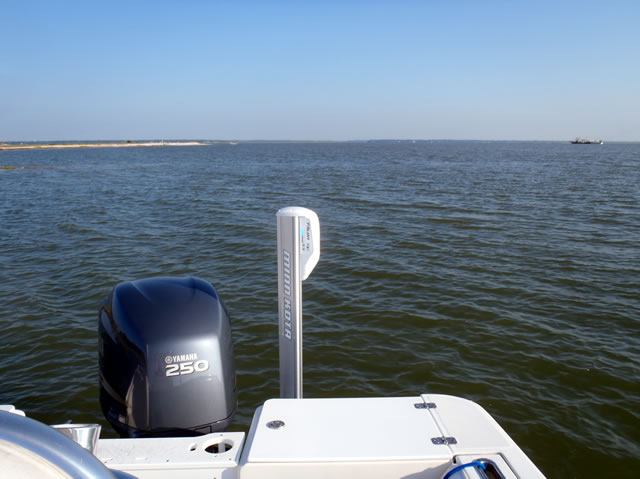 Testing install at speed. Running 49 mph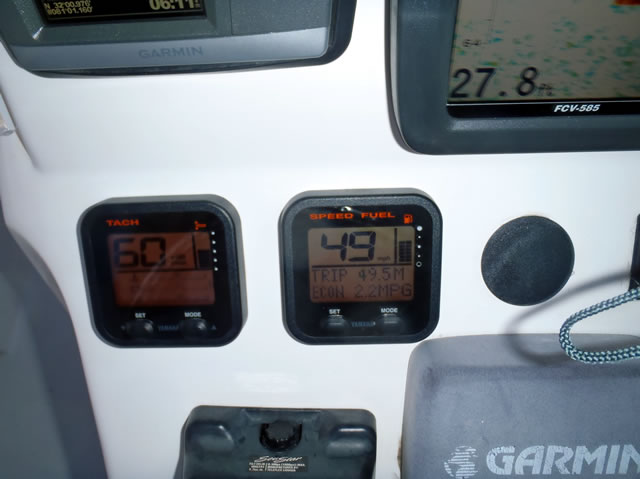 Shot of Talon staying put at high speed.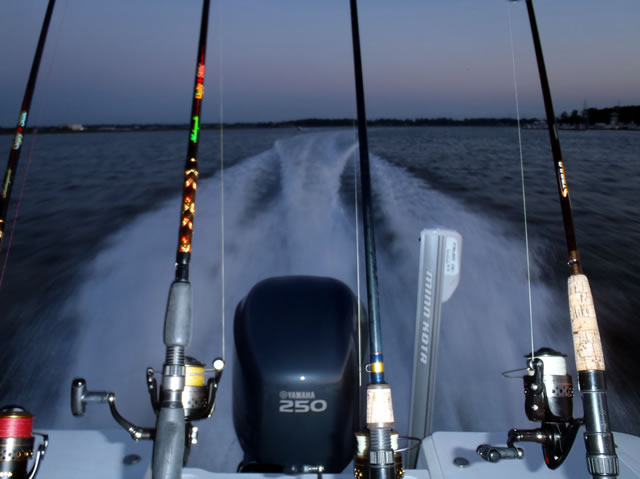 ---
Copyright © 2012 Thunderboltcharters All Rights Reserved.