05/29/2010
Capt. Rick had a late 6 hour, 2 person trip for Miss Judy Charters today. The wind blew hard out of the east/norteast all day. Trip started at 12:45 - we fished the last of the outgoing an a couple hours of the incoming.Water temp was in the low 80's and muddy until the tide came in. The lady mentioned an hour before the end of the trip that she wanted to catch a shark. We went out to Wassaw sound and it was very rough, but we did catch a small shark. We caught a few small trout, flounder, black drum ladyfish and the shark. Very hard day on the water due to the high easterly wind.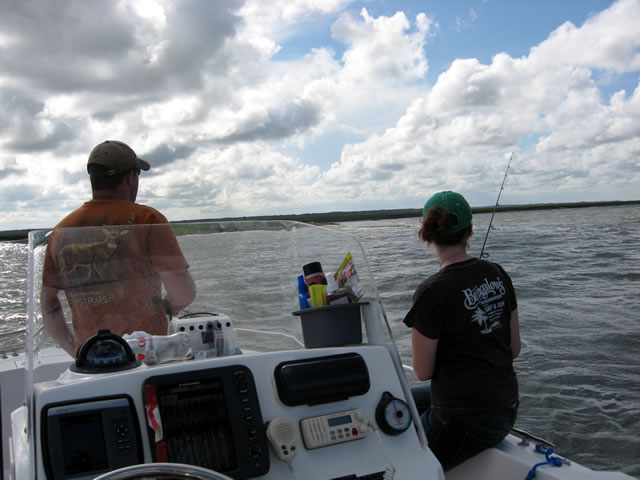 ---
05/28/2010
Capt. Jeremy had a 4 hour, 2 person trip for Miss Judy Charters today. Water temp was 80° to 81°. The water was stained and the current was fast, due to the higher tides. They started at 9:30 am. Caught 7 reds, some small trout and a nice black drum. Released the oversized reds after reviving them.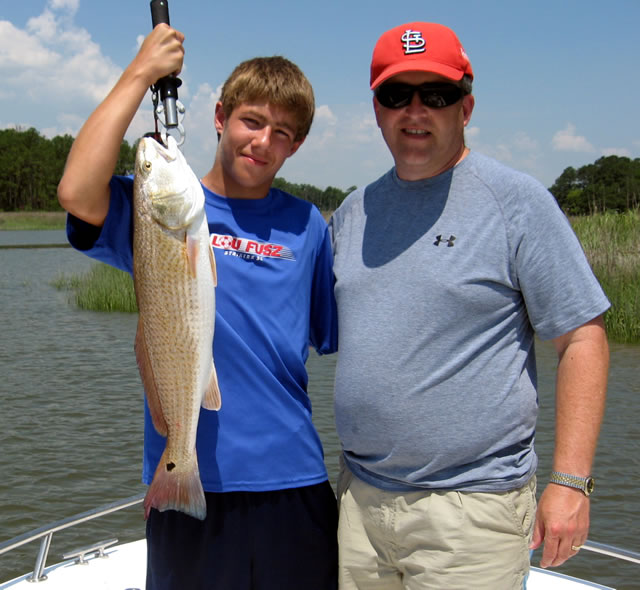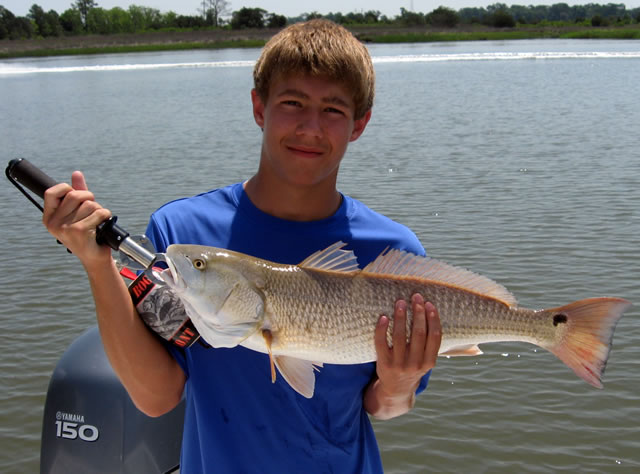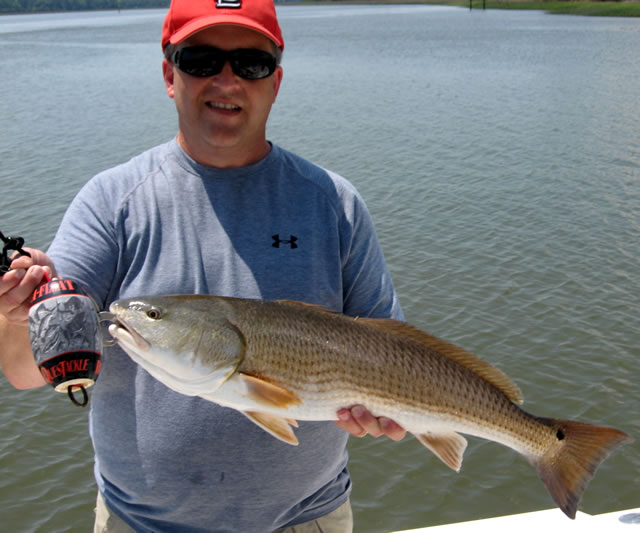 ---
05/26/2010
Capt. Jeremy had a 8 hour, 3 person trip for Miss Judy Charters today. Water temp was 80 degrees at most locations. The largest redfish landed by his group was a little over 31 inches. They caught and released several from 26 inches to the largest of 31 inches. They also caught and released flounder, trout and a 40 inch bonnethead shark. All fish caught on live shrimp.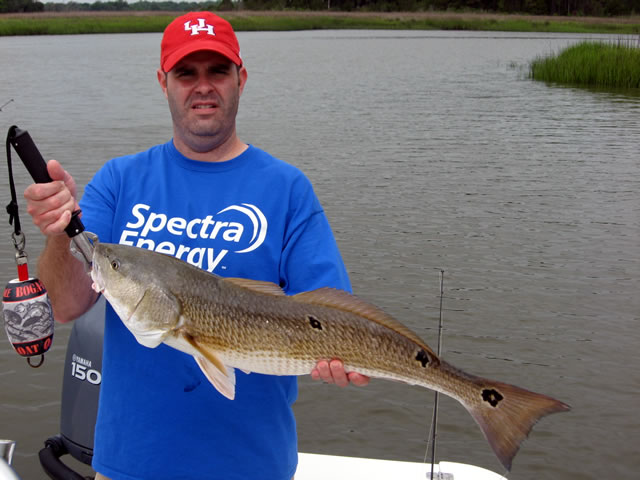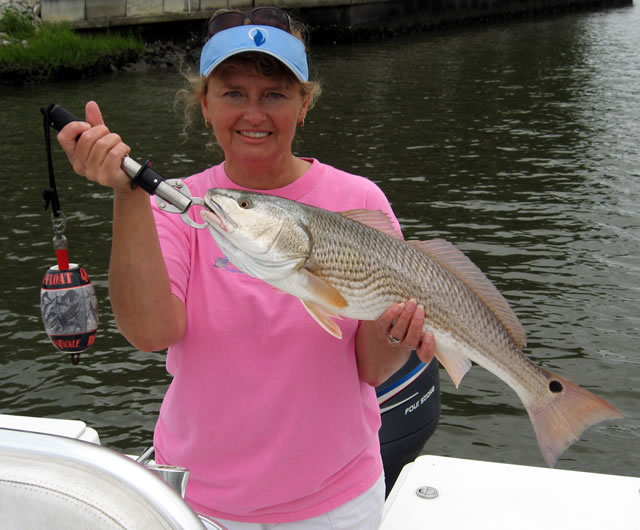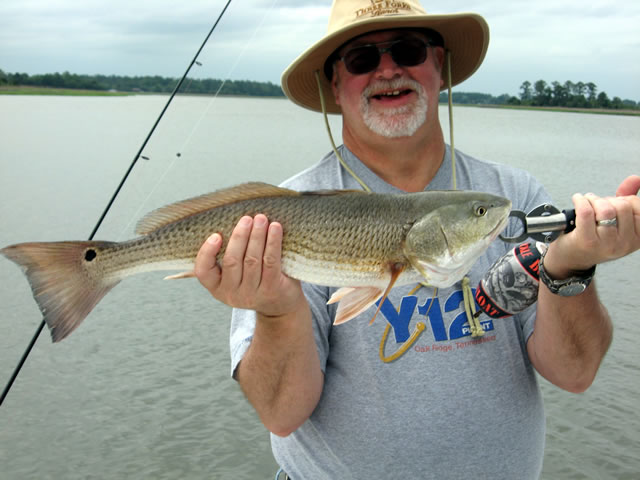 ---
05/23/2010
Capt. Rick had a late 4 hour, 4 person trip for Miss Judy Charters today. The wind layed down nicely until about 12 then started blowing. Water temp was in the low 80's and muddy until the tide came in. Lost a large bonnet head shark at the boat and caught and released flounder and bluefish. Below is a picture of a shark working the bank in Turners Creek. She is at the bottom left of the oysters. The heron on the right moved away from the feeding shark.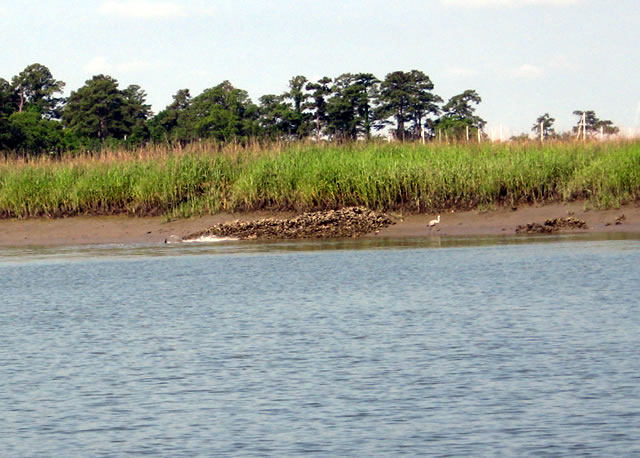 ---
05/22/2010
Capt. Rick had another difficult trip today. Wind continues to blowfrom the Southeast today. Should lay down some for tomorrows trip. This was a 2 person 4 hour trip that I extend for almost an hour. This was a Miss Judy trip as well. Water temp was low 80's and could only find patches of clear water out of the wind. Kept a Redfish and released a small blacktip shark. Also missed a few bites as well. Only caught 1 bluefish today. The speckled seatrout are not here in the numbers of the past few years. Apparently all the blistering cold weather took a hefty toll on the seatrout population.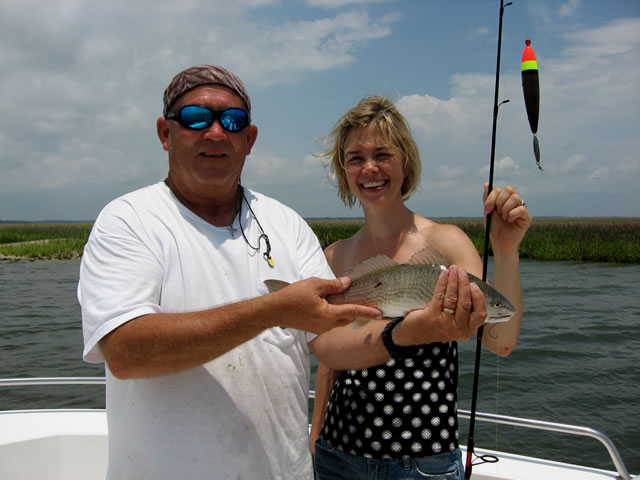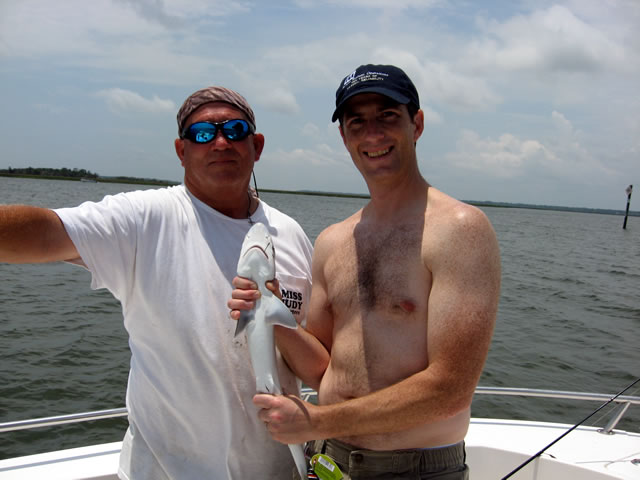 ---
05/20/2010
Capt. Rick had a very long, hard day today. Started at 5:30 am picking up the last Georgia Shrimp in savannah. Had to get a quart and 1/2 because they are huge. Also had mud minnows. We were part of a 4 boat charter for Miss Judy Charters. We picked up at the Hyatt, and that is in the Savannah River. When I was finished we had covered 70 miles on the water. Water temp was upper 70's..
I had 4 guys that each weighed about 280 lbs. We had a boat load. Wind picked up to 20 knots out of the east and it blew most of the trip. We lost a huge flounder at the boat, but did land a nice size shark. Very difficult fishing in the wind. Below is a picture of the shark we released and the blood on the deck was from the shark . Normally these get hooked in the mouth, but the angler was not looking until the rod was almost snatched into the river. Normally I can land these with no problem, but this one almost bit me and I had to drop him - gently. After they took some pictures I revived him.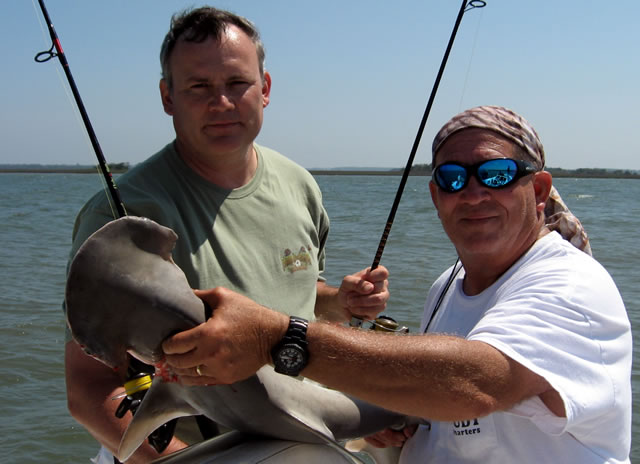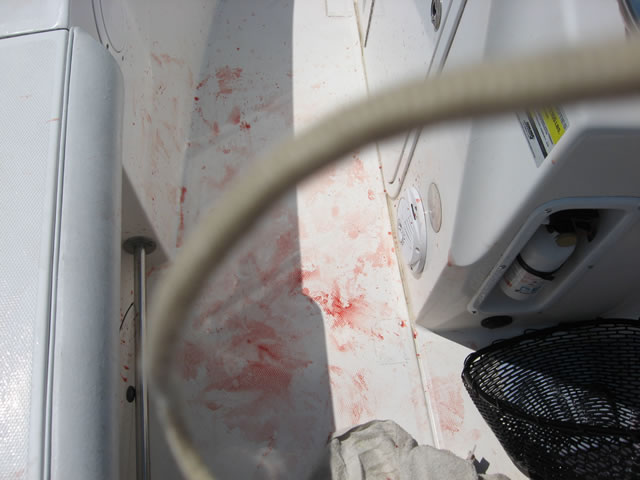 ---
05/15/2010
Capt. Rick had a scouting trip planned with a friend Tom. We left the dock with some live mudminnows and a quart of huge shrimp at 6:30am. Had a few breakoffs and some real hard trout bites, but missed a lot as well. The spanish mackeral moved in Wassaw sound and were short striking and cuting leaders on the shrimp. Ladyfish were thick as well, but didn't get into any trout.
That was what I was looking for and they are not where I hoped to find them. I talked to another angler and he says he is picking up a few seatrout on the beachfronts. Shrimp is getting hard to find. A quart doesn't go far as they are huge. I might have had a better hookup ratio if I upsized my hooks.
Below is a picture of Tom and 11 other boats floating around in the sound. Then Tom took a picture of one of the smallest of the shrimp I had. They had florescent blue legs. Stopped by the bait shop late today and Donnie didn't catch but about 7 quarts today. Even the big ones are leaving. The last picture is a shot of all the menhaden that was flipping all over the wilmington river. We stopped and tried to catch what was under them but only had a couple hits on artis. Miss Judy did call me about 10 am for an afternoon Gig, but we were already out and I didn't have enought bait or tackle to pickup a group today. Sorry that we missed that , but have a few scheduled this upcoming couple of weeks.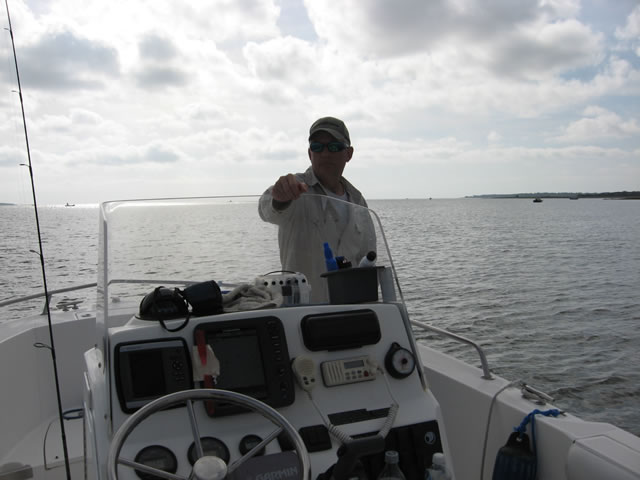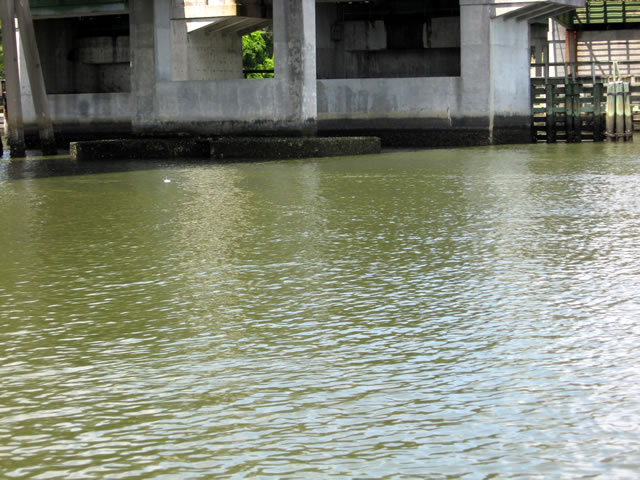 ---
05/08/2010
Capt. Rick had a 4 hour charter scheduled today for Miss Judy Charters. It was windy again today. Water temp out in Wassaw Sound was 76.4°. It was scheduled to be a 2 person trip, but at the last minute, they brought their 6 yr old son. I had planned on going after some redfish, but Evan, the son wanted his daddy to catch a shark. So we tried for redfish about 30 minutes and missed a couple bites.
Decided not to stay and wait on the tide but move on to the sound. We missed a couple more good bites, and was finally able to get John hooked up with a respectible Bonnethead shark. We also caught a blue fish and saw a few spanish Mackeral jumping. The wind was not our friend today, but When we got back in - stayed out an extra hour, I steaked out the bonnethead that had 5 blue crabs in her. Wish we had a better catching report, but that wind was more west than south west at 15 Knots.
The sound was full of schools of glass minnows. Expected to see more speckled trout out here, but either the wind had that bite messed up or they might have been decimated by the blistering cold winter we had. Especially the 9 straight days of very hard freezing days and nights. First time in at least 10 years that I had ice in my livewell and in the marsh.. Anyway we got 1 shark and missed a shot at several more. I thorougly enjoyed fishing with this family.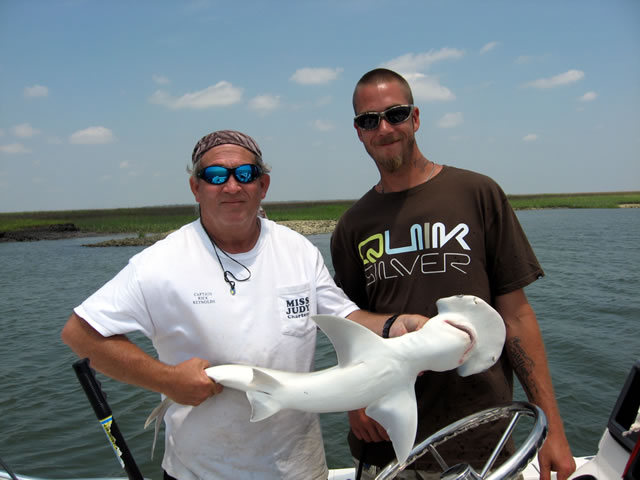 ---
05/01/10
Capt. Rick had a 4 hour charter scheduled today for Miss Judy Charters. It was very rough and windy. We started the trip at 10:30 am and was greeted with 20 knot winds straight out of the South East. Water temp was 69° in alot of places but we got into a few fish including the first keeper size trout for this year. The place was semi sheltered but the water temp was 72.5° where we caught these. Also when Tim was fighting this 26 inch redfish it caused quite a bit of bait to jump, so the reason was clear why the fish were here. Very nice school of fingerling mullet was inshore. Tried poking our head out in the sound but it was too rough to fish properly.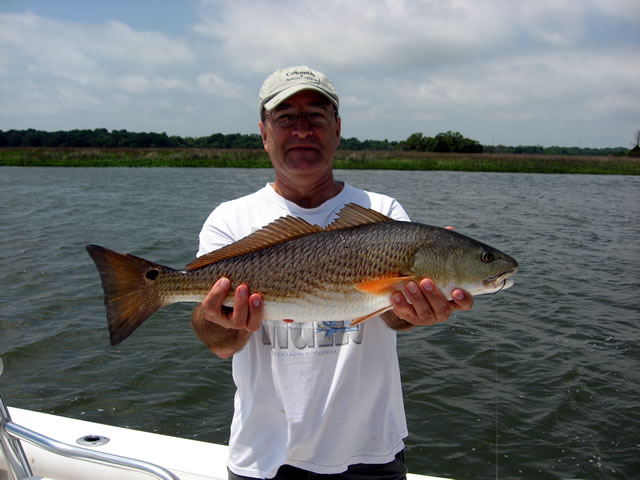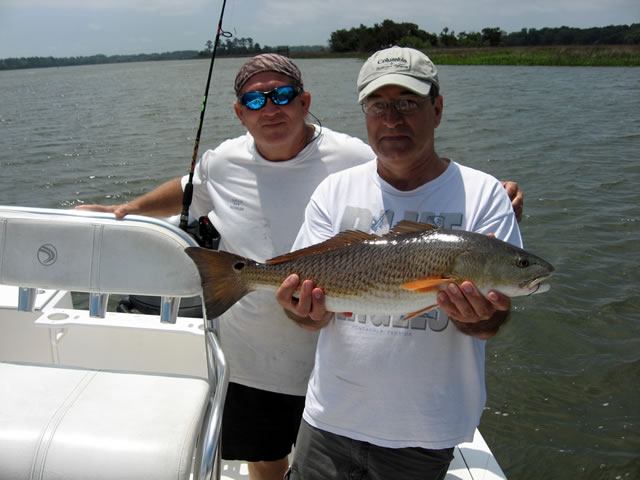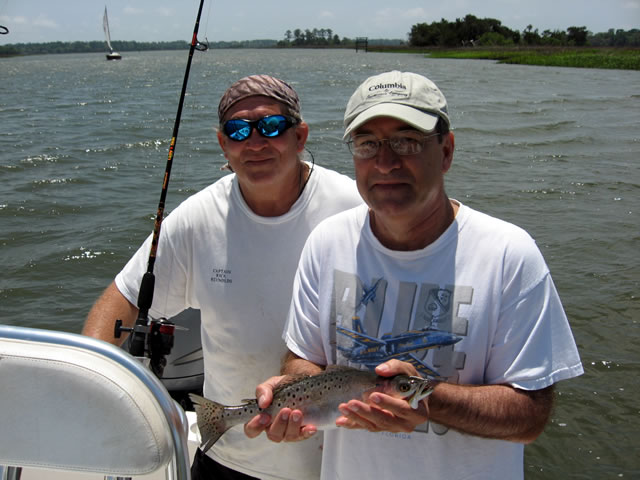 ---
04/30/10
Capt. Jeremy had a 4 hour charter scheduled today for Miss Judy Charters. Water temp is still around 70. Today the winds were 15- 20 out of the Southwest, which made catching more difficult. We are on spring tides with the full moon as well, so the current was swift and the water clarity was poor. Had a few bites and kept a Redfish or two and released the rest. Trip started right at sunrise.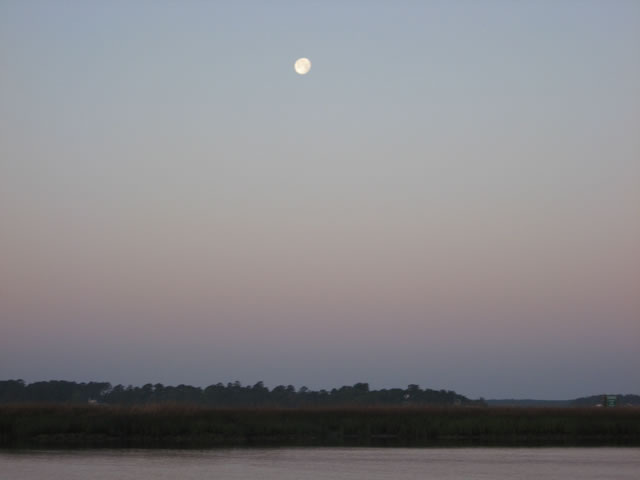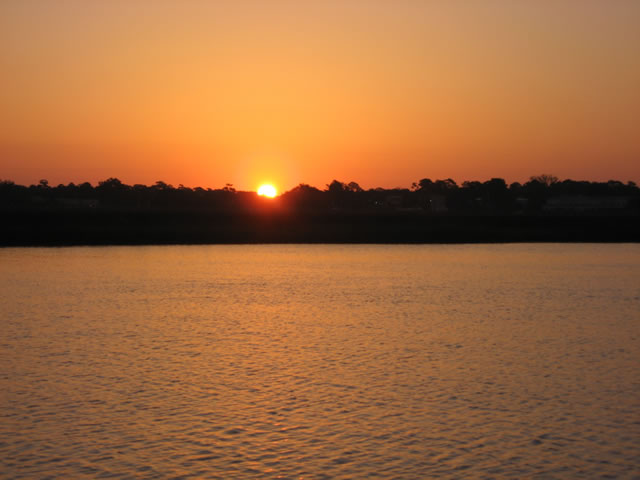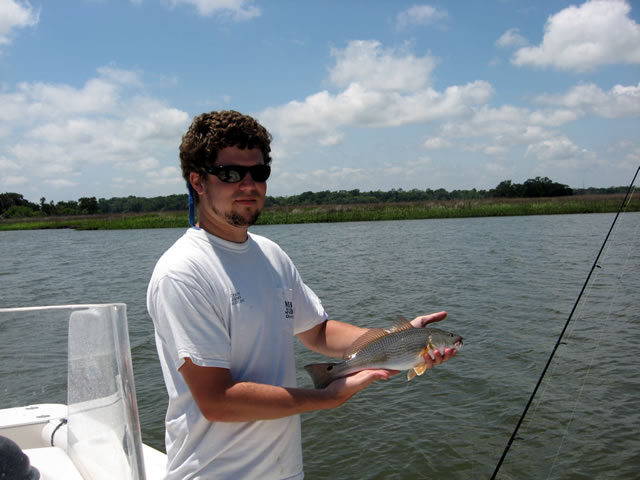 ---
Copyright © 2010 Thunderboltcharters All Rights Reserved.