01/07/2012
Took a couple of friends scouting for Stripers, but unfortunatly they were not home. However we did see a school of over a 100 Alligator Gar busting bait very far up the Back river in South Carolina. Water temp was 50.3 up the river but a warm 51.8 at the marina. Below is a picture of the 2 guys that went with me. Top picture is Charles, 2nd one is Tom.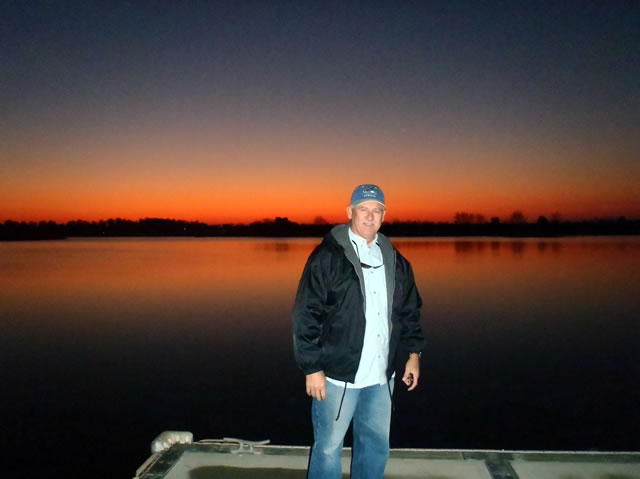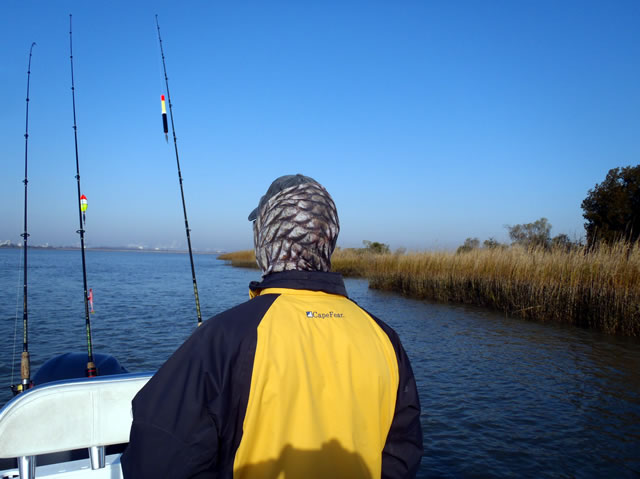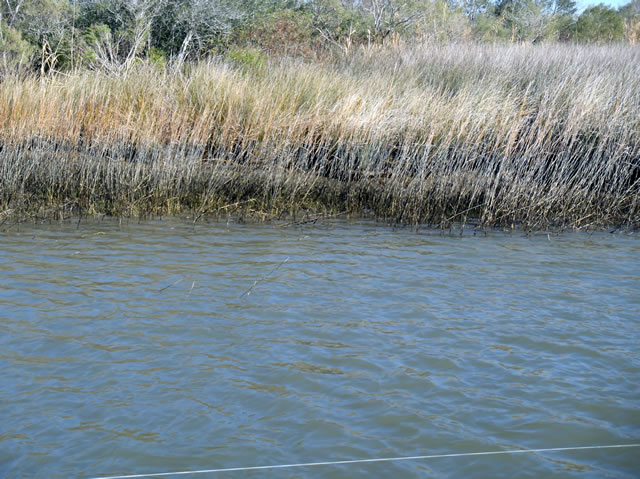 ---
01/02/2012
2011 is over and did this year ever fly by, It still seems like I am waiting for the water to warm up from last winter! For all of you that myself and Capt. Jeremy had the good fortune to guide, we want to say a big THANK YOU! For the record we have completed almost 600 charters from March of 2006 - November 2011.
For all of you that had great catches, there were probably as many that had JUST Ok catches. These are the ones we had to really work hard for. Then there were the unfortunate ones where we were lucky that you even got a bite or caught only one or two fish, and for you we most likely worked the hardest.
For the experienced fisherman, you understand that there are several factors that go into catching fish and some of them are beyond Our control. I will try to list most of the influences in a days fishing.
---
Basic Inshore Fishing Factors That are beyond our control
Water Temperature - can't be too hot or too cold.
Water Clarity - some of the fish you ask for are sight feeders and if the water is turbid, they can't see.
Water Salinity- It changes when it rains and when we are in a drought.
Tidal stage - All Species don't bite at low or high tide, and we have approximatly 6 hours between tidal changes. Most of the time a trip is booked around your planned daily schedule.
Current Speed - It is very fast, almost too fast during a Full Moon or a New Moon.
Bait - Can be a problem at times of the year.
Barometric pressure changes ( Low Pressure and High Pressure Changes) warm fronts and cold fronts***
High wind.. It blows alot out of the NorthEast here.
Your ability to use Basic Tackle. I have had rods and reels thrown overboard. Had spinning reels turned upside and the handles unscrewed and dropped in the water, Had frustrated customers continue to delibertly Cast into oysters and cause us to break the line, losing Floats, leaders, hooks and weights.
Have Had some locals use a handheld GPS to mark fishing drops.

---
Factors That We Can Control
Basic Expenses That we are responsible for.
South Carolina and Georgia Guides License. This allows you to fish without a license on our boat. Cost is approx $300. 00 a year for Me and $300.00 a year for Capt. Jeremy..
Fuel Cost is between $4.40 - $4.90 a gallon. Our boat gets 3.5 Miles per Gallon. So when we move a good distance, it is not to kill time, but to try to put you on fish. Our monthly fuel bill is often over $700.00 a month.
Live Bait. Shrimp cost $20.00 dollars a quart. We often go thru 3 quarts a trip. In the summer, they will not live overnite. Sometimes we run 2 trips a day.
1 rod and reel with line and tackle is around $185.00 for our inexpensive gear. We often have 8 complete rigs on the boat.
Boat Storage at Bahia Bleu Marina
Boat maintenance - a minimum of $350. every 100 hours.
Commercial Insurance
The cost of this Website that contains as up to date information of the area as possible.
People that we want to thank.
Ron Thomas of Bahia Bleu Marina. He runs the Marina where we store our boat

Troy Bradley. He is our mechanic. When we need emergency service he comes thru.

ADAMS Bait Shop. They do the best they can to always have live bait.
---
Just So You Know..
Both of us try very hard to put you on fish. I know I always feel alot better after one of you catches the first fish. Some times that happens on the first cast, some times it happens on the last hour of the trip and sometimes it just don't happen. Thats fishing folks, Plain and simple.
If some of the factors that are beyond my control, fall into place then you will most likely catch something. If several of the factors beyond my control happen, then you will be close to catching a limit. If all the factors beyond my control don't occur or they do occur and have a negative impact then you might not catch anything.
---
Fishing is fishing and what I hope is that everyone who books a trip with us understands that we always do our very best to help you catch a fish... but there is no guarantees that it will always happen. If it did then Fishing would lose its most special attraction. Remember take a kid fishing - It can Change their Life.
---

This is a picture of the last fish I caught in Dec of 2011. Water temp has been in the upper 50's but expect it to drop as tonights lows are predicted to be in the upper 20's.


---
Copyright © 2012 Thunderboltcharters All Rights Reserved.