Fishing With Capt Rick and Jeremy (2011)
Back to Main
mash
Copyright © 2011 Thunderboltcharters All Rights Reserved.

By: Capt Rick Reynolds
Questions? email me at: Email Capt. Rick

08/15/2011
Capt. Rick had a 2 person 6 hour trip today. Had a couple of nice guys who were down for a few days with their company that was having a convention at the Weston. We departed from the Marina at 7am and fished until almost 1pm. Air temp hit the low 90's and the water temp was still around 87°. With the full moon and 10- 15 knot winds, it made the water muddy at alot of places, but when you could find clear water, it was very clear. Greg and Brian didn't keep anything so it was a good catch and release day. We released at least 15 spottails that were not keepers anyway. Also caught and released quite a few speckled trout as well.If you catch a redfish, with sea lice on them, take a minute to remove those. Then we caught and released a few Bonnethead sharks, and got broken off by a couple of other large fish, that pulled alot of drag that we didn't see. It was a good day on the water. All fish were caught with live shrimp from ADAMS bait.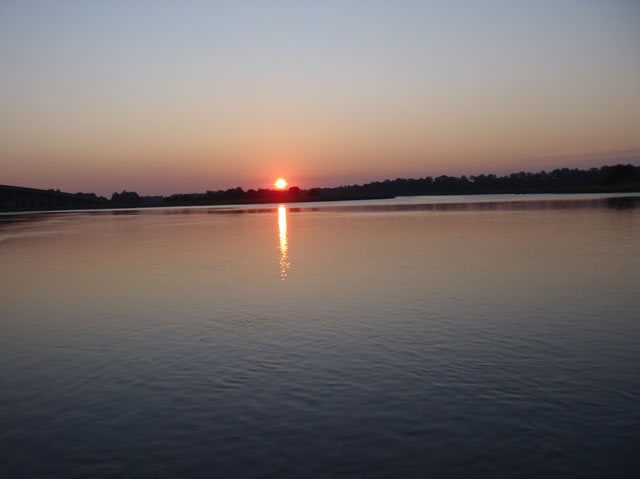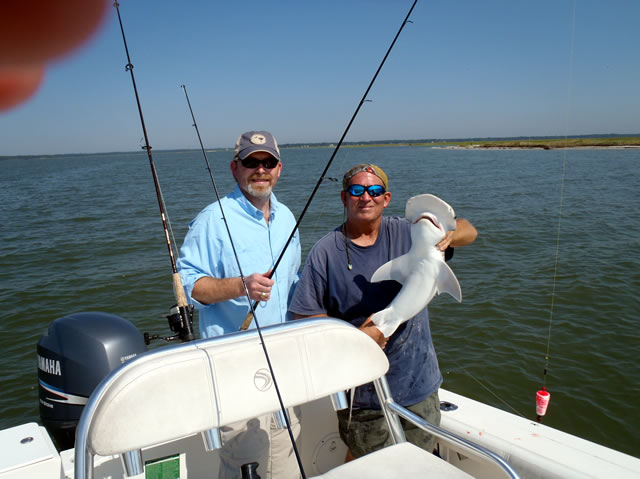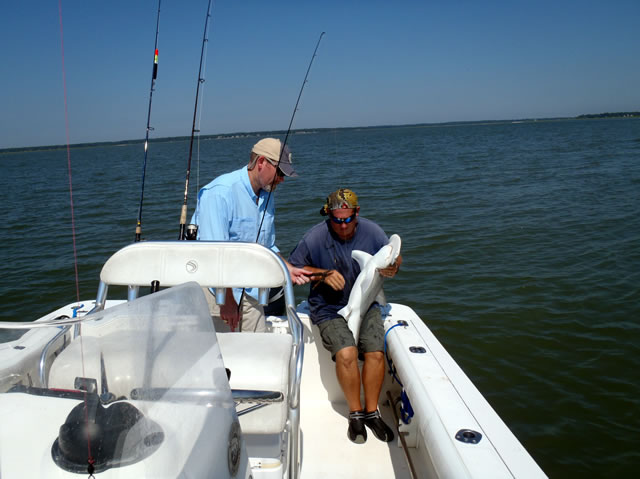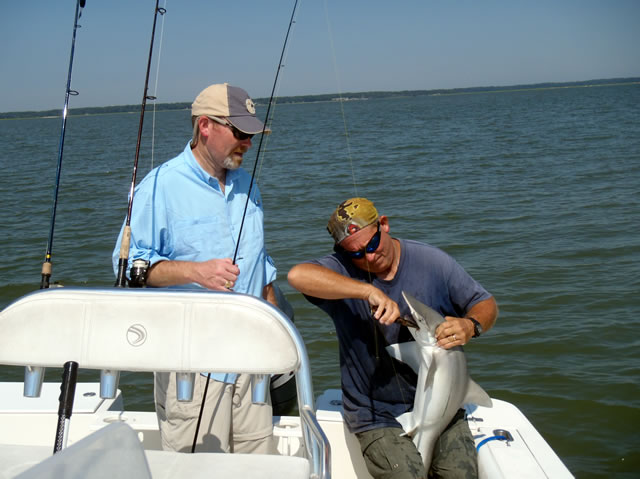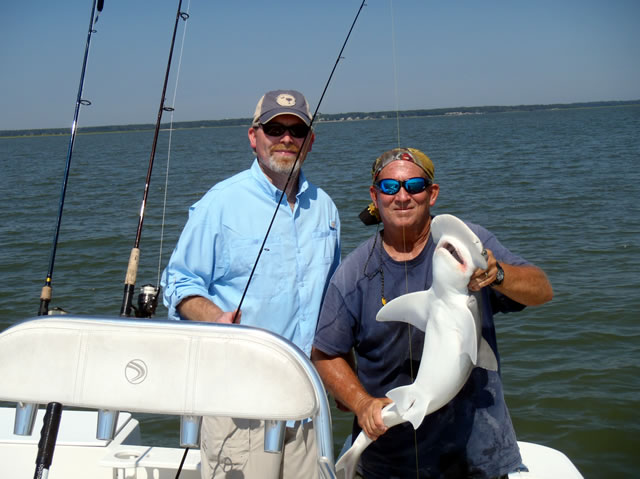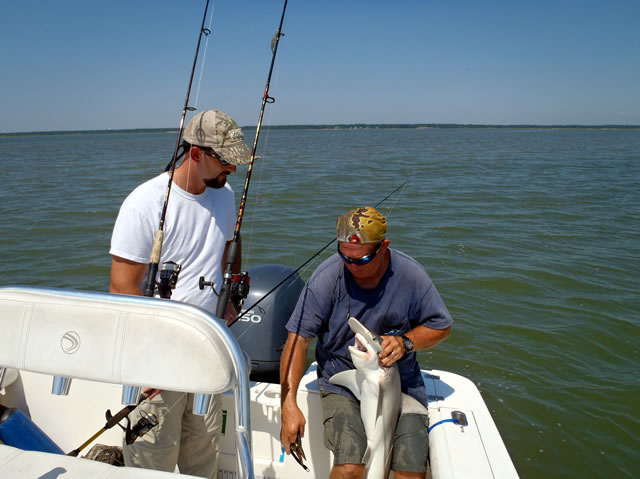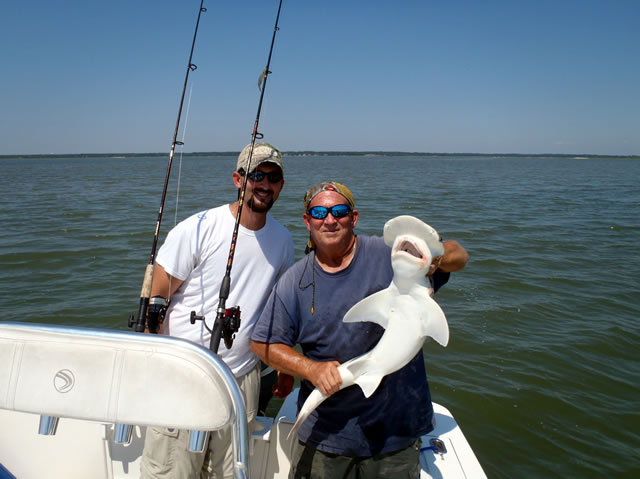 ---
08/14/2011
Capt. Rick had a 4 person 6 hour trip today, that turned into a 2 person charter. June and her husband Carl were down from Oklahoma for her sons wedding and booked a trip. Just last earlier in the week, the water and air was hot. Water temp was 86.5° and cloudy. Was able to find some clear water, where we got into a lot of small redfish. Probably released 15 or so. Moved around and June wanted to catch some sharks. We caught 6 bonnetheads and released 4. We also caught an undersized bluefish as well. Then the trout bite was trying to turn on and we kept 5 that were from 15- 17 inches. Also released about 10 short ones. June was coming down with something and at the heat of the day we headed on back. Not many boats on the water today. Beat the storms in by an hour today.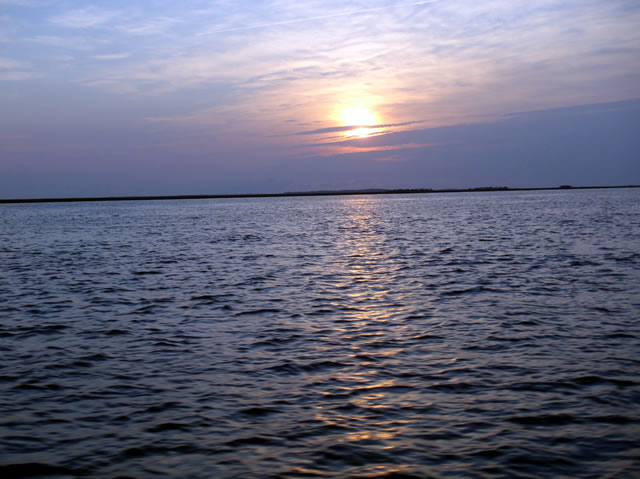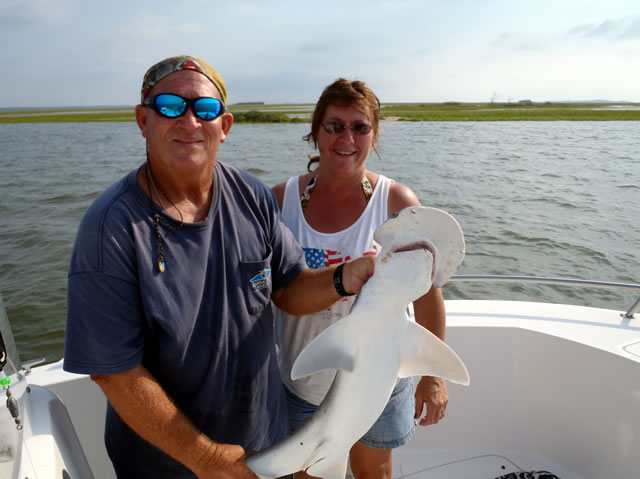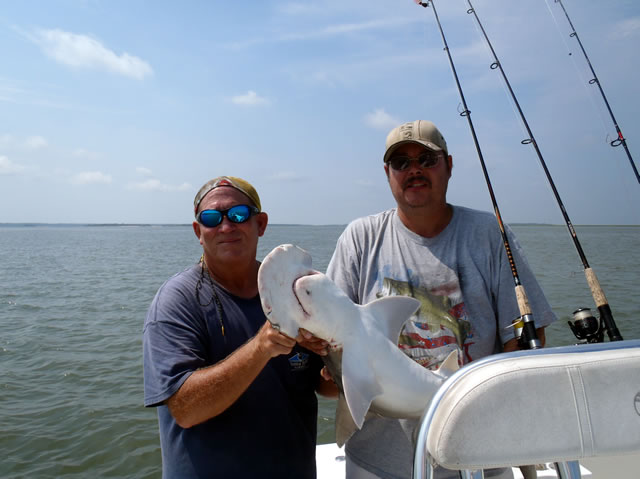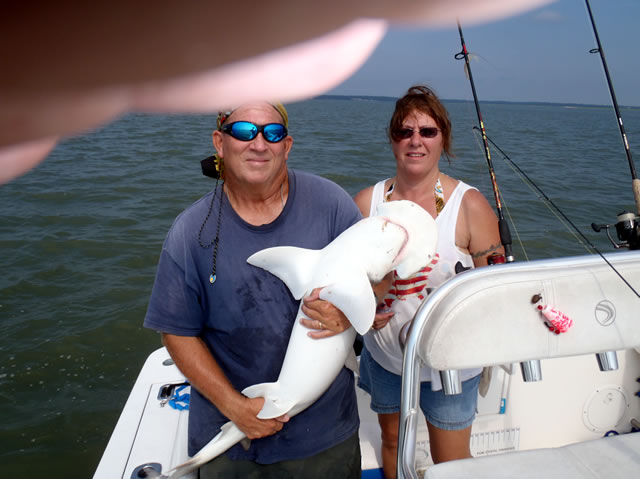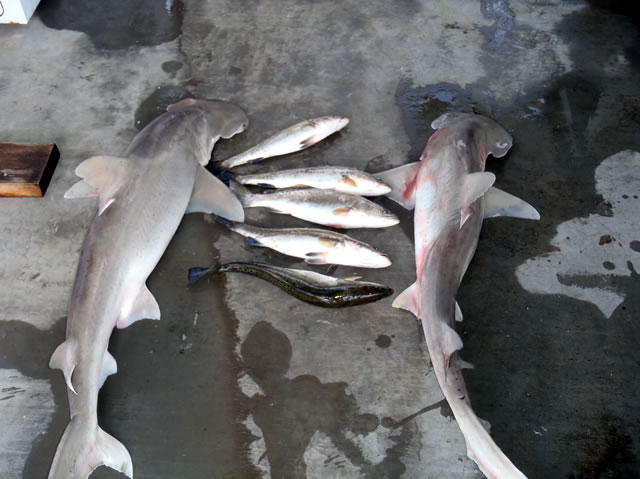 ---
08/06/2011
Capt. Rick had a 3 person 6 hour trip today. It was Matthews birthday charter and he had his older brother Brandon and his father with him. All 3 were very, very good anglers. We left the dock close to 6:30 and it was hot. Water temp was 87°. We fished the last of the outgoing and about 5 hours of incoming. We had nonstop action until about 11:30, but we catch a few more at the last drop.

I need to apologize to Brandon and his Dad, as I failed to get any pictures of them with the fish they caught. We got on a solid speckled seatrout bite, and we decided to take pictures after the bite cooled off. The trout were mixed in with a few Ladyfish, which no matter what anyone says, are a blast to catch. They make very fast runs and do jump like small tarpon, but they are not table fare. We caught a few bluefish, that were not long enough to keep. We also caught quite a few short Trout. His Dad wanted to catch a flounder, and we moved to a flounder hole and caught 2 legal flounder. Matthew Caught a nice bonnethead, and Brandon caught one as well, but I broke him off at the boat trying to land him. We kept 1 bonnethead, 8 speckled seatrout and 1 whiting. It is always a pleasure to fish with a Father and his sons, especially when the sons are as polite as these two boys. We are going to try to do this again in October.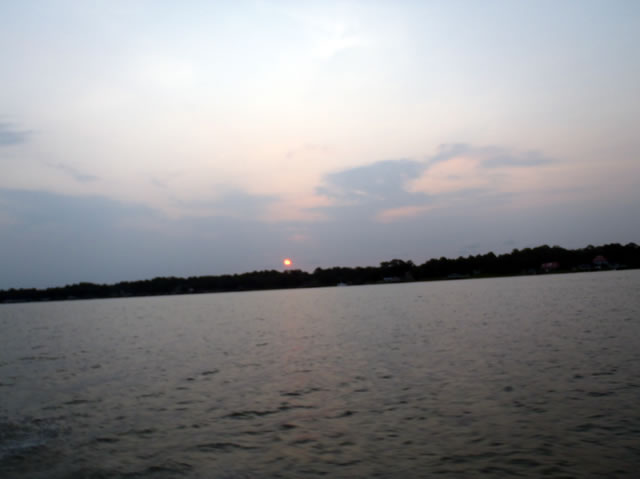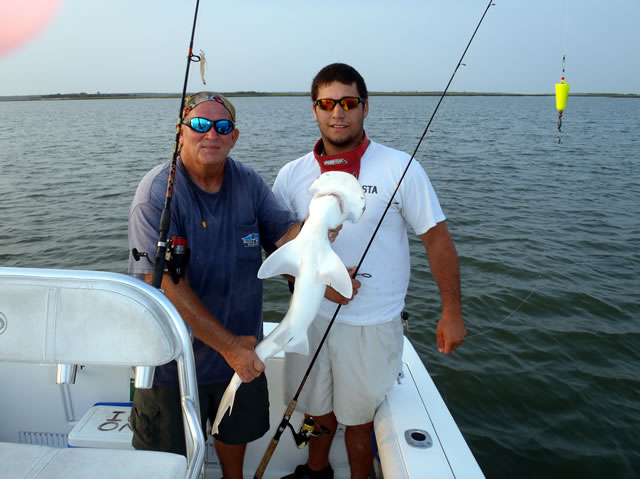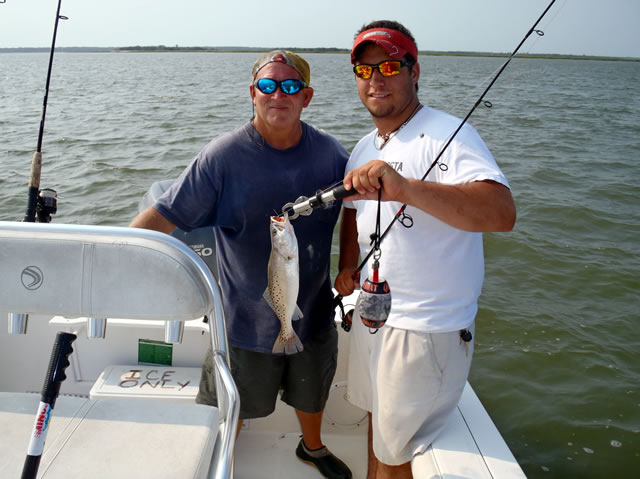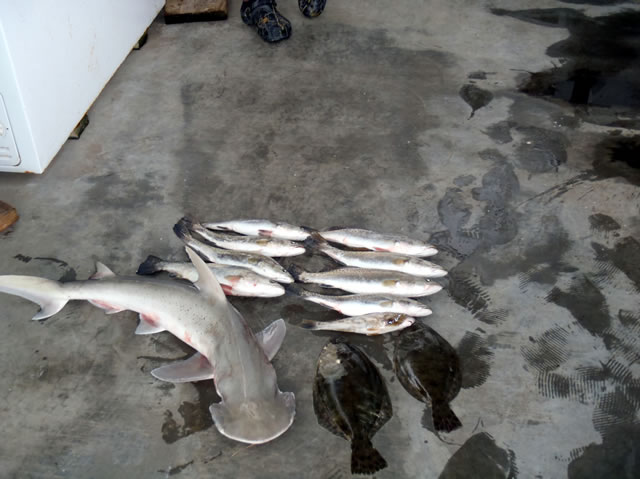 ---
08/05/2011
Capt. Rick had a 3 person 6 hour trip today with Bob and his son Jimmy and Jimmys girlfriend Maggie. We left the dock at around 6:30 and headed out to Wassaw Sound. Wind had layed down alot from yesterday, so clear water was easier to find. However the water temp was 86°. We kept 3 or 4 speckled seatrout between 13 and 15 inches, and 1 flounder and 1 whiting and 1 bonnethead shark. Jimmy enjoyed catching a few ladyfish and they did pull hard. Also caught quite a few trout that were just short, but they were short. Released a couple of bluefish as well. Maggie caught a small blacktip shark as well. Air temp was in the mid 90's at least.
One word of caution, with the hot water temp, if you get finned, or bitten by a fish or break the skin from a shrimp or fishhook, do yourself a favor and rinse your hands off with either an antiseptic or if nothing else Bleach. Could save you from a very nasty infection. All in all a busy day, but all the bites slowed down after 11:30 am. As always, it was a pleasure fishing with this group. You could tell Jimmy has done this before, if you said put it on the edge of the grass, thats where it went, not on the bank. Excellent angler, as was the rest of the group.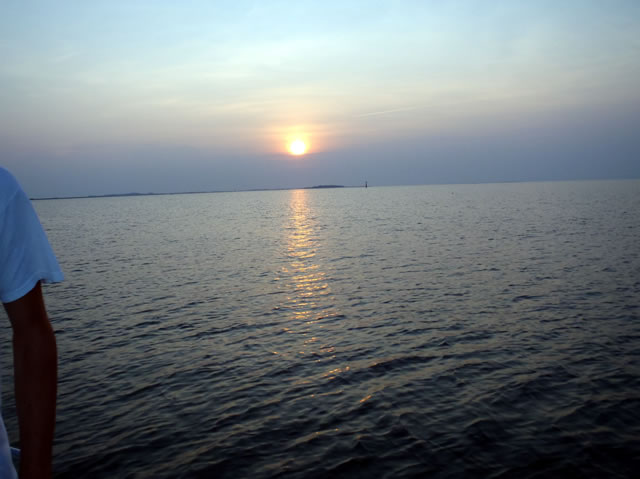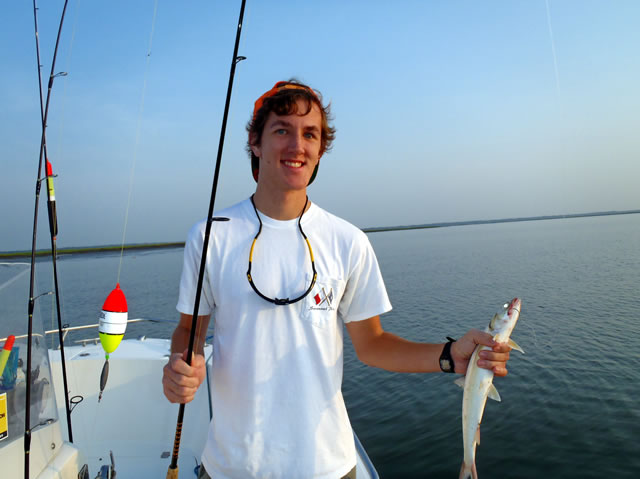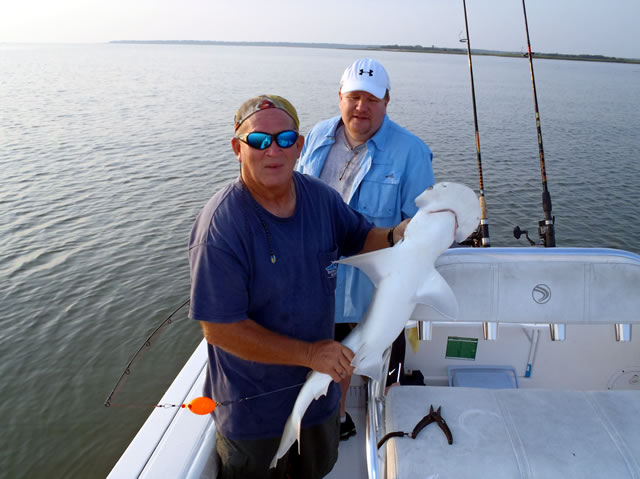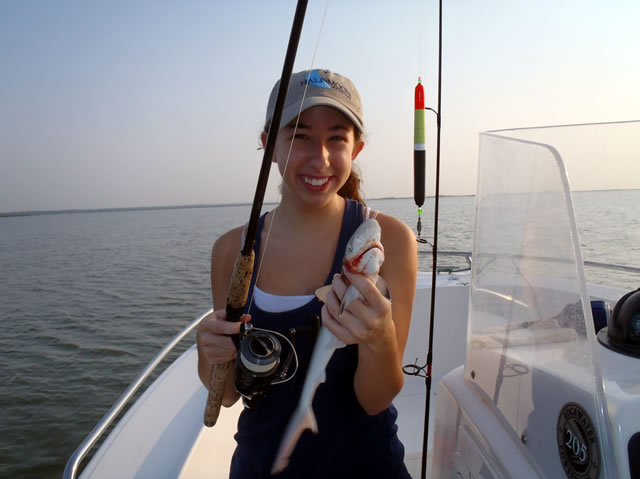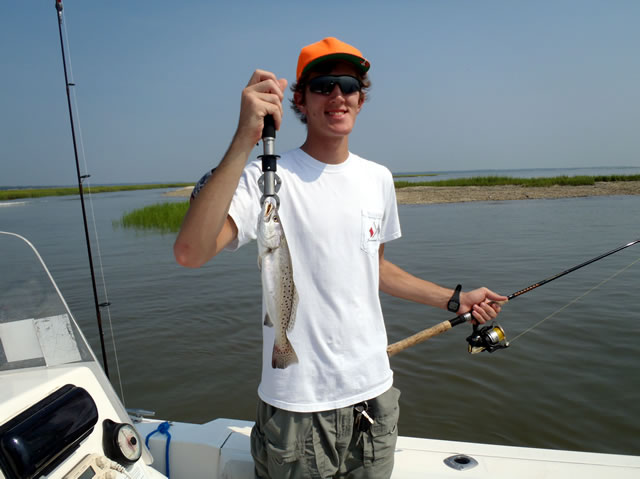 ---
08/04/2011
Capt. Rick had a 2 person 6 hour trip today with Derek and Deborah. Even though we left the dock at 6:45, it was hot! Water temp was 85°and stained at most locations, but we did find some clear water. The trout bite was slow, but we had a couple nice breakoffs, with either a larger shark or an oversized redfish. Also caught a bonnethead shark, blue fish and a couple ladyfish. Wind was about 15 knots out of the west southwest. We did the best we could with the water conditions today. Both anglers were very good and knew how to fight the larger fish, even though a couple were broken off in the oysters.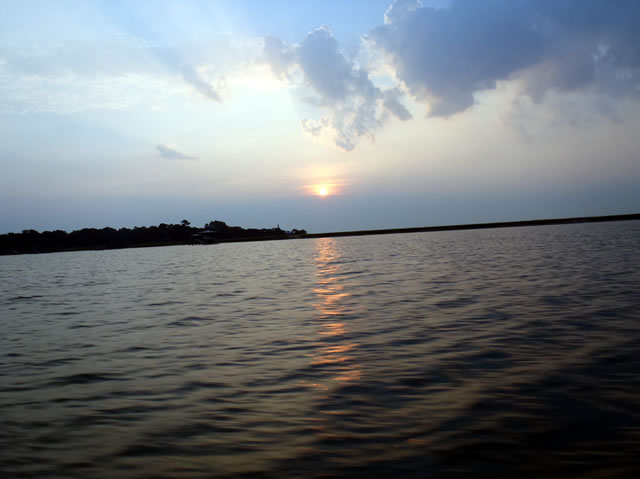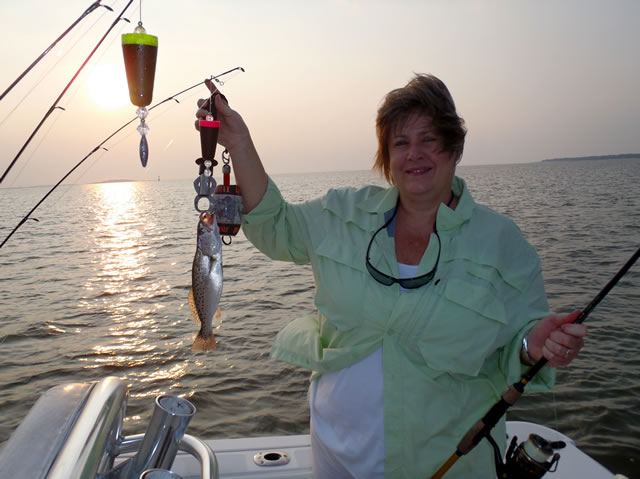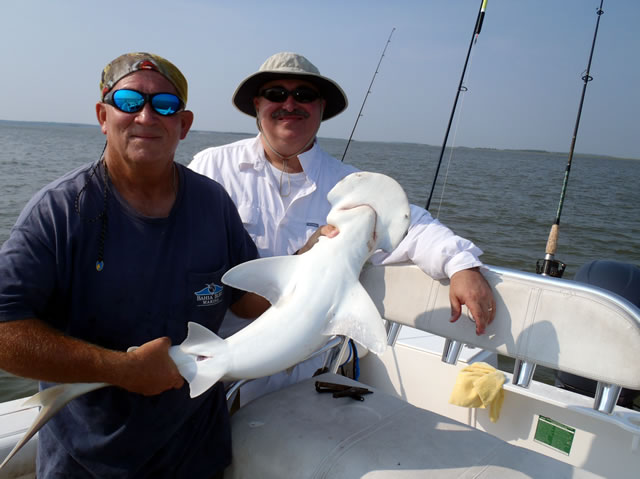 ---
Copyright © 2011 Thunderboltcharters All Rights Reserved.